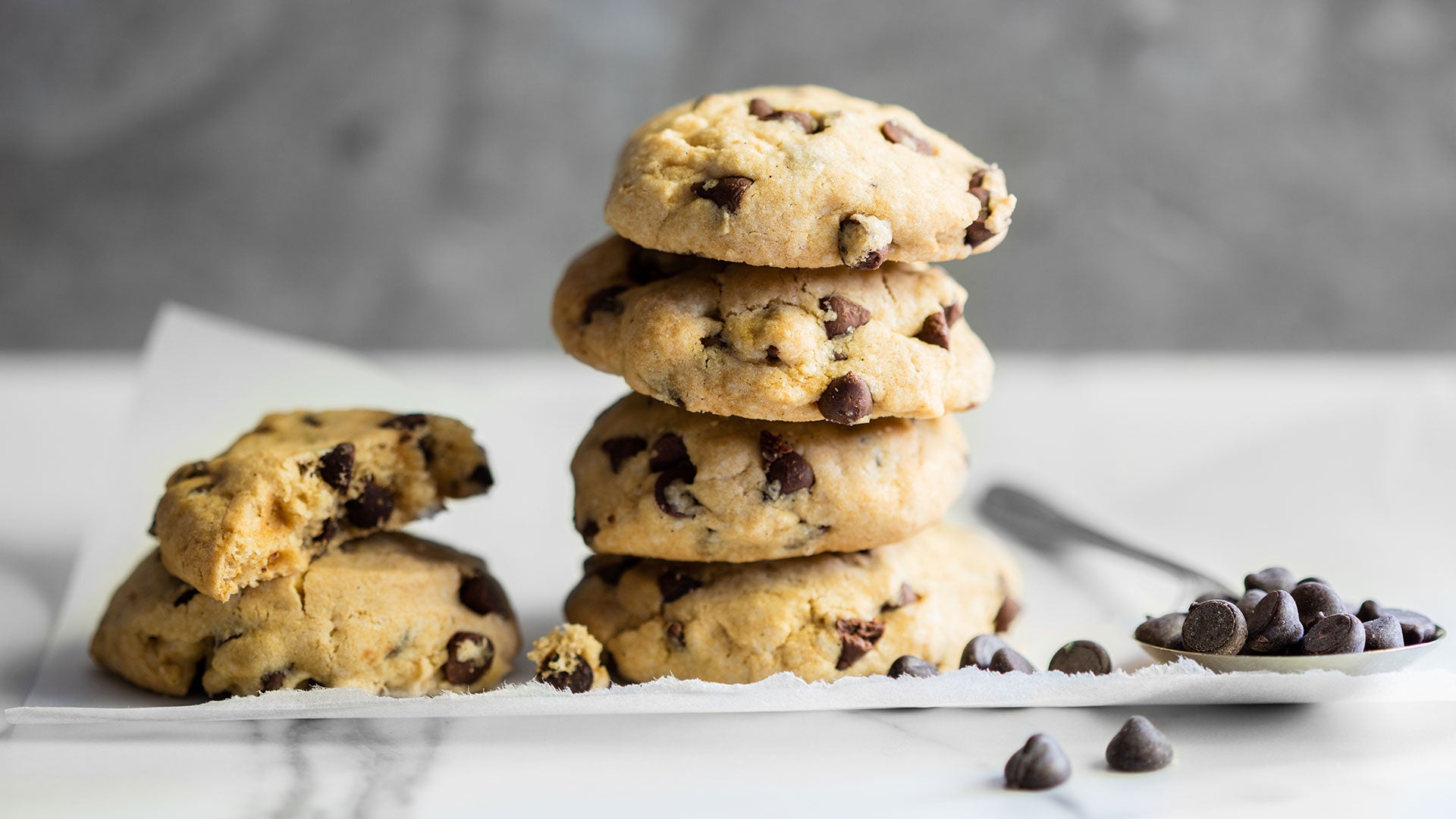 About the bake
Following a vegan diet doesn't mean that you need to compromise on baking your favourite classic recipes. This vegan Chocolate Chip Cookie recipe is egg free, dairy free and gluten free and definitely one that you will want to save in your recipe book and bake time and time again.
Method
Step 1:

In a bowl beat together the dairy free margarine and the two sugars combined. Then add the additional ingredients and mix together until it forms a dough.


Step 2:

Prepare a baking sheet with baking paper and preheat your oven to 180°C (160°C / Gas 4)


Step 3:

Divide the dough and roll into small cookies and place each one on the baking tray. Place the tray in the fridge to chill for 30 minutes to avoid the cookie dough spreading too much in the oven.


Step 4:

Bake the cookies for 10-12 minutes or until golden in colour. Leave to cool on a cooling rack once removed from the oven.

Ingredients
64g

 

Dairy free margarine

48g

 Billington's Unrefined Dark Muscovado Sugar

48g

 Billington's Unrefined Golden Caster Sugar

192g

 

Gluten free plain flour

1 tsp

 

Baking powder

1 tsp

 Nielsen-Massey Vanilla Bean Paste

2 tbsp

 

Water

2 tsp

 

Vegetable oil

140g

 

Vegan chocolate chips
Utensils
Baking tray

Parchment paper
Nutritional Information
per 38g
192cal

 

Energy

9.1g

 

Fat

3.7g

 

of which Saturates

25g

 

Carbohydrates

12g

 

of which Sugars

1.1g

 

Protein

0.2g

 

Salt
Recipe Reviews
This recipe is great! I would just cut the butter by 10-20% and we also halved the chocolate chips and there were still plenty. Will for sure do them again
I love these cookies they are amazing!!!!!!!
I did this recipe today and I loved it but because I didn't have choc chips I added biscoff spread and it tastes amazing I would totally recomened it but make sure the cookies are chilled properly.
i baked these for 12 mins but wish I'd done them for 10 and let them set a bit. Mine were a bit hard but I know what to do next time.
Ingredients
64g

 

Dairy free margarine

48g

 Billington's Unrefined Dark Muscovado Sugar

48g

 Billington's Unrefined Golden Caster Sugar

192g

 

Gluten free plain flour

1 tsp

 

Baking powder

1 tsp

 Nielsen-Massey Vanilla Bean Paste

2 tbsp

 

Water

2 tsp

 

Vegetable oil

140g

 

Vegan chocolate chips
Utensils
Baking tray

Parchment paper
Nutritional Information
per 38g
192cal

 

Energy

9.1g

 

Fat

3.7g

 

of which Saturates

25g

 

Carbohydrates

12g

 

of which Sugars

1.1g

 

Protein

0.2g

 

Salt