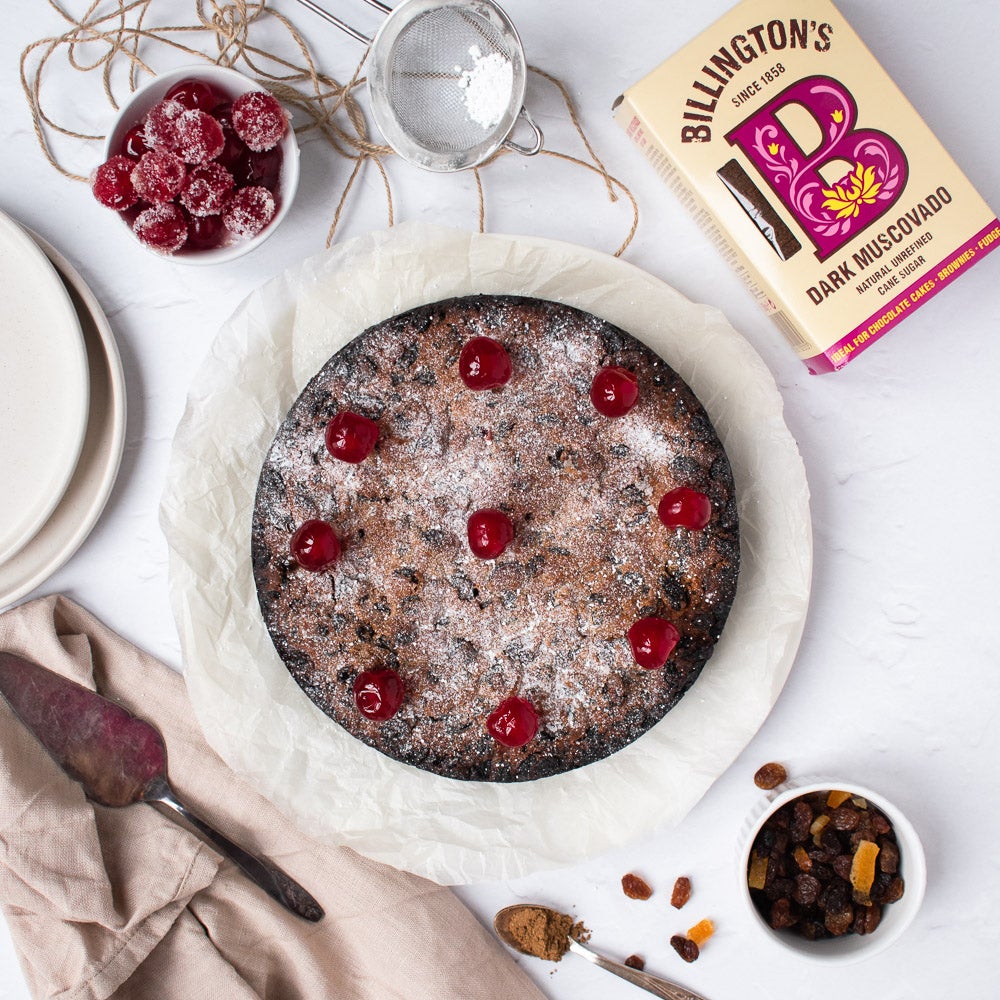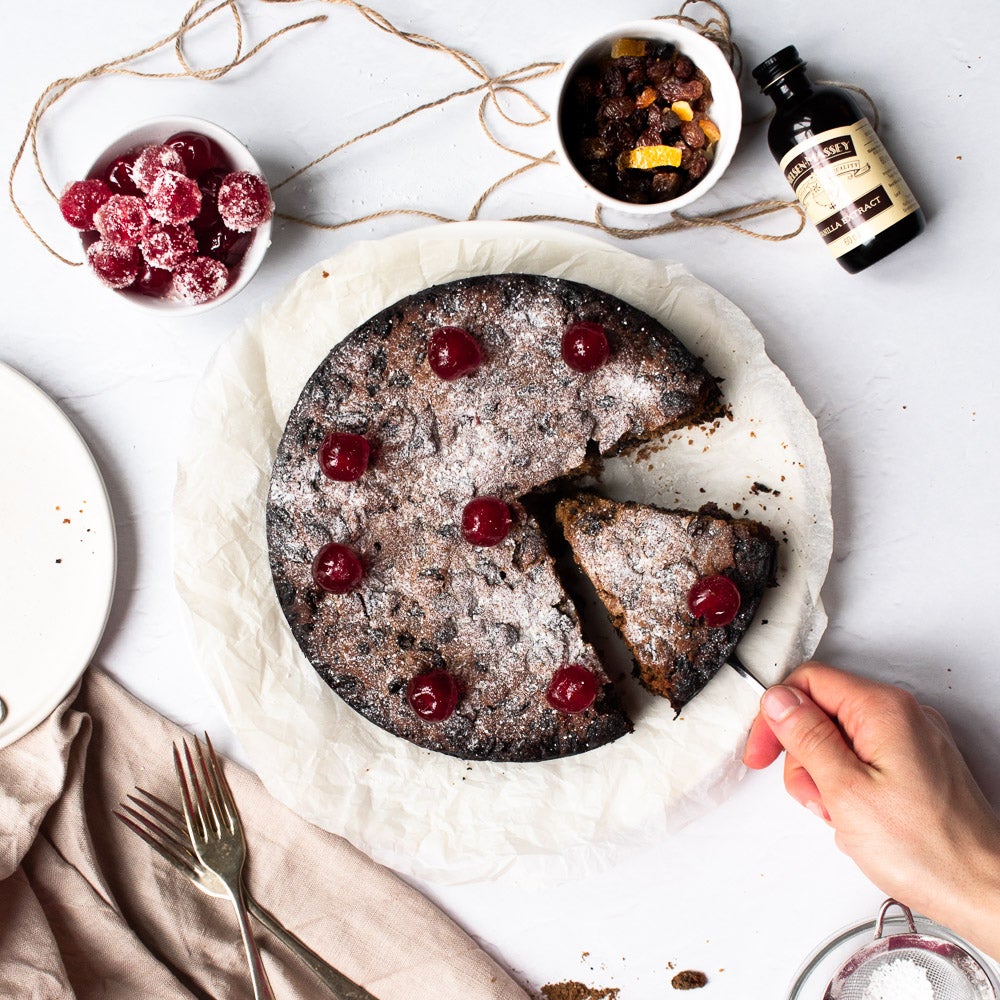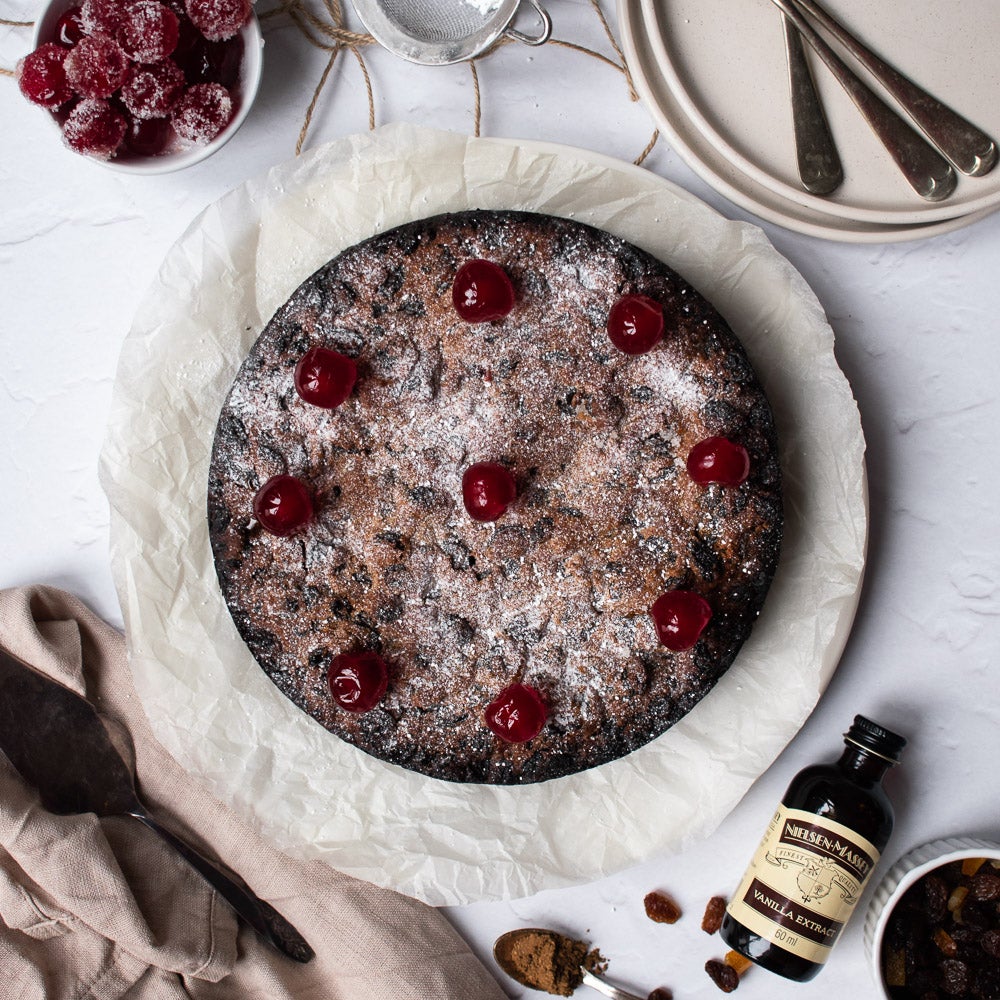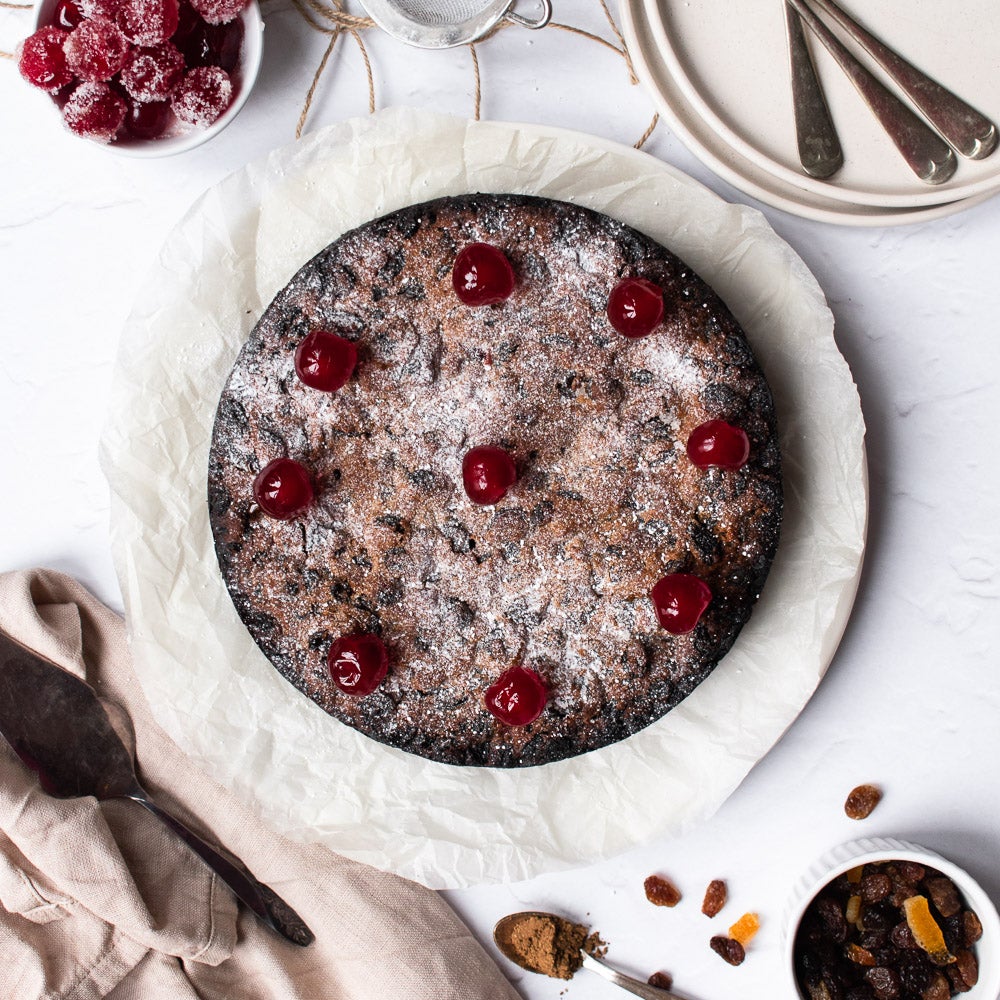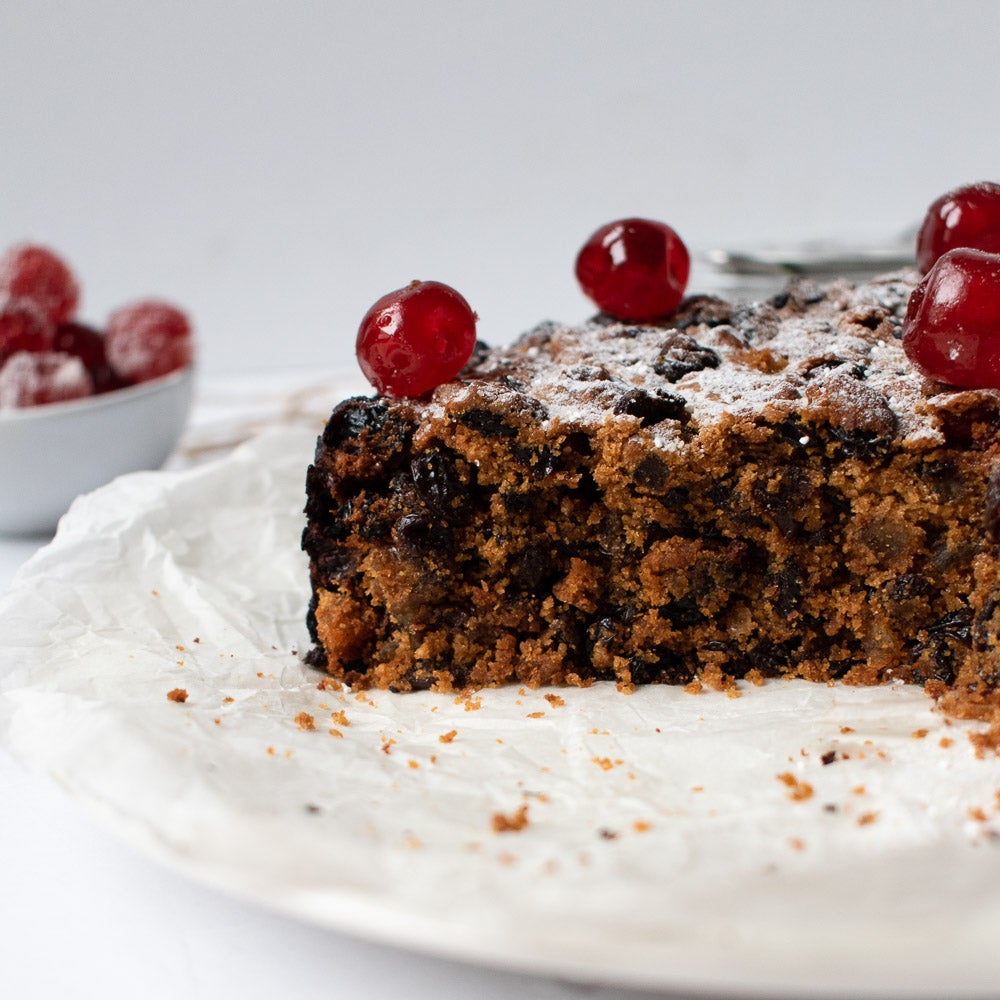 About the bake
We believe that just because someone has dietary requirements they shouldn't have to miss out on enjoy a slice of celebration cake. This Vegan Fruit Cake is gluten free, dairy free and egg free and to top all that off, it is really simple to bake. This cake is perfect for any occassions from weddings, birthdays and of course Christmas cake.
Method
Step 1:

Soak the mixed fruit in 2 tbsp of Brandy overnight if possible, however if you don't have the time to do so, you can soak for 1-2 hours as an alternative.


Step 2:

Preheat the oven to 160°C (320°F, Gas Mark 3) Grease and line 8" round tin.


Step 3:

Cream together the margarine and Dark Muscovado Sugar until light and fluffy.


Step 4:

Mix together the ground flax seeds and warm water, then add to the flour, grated lemon and orange rinds, ground almonds, vanilla extract and spices and continue to mix.


Step 5:

Stir in the soaked fruit (including any leftover alcohol in the bowl) and cherries until well combined.


Step 6:

Place mixture into the tin and bake for 2 - 2½ hours until skewer cones out clean (cover with foil if the cake starts to brown too much during baking)


Step 7:

Leave to cool on a wire cooling rack. If baking in advance you can feed the cake every week with a few tablespoons of brandy.


Step 8:

To store wrap in greaseproof paper and place in a sealed plastic container.

Ingredients
1kg

 

Mixed dried fruit

200g

 

Dairy free margarine

200g

 Billington's Unrefined Dark Muscovado Sugar

1

 

Orange (grated rind)

1

 

Lemon (grated rind)

4 tbsp

 

Flax seeds

8 tbsp

 

Warm water

250g

 

Gluten free self raising flour

50g

 

Ground Almonds

1 tsp

 

Mixed spice

1 tsp

 

Nutmeg

1 tsp

 Nielsen-Massey Vanilla Extract

100g

 

Glacé cherries (chopped)

2 tbsp

 

Brandy
Recipe Reviews
Was unsure about how well this would cut but made it for my daughter's wedding. It did cut well and tasted fantastic. So many compliments. Will definitely be making another for Christmas. Thanks.
Far too much fruit for me. Next time I would half the amount of fruit. Tastes great though!
are you sure you need one kg of dried fruit?
It does seem a lot, but the quantity really makes the cake delicious!
Hope you are happy with your bake,
Happy Baking!
Absolutely delicious- I was surprised considering there was no liquid in the recipe .
Ingredients
1kg

 

Mixed dried fruit

200g

 

Dairy free margarine

200g

 Billington's Unrefined Dark Muscovado Sugar

1

 

Orange (grated rind)

1

 

Lemon (grated rind)

4 tbsp

 

Flax seeds

8 tbsp

 

Warm water

250g

 

Gluten free self raising flour

50g

 

Ground Almonds

1 tsp

 

Mixed spice

1 tsp

 

Nutmeg

1 tsp

 Nielsen-Massey Vanilla Extract

100g

 

Glacé cherries (chopped)

2 tbsp

 

Brandy