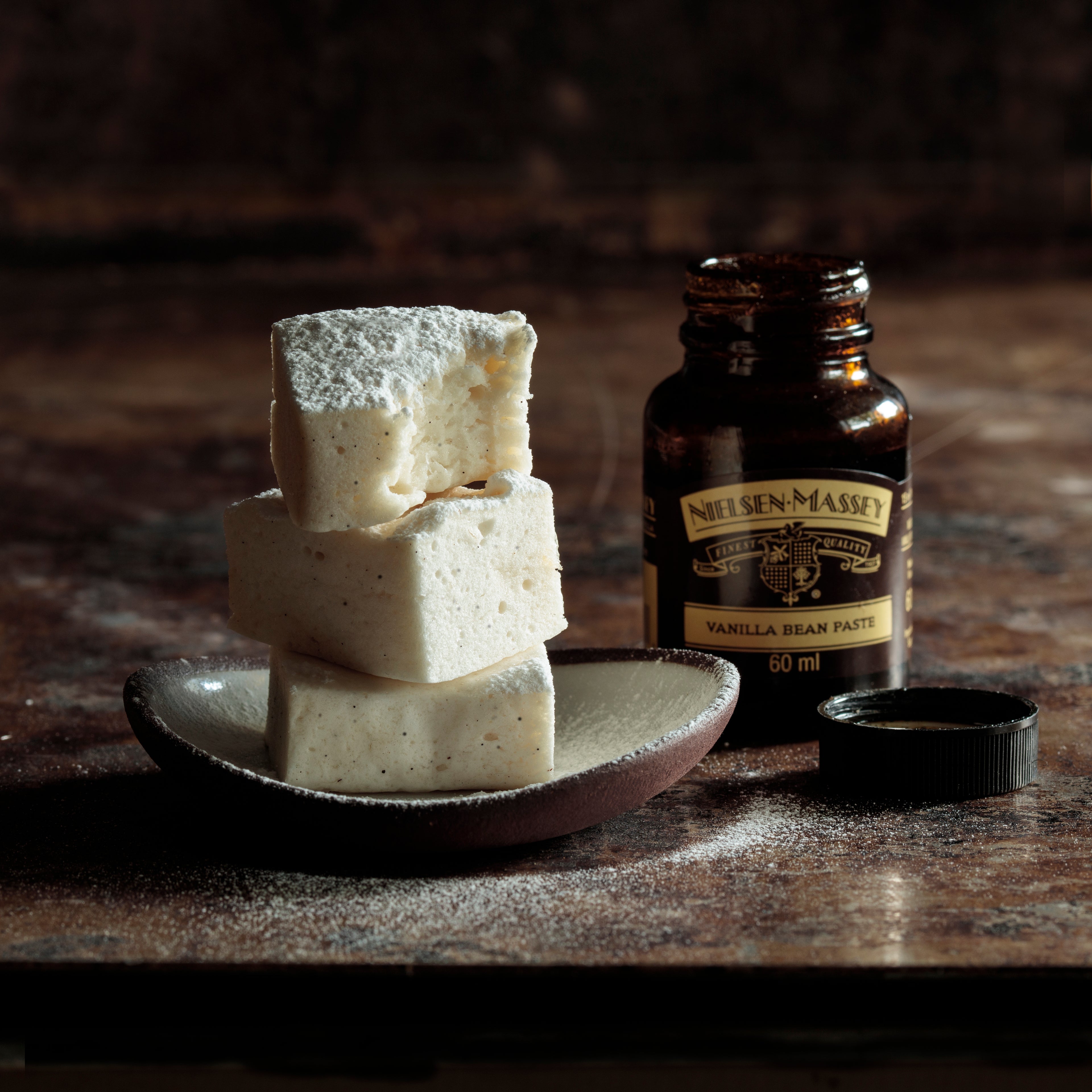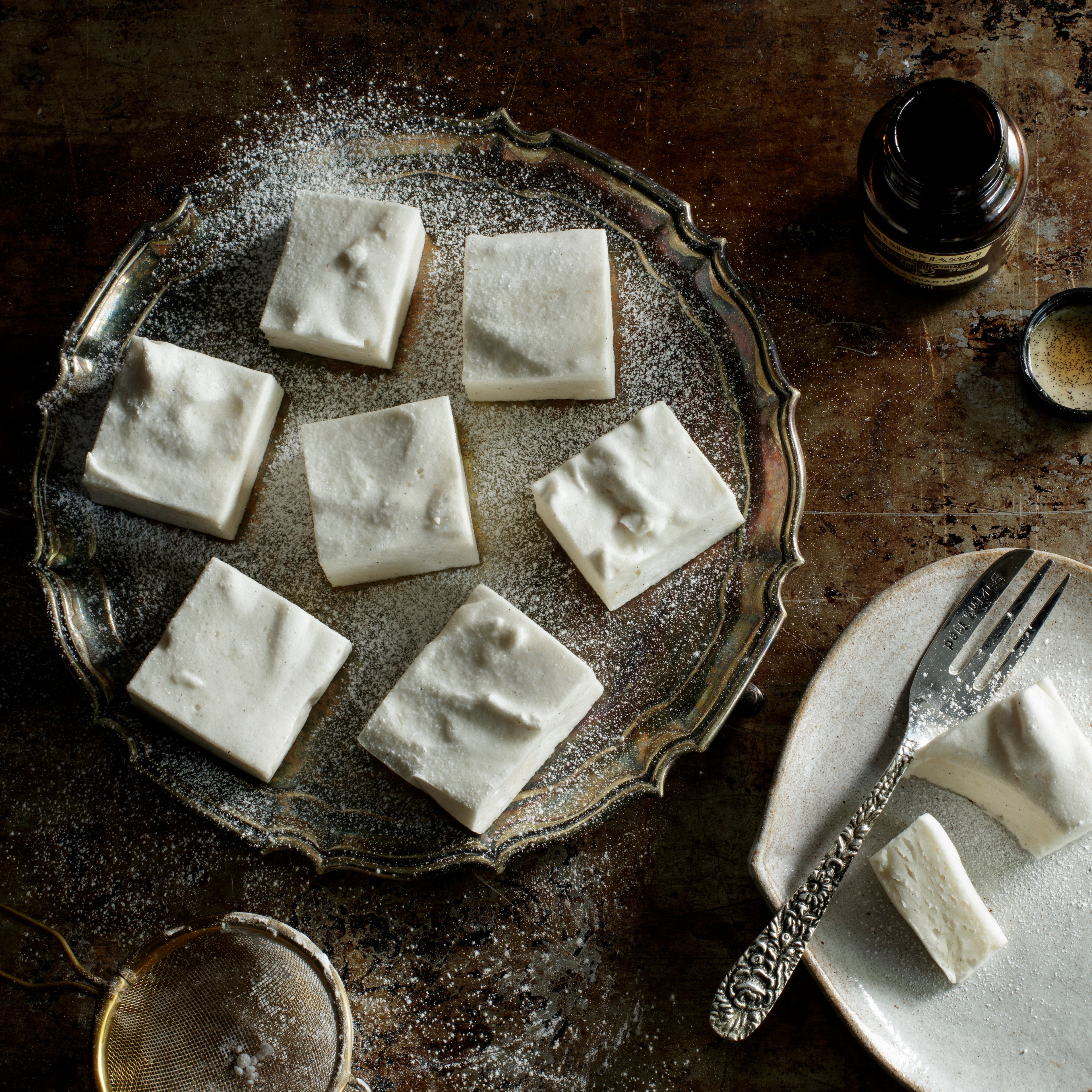 About the bake
These vegan vanilla marshmallows are perfect to make as a little treat. This recipe contains no geletine or egg white making them completely vegan.
Method
Step 1:

Line an 8" square baking tin with parchment paper. In a small bowl, combine the icing sugar and corn flour.


Step 2:

Use a few spoonfuls of the mixture to coat the tin on all sides and corners. Set the pan aside and save the remainder of the mixture until your marshmallows are completely set and ready to cut.


Step 3:

Using a stand mixer, combine agar agar powder and 120ml of the water until dissolved. It should come together like a thin applesauce. Put this to one side.


Step 4:

In a saucepan, pour in 170ml (the rest) of the water. On top of the water, pour the granulated sugar, golden syrupand the pinch of salt. Do not stir. Bring to a rapid boil until the mixture has reached a temperature of 120ºc. This should take around 15 minutes, keep an eye on it as you don't want to to burn.

Keep a pastry brush and a small bowl of water handy. Carefully brush water around the inside of the sauce pan to create condensation which will prevent crystals from forming.

Once the sugar mixture has come to temperature, take it off the heat.


Step 5:

Turn the stand mixer on to low speed and cover with a tea towel. This will help stop boiling water from splashing. Carefully pour hot syrup into the bowl and into the agar mix while the mixer is on low. Once it's all in, add the vanilla bean paste and gradually increase the speed until it's on high. Whip the mixture for 10 minutes until thick - almost like a shiny soft ice cream consistency.


Step 6:

Transfer the whipped mixture to the prepared 8" tin and leave on the side, uncovered, for 12-18 hours. After this, the top should be completely dried. Once they are dried and feeling solid, put them in the fridge for about an hour before slicing into squares.


Step 7:

Once you have cut a marshmallow, toss it in the rest of the icing sugar and cornflour mix to prevent it from being sticky.


Top Tip

Keep in the fridge for up to a week.
Ingredients
For the Marshmallows

300g

 Silver Spoon Icing Sugar

50g

 

Corn flour

3 tbsp

 

Agar agar

290ml

 

Warm water

300g

 

Silver spoon granulated sugar

470ml

 

Silver spoon golden syrup

Pinch

 

Salt

1 tsp

 Nielsen-Massey Vanilla Bean Paste
Utensils
8in square tin

Thermometer

Stand mixer

Saucepan

Pastry brush
Recipe Reviews
I tried making this (I used a third of every ingredient), but I only got a sad looking bowl of brown goo... No matter how long I tried to whip it, it stayed the same. What did I do wrong?
We are sorry to hear that you experienced challenges with this recipe, we would always recommend following ingredient qualities to the exact measurement to ensure the best outcome for your bake.
Ingredients
For the Marshmallows

300g

 Silver Spoon Icing Sugar

50g

 

Corn flour

3 tbsp

 

Agar agar

290ml

 

Warm water

300g

 

Silver spoon granulated sugar

470ml

 

Silver spoon golden syrup

Pinch

 

Salt

1 tsp

 Nielsen-Massey Vanilla Bean Paste
Utensils
8in square tin

Thermometer

Stand mixer

Saucepan

Pastry brush