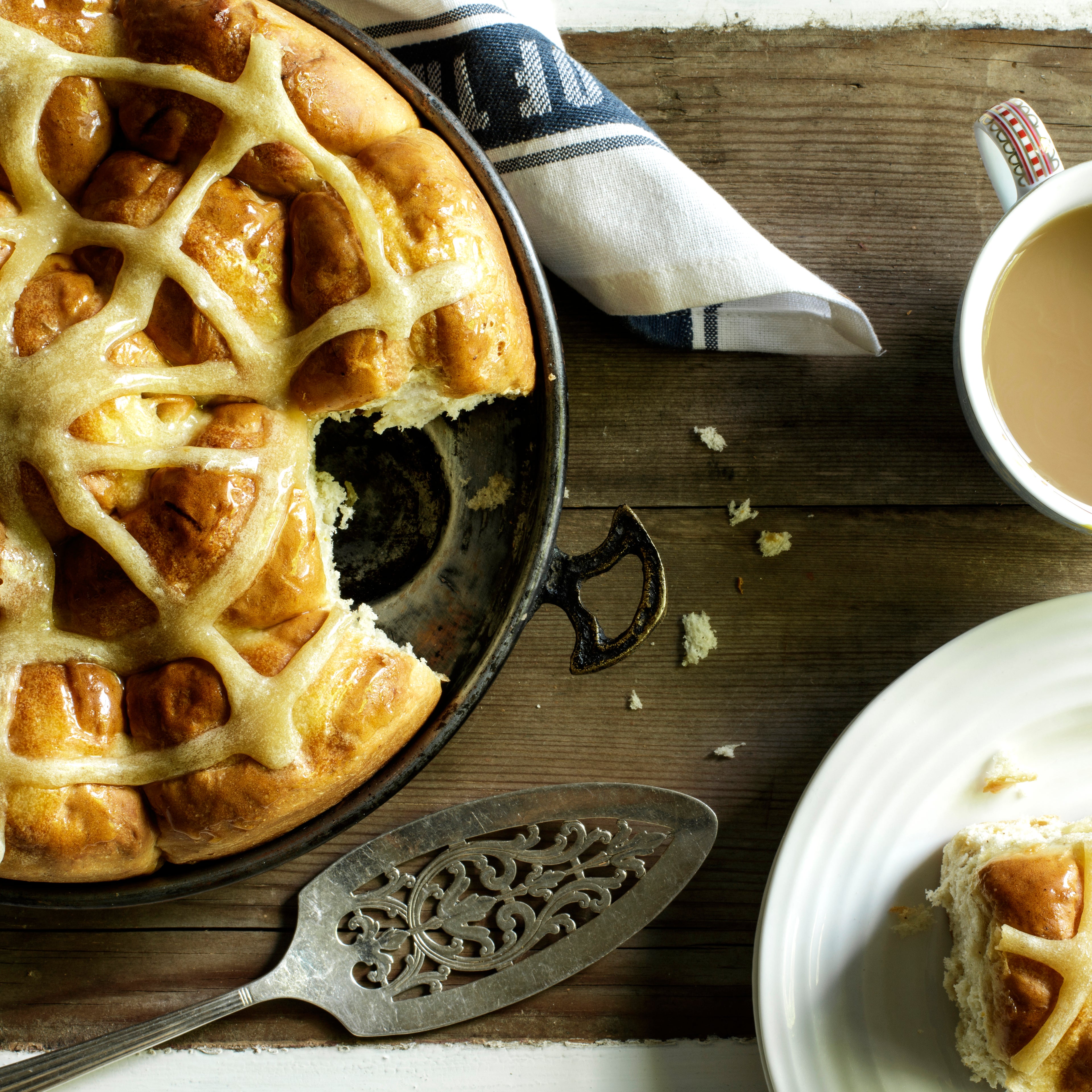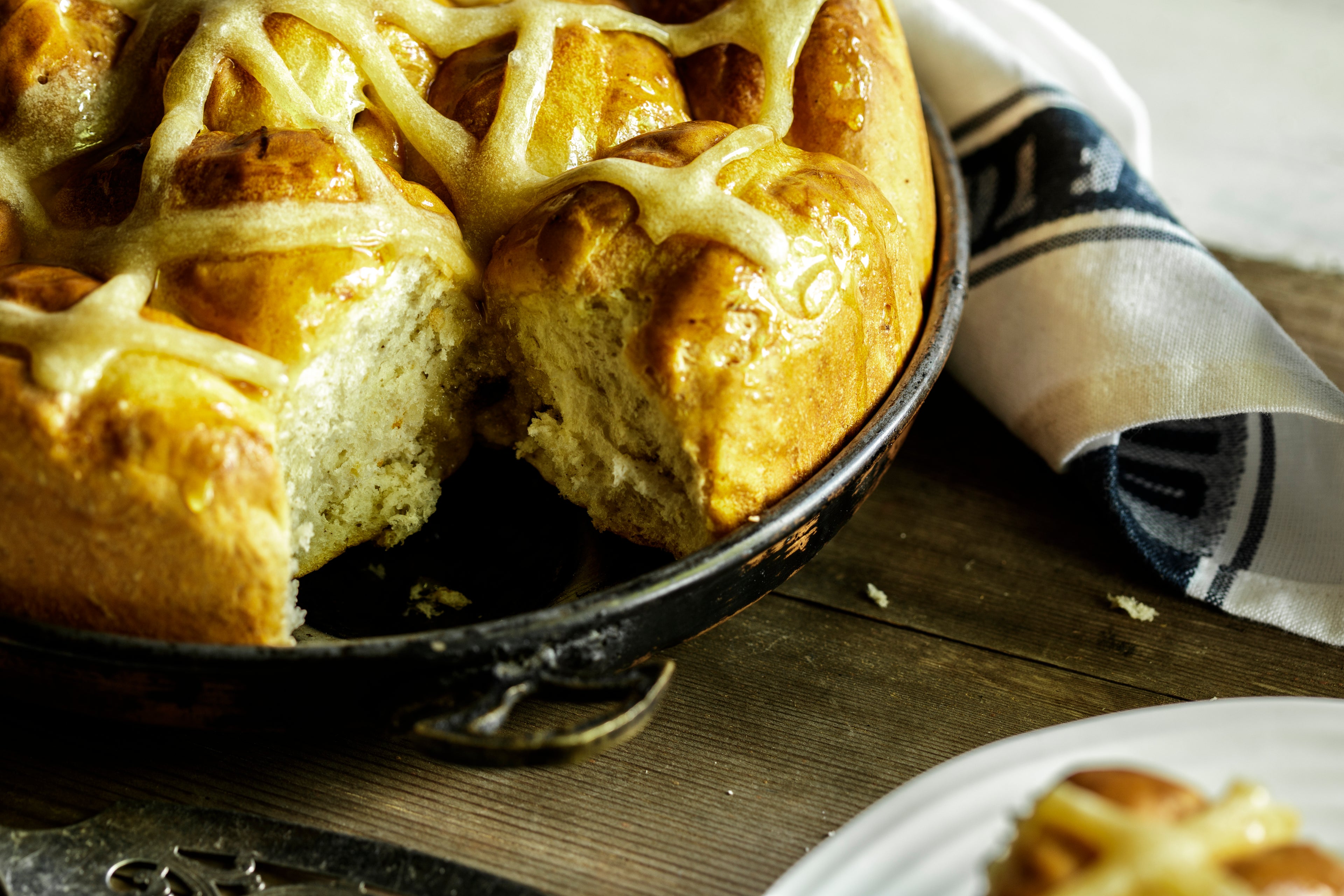 About the bake
These vegan hot cross buns are so easy to make. They don't contain any dairy which makes them completely vegan. Hot cross buns are traditionally made around Easter time and this recipe will have the whole family enjoying a tasty tradition. These buns will last for 3 days in an airtight container. If you'd like to freeze them, slice them horizonally in half beforehand. This will make it easier to toast them straight from the oven without needing to defrost them first.
Method
Step 1:

Gently heat the soya milk until it is tepid. Remove from the heat and whisk in the yeast and sugar. The yeast will start to bubble after a couple of minutes.


Step 2:

Using a large bowl, mix together the flour, salt, spices. Stir in the sultanas or rasins and mixed peel. Make a well in the centre of the dry ingredients and stir in the oil, yeast milk mixture and orange juice.


Step 3:

Bring together the ingredients using your hands. The dough will be soft and sticky. Add a little more water if you haven't yet reached this, or a little more flour until you feel the consistency is right.


Step 4:

Turn out the dough onto a lightly floured surface and knead for 5-8 minutes until the dough is smooth and stretchy.

Lightly oil a bowl and place your dough in it. The oil will stop the dough from sticking to the sides as it proves. Cover with a damp teatowel and leave in the warmest room you have until it has doubled in size.




Step 5:

When the dough has risen, knead for a further 10 minutes then divide into 12 or 15 equal size balls. Roll the dough into smooth balls and evenly space out on a large baking tray (30 x 40cm) lined with baking paper. Cover with the damp tea towel and leave in a warm place until they have risen into roll sized buns.


Step 6:

Heat your oven to 200ºC/ 190ºc fan. While the oven is heating, it's time to make your crosses. Mix your flour with 2 tbsp water to form a thick paste. Spoon into an icing bag and snip the corner. Slowly pipe along each row of buns, then repeat in the other direction. Place in the oven and bake for 20 minutes on the middle shelf, until golden brown.


Step 7:

To make the glaze, gently boil the sugar and fruit juice in a small pan for about 5 minutes until it starts to thicken into a syrup. Brush over the buns while they're still hot. Allow to set before serving.

Ingredients
For the Dough

500g

 Allinson's Strong White Bread Flour

250ml

 

Soya milk

Sachet

 Allinson's easy bake yeast or time saver yeast

2 tbsp

 Silver Spoon Caster Sugar

2 tbsp

 

Vegetable oil

1 tsp

 

Salt

4 tsp

 

Mixed spice

100g

 

Sultanas or rasins

100g

 

Mixed peel

85ml

 

Orange juice

For the Crosses

3 tbsp

 Allinson's plain white flour

2 tbsp

 

Water

For the Glaze

2 tbsp

 

Sugar

2 tbsp

 

Orange juice
Recipe Reviews
I made these yesterday. I doubled up the spices because I love the festive flavours. Yum! It's a brilliant recipe!!
I've made these twice now. So easy to make! I added extra peel the second time because I love it. Next time, I'll add some dark choc chunks and see what happens-lol
Thank you Baking Mad! Vegan hot cross buns- at last! A really decent easy vegan recipe on the internet. I've made these and i'm so happy with the results.
Ingredients
For the Dough

500g

 Allinson's Strong White Bread Flour

250ml

 

Soya milk

Sachet

 Allinson's easy bake yeast or time saver yeast

2 tbsp

 Silver Spoon Caster Sugar

2 tbsp

 

Vegetable oil

1 tsp

 

Salt

4 tsp

 

Mixed spice

100g

 

Sultanas or rasins

100g

 

Mixed peel

85ml

 

Orange juice

For the Crosses

3 tbsp

 Allinson's plain white flour

2 tbsp

 

Water

For the Glaze

2 tbsp

 

Sugar

2 tbsp

 

Orange juice