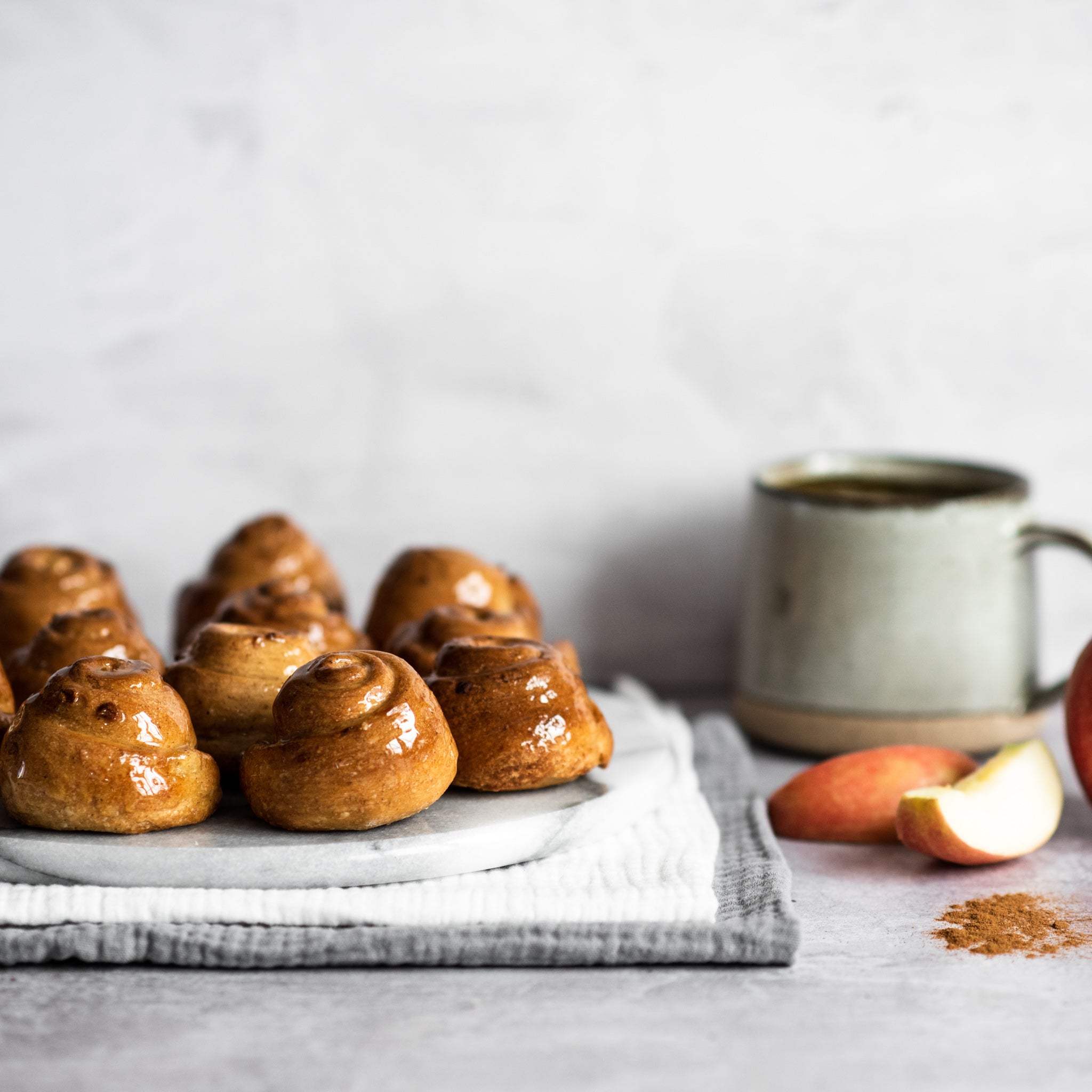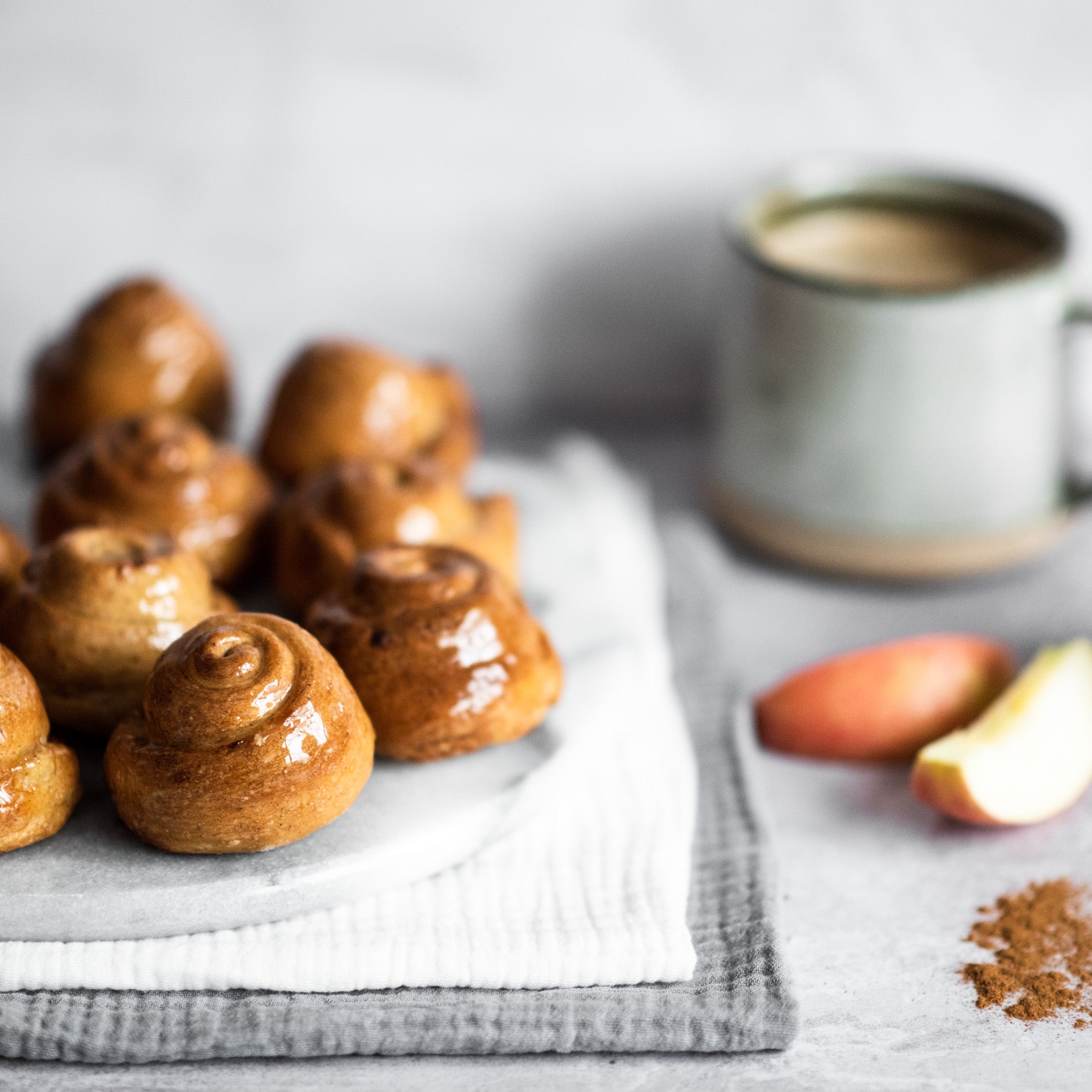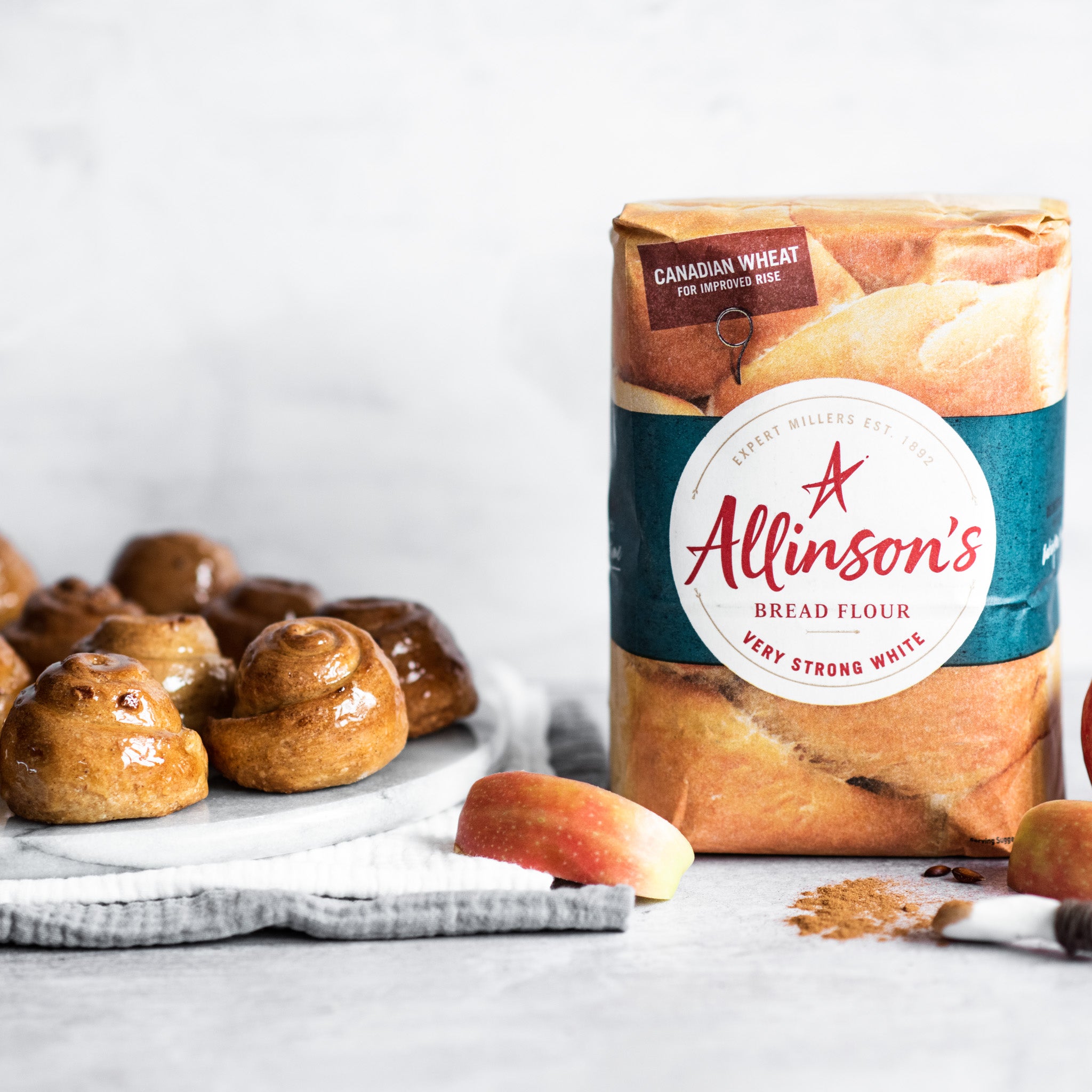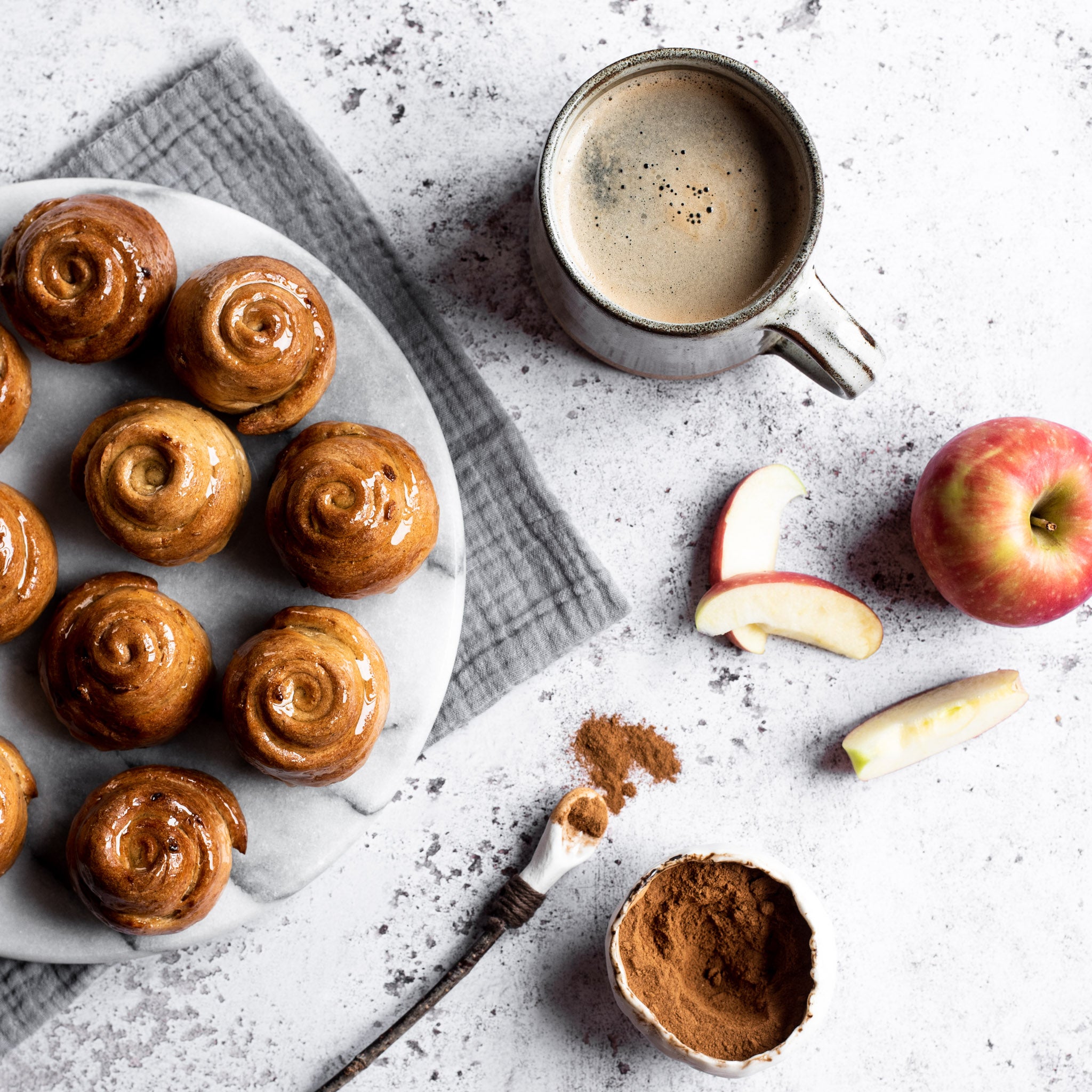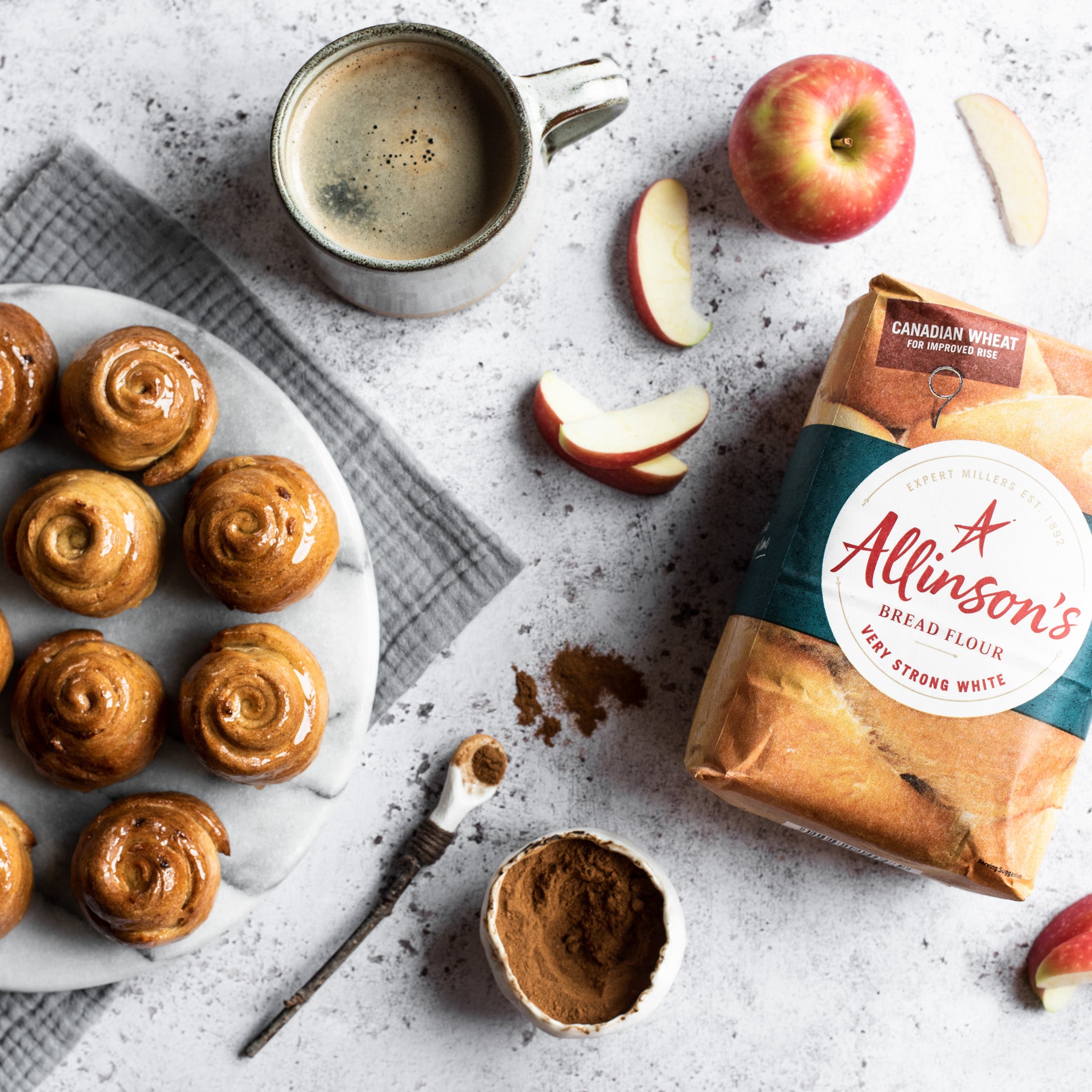 About the bake
These glossy, golden mini mouthfuls of yumminess are just as good as they look. Sticky apple carmelised with maple syrup, all rolled up into chewy moreish buns to grab on the go, or as a special breakfast treat.
Made using coconut milk, these are perfect for a vegan diet, and promise a well-formed strong rise using Allinson's strong white bread flour - a must-have in your pantry if you want to master the delights of sticky buns, bagel, pretzels - and well, all the best bread bakes.
How to get perfect buns?
For this recipe you'll need 12 dough balls to roll out into spiral shaped buns. If you're a perfectionist you can use scales to divide up your dough into 12 equal portions, this will ensure they will all come out of the oven looking uniform.

Allinson's strong white bread flour is brilliant at making sure your dough holds it's shape, giving you picture perfect peachy buns.
Method
Step 1:

Place all of the ingredients except the honey into a mixer with a dough hook attached. Mix to a soft dough and knead for 5 minutes.

Step 2:

If mixing by hand, put the flour, sugar, salt, oatmeal, spice, apple and coconut milk powder into a bowl. Sprinkle on the yeast and mix to a soft dough with the oil and apple juice. Knead on a floured board for 10 minutes.


Step 3:

Split the dough into 12 equal balls and roll each of them out into a thin rectangle. Roll the dough up similar to a swiss roll and place in a greased bun tin.

Step 4:

Leave to prove until double in size. Preheat the oven to 190°C (fan 170°C, gas mark 5).

Step 5:

Bake for 20 minutes and glaze with maple syrup while still warm.

Ingredients
450g

 Allinson's Strong White Bread Flour

1 tsp

 Billington's Unrefined Golden Caster Sugar

1 tsp

 

Salt

50g

 

Oatmeal

2 tsp

 

Mixed spice

1

 

Apple(s) (peeled, cored and finely chopped)

2 tbsp

 

Coconut milk powder

1 sachet

 Allinson's easy bake or time saver yeast

50ml

 

Vegetable oil

200ml

 

Apple juice

To glaze

 

Billington's light maple syrup
Recipe Reviews
Just made these and they worked for me. Just make sure you cut your apple really small otherwise it escapes during the kneading process. My buns definitely didn't look as pretty as the ones in the picture but they taste amazing. I'll be making them over and over again
Ingredients
450g

 Allinson's Strong White Bread Flour

1 tsp

 Billington's Unrefined Golden Caster Sugar

1 tsp

 

Salt

50g

 

Oatmeal

2 tsp

 

Mixed spice

1

 

Apple(s) (peeled, cored and finely chopped)

2 tbsp

 

Coconut milk powder

1 sachet

 Allinson's easy bake or time saver yeast

50ml

 

Vegetable oil

200ml

 

Apple juice

To glaze

 

Billington's light maple syrup