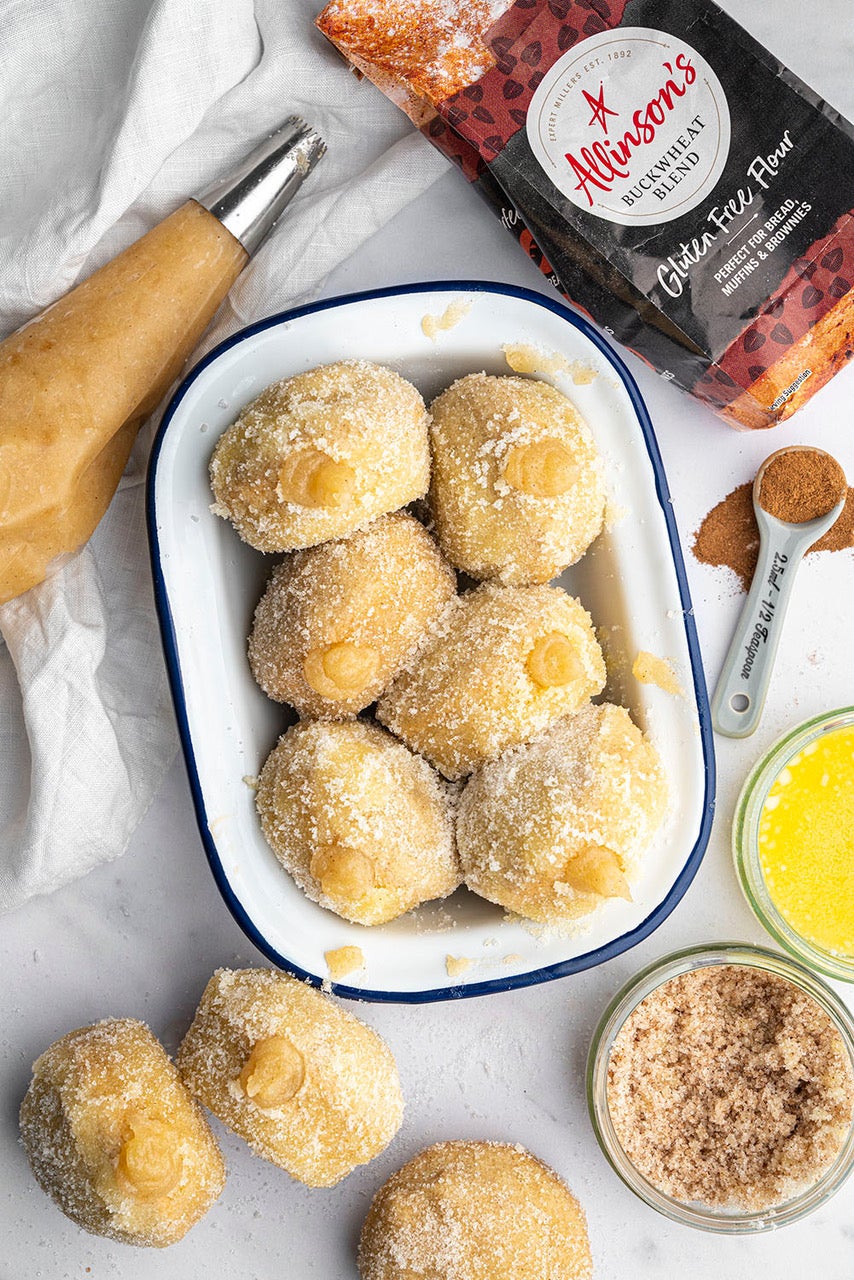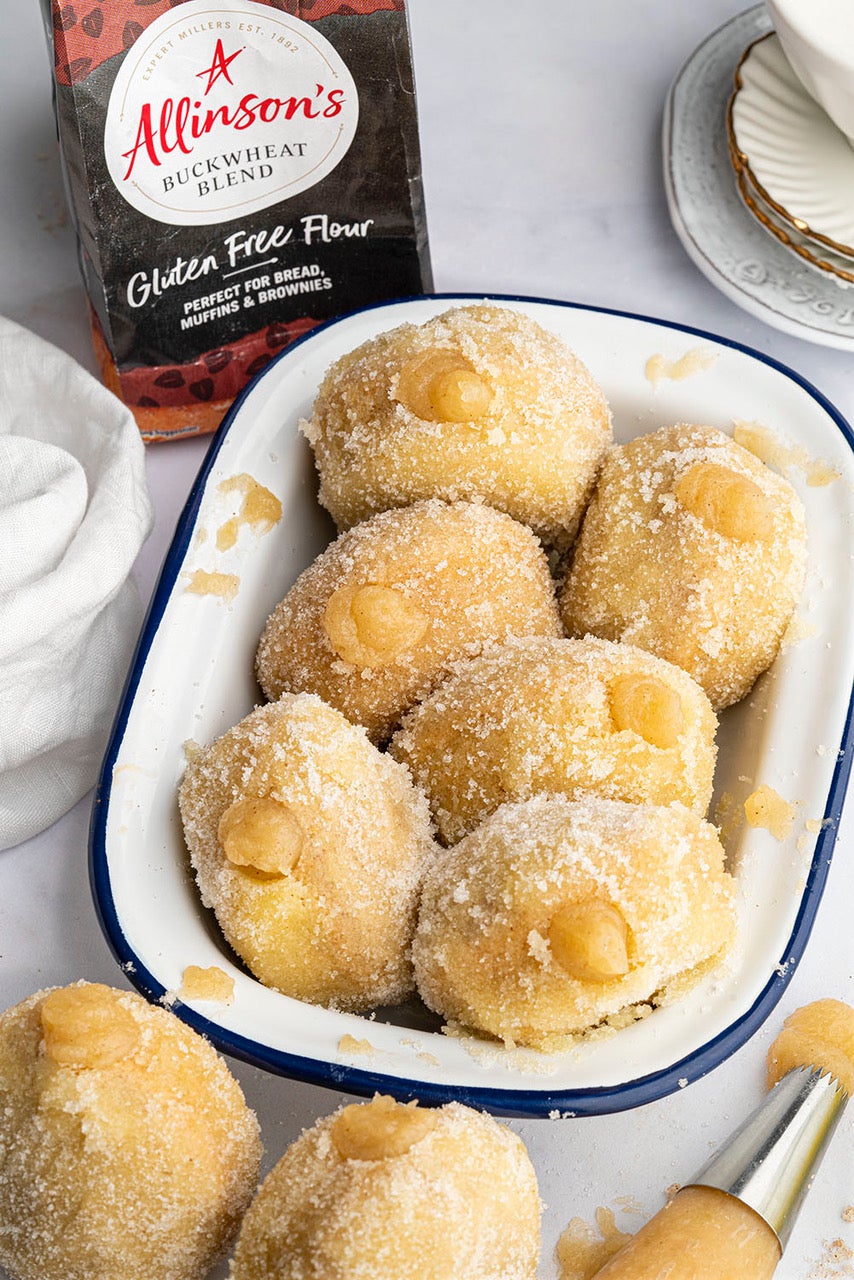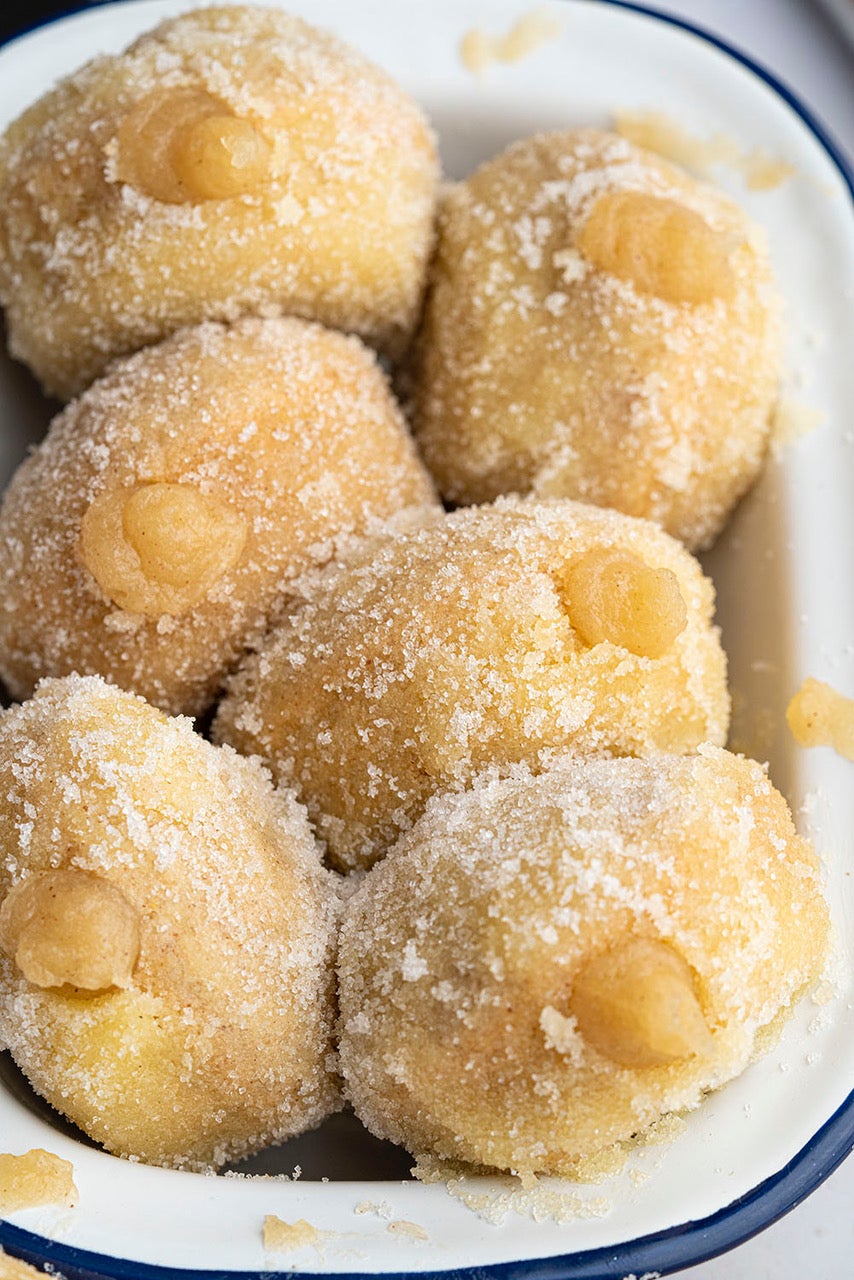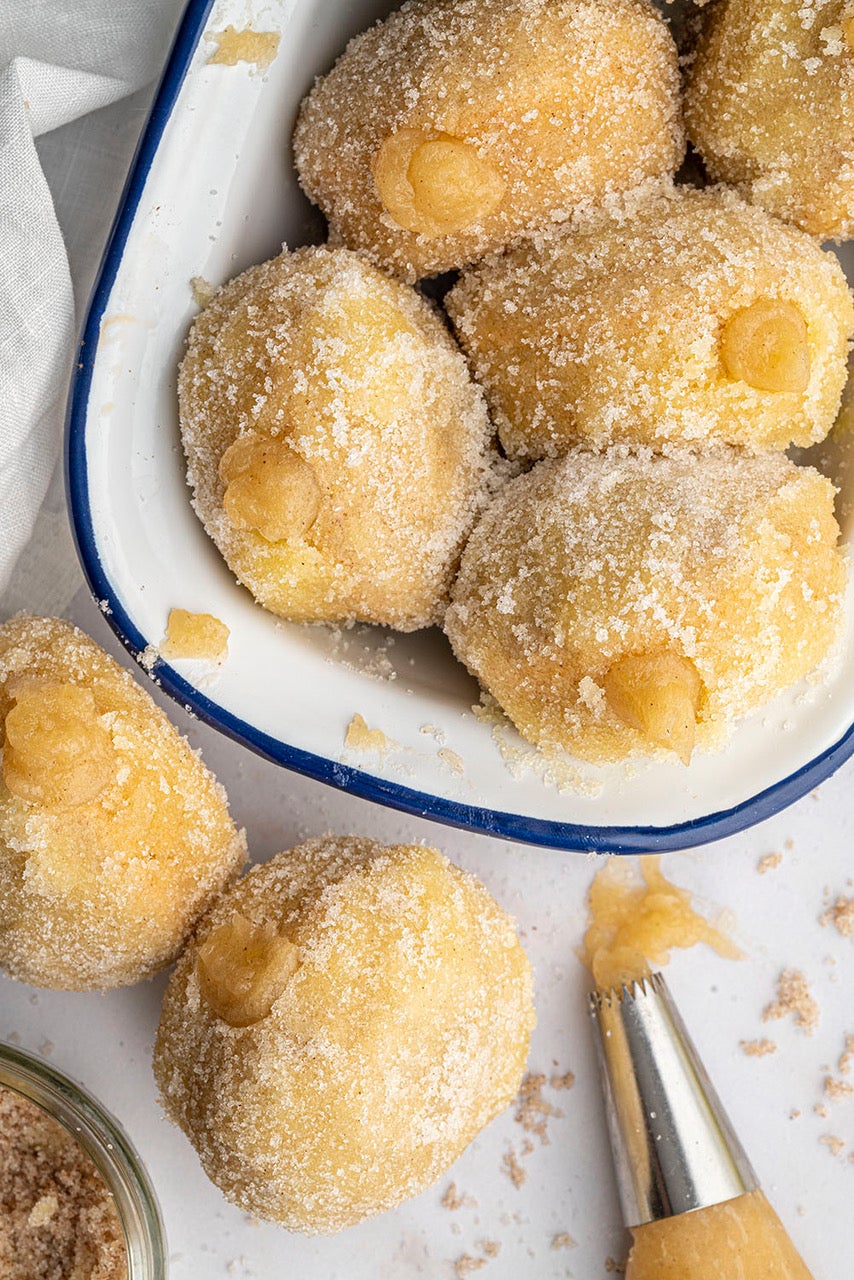 About the bake
Becky Excell is a gluten free food and travel blogger who has been creating delicious recipes since she stopped eating gluten over ten years ago. "It's not until you can't eat gluten that you realise it's in everything". She started creating all the recipes she really missed enjoying. Here is one she has created especially for Allinson's. The doughnuts are baked, not fried and are filled with a delicious homemade apple pie filling.
Method
Step 1:

For the apple filling:

Peel and chop your apples.


Step 2:

Place them in a saucepan alongside your butter and sugar. Allow to cook over a low heat for about 30 minutes until soft. Add in your cinnamon about half way through and stir. Your apple mixture is done when its lovely and thick, any excess water has evaporated and the apples are super soft.


Step 3:

As we are going to be piping the apple filling into our doughnuts we need it to be smooth so use a stick blender to make the filling smooth, then, allow to cool.


Step 4:

For the doughnuts:

Preheat your oven to 160C Fan / 180C.


Step 5:

Grease a cupcake / muffin tin either with butter or spay a little oil and spread it around each hole.


Step 6:

Place your gluten free flour mix, baking powder, xanthan gum, cinnamon and caster sugar into a large bowl and gently mix.


Step 7:

In a small bowl mix together your melted butter (must be cooled), oil, buttermilk and egg. Whisk until combined.


Step 8:

Pour your wet ingredients into your bowl of dry ingredients and mix together. Try to mix as minimally as possible, just until combined. Your mixture is ready!


Step 9:

Spoon your mixture into the muffin holes (already greased). Fill them up to about half way. You can fill them higher but they will just look a little more muffin like in shape - still delicious!


Step 10:

Place in the oven for 16-18 minutes and cooked through. Once cooked allow to cool for a few minutes in their tin before gently easing them out.


Step 11:

Mix your granulated sugar and cinnamon together. Whilst still warm carefully coat each in melted butter and then roll or sprinkle each with cinnamon sugar. Allow to cool.


Step 12:

Making sure your apple filling is cool, thick and smooth, spoon it into a piping bag with a medium nozzle on the end.


Step 13:

Then from the side of your doughnut, carefully push your nozzle into the doughnut and squeeze in your apple filling until lovely and full. Enjoy!

Ingredients
For the Doughnuts

170g

 Allinson's buckwheat blend

2 tsp

 

Baking powder

0.25 tsp

 

Xanthan gum

1 tsp

 

Ground cinnamon

85g

 

Caster sugar

40g

 

Butter (melted)

25g

 

Oil

1

 

Egg

75ml

 

Buttermilk

For the Filling

400g

 

Apples

120g

 

Caster sugar

15g

 

Butter

0.5 tsp

 

Ground cinnamon

Cinnamon Sugar

100g

 

Granulated sugar

1 tsp

 

Ground cinnamon

50g

 

Butter (melted)
We'd love a slice of advice.
Was it yum? Did the recipe work well? Did you customise the recipe?
Ingredients
For the Doughnuts

170g

 Allinson's buckwheat blend

2 tsp

 

Baking powder

0.25 tsp

 

Xanthan gum

1 tsp

 

Ground cinnamon

85g

 

Caster sugar

40g

 

Butter (melted)

25g

 

Oil

1

 

Egg

75ml

 

Buttermilk

For the Filling

400g

 

Apples

120g

 

Caster sugar

15g

 

Butter

0.5 tsp

 

Ground cinnamon

Cinnamon Sugar

100g

 

Granulated sugar

1 tsp

 

Ground cinnamon

50g

 

Butter (melted)