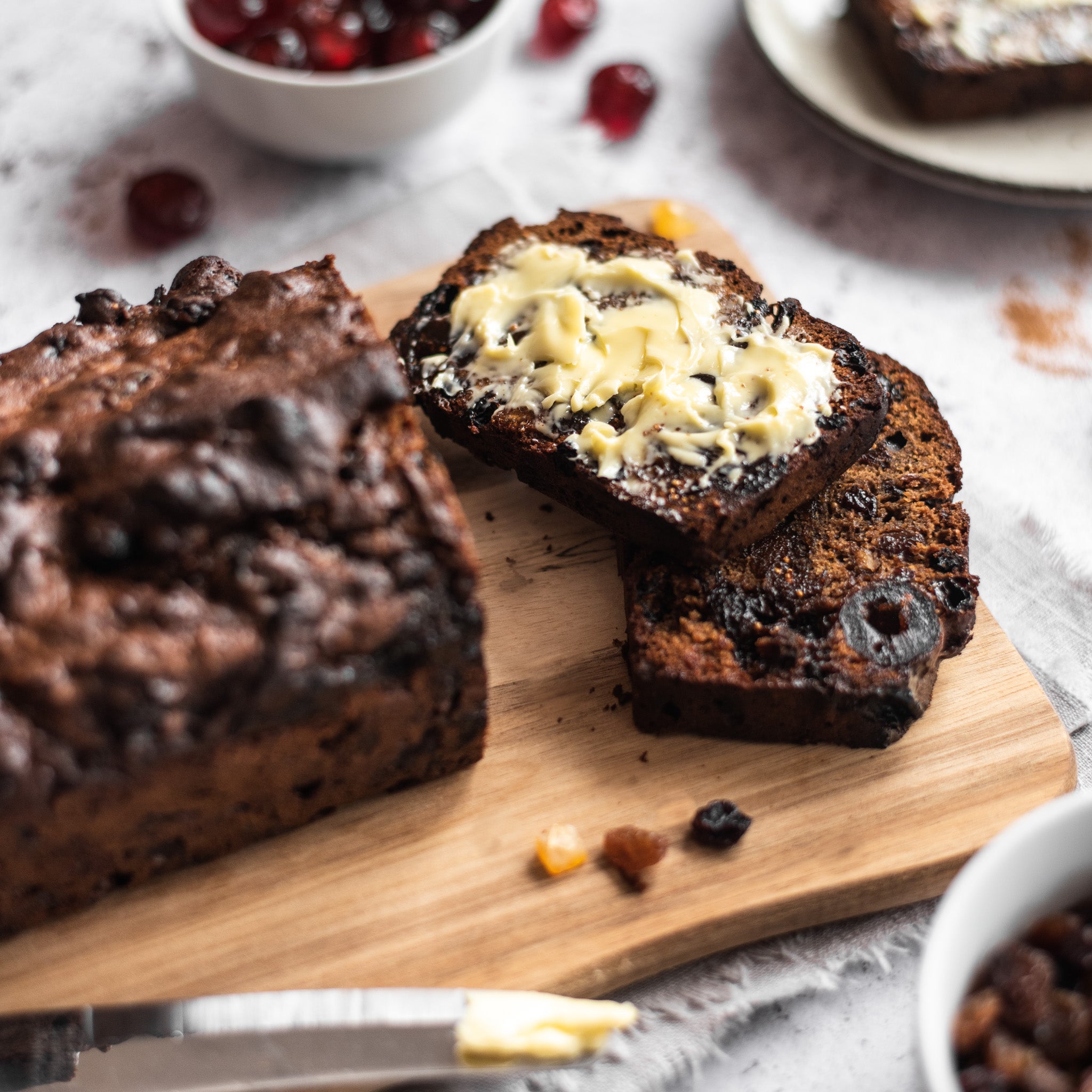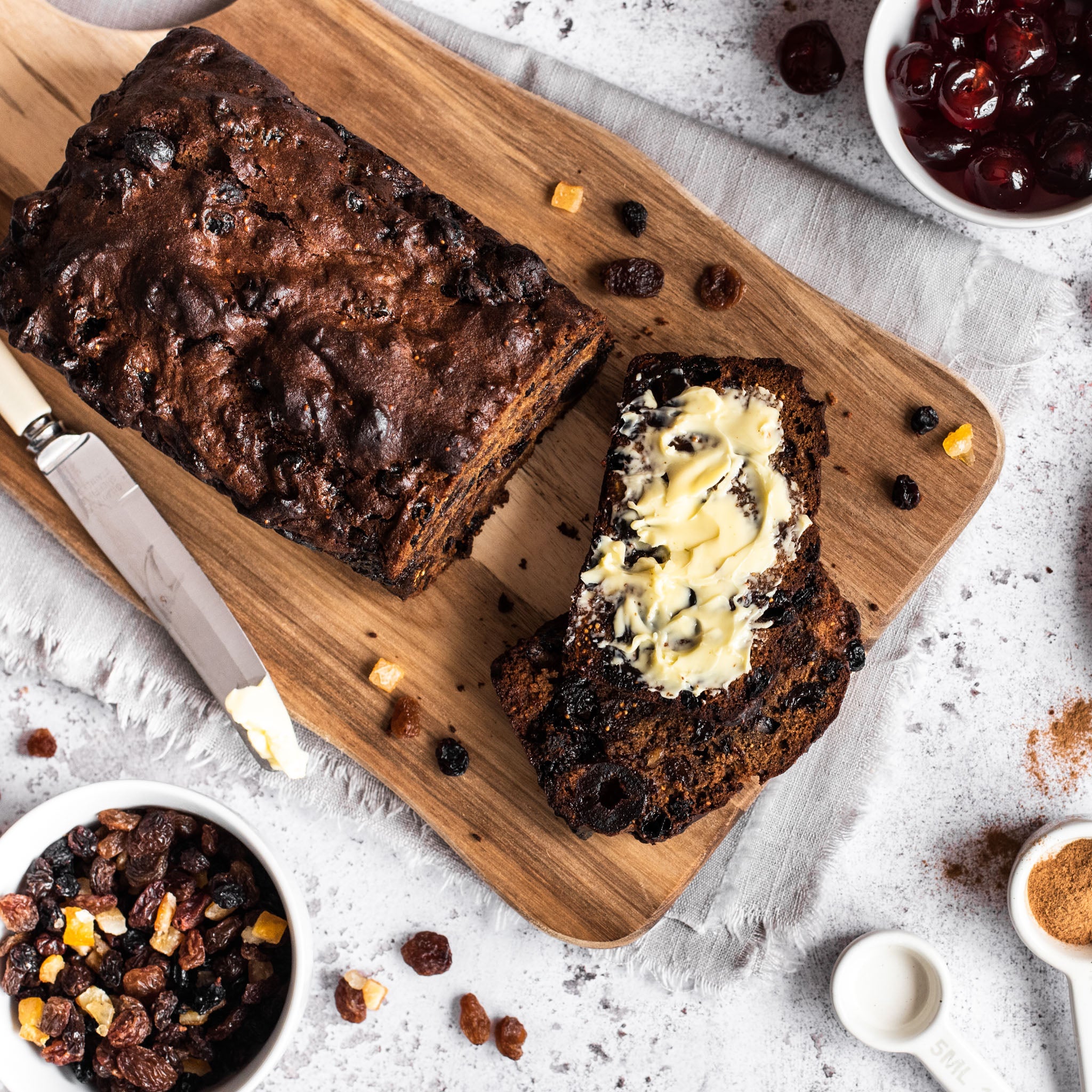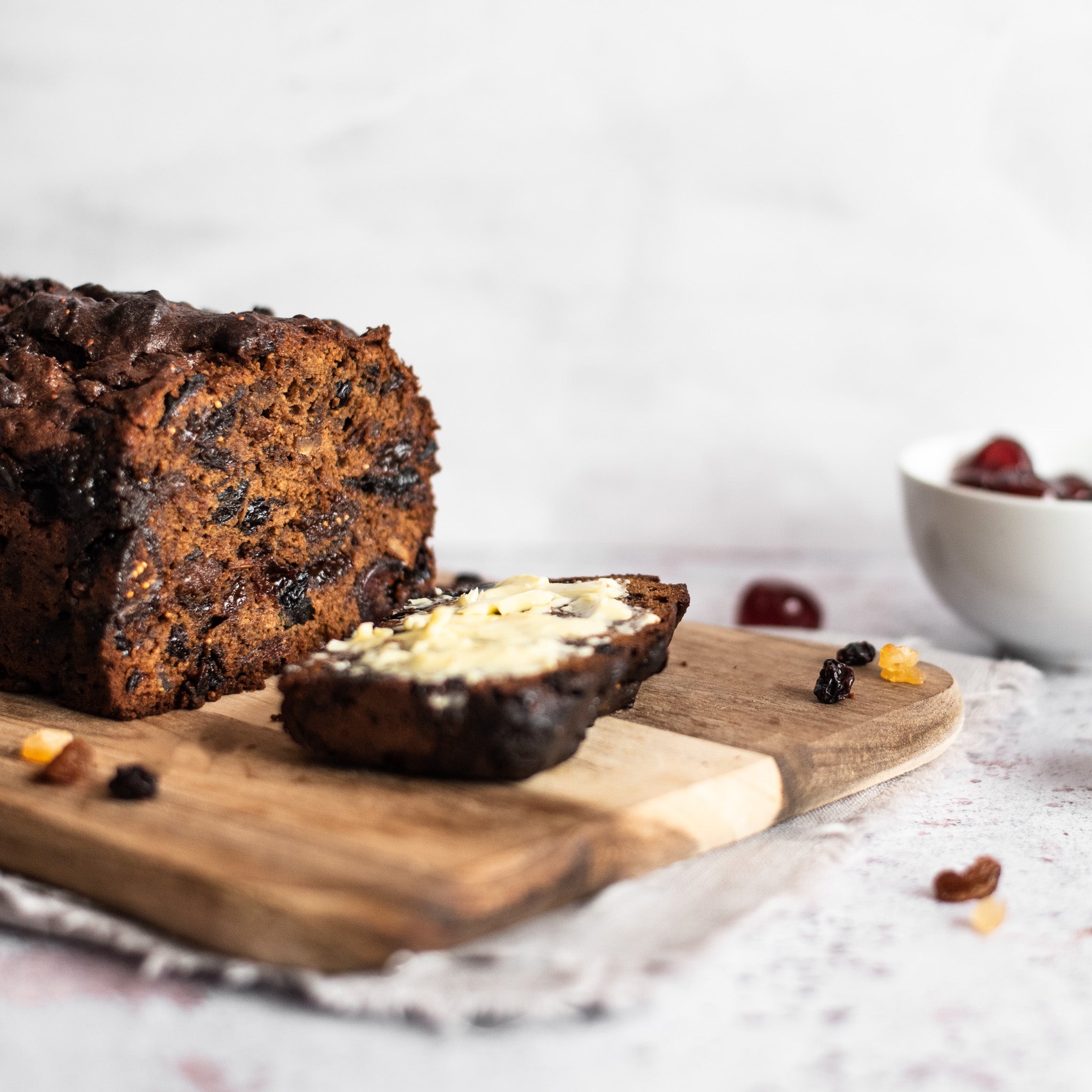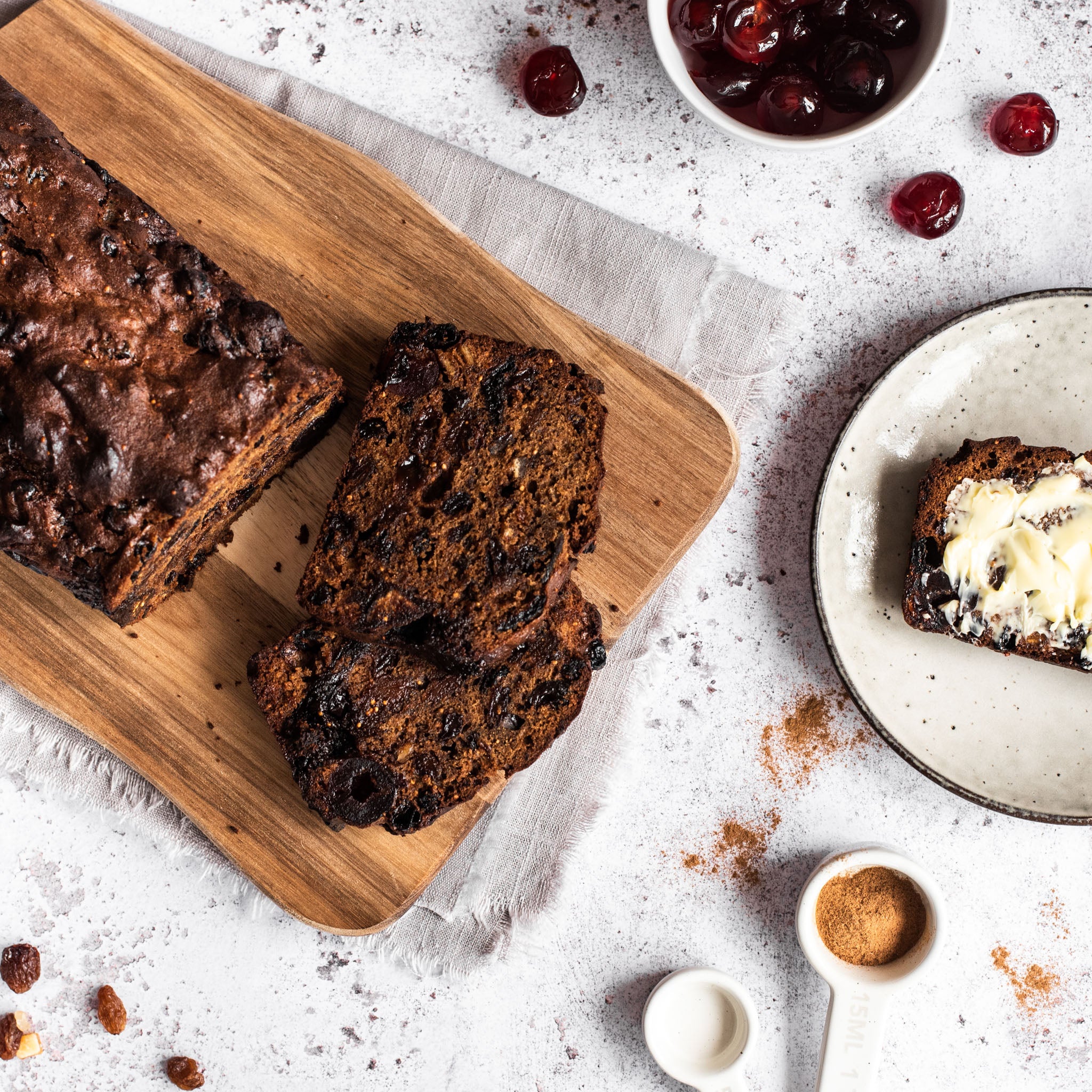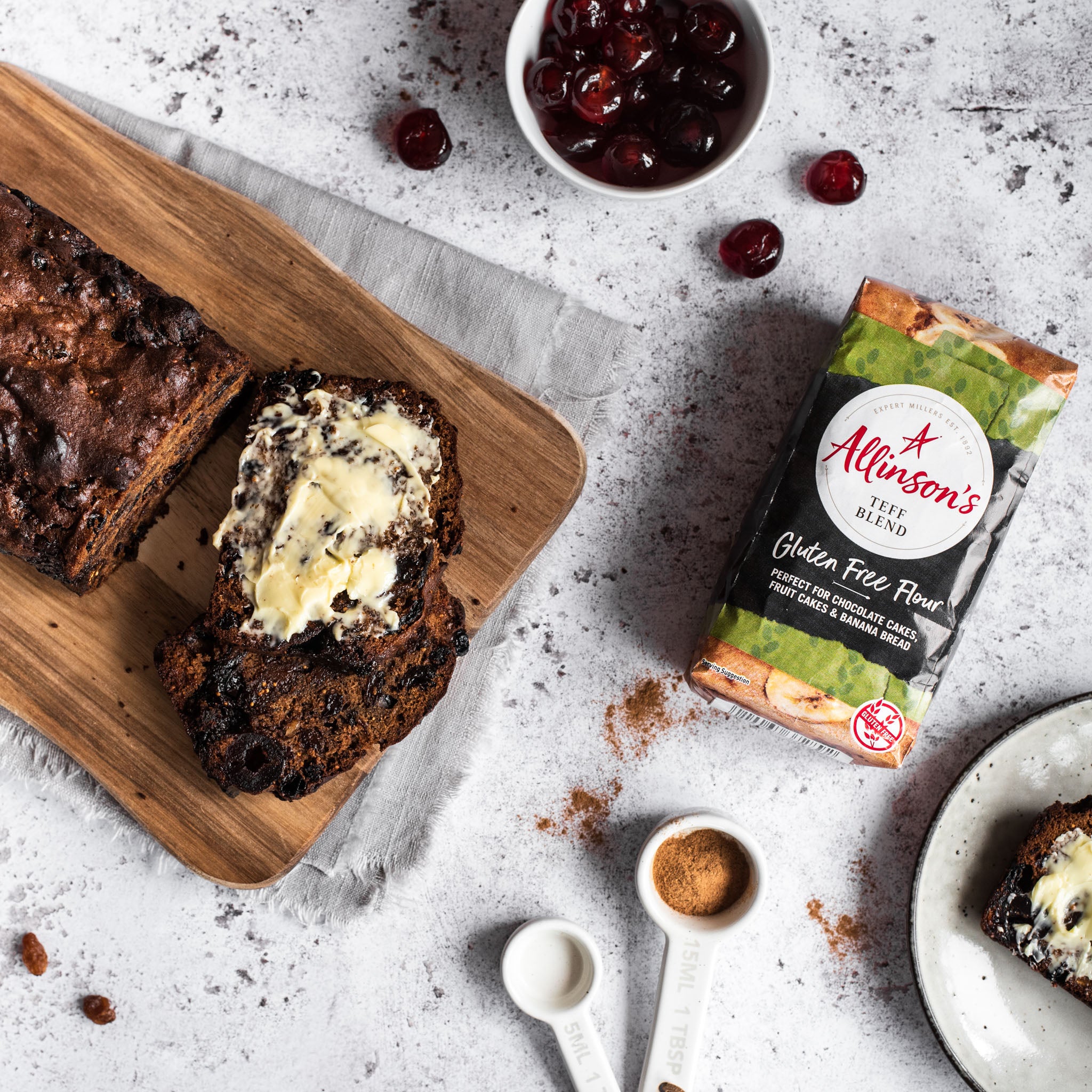 About the bake
This gluten free loaf cake is a doddle to make. Laced with rich fruity bits, a slice of this is perfect for that little pick-me-up in the afternoon with a hot cuppa. Taste and texture is not compromised with Allinson's gluten free teff blend. Gluten guzzlers won't even notice the difference.
Method
Step 1:

Boil the kettle and pour 250ml into a jug, add the teabags (or tea) and allow to brew for 10 minutes. While the tea brews, chop the prunes and figs and put them into a saucepan with the mixed fruit. Pour 150ml of the brewed tea into the dried fruit and bring to the boil, simmer until there is just a little liquid bubbling on the bottom of the saucepan and then scrape the fruit onto a couple of dinner plates to cool.


Step 2:

Butter and line a 2lb loaf tin with a double layer of parchment paper, bottom and sides. This can be done with loaf liners, heat the oven to 160ºC fan (180ºC without fan).


Step 3:

Beat together the soft butter, sugar, salt and orange zest until light and fluffy. Sift the flour, baking powder, mixed spice, cinnamon and xanthan gum into a bowl. Add half of the flour mixture and an egg to the butter mixture and beat until smooth again. Repeat, adding the other half of the flour and the final egg and beating again until combined. Finally add in the treacle and dried fruit, gently folding until combined.


Step 4:

Spoon into the prepared tin and level the surface. Bake for 60 minutes and then reduce the heat to 140ºC fan (160ºC without fan), cover the cake with a sheet of foil, loosely tucked around and bake for about another 30 minutes or until a skewer comes out clean.


Step 5:

Cool the cake completely in the tin and then store in an airtight tin for up to two weeks.

Ingredients
For the Cake

3

 

Earl grey teabags

125g

 

Dried figs

125g

 

Pitted prunes

175g

 

Mixed dried fruits

100g

 

Cherries

150g

 

Unsalted butter (softened)

135g

 Billington's dark muscovado or molasses sugar

0.5 tsp

 

Fine sea salt

1

 

Orange

150g

 Allinson's Teff Flour Blend

1 tsp

 

Gluten free baking powder

0.5 tsp

 

Xanthan gum

2

 

Large eggs

0.5 tsp

 

Mixed spice

0.5 tsp

 

Cinnamon

0.5 tbsp

 

Silver spoon treacle
We'd love a slice of advice.
Was it yum? Did the recipe work well? Did you customise the recipe?
Ingredients
For the Cake

3

 

Earl grey teabags

125g

 

Dried figs

125g

 

Pitted prunes

175g

 

Mixed dried fruits

100g

 

Cherries

150g

 

Unsalted butter (softened)

135g

 Billington's dark muscovado or molasses sugar

0.5 tsp

 

Fine sea salt

1

 

Orange

150g

 Allinson's Teff Flour Blend

1 tsp

 

Gluten free baking powder

0.5 tsp

 

Xanthan gum

2

 

Large eggs

0.5 tsp

 

Mixed spice

0.5 tsp

 

Cinnamon

0.5 tbsp

 

Silver spoon treacle