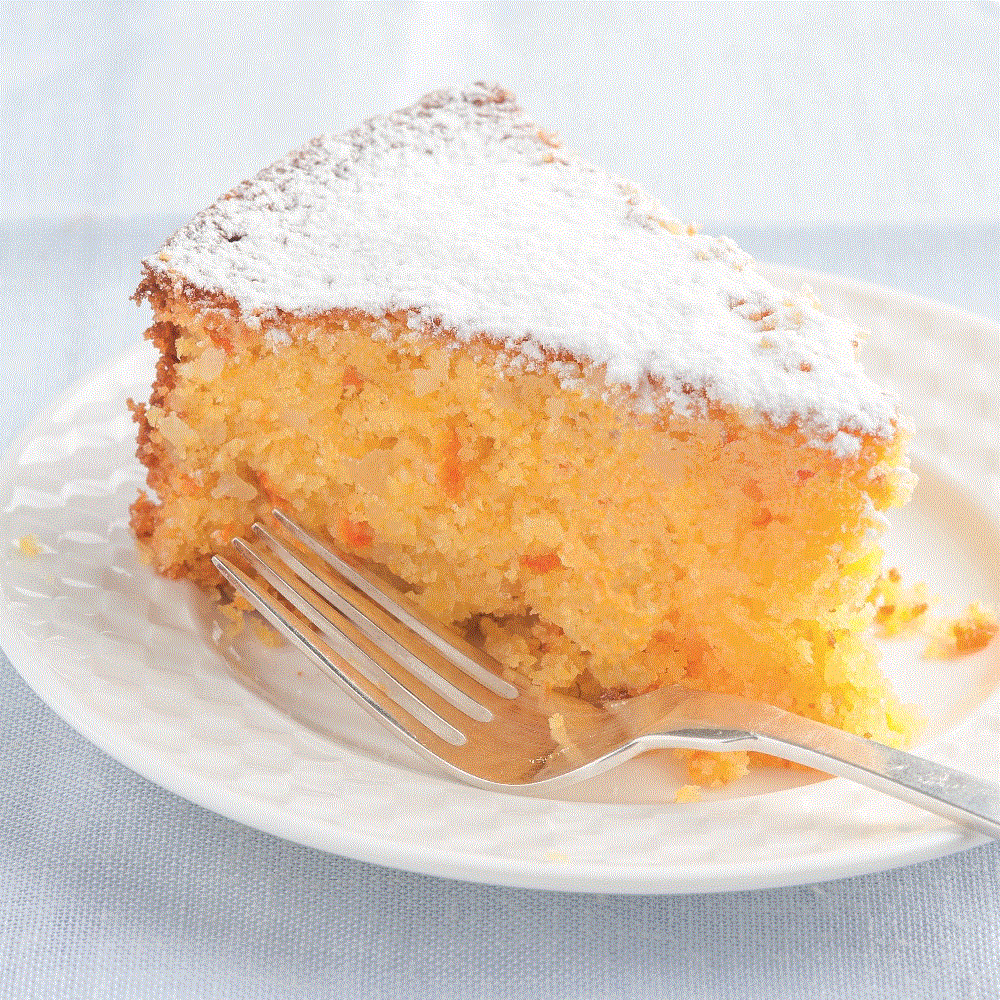 About the bake
Polenta is traditionally an Italian savoury dish but if you have never used it in a cake it is well worth trying and because it doesn't use any flour it's naturally gluten-free. The polenta grains give the cake a lovely soft crumbly texture and when combined with the super-buttery macadamia nuts and the tangy citrus fruit the result is one delicious cake. This recipe was taken from World's Best Cakes by Roger Pizey, published by Jacqui Small.
Method
Step 1:

Preheat the oven to 170°C (150°C, gas mark 3) and line a 22cm (8½in) round cake tin with baking parchment.

Step 2:

Pulp the mandarins by placing them whole in a pan and cover with cold water. Bring to the boil, drain and then repeat the process three times. Once cool halve the mandarins and discard any seeds then blend until pulpy.

Step 3:

Cream the butter and sugar together with the vanilla extract until light and fluffy. Add the eggs one at a time and beat well.

Step 4:

Stir in the polenta, baking powder, macadamia nut meal and mandarin pulp, and mix well until combined.

Step 5:

Spoon the mixture into the prepared tin and bake in the oven for one hour.

Step 6:

Remove from the oven, allow to cool for 10 minutes in the tin and then turn out onto a wire rack. Strip off the baking parchment. Serve dusted with icing sugar.
Ingredients
4

 

Small mandarin(s) (unpeeled)

250g

 

Unsalted butter (softened)

225g

 Billington's Unrefined Golden Caster Sugar

1 tsp

 Nielsen-Massey Vanilla Extract

3

 

Large free range egg(s)

170g

 

Polenta

1 tsp

 

Baking powder

275g

 

Macadamia nuts (blitzed into a coarse meal)

 

Icing sugar (to dust)
Utensils
8 1/2 in round cake tin

Parchment paper

Saucepan

Wire cooling rack
Recipe Reviews
This is a fabulous cake - i got my recipe from womens weekly - it is doing the rounds
Ingredients
4

 

Small mandarin(s) (unpeeled)

250g

 

Unsalted butter (softened)

225g

 Billington's Unrefined Golden Caster Sugar

1 tsp

 Nielsen-Massey Vanilla Extract

3

 

Large free range egg(s)

170g

 

Polenta

1 tsp

 

Baking powder

275g

 

Macadamia nuts (blitzed into a coarse meal)

 

Icing sugar (to dust)
Utensils
8 1/2 in round cake tin

Parchment paper

Saucepan

Wire cooling rack