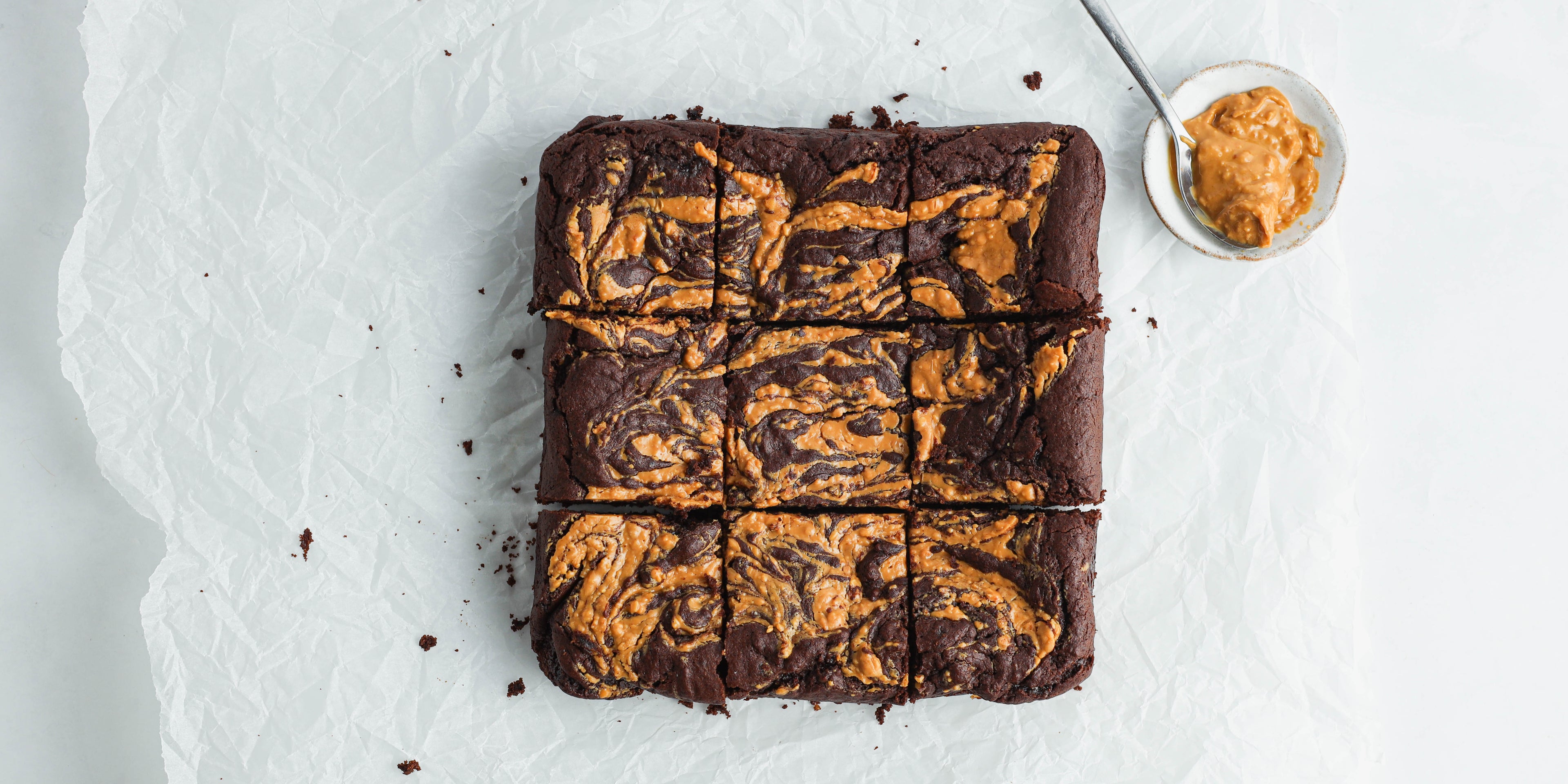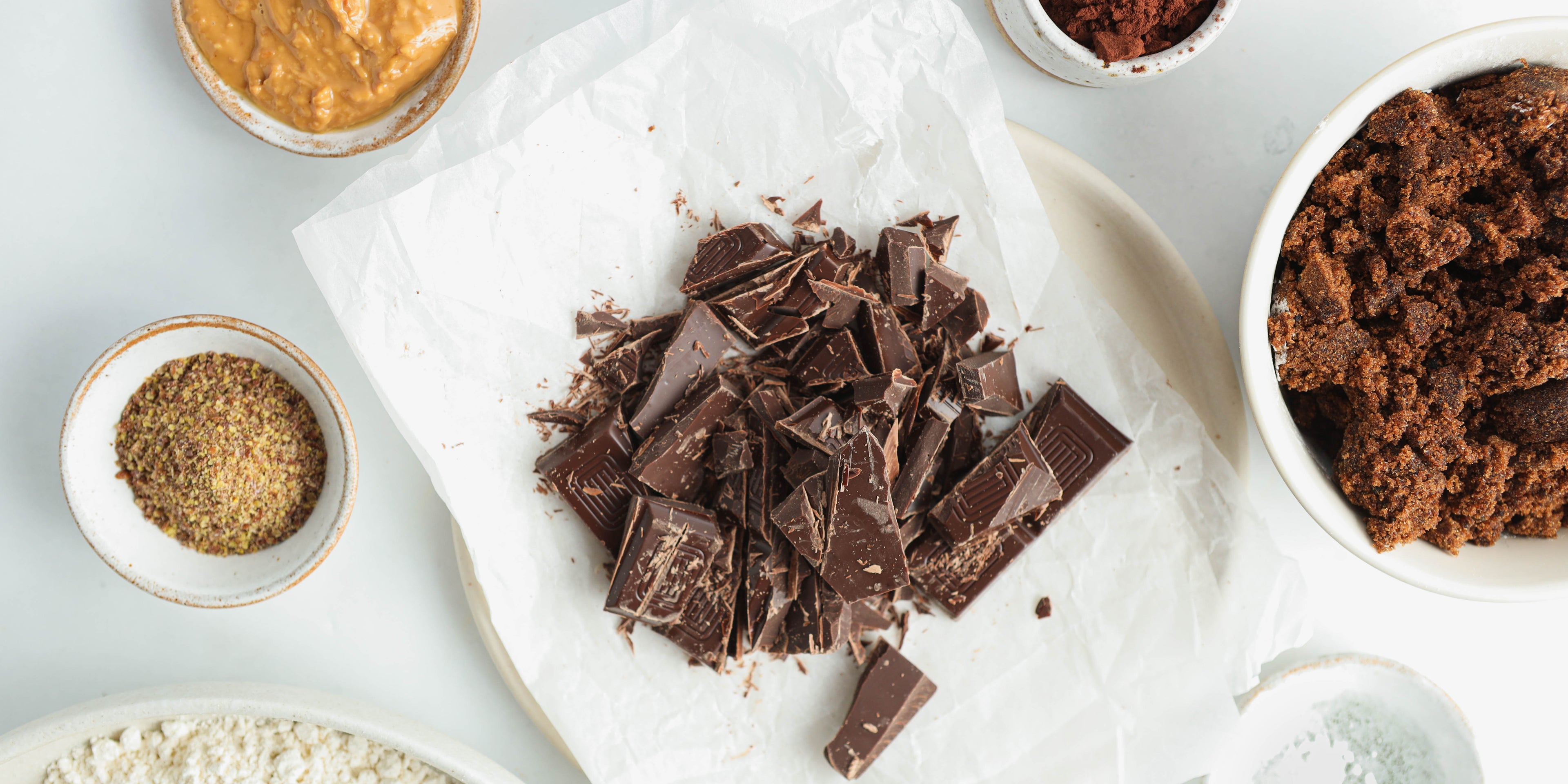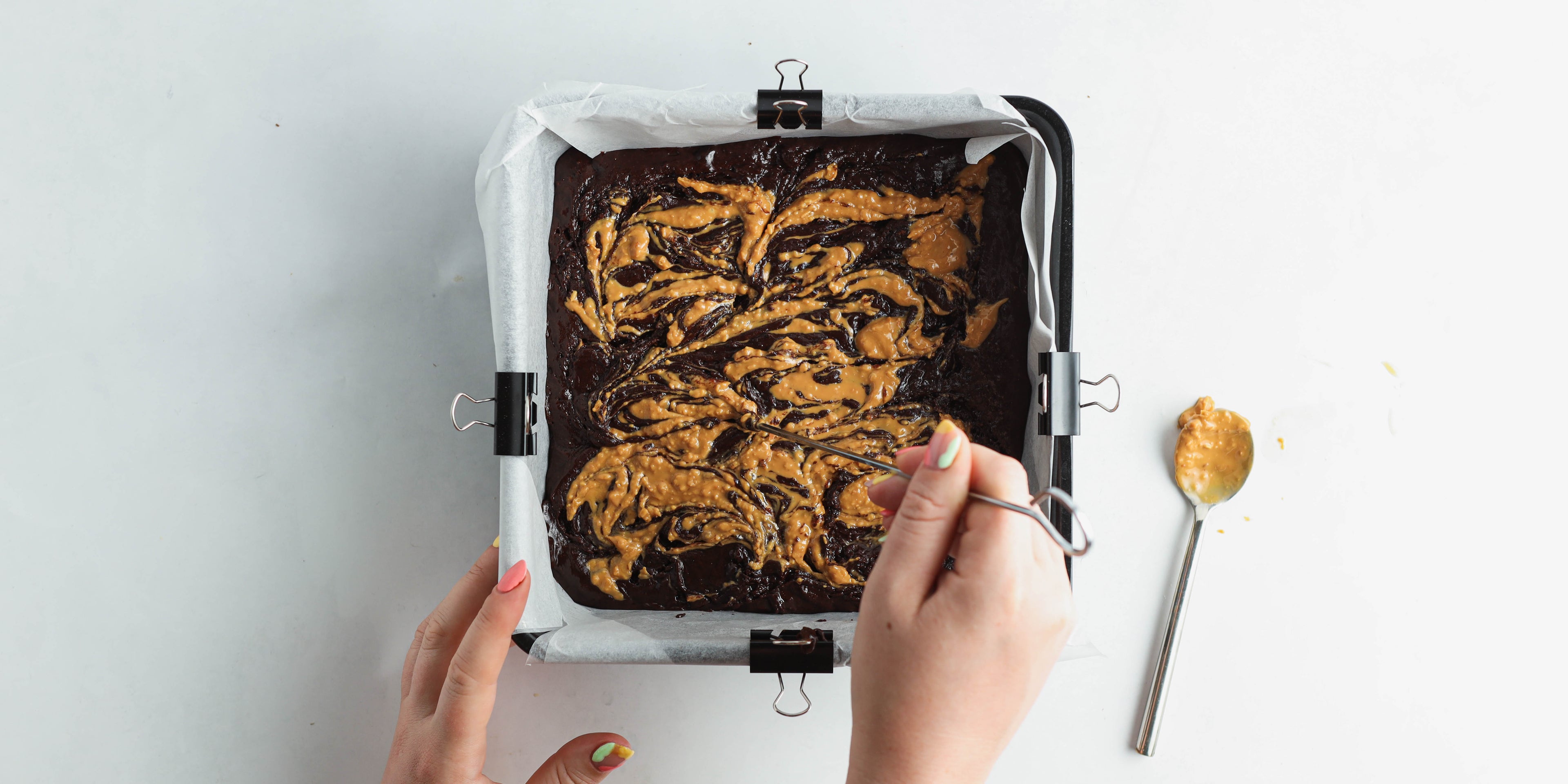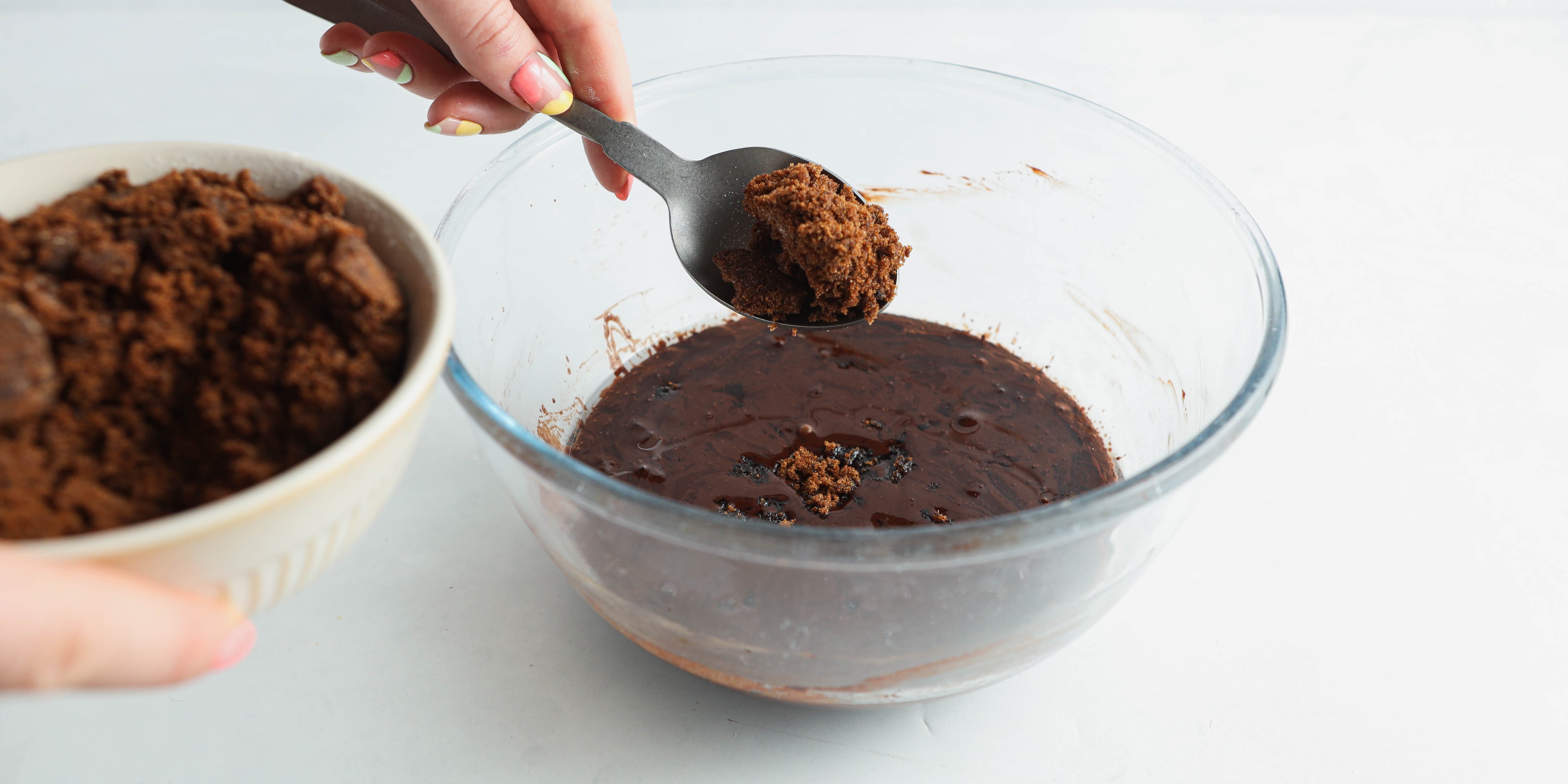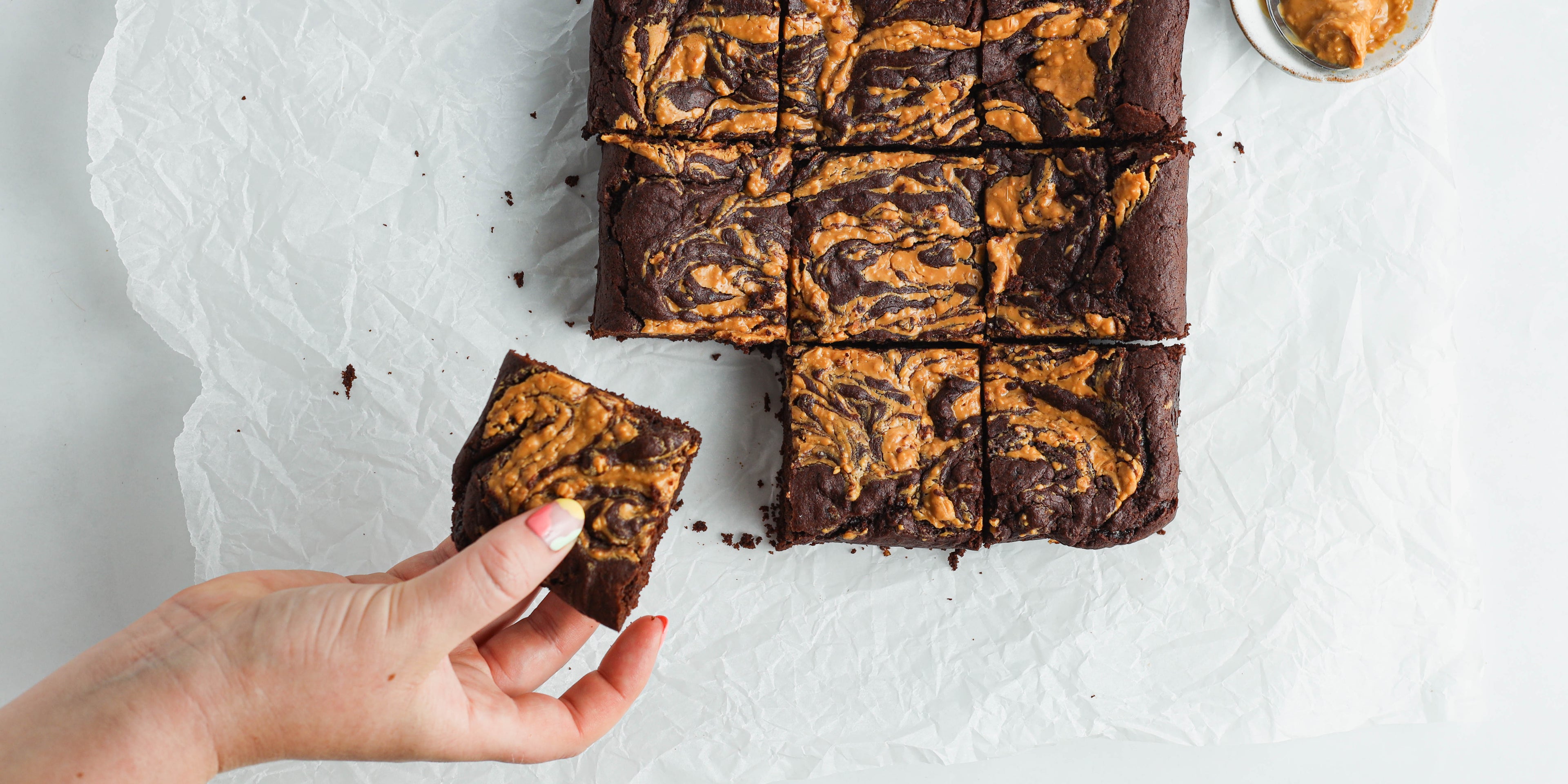 About the bake
Looking for the perfect gluten free vegan brownie recipe? Look no further.
Paired with Proper Nutty Peanut Butter, these peanut butter brownies are the perfect amount of squidge and 'mmmm' with each bite. The ultimate free-from sweet treat.
Method
Step 1:

Prepare the flax egg by mixing 2 tbsp of ground flax seed with 3 tbsp of warm water. Leave to one side so it activates.


Step 2:

Pre-heat the oven to 180'C (160°C fan, gas mark 4) and line a square 20cm baking tin with baking paper.


Top Tip

If you make the baking paper stick out of the tin on all sides, it's easier to lift the brownies out once they are baked.

Step 3:

Weigh out your gluten free flour and baking powder into a bowl. Mix well and leave to one side.


Step 4:

Chop your dark chocolate finely and place into a large bowl, along with the cacao powder and instant coffee. Add the boiling water and stir well. This will melt the chocolate and make a thick mixture.


Step 5:

Melt the coconut oil and add to the chocolate mixture, along with the Dark Muscovado sugar and your flax seed eggs (they will have turned thick and sticky by then). Mix gently.


Step 6:

Slowly add the flour and baking powder mix into the chocolate batter, mixing together gently.


Top Tip

Be careful not to mix the batter too much as it will make your brownies too stodgy.

Step 7:

Using a teaspoon, dollop your peanut butter across the top of your brownie batter, then swirl into your brownie mixture. This will create a marble effect on top of your brownies once baked.


Step 8:

Transfer the batter to your prepared tin and bake for 20 mins, or until a skewer comes out clean.


Top Tip

Leave the brownies to cool in the tin before removing them.
Ingredients
For the Brownie

2 tbsp

 

Ground flaxseed

225g

 

Doves farm gluten free self-raising flour

1/4 tsp

 

Doves farm gluten free baking powder

100g

 

Vegan dark chocolate (we prefer over 70% cocoa)

40g

 

Cacao powder

1 tsp

 

Instant coffee

3 tbsp

 

Warm water

100ml

 

Boiling water

225g

 Billington's Unrefined Dark Muscovado Sugar

90g

 

Coconut oil

2 tbsp

 Proper Nutty peanut butter
Recipe Reviews
Very tasty brownie. Really enjoyed the flavour.
Only down side is it falls apart easily. Not possible to cut a square as just crumbs. Any tips?
Very tasty brownies, special mention for the smunchy proper nutty peanut butter, it's is amazing stuff. These brownies were a big hit at the coffee shop, they all went on a couple hours, I now have the third batch in the oven!
These went down a storm at our coffee shop, they all went in a couple of hours! Special mention to the Proper Nutty Smunchy, it adds fantastic flavour and a little saltiness.
Ingredients
For the Brownie

2 tbsp

 

Ground flaxseed

225g

 

Doves farm gluten free self-raising flour

1/4 tsp

 

Doves farm gluten free baking powder

100g

 

Vegan dark chocolate (we prefer over 70% cocoa)

40g

 

Cacao powder

1 tsp

 

Instant coffee

3 tbsp

 

Warm water

100ml

 

Boiling water

225g

 Billington's Unrefined Dark Muscovado Sugar

90g

 

Coconut oil

2 tbsp

 Proper Nutty peanut butter