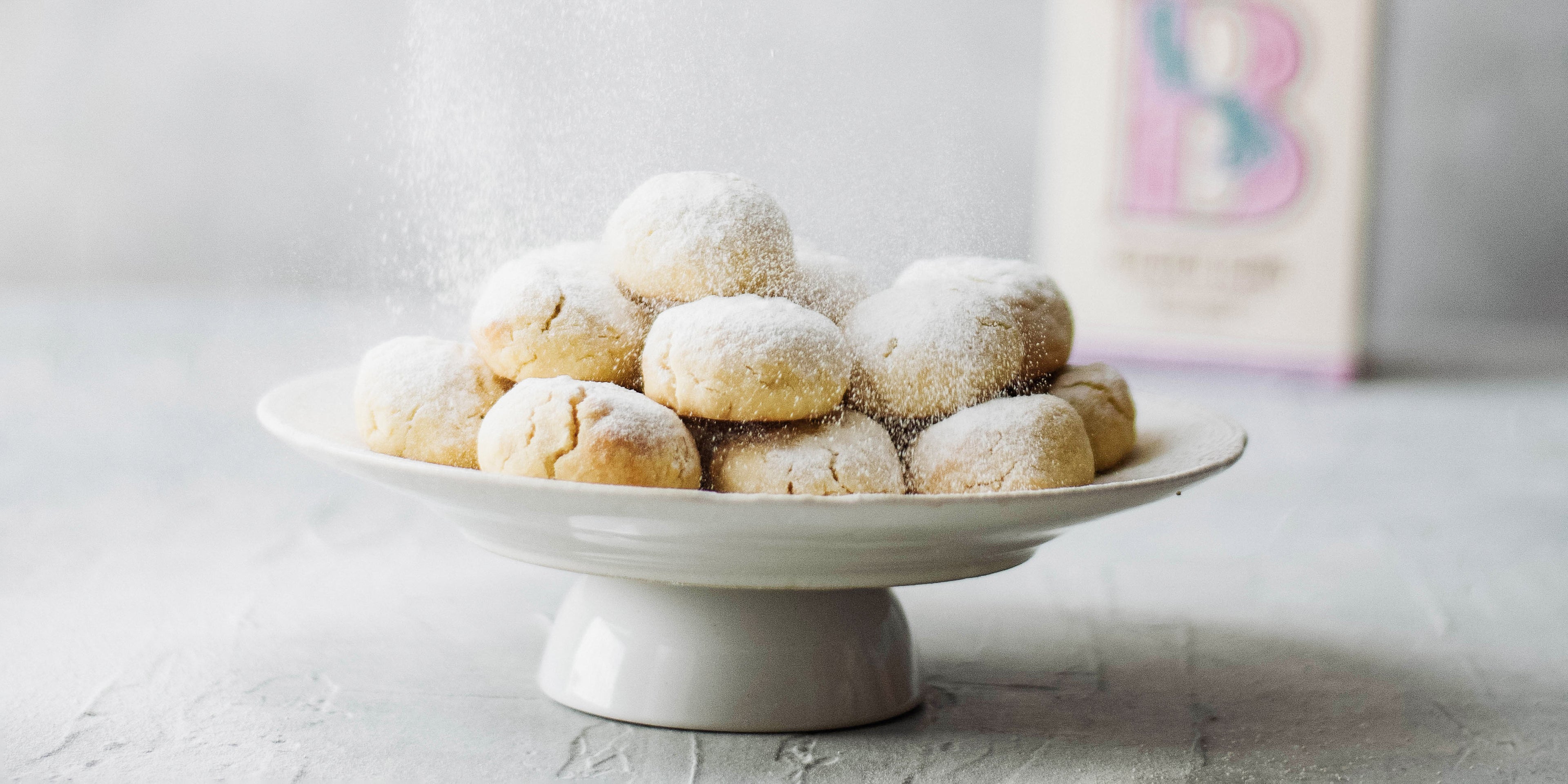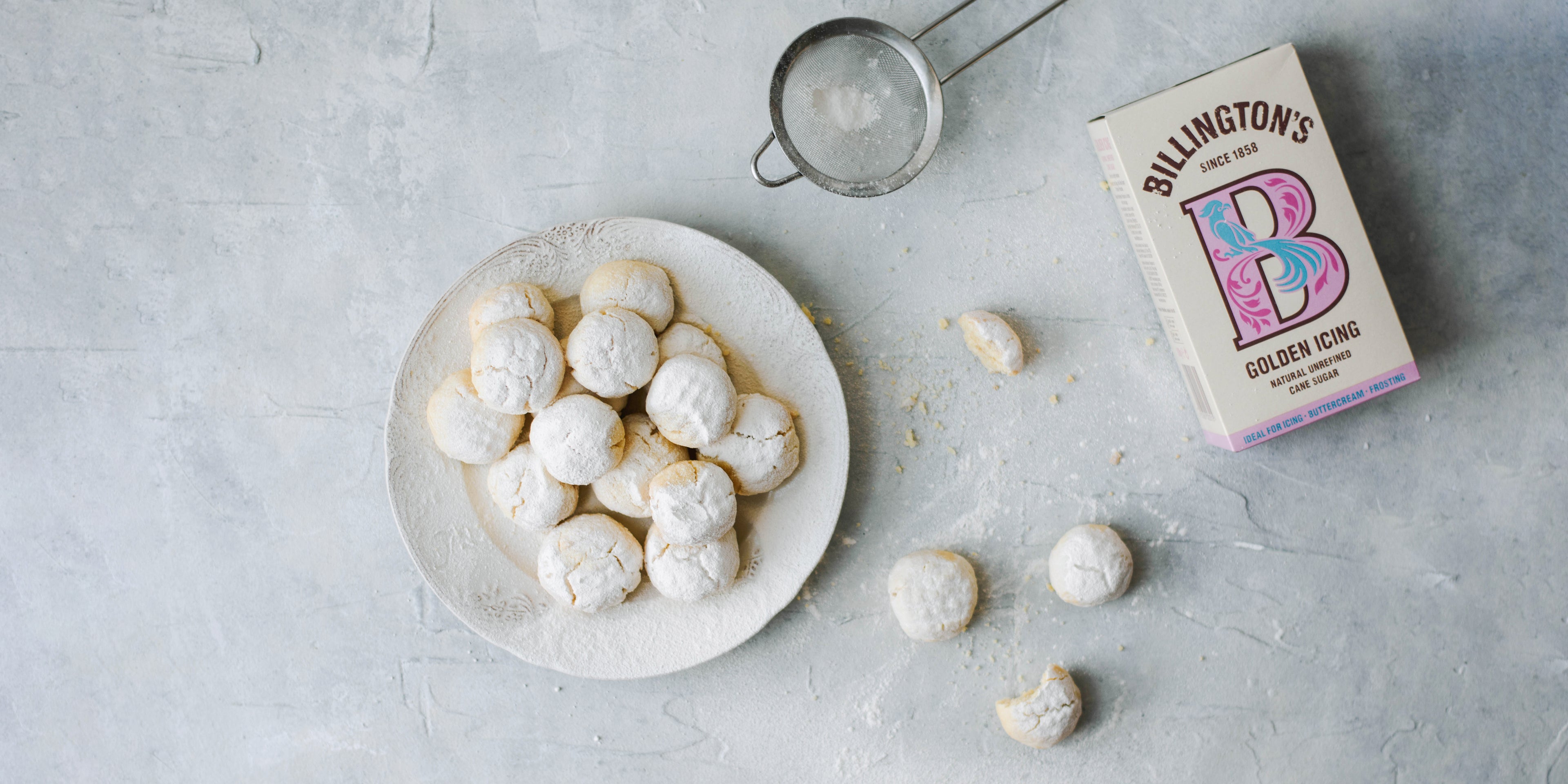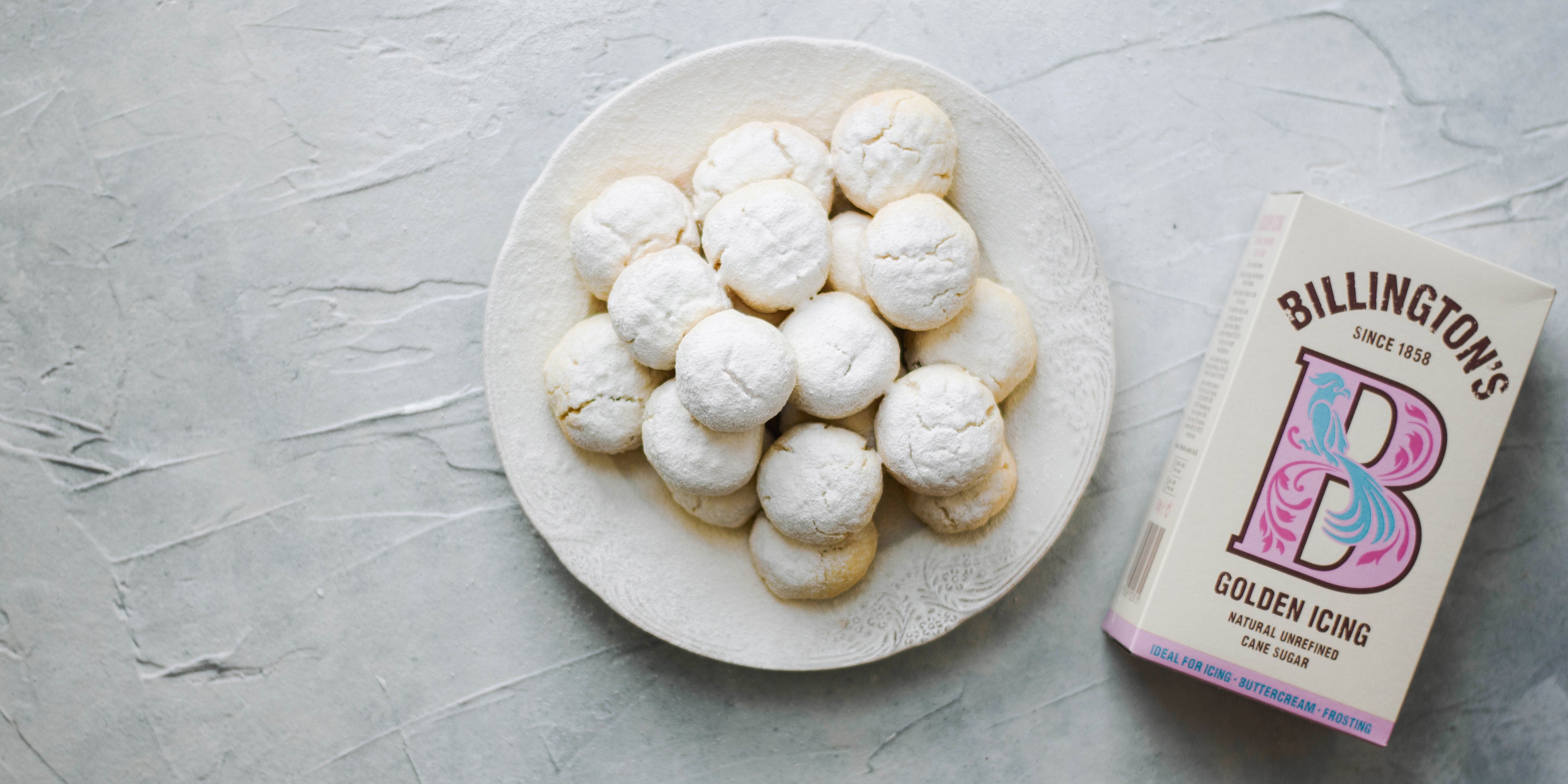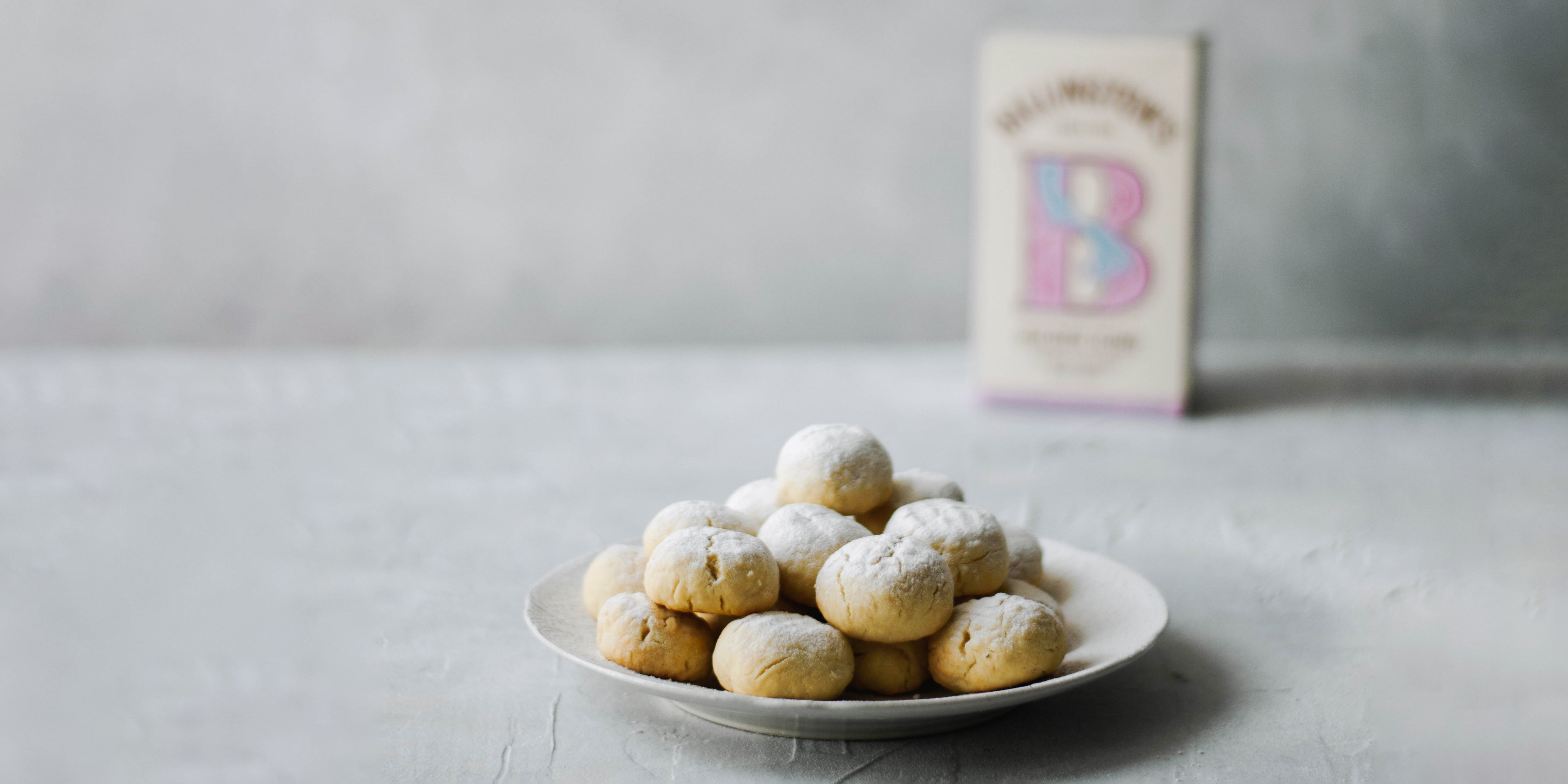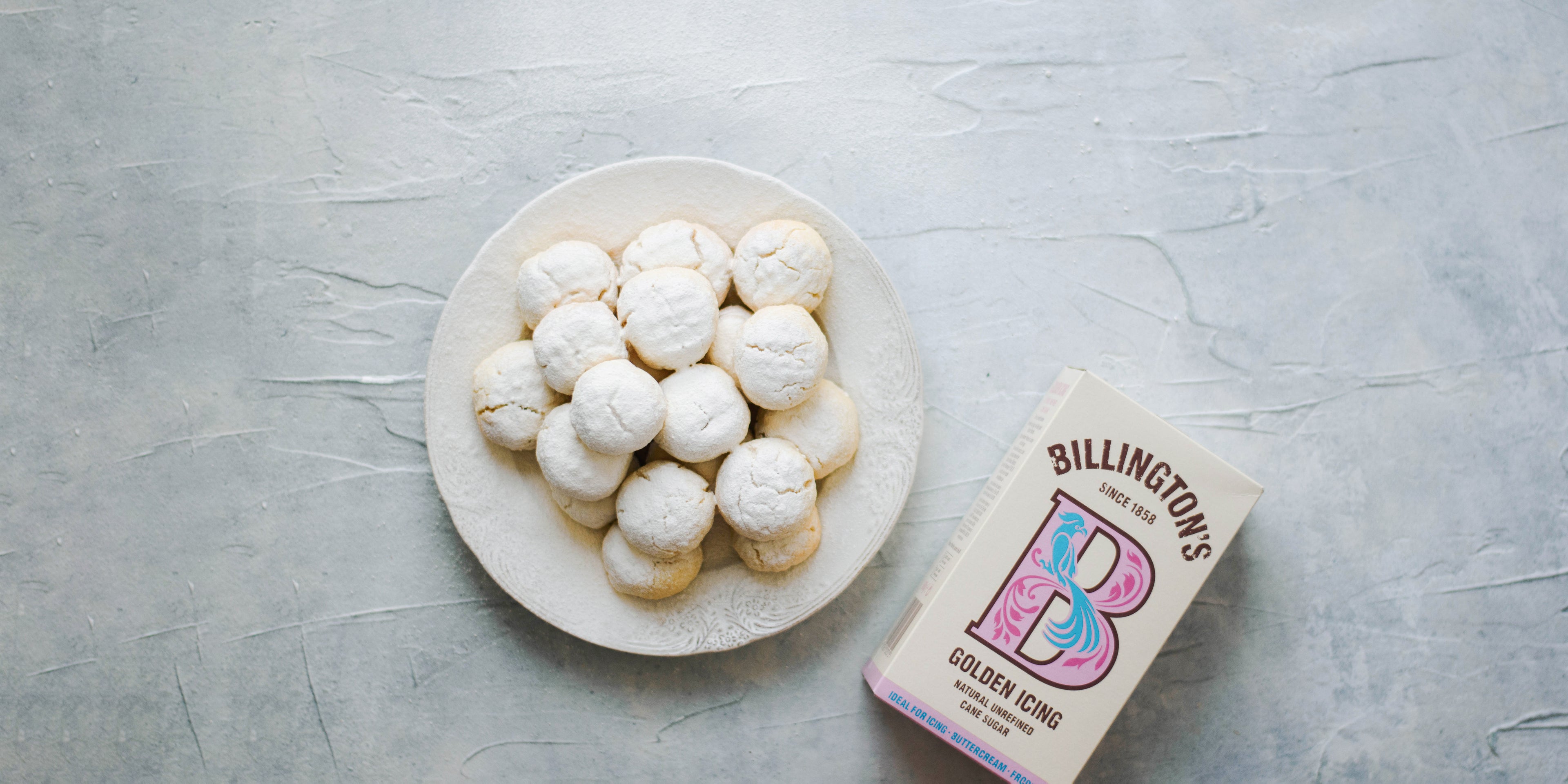 About the bake
These delicious cookies created by Shelina Permaloo are synonymous with Eid and melt in the mouth, so you won't know how many you have eaten. Besides, there are no calories counted on Eid!
These are always covered in powdered sugar and look like little clouds; Shelina loves to make these with her daughter and finds kids love to eat these! Shelina was taught this recipe by an Egyptian friend but there are many other variations of this cookies sometimes stuffed with honey and walnuts which are also so delicious.
Method
Step 1:

In a large mixing bowl beat the ghee and icing sugar together until they become light and airy. Sift in the flour, baking powder, mahlab powder, sesame seeds and the spices and then incorporate this together, gently add in half the milk, and then a little bit by a little bit until the dough has absorbed the milk and you are left with a soft dough. Allow this to rest for in the fridge for 1 hour.

Step 2:

Use a small ice cream scoop or roll out each piece of dough to around 20g each. Roll into a smooth ball that has no cracks. Now place these onto a baking tray lined with baking parchment and give a 5cm gap between each cookie. To make the indentation on the top you can use a fork, or you can use a mesh wire to create a classic kahk design. You need these grooves because when you cover it with icing sugar after they have cooked it will have something to sit in!

Step 3:

Bake in a pre-heated oven at 160°c for around 15 minutes. They will not have taken on too much colour, what you would expect of a shortbread. Allow to cool and dust generously with sifted icing sugar.
Ingredients
For the Cookies

550g

 

Allinson's plain flour

250g

 

Ghee

40g

 Billington's golden icing sugar

1 tsp

 

Baking Powder

50ml

 

Whole Milk

2 tsp

 

Sesame seeds

1/4 tsp

 

Mahlab Powder

1/4 tsp

 

Ground cardamom

1/4 tsp

 

Ground cinnamon

1/4 tsp

 

Ground cloves

1/4 tsp

 

Ground Nutmeg

100g

 Billington's golden icing sugar
Nutritional Information
per 21g
118cal

 

Energy

6.4g

 

Fat

3.7g

 

of which Saturates

13g

 

Carbohydrates

3.5g

 

of which Sugars

1.5g

 

Protein

0.03g

 

Salt
We'd love a slice of advice.
Was it yum? Did the recipe work well? Did you customise the recipe?
Ingredients
For the Cookies

550g

 

Allinson's plain flour

250g

 

Ghee

40g

 Billington's golden icing sugar

1 tsp

 

Baking Powder

50ml

 

Whole Milk

2 tsp

 

Sesame seeds

1/4 tsp

 

Mahlab Powder

1/4 tsp

 

Ground cardamom

1/4 tsp

 

Ground cinnamon

1/4 tsp

 

Ground cloves

1/4 tsp

 

Ground Nutmeg

100g

 Billington's golden icing sugar
Nutritional Information
per 21g
118cal

 

Energy

6.4g

 

Fat

3.7g

 

of which Saturates

13g

 

Carbohydrates

3.5g

 

of which Sugars

1.5g

 

Protein

0.03g

 

Salt