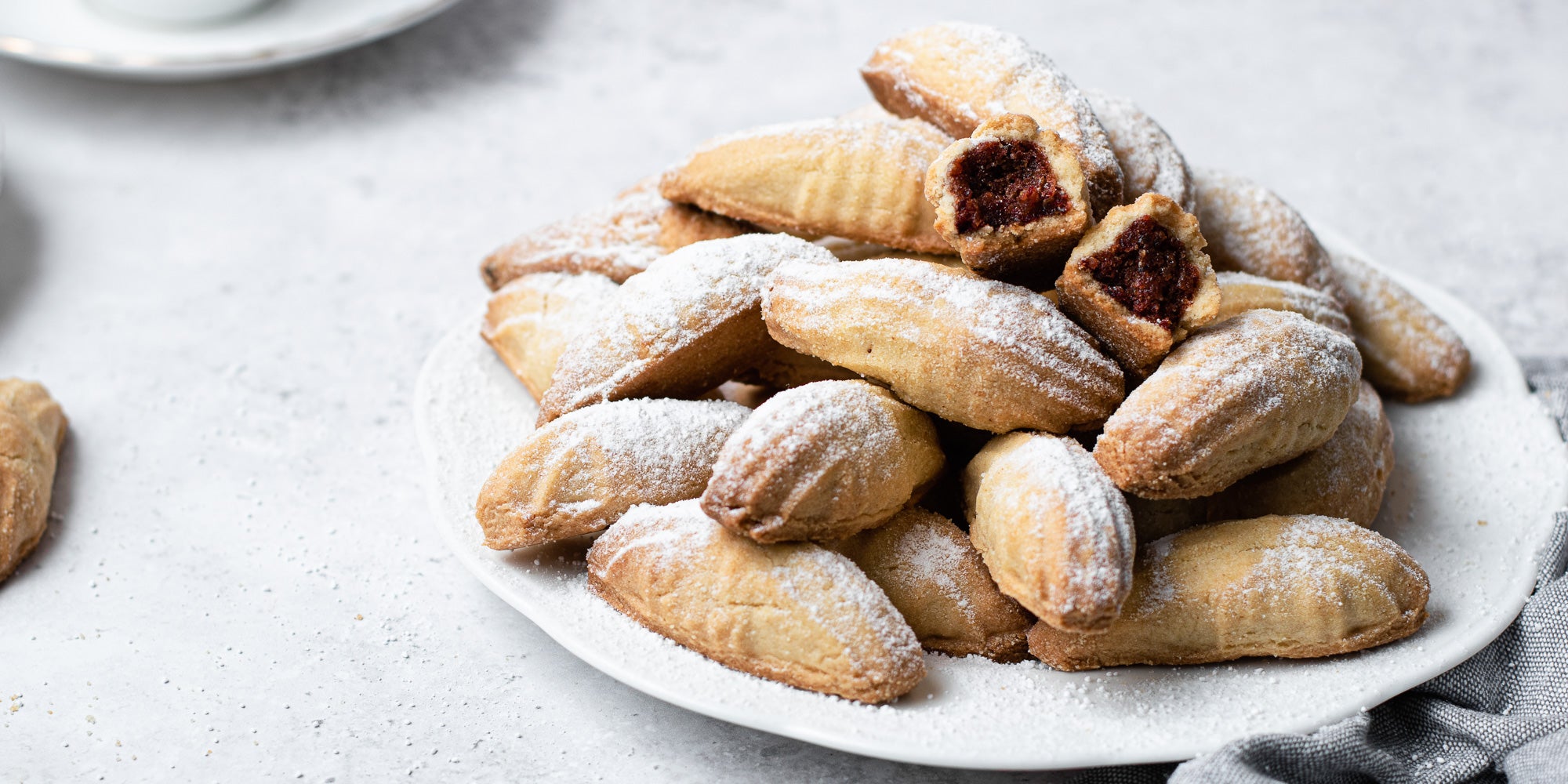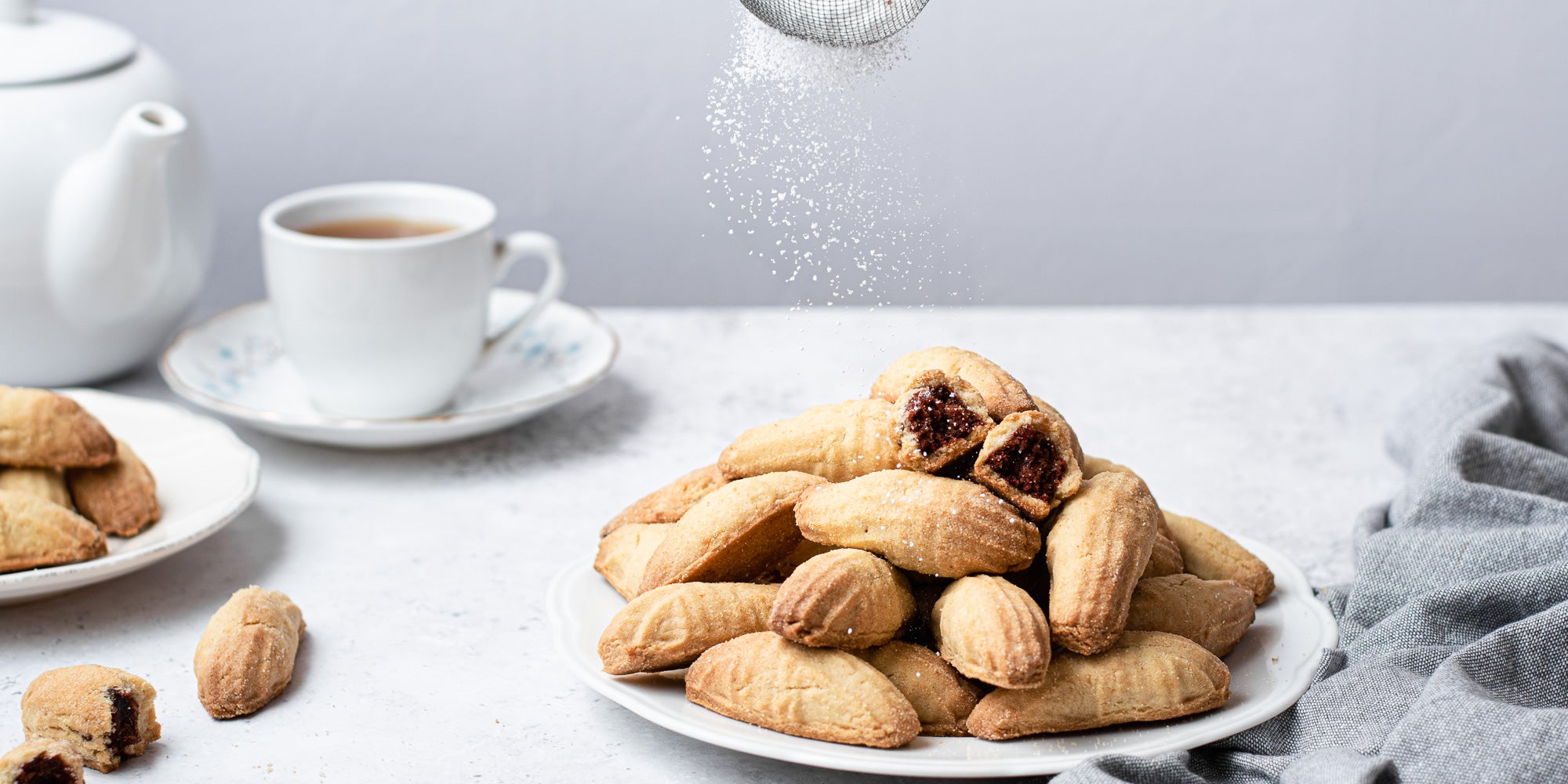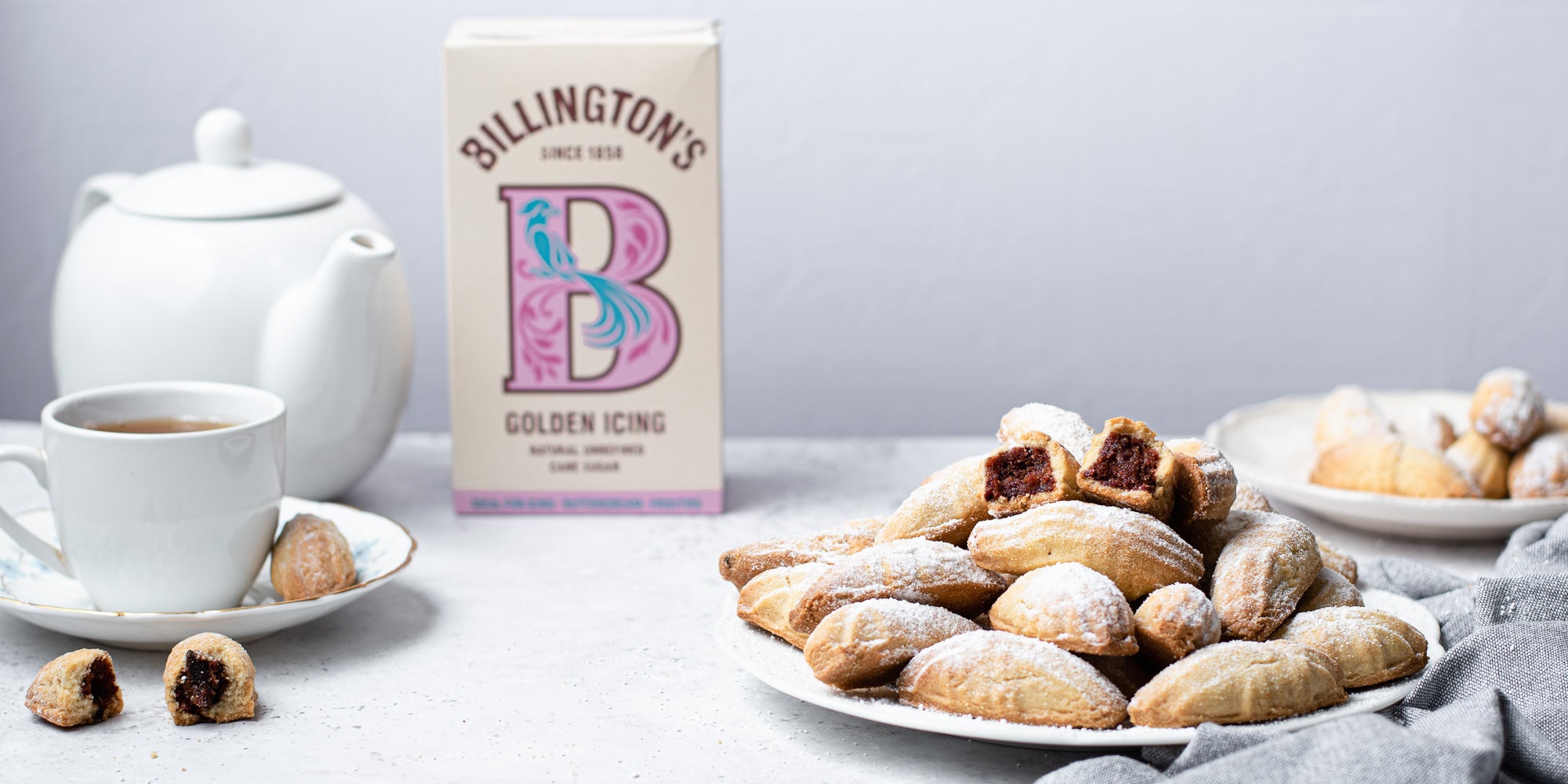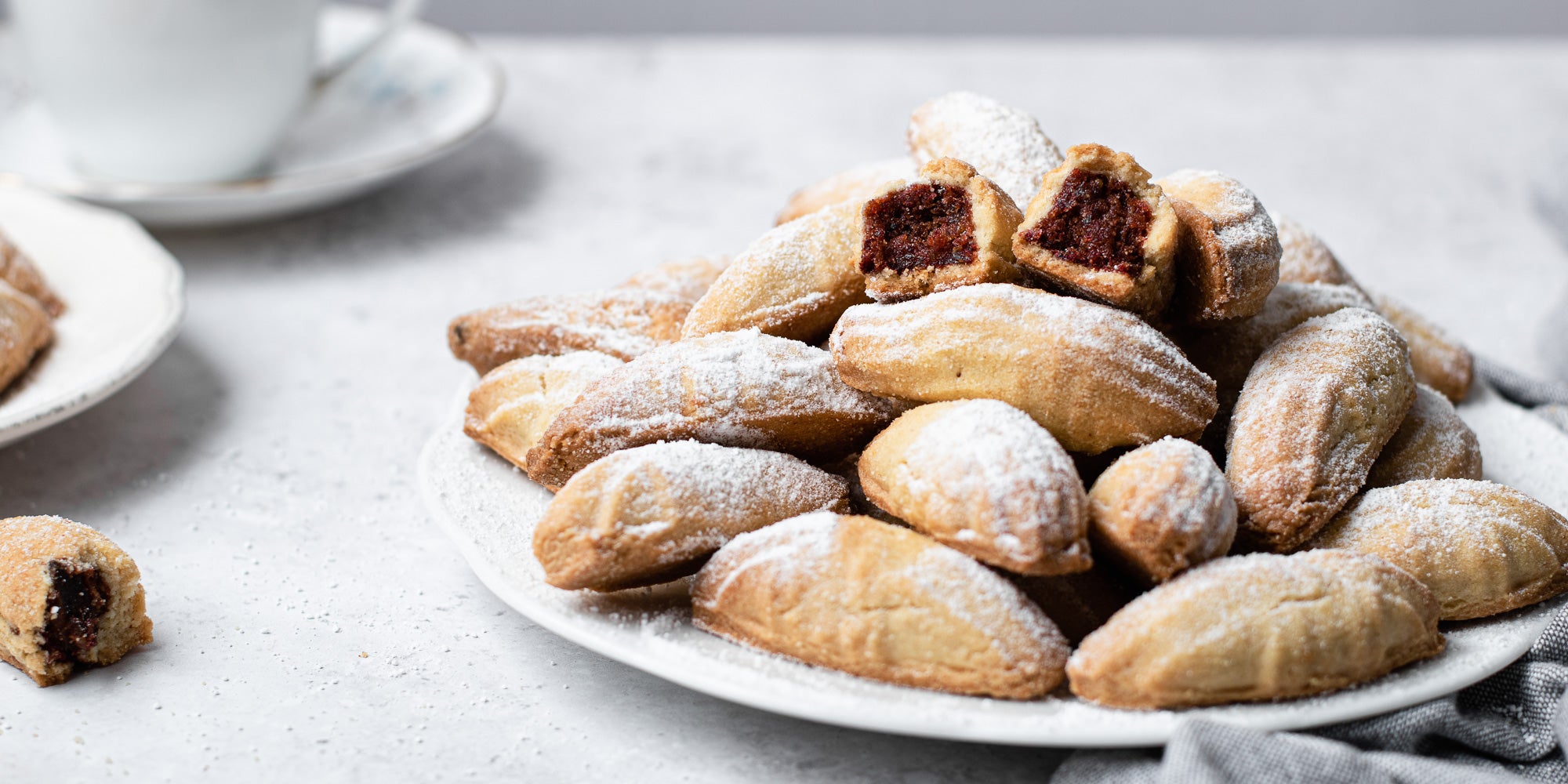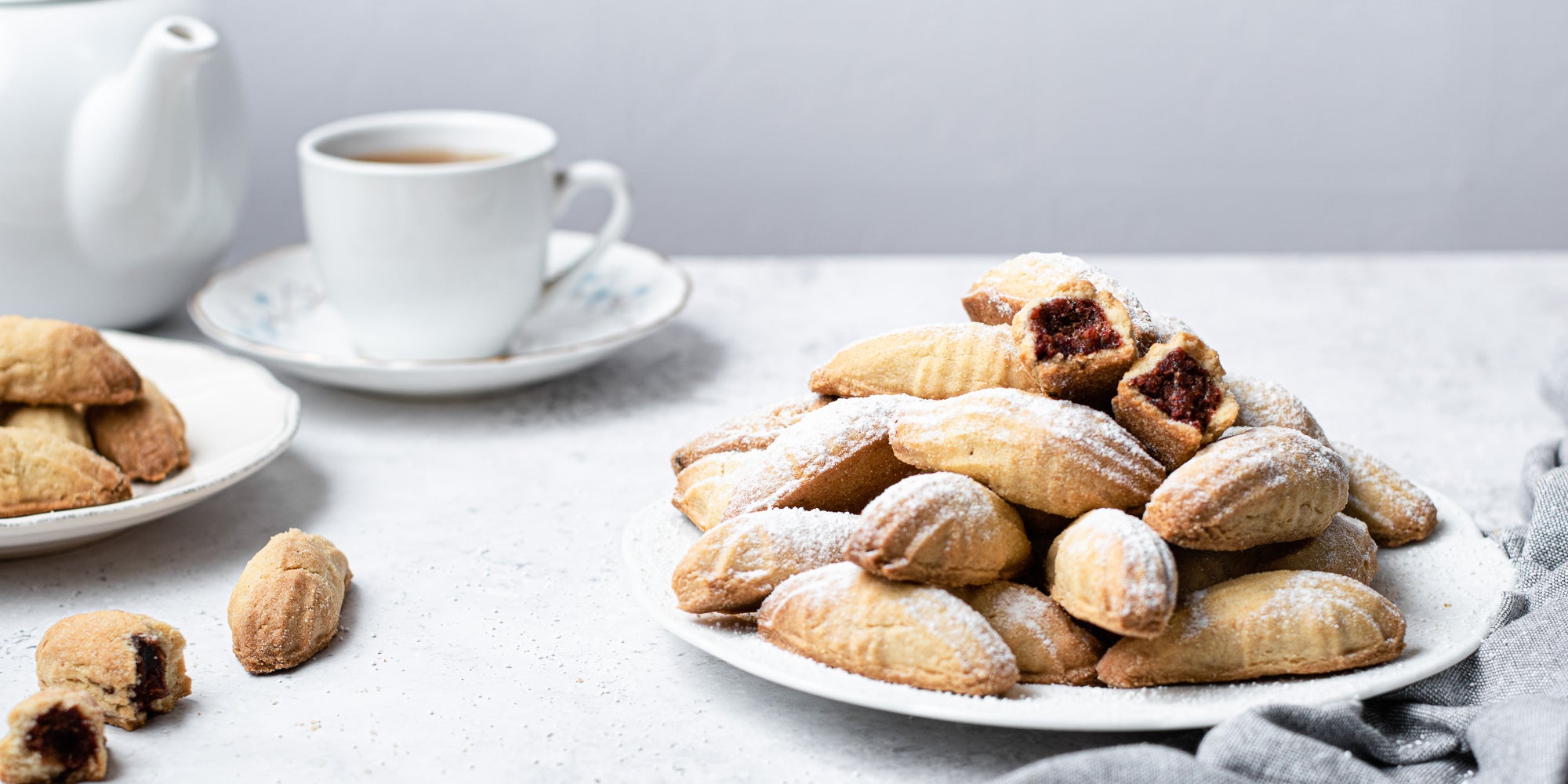 About the bake
Shelina Permaloo has shared her Mamoul (Maamoul) recipe with us, which are delicious Middle Eastern cookies perfect for Eid.
These cookies have a unique twist of traditional shortbread with the inclusion of semolina and encase an aromatic Middle Eastern flavour of date, cinnamon and orange blossom water centre. A real taste sensation.
Method
Step 1:

Using your hands mix together the shortbread mixture being careful to not over work the dough. You will want to use the tips of your fingers and flutter them to help distribute the butter with the flours. Once they are almost like a breadcrumb, bring the dough together and then split the dough into 4 pieces and wrap in cling film and place into the fridge to cool for around 1 hour.

Step 2:

Use a food processor and make the date filling and then wet your hands with the orange blossom water and roll out around 10g of this date mixture into a perfect ball. The orange blossom will scent the date mixture as well as enabling it to not stick to your hands.

Step 3:

Remove one dough from the fridge and take a piece of dough and press it into the Mamoul press – this will give you the total weight of each cookie. You will need to subtract 10g from this total amount to give you the weight you will need for each piece of dough. Weigh each piece of dough and then roll each piece into a circle and then keep covering with a cloth while you do this to make sure the dough doesn't dry out.

Step 4:

You will now take a piece of the rolled dough and open this slightly in order to encase the date mixture, almost like making dumplings, cover the entire date mixture with the dough and then roll into a ball making sure there are no openings for the date mixture to seep out of.

Step 5:

Place this into a bowl of fine semolina and then into a Mamoul mould press down and then remove carefully. The coarse semolina will stop the dough from sticking to the Mamoul press. Place directly on to a baking tray lined with a silicone mat or parchment paper. Bake in the oven at 180°c until golden brown (depends on the size of the biscuits) and allow to cool. Once cooled sprinkle with icing sugar and serve.
Ingredients
For the Shortbread

200g

 

Semolina (Fine)

400g

 

Allinson's plain flour

200g

 

Unsalted butter (softened)

150g

 Billington's Unrefined Golden Icing Sugar

30-50ml

 

Milk

50ml

 

Orange blossom water

For the Date Filling

500g

 

Palestinian Medjool Dates (pitted)

1 tsp

 

Cinnamon (ground)

25ml

 

Orange blossom water

Additional ingredients

For dusting

 Billington's Unrefined Golden Icing Sugar (sifted)

For your hands

 

Orange blossom water

For the Mamoul press

 

Semolina (coarse)
Nutritional Information
per 54g
242cal

 

Energy

7.1g

 

Fat

4.3g

 

of which Saturates

37g

 

Carbohydrates

19g

 

of which Sugars

3.1g

 

Protein

0g

 

Salt
We'd love a slice of advice.
Was it yum? Did the recipe work well? Did you customise the recipe?
Ingredients
For the Shortbread

200g

 

Semolina (Fine)

400g

 

Allinson's plain flour

200g

 

Unsalted butter (softened)

150g

 Billington's Unrefined Golden Icing Sugar

30-50ml

 

Milk

50ml

 

Orange blossom water

For the Date Filling

500g

 

Palestinian Medjool Dates (pitted)

1 tsp

 

Cinnamon (ground)

25ml

 

Orange blossom water

Additional ingredients

For dusting

 Billington's Unrefined Golden Icing Sugar (sifted)

For your hands

 

Orange blossom water

For the Mamoul press

 

Semolina (coarse)
Nutritional Information
per 54g
242cal

 

Energy

7.1g

 

Fat

4.3g

 

of which Saturates

37g

 

Carbohydrates

19g

 

of which Sugars

3.1g

 

Protein

0g

 

Salt