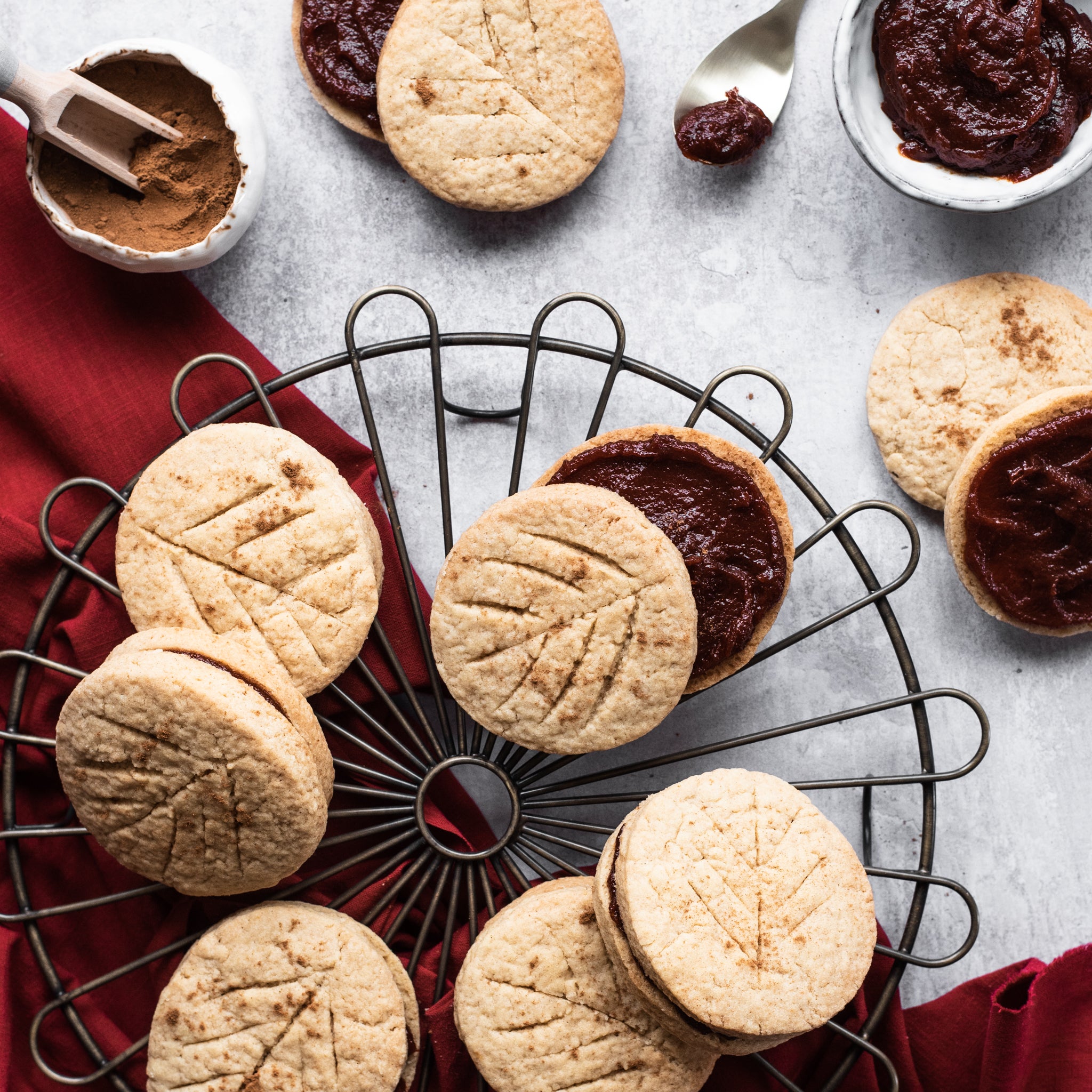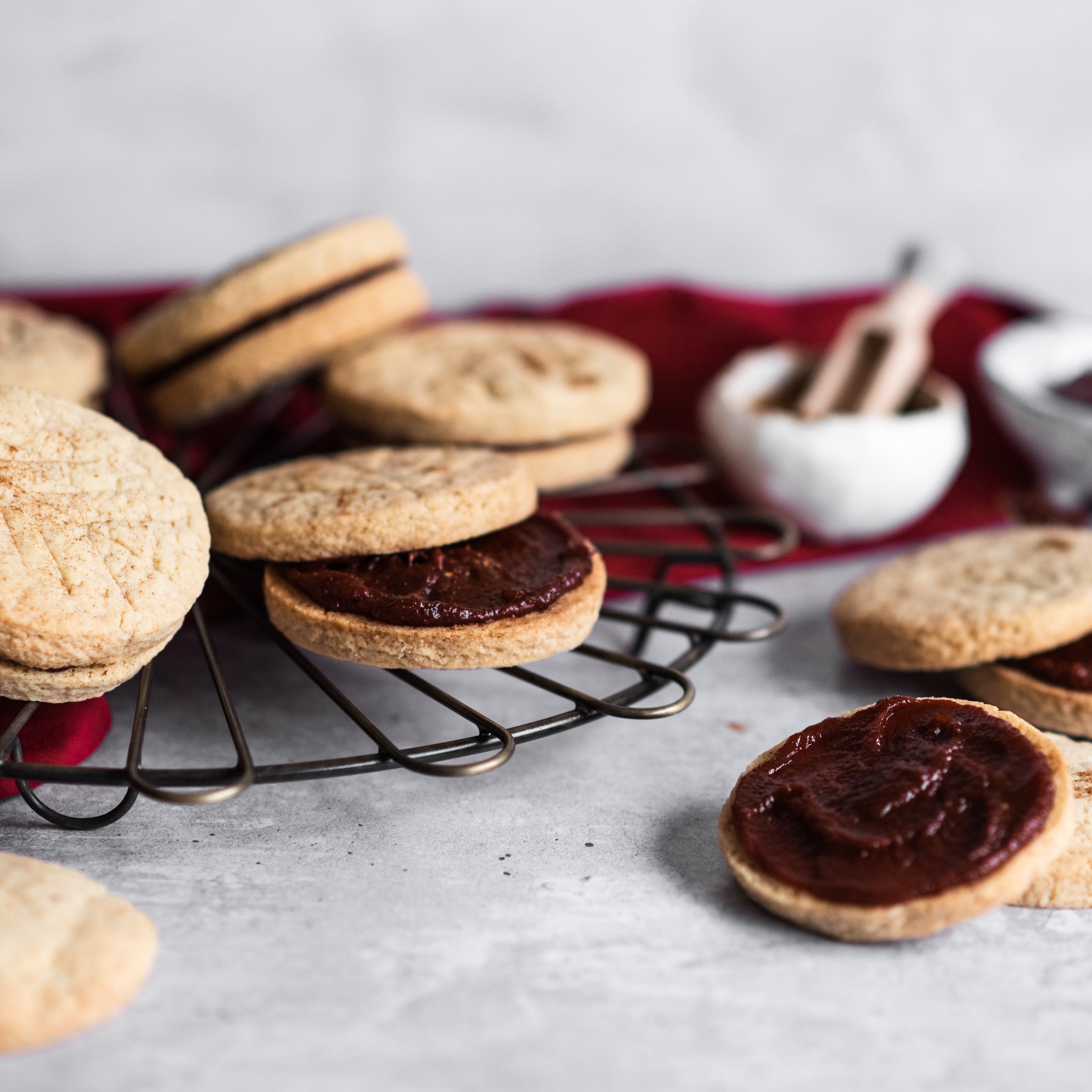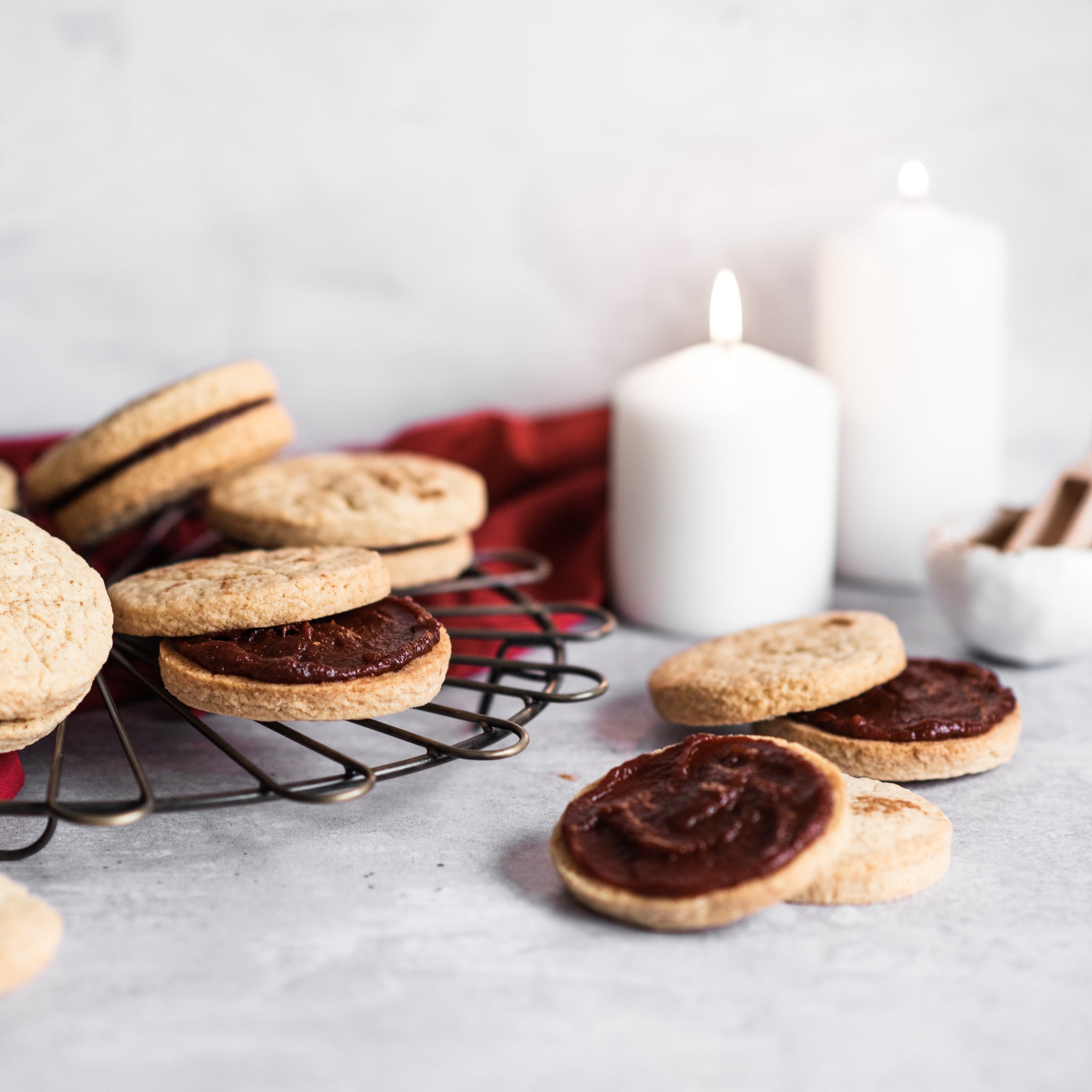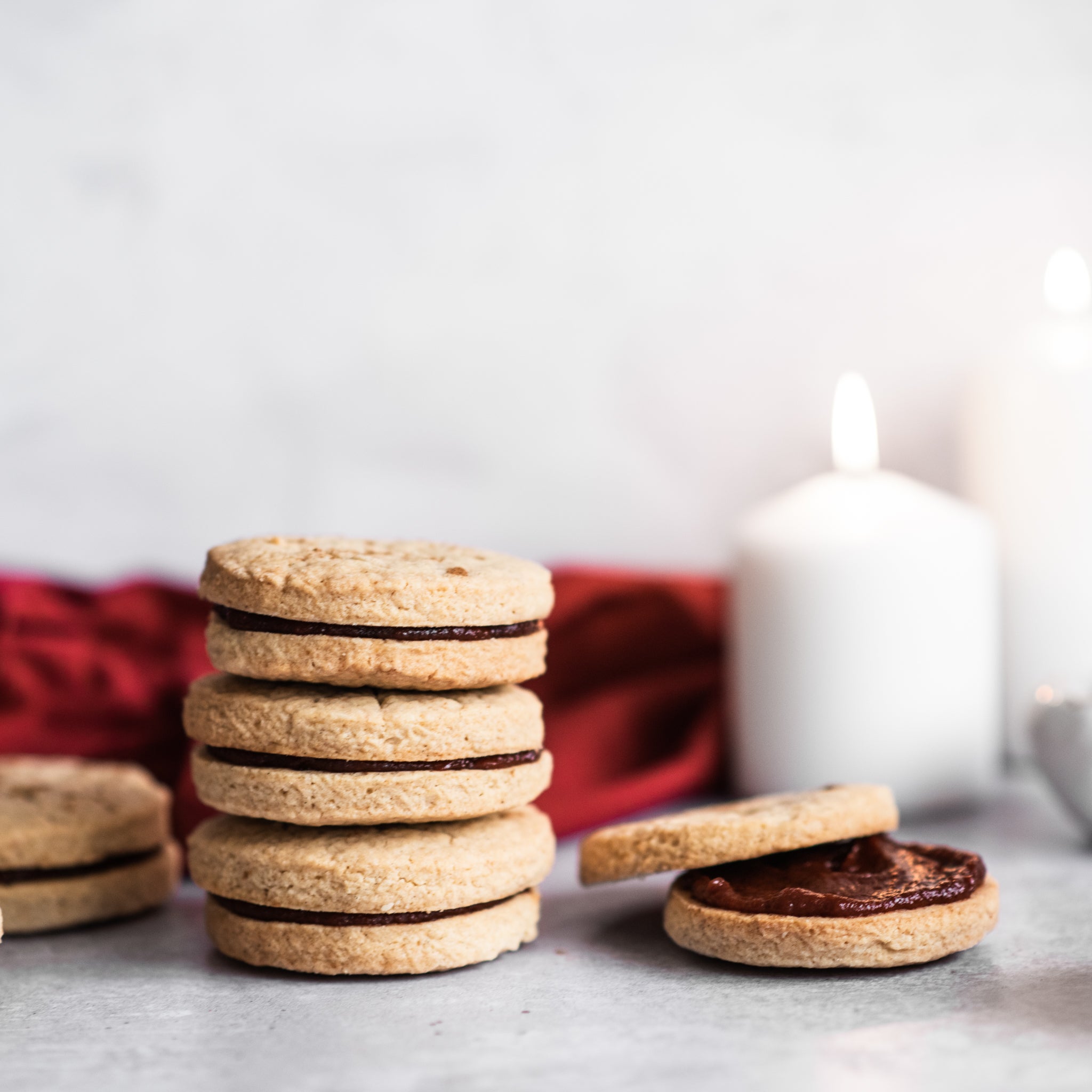 About the bake
Antony Amourdoux has created this recipe for us. It's a twist on the timeless classic 'Jammy Dodger'. Flavoured with chilli jam, these baked biscuits are the perfect treat to enjoy any time of year. Why not bake them for Diwali? If you store these in an airtight container, they'll last 4-5 days. If you love this recipe, why not try Antony's Victoria Ras Malai.
Method
Step 1:

For the Sable:

In a pan on medium heat, heat the butter till it melts and becomes light golden in colour. Add the curry leaf stalks fully and let the butter simmer to light brown colour. Run the butter through a filter and let it chill in the fridge.


Step 2:

Preheat the oven to 210'c/ 190'c Fan. Line a baking sheet with parchment paper or a silicone mat. With a handheld mixer or stand mixer beat the butter and sugar together on medium speed until light and fluffy - about 1min.


Step 3:

Add 2 egg yolks and the vanilla extract and mix on medium speed until they're incorporated. Stop to scrape the bowl with a rubber spatula before resuming the mixing. Add the rest of the ingredients in and mix on low speed just until the dough starts to clump together.


Step 4:

Lightly flour the counter before placing the mass of dough onto it. Shape the dough into a big ball. Then sprinkle flour on top of the dough before using a rolling pin to roll the dough out. As soon as the dough starts sticking to the pin, sprinkle a pinch of flour on the dough, then resume rolling. Roll the dough out until it's approx ¼" thick.


Step 5:

Use medium round cookie cutters to cut out round cookies from the dough. Use a sharp-edged spatula to transfer the cookie rounds onto the baking sheet. I made small leaf like incisions on 6 cookies for the drama, place 12 cookies on the parchment paper, spaced out from each other.


Step 6:

Bake the cookies for 12-15 mins, until they're a deep golden colour. Transfer the cookies to a wire cooling rack to cool completely.


Step 7:

For the Jam:

Combine all ingredients in a heavy medium saucepan, bring to a boil over medium heat, stirring often.


Step 8:

Reduce heat and simmer, stirring occasionally, until mixture has consistency of thick jam, about 25-30mins. Taste and adjust seasoning, then cool.


Step 9:

To assemble, sandwich the biscuits and use your artsy flare.

Ingredients
For the Sable Dough

120g

 Billington's Unrefined Golden Caster Sugar

200g

 

Unsalted butter (softened)

0.5 tsp

 

Salt

2

 

Egg yolks (separated)

1 tsp

 

Cumin powder

1 tsp

 Nielsen-Massey Vanilla Bean Paste

3

 

Stalks of curry leaves

280g

 Allinson's plain white flour

1 tsp

 

Baking powder

For the Tomato Chilli Jam

200g

 

Tomato puree

100g

 Billington's Unrefined Golden Caster Sugar

1 tbsp

 

Mild chilli powder

1/2 lemon

 

Juice of one whole lemon
Utensils
Rolling pin

Sauce pan

Stand mixer

Mixing bowl

Baking sheet

Parchment paper

Silicone mat
Nutritional Information
per 131g
620cal

 

Energy

30g

 

Fat

18g

 

of which Saturates

77g

 

Carbohydrates

42g

 

of which Sugars

7.7g

 

Protein

0.82g

 

Salt
Recipe Reviews
The flavors are perfect in this, I love the chili jam! And they're so easy to make.
Having loved jammy dodgers growing up, and now love Indian flavours, this is a great fusion recipe. Can suit all spice levels too!
Ingredients
For the Sable Dough

120g

 Billington's Unrefined Golden Caster Sugar

200g

 

Unsalted butter (softened)

0.5 tsp

 

Salt

2

 

Egg yolks (separated)

1 tsp

 

Cumin powder

1 tsp

 Nielsen-Massey Vanilla Bean Paste

3

 

Stalks of curry leaves

280g

 Allinson's plain white flour

1 tsp

 

Baking powder

For the Tomato Chilli Jam

200g

 

Tomato puree

100g

 Billington's Unrefined Golden Caster Sugar

1 tbsp

 

Mild chilli powder

1/2 lemon

 

Juice of one whole lemon
Utensils
Rolling pin

Sauce pan

Stand mixer

Mixing bowl

Baking sheet

Parchment paper

Silicone mat
Nutritional Information
per 131g
620cal

 

Energy

30g

 

Fat

18g

 

of which Saturates

77g

 

Carbohydrates

42g

 

of which Sugars

7.7g

 

Protein

0.82g

 

Salt