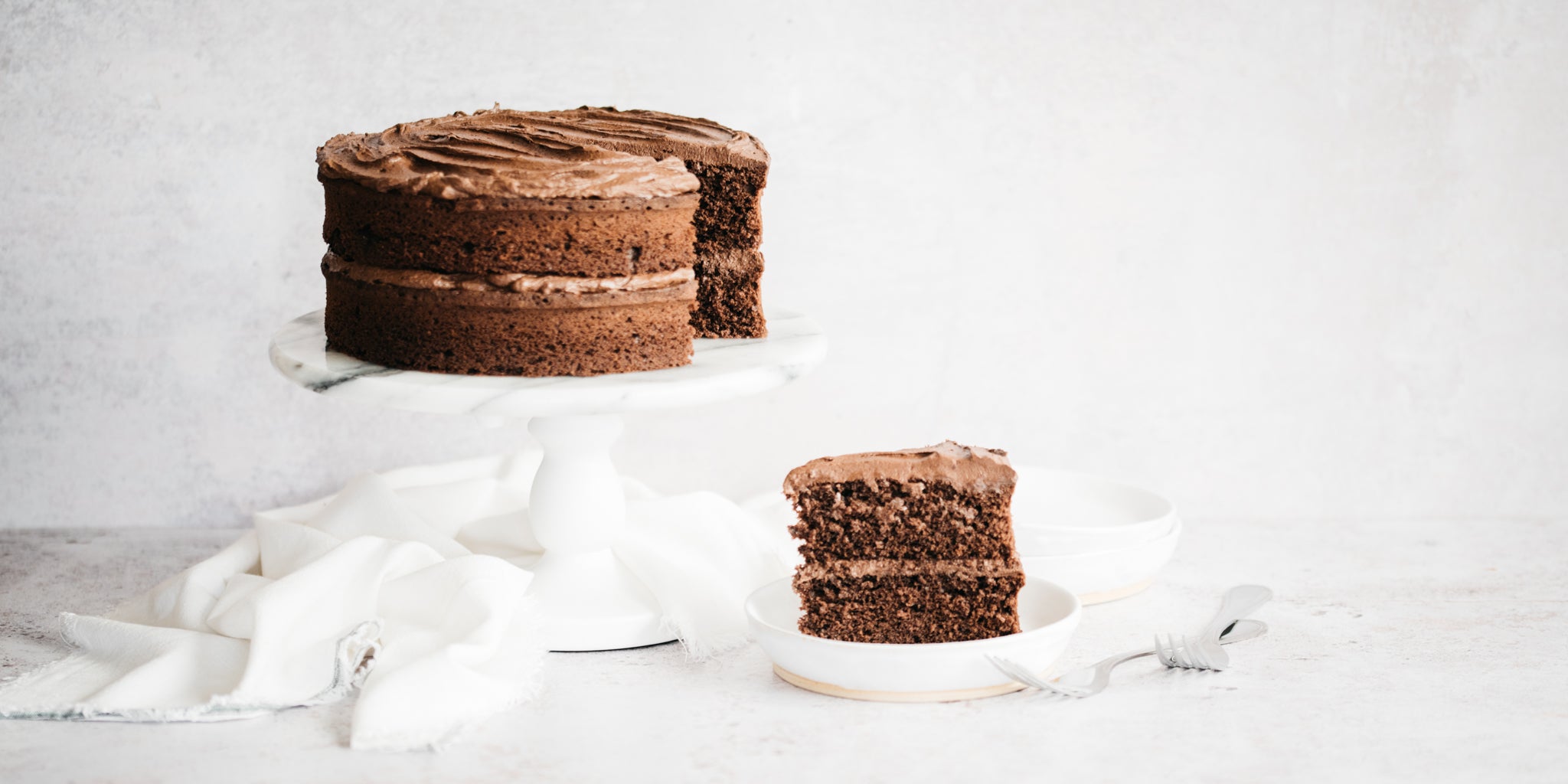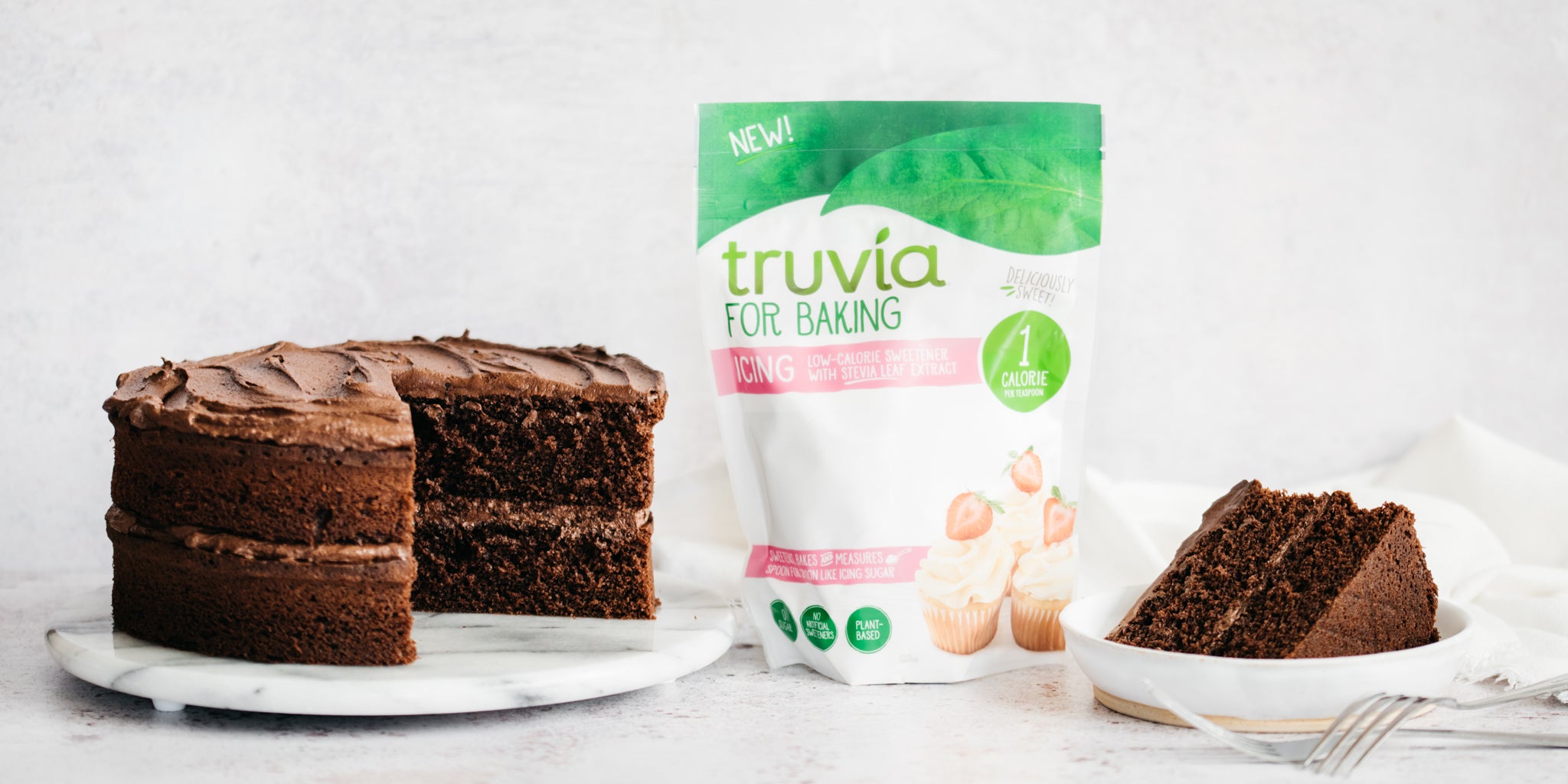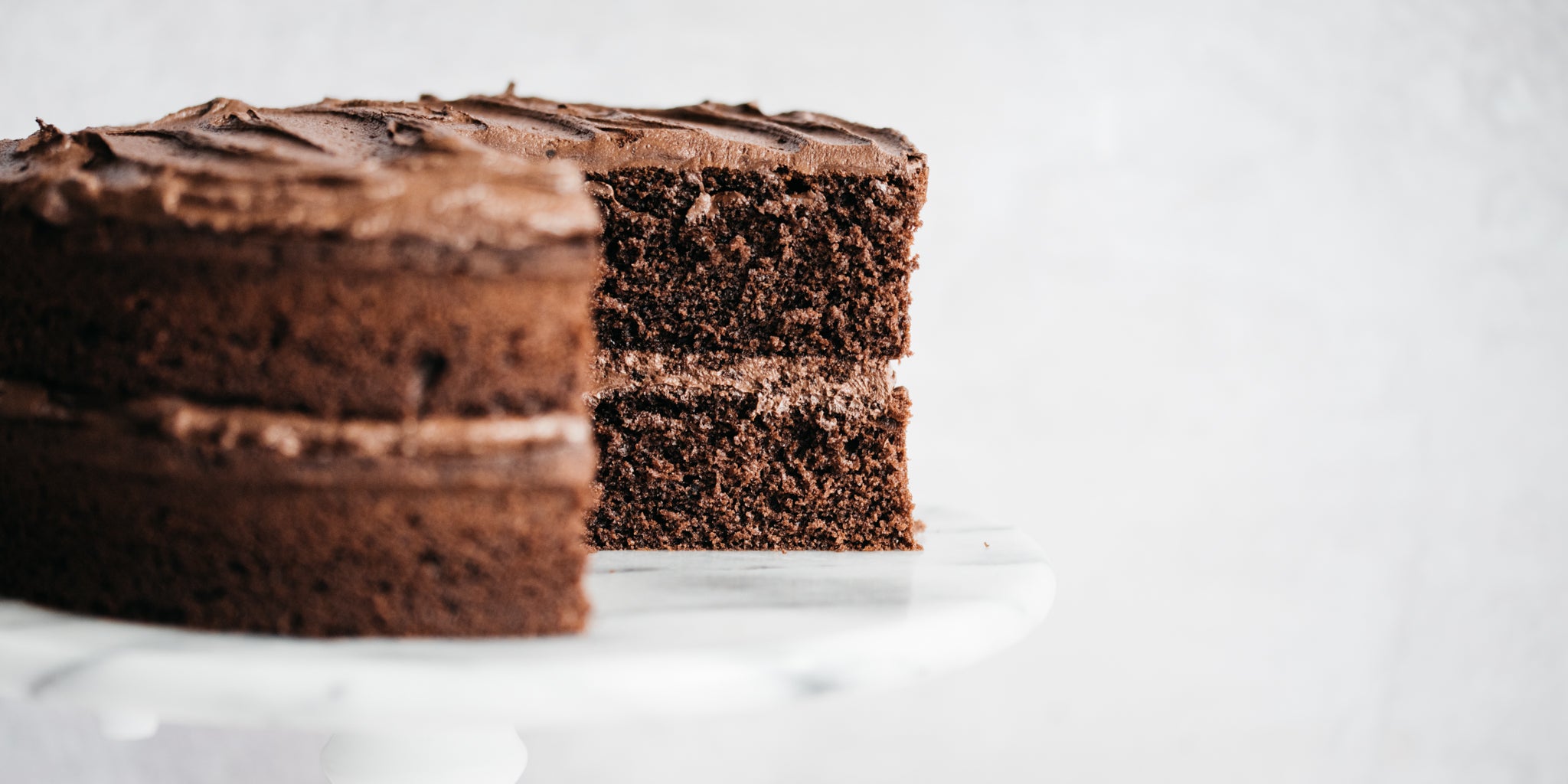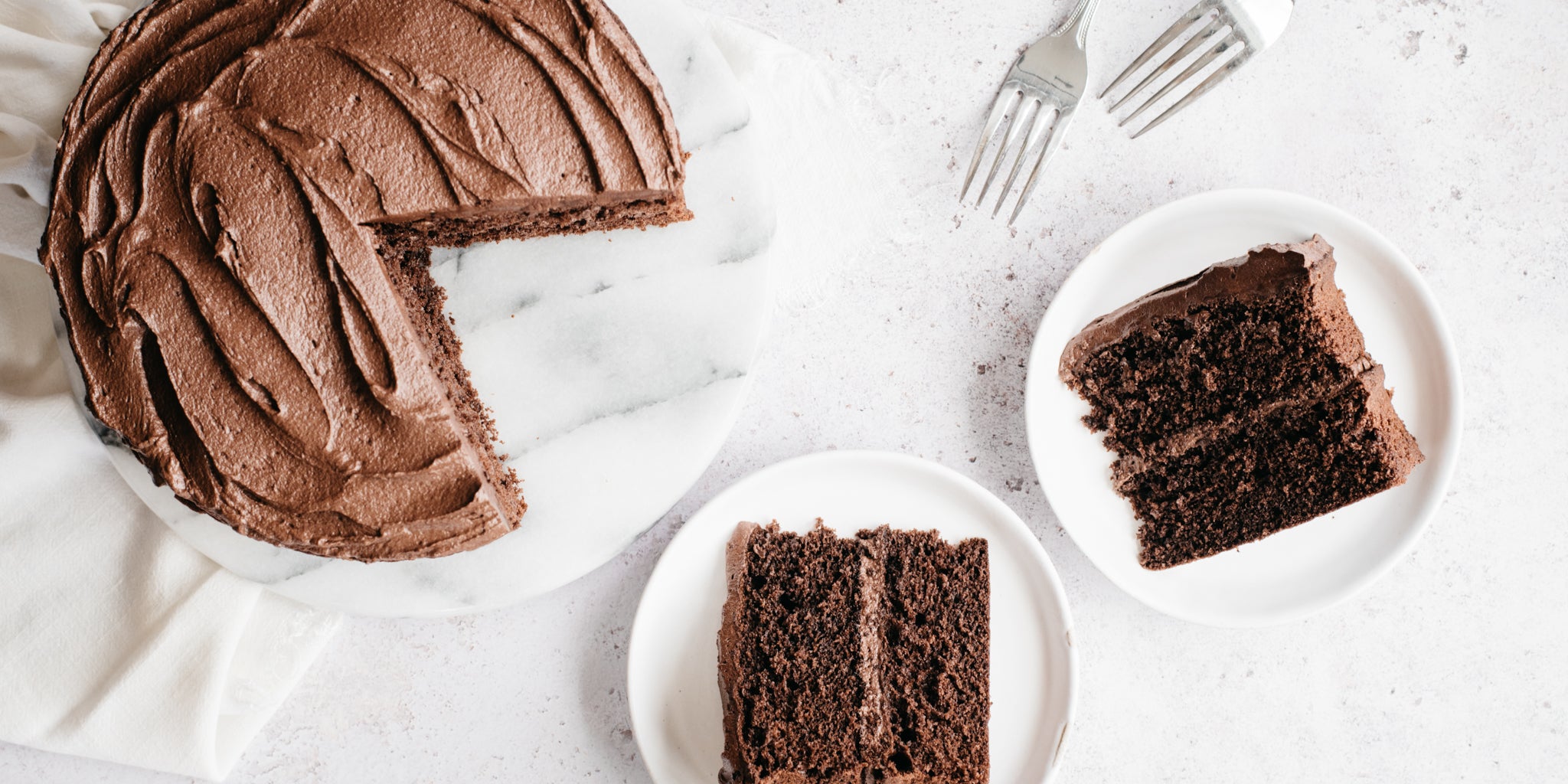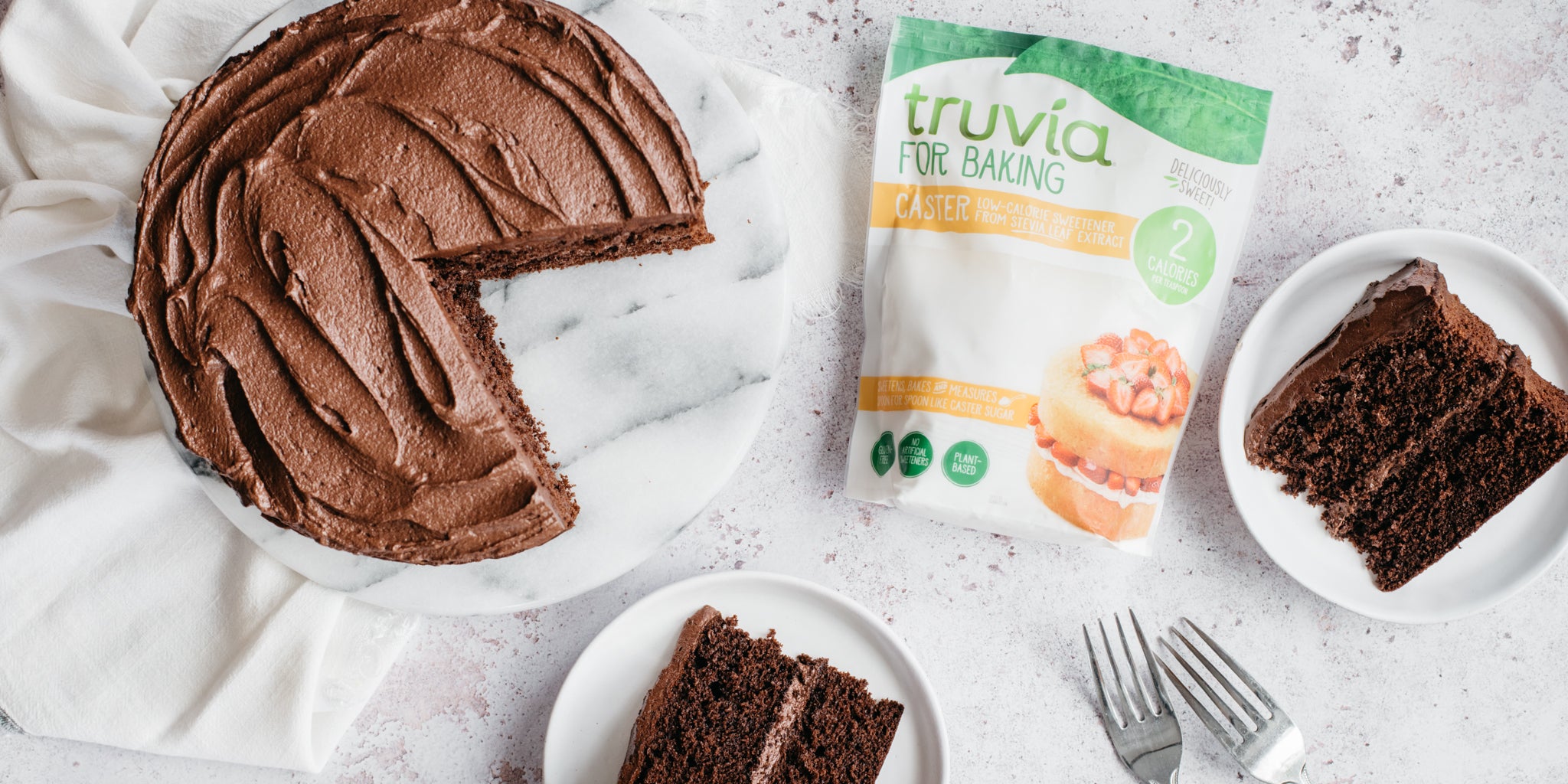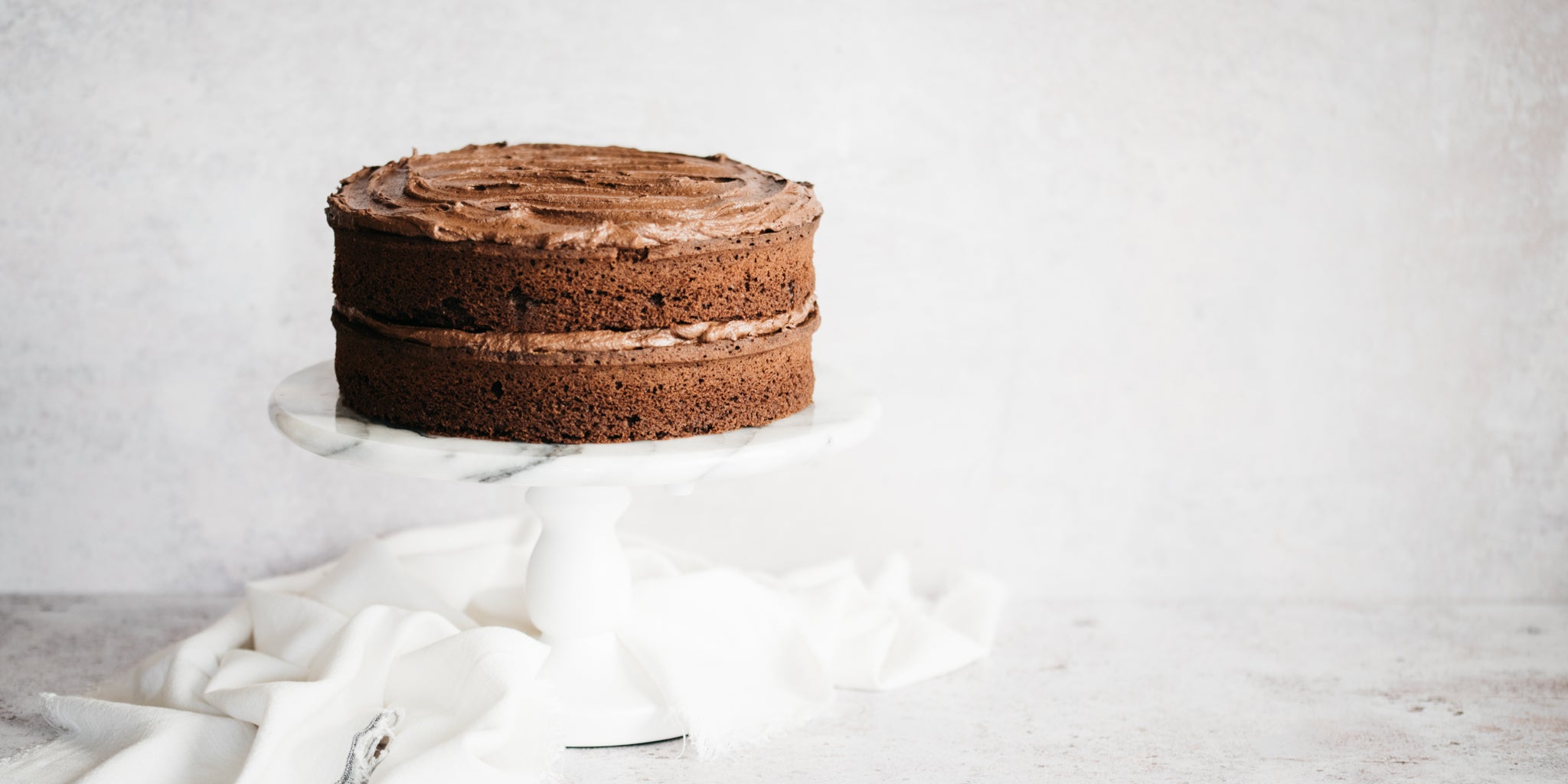 About the bake
Here is the lighter chocolate cake recipe that you have been searching for. All of the joys of a delicious chocolate cake made lighter by the addition of Truvia for baking caster and icing sugar. Perfect as a low sugar birthday cake, alternative Christmas cake or even just a weekend bake that everyone will love.
Method
Step 1:

Preheat the oven to 180C/160C fan/ gas mark 4. Lightly grease and line two 19cm sandwich cake tins with baking parchment.

Step 2:

In a bowl beat the spread until soft with an electric whisk. Add the Truvia for Baking Caster and beat together until light and fluffy. Sieve the flour, cocoa powder, and baking powder in a separate bowl.

Step 3:

Gradually beat in the eggs with the vanilla essence with a tbsp of the flour mixture with each addition of egg, then then gently fold in the remaining flour mixture.

Step 4:

Divide the cake mixture evenly between the tins and level off each one with the back of a spoon then bake in the centre of the preheated oven for 20 minutes or until well risen and firm to touch, and a skewer inserted into the centre of the cake, should come out clean if cooked. Allow the cake to stand in the tins for 5 minutes then turn out and leave to cool on a wire rack.

Step 5:

Meanwhile, make the buttercream by melting the chocolate in the microwave, or in a bowl over simmering water. Take the bowl off the water and allow the chocolate to cool.

Step 6:

Sieve together the Truvia for Baking Icing and cocoa powder in a separate bowl. Beat the spread for a minute until light and fluffy with an electric whisk then gradually beat in the icing sugar, cocoa and the melted chocolate until a smooth, glossy icing is achieved.

Step 7:

To assemble the cake, spread the top of one the cake with half of the chocolate buttercream, leaving a 1cm border around the edge. Put the second cake on top and push down very gently. Spread the remaining buttercream over the top.
Ingredients
For the cake

200g

 

64% fat spread (Clover or similar) + extra for greasing

200g

 

Truvia for Baking - Caster

175g

 Allinson's Self Raising White Flour

25g

 

Cocoa Powder

1 tsp

 

Baking Powder

4

 

Medium free range eggs (lightly beaten)

2 tsp

 Nielsen-Massey Vanilla Extract

For the buttercream

70g

 

Dark chocolate (70%)

175g

 

Truvia for Baking - Icing

30g

 

Cocoa Powder

150g

 

64% fat spread (Clover or similar) + extra for greasing
We'd love a slice of advice.
Was it yum? Did the recipe work well? Did you customise the recipe?
Ingredients
For the cake

200g

 

64% fat spread (Clover or similar) + extra for greasing

200g

 

Truvia for Baking - Caster

175g

 Allinson's Self Raising White Flour

25g

 

Cocoa Powder

1 tsp

 

Baking Powder

4

 

Medium free range eggs (lightly beaten)

2 tsp

 Nielsen-Massey Vanilla Extract

For the buttercream

70g

 

Dark chocolate (70%)

175g

 

Truvia for Baking - Icing

30g

 

Cocoa Powder

150g

 

64% fat spread (Clover or similar) + extra for greasing