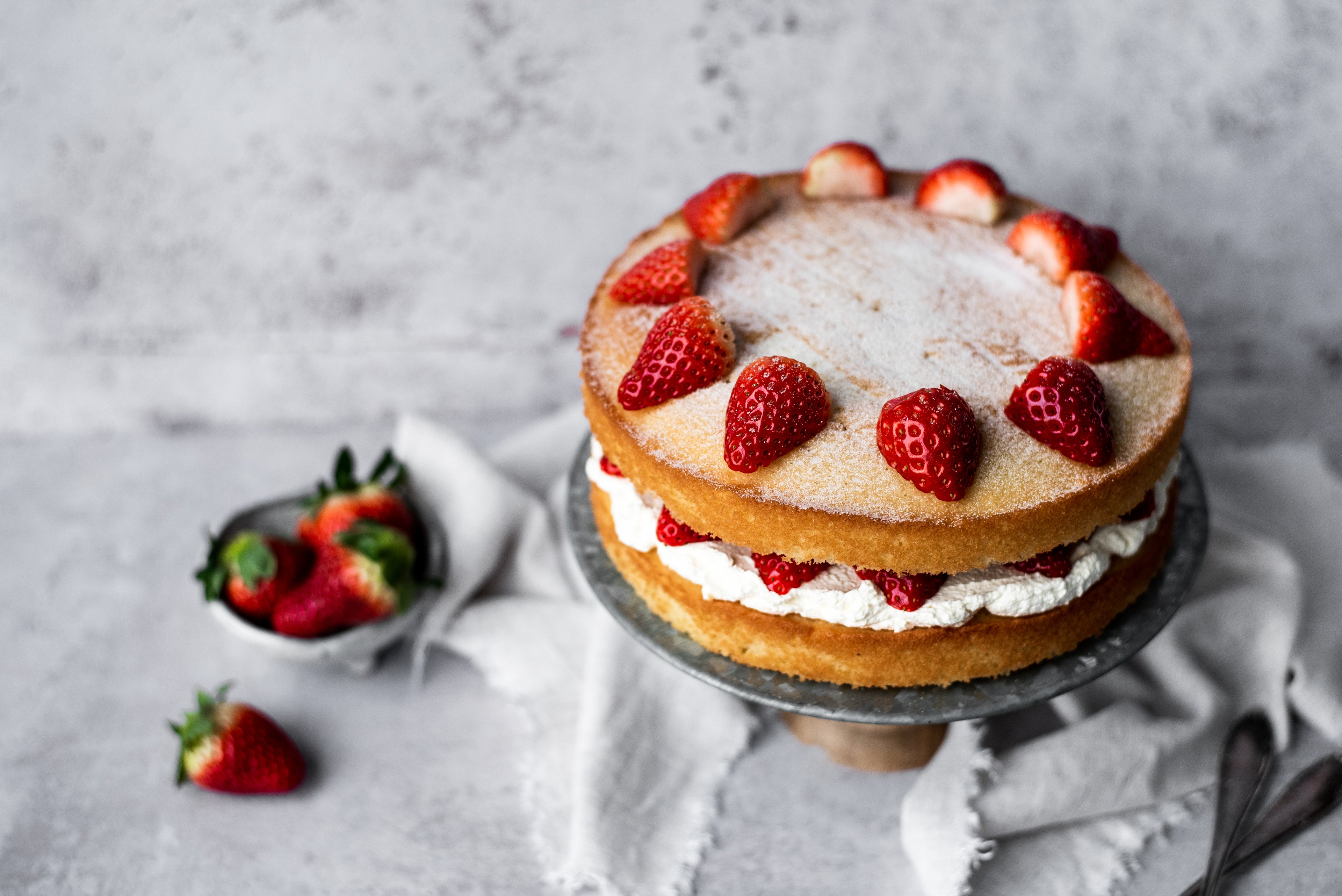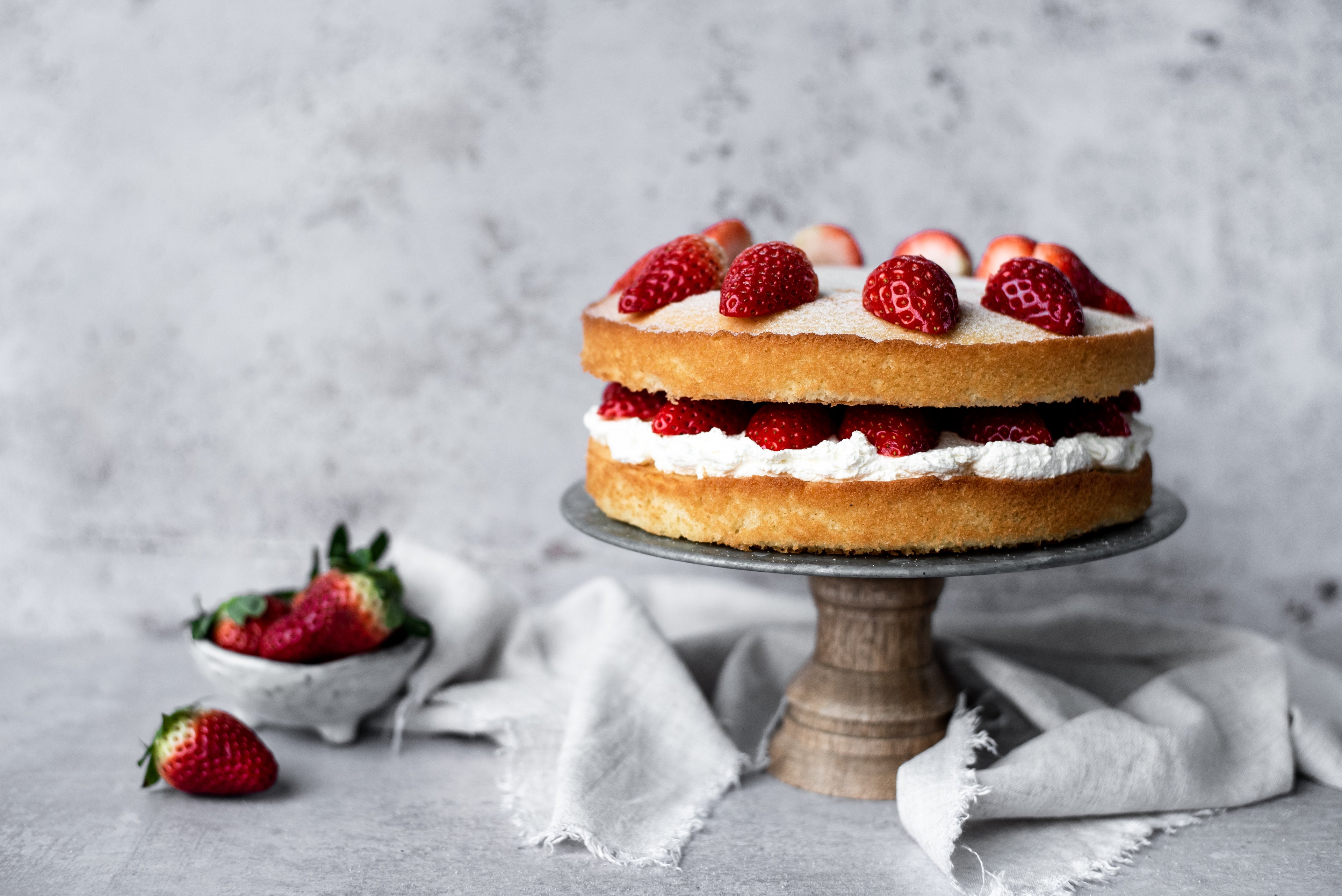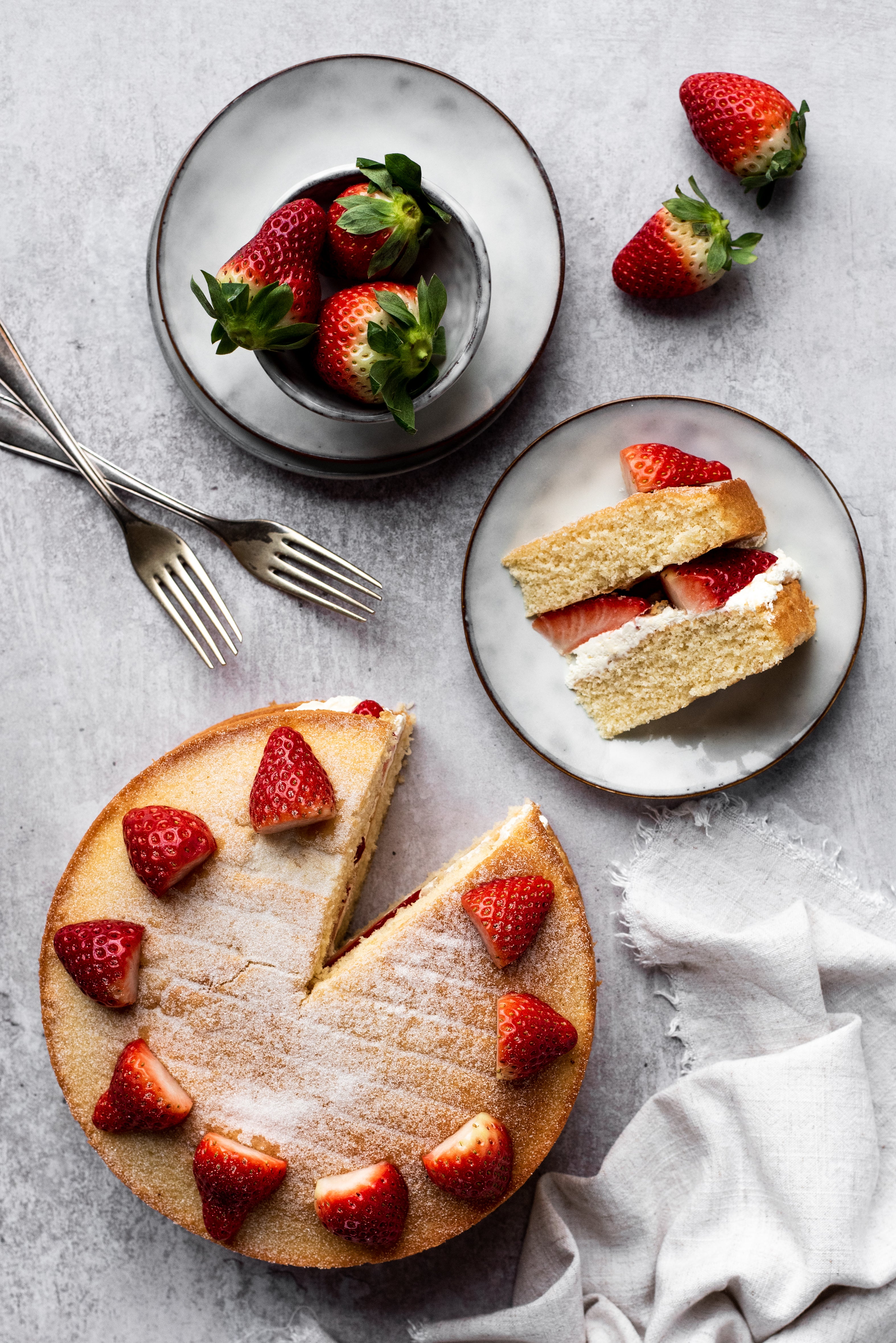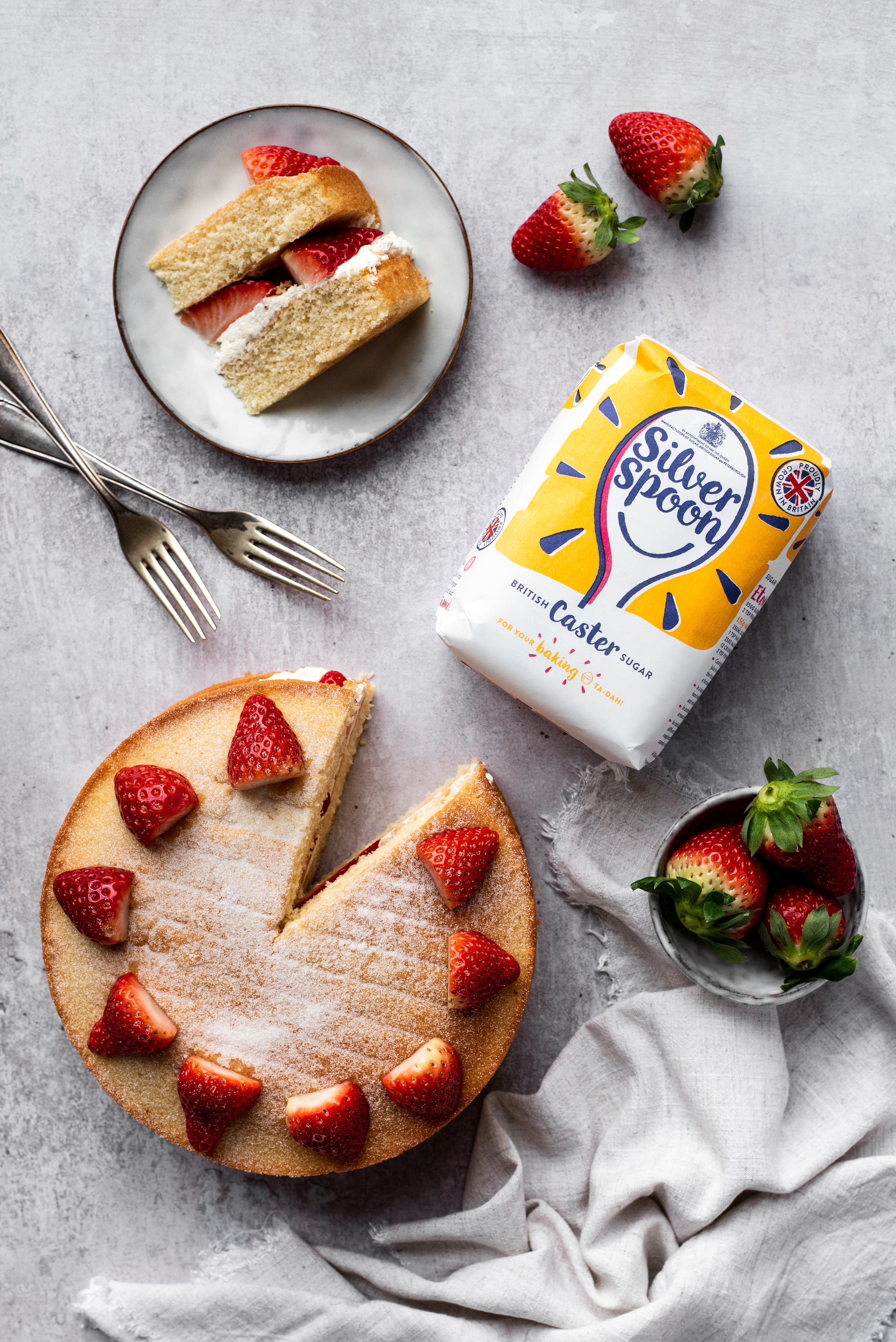 About our easy Victoria sponge cake
This Victoria Sponge cake recipe is one that you will return to time and time again. Its even crumb and rise ensure this cake doesn't go dry around the edges but you are instead left with a light and airy texture that is oh so delicious.

Named after Queen Victoria, this traditional British bake is perfect for a Jubilee party, or even as a wedding cake.
What's the secret to a good Victoria sponge?
The key to a delicious Victoria sponge is all in the beating. You need to get as much air in as possible to create a light and airy sponge.

Below we take you through the recipe step by step so you can wow your guests with a beautifully moist Victoria sponge cake recipe.
Method
Step 1:

Preheat the oven to 180°C (160°C fan, gas mark 5). Top Tip: Put some water in a cake tin or roasting tin and set in the bottom of the oven. This will help your sponges to stay moist and prevent it from drying out. Prepare the sandwich tins (2 x 8in sponge tins) by lining with baking parchment.


Step 2:

Cream together the butter and sugar with a wooden spoon or electric hand whisk, until pale and fluffy.

Step 3:

Add the eggs in 4 parts, beating well after each addition so that the egg is well incorporated. Add the vanilla. Sift the flour into the mixture and fold in lightly with a metal spoon, until the mixture is even. Add the milk and mix.


Step 4:

Spoon the mix into tins and bake for 20 minutes, or until a skewer inserted comes out clean. Remove and cool on a wire rack.

Step 5:

To assemble the cake, put a dab of cream in the centre of the serving plate, and top with one of the cakes. Spoon the whipped cream all over the base and sprinkle over the halved strawberries. Top with the other cake and decorate with strawberries. Sift over the icing or caster sugar (whichever you prefer) and serve.

If you like this recipe, why not try our cupcakes in a jar idea?

Ingredients
For the Cake

200g

 

Unsalted butter (softened)

200g

 Silver Spoon White Caster Sugar

4

 

Free range medium eggs

200g

 Allinson's Self Raising White Flour

1 tsp

 Nielsen-Massey Vanilla Extract

2 tbsp

 

Whole milk

For the Filling

250g

 

Strawberries (washed and halved)

150ml

 

Double cream (whipped)

To dust

 Silver spoon icing sugar (to dust)
Recipe Reviews
This is my new favourite recipe!!
The cake come out so full and moist definitely recommend this recipe
Very easy to follow and bake. Instead I just put jam spread in the middle
Good basic recipe great for adding your own twist!
A lovely light sponge ideal for any occasion
Did not turn out mine was flat and sticky
Ingredients
For the Cake

200g

 

Unsalted butter (softened)

200g

 Silver Spoon White Caster Sugar

4

 

Free range medium eggs

200g

 Allinson's Self Raising White Flour

1 tsp

 Nielsen-Massey Vanilla Extract

2 tbsp

 

Whole milk

For the Filling

250g

 

Strawberries (washed and halved)

150ml

 

Double cream (whipped)

To dust

 Silver spoon icing sugar (to dust)