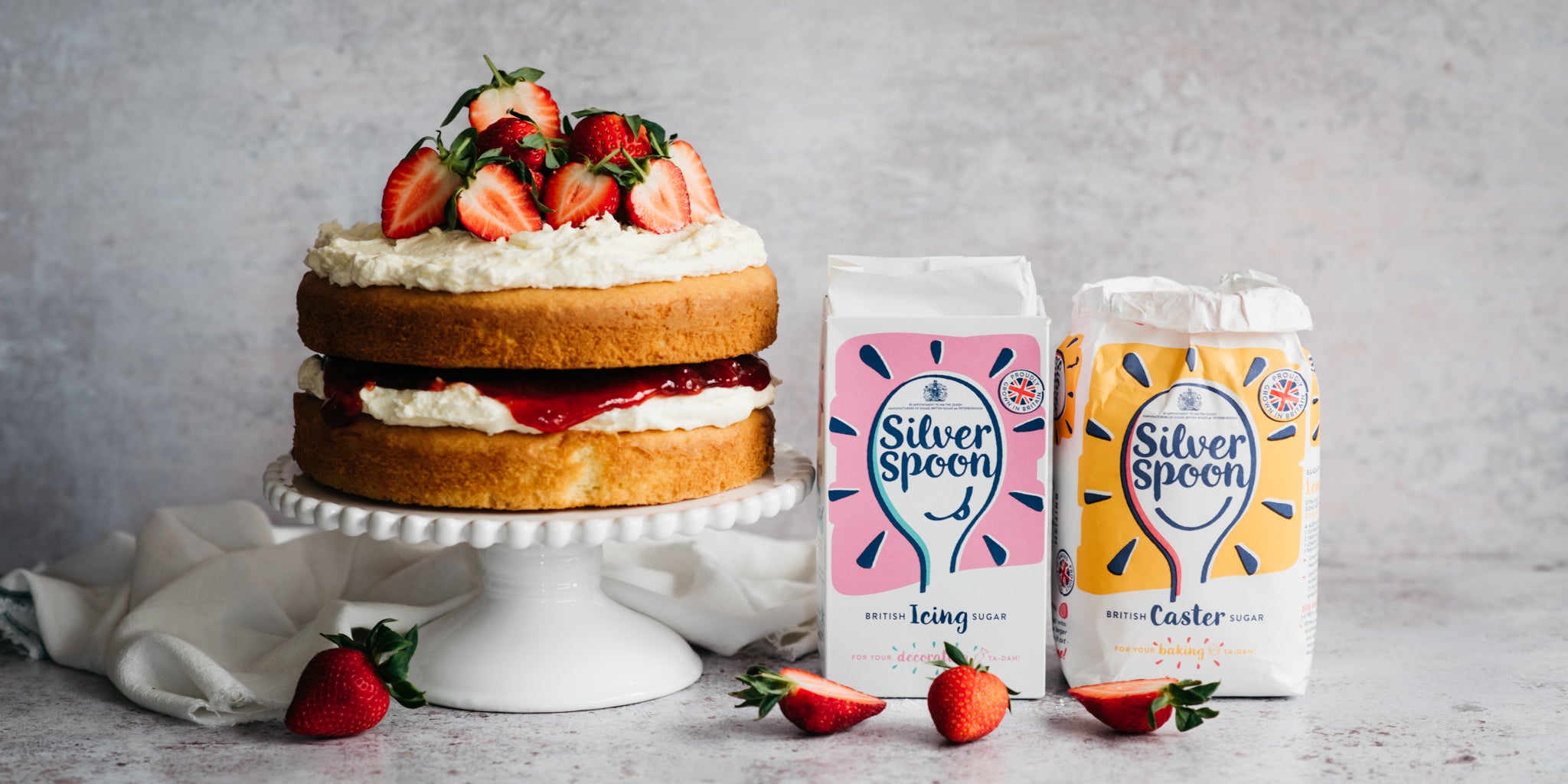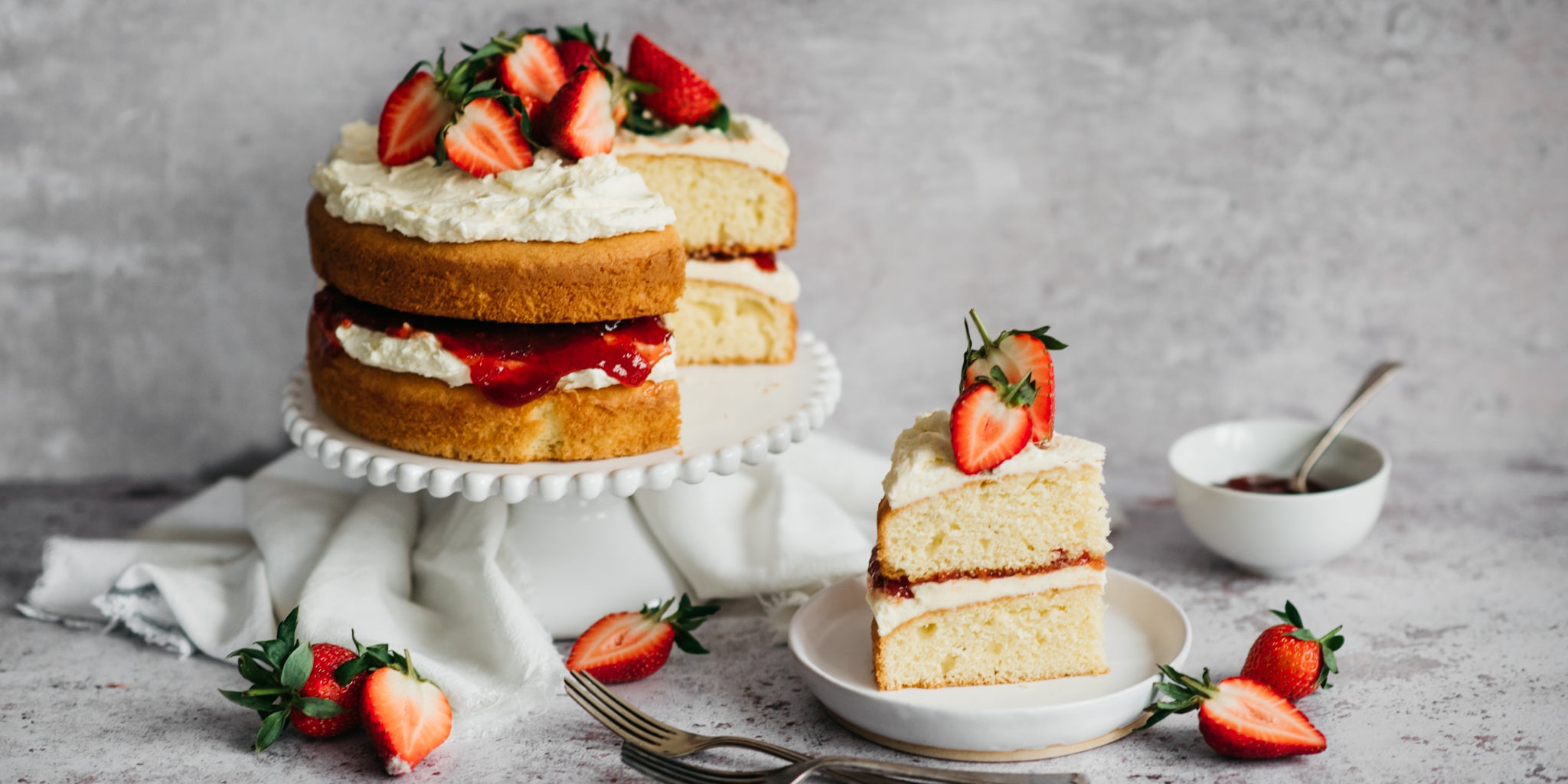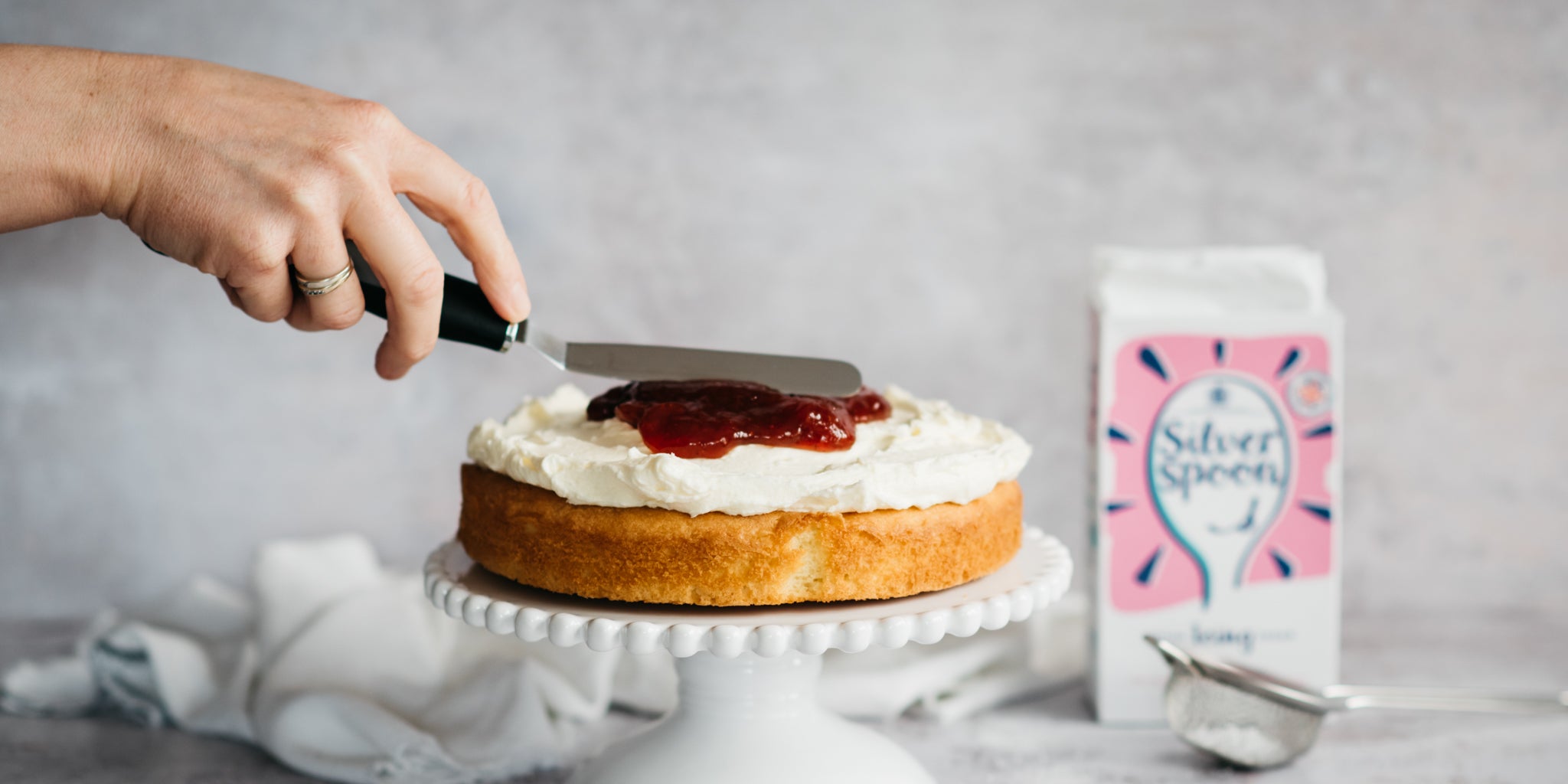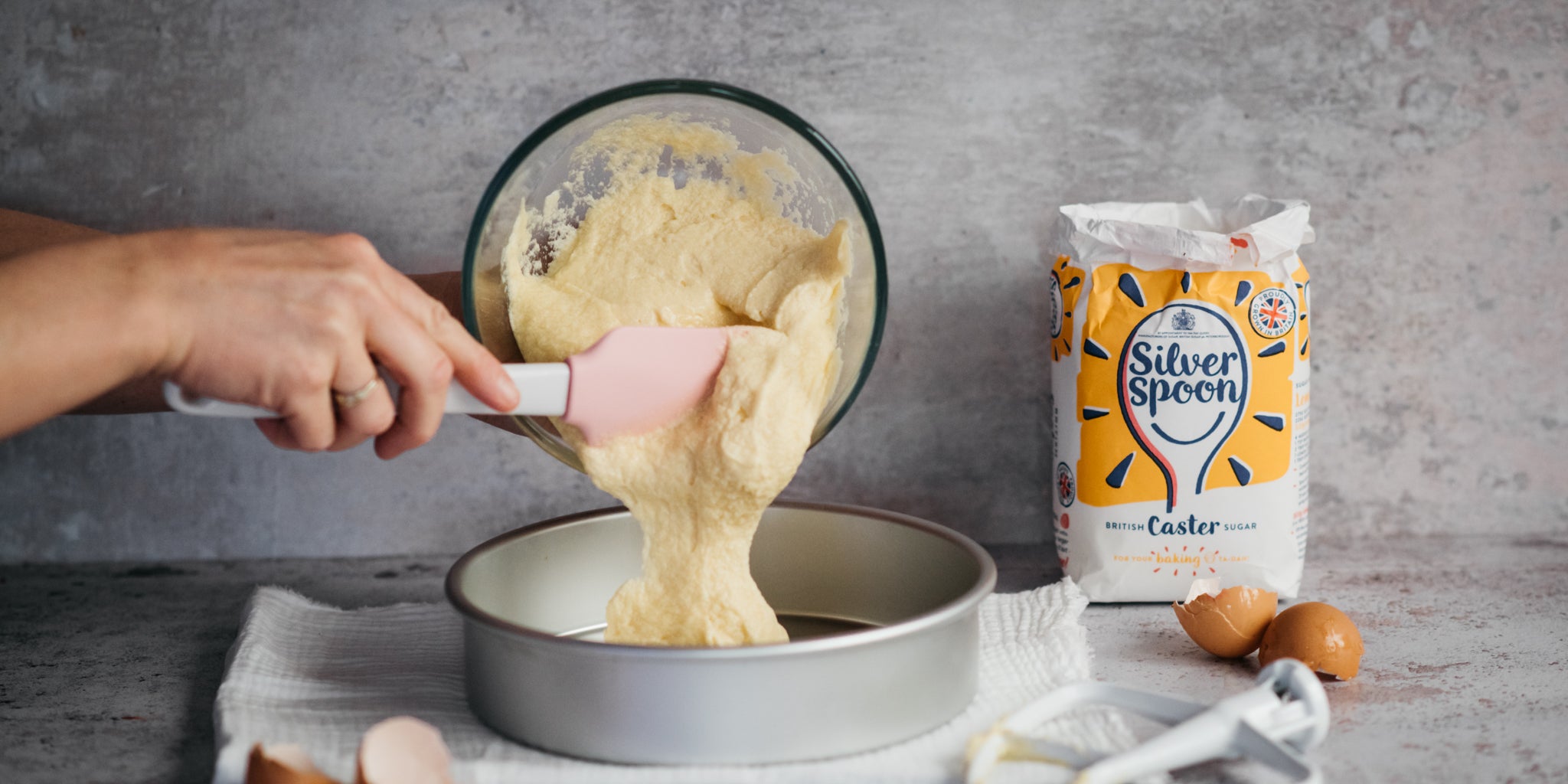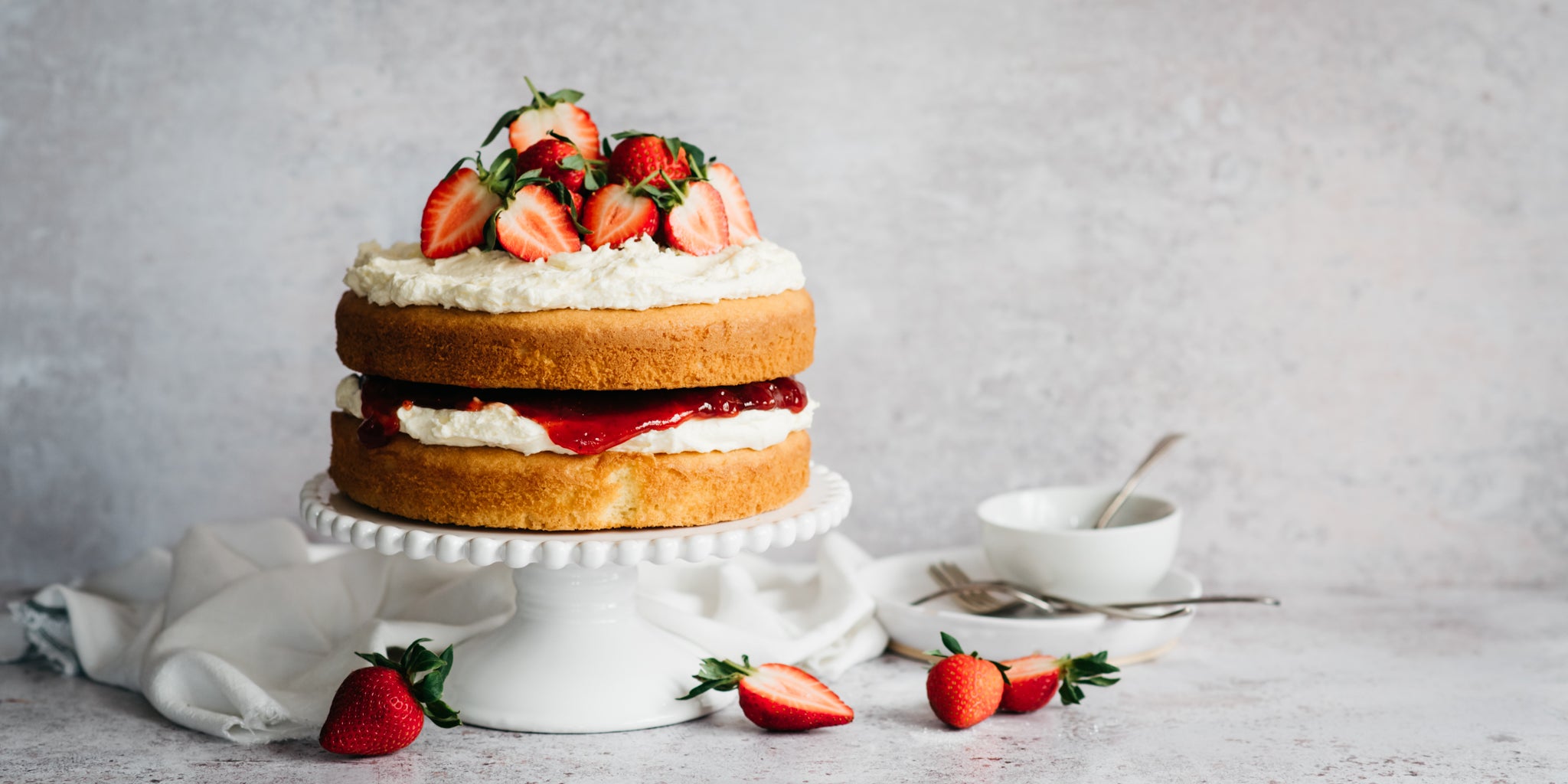 About the Gluten Free Victoria Sponge
This super easy to bake Victoria Sponge Cake is baked using Gluten-Free Flour, but don't worry! This recipe promises a full-on fluffy sponge, sandwiched together with sweet jam and a light buttercream this simple gluten free Victoria Sponge Cake will be your new go-to cake recipe.
Whether you're whipping up a birthday showstopper, or topping all your tiers with fresh chopped strawberries this Jubilee - this cake is sure to delight all of your guests with just one bite. Better go pre-heat your oven!
Be the talk of the town this Jubilee with a spread of all spreads, homemade style. Why not whisk up cupcakes fit for all the family (or street!) with our Simple Gluten Free Chocolate Muffins or for a zesty loaf cake that we're sure even the Queen herself would approve of, our Gluten Free Lemon Drizzle is a favourite amongst our Baking Mad Gluten 'Free-ers''
Method
Step 1:

Preheat the oven to 180 degrees C/160 degrees C fan

Step 2:

Grease and line two 8 inch round cake tins

Step 3:

Measure the flour, baking powder and xantham gum into a large bowl and set aside

Step 4:

Place the sugar and butter into the bowl of a stand mixer and beat until smooth and silky

Step 5:

Add the eggs, vanilla extract and a tablespoon of flour and beat again

Step 6:

Add the dry ingredients to the wet and very gently beat until fully incorporated

Step 7:

Pour the batter into the prepared cake tins and bake in the preheated oven for 20-25 minutes or until an inserted skewer comes out clean

Step 8:

Remove from the oven and allow to cool fully on a wire rack

Step 9:

Begin making the buttercream by beating together the butter, icing sugar and milk until the buttercream becomes silky and a spreadable texture

Step 10:

Using an offset spatula, gently add a layer of jam then buttercream to the top of the first cake layer, then place the second cake layer on top. repeat the buttercream on the second layer

Step 11:

Repeat the buttercream on the second layer

Step 12:

Add sliced strawberries on top and serve
Ingredients
For the cake

300g

 

Gluten free self raising flour

1 tsp

 

Baking Powder

250g

 Silver Spoon Caster Sugar

250g

 

Softened butter

5

 

Medium eggs

1/4 tsp

 

Xanthum gum

1 tsp

 Nielsen-Massey Vanilla Extract

2 tbsp

 

Milk

For the filling

250g

 

Unsalted Butter (room temperature)

500g

 Silver Spoon Icing Sugar

2 tbsp

 

Milk (to loosen the buttercream)

6 tbsp

 

Strawberry jam

250g

 

Strawberries (punnet)
Utensils
Two 8 inch cake tins

Parchment paper

Stand mixer

Spatula
Ingredients
For the cake

300g

 

Gluten free self raising flour

1 tsp

 

Baking Powder

250g

 Silver Spoon Caster Sugar

250g

 

Softened butter

5

 

Medium eggs

1/4 tsp

 

Xanthum gum

1 tsp

 Nielsen-Massey Vanilla Extract

2 tbsp

 

Milk

For the filling

250g

 

Unsalted Butter (room temperature)

500g

 Silver Spoon Icing Sugar

2 tbsp

 

Milk (to loosen the buttercream)

6 tbsp

 

Strawberry jam

250g

 

Strawberries (punnet)
Utensils
Two 8 inch cake tins

Parchment paper

Stand mixer

Spatula