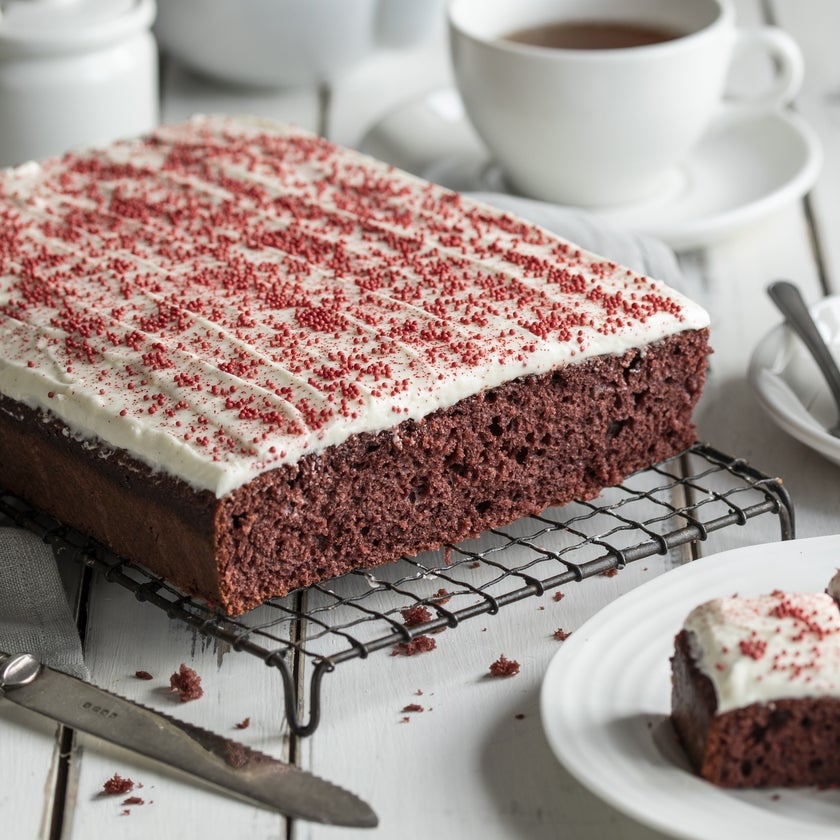 About the bake
Red velvet cakes are traditionally an american recipe, but us Brits are enjoying this recipe so much it's fast becoming one of our everyday go-to bakes. We've transformed this lusciously red chocolate flavoured sponge into a traybake and toppped with classic cream cheese frosting. This traybake is perfect for kid's parties or for taking into the office on your birthday as it can be sliced into smaller or larger squares depending on who you're catering for. Our Red Velvet Cookies are also a tasty spin on this class favourite.
Let your creativity run wild with our Quick & Easy Rainbow Traybake - we're yet to find a celebration that this traybake cake isn't perfect for. Or
Method
Step 1:

Preheat the oven to 180°C/160°C fan/ gas mark 4 then grease and line with parchment a 24cm square tin.


Step 2:

In a bowl cream together the butter and sugar until light and fluffy. Set aside.


Step 3:

Lightly whisk the eggs, buttermilk, vanilla extract and white wine vinegar in a jug.


Step 4:

Sieve the flour, baking powder, bicarbonate of soda and cocoa powder in a separate bowl.

Step 5:

Pour half of the egg mixture into the creamed butter and sugar along with two spoonfuls of the flour to prevent the mixture from curdling. Repeat with the remaining liquid then gently fold in the remaining flour and red food colouring and stir gently until combined.

Step 6:

Pour the batter into the prepared pan.


Step 7:

Meanwhile to make the frosting, beat the butter with an electric whisk until creamy then sift the icing sugar into the bowl, add the vanilla and whisk until light and creamy.

Step 8:

Very gently stir in the cream cheese into the icing, then pop the frosting in the fridge until ready to use.

Step 9:

When the cake has cooled, spread the frosting over the top in a thick layer and decorate with the dried raspberries or strawberry . Cut into squares and serve.

Ingredients
For the cake

300g

 Allinson's plain white flour

300g

 Silver Spoon Caster Sugar

2 tsp

 

Baking powder

175g

 

Unsalted butter (softened)

2 tbsp

 

Cocoa powder

3

 

Medium eggs

250g

 

Buttermilk

2 tsp

 Nielsen-Massey Vanilla Extract

1 tsp

 

Red food colouring gel

2 tsp

 

White wine vinegar

1 tsp

 

Bicarbonate of soda

For the cream cheese frosting

200g

 

Cream cheese (full fat)

100g

 

Softened unsalted butter

1 tsp

 Nielsen-Massey Vanilla Extract

100g

 Silver Spoon Icing Sugar

handful

 

Freeze-dried raspberries or strawberries
Utensils
Mixing bowl

Wooden spoon

Sieve
Nutritional Information
per 105g
358cal

 

Energy

19g

 

Fat

12g

 

of which Saturates

41g

 

Carbohydrates

26g

 

of which Sugars

4.8g

 

Protein

0.51g

 

Salt
Recipe Reviews
Haven't made it. The method is wrong (no mention of creaming butter and sugar first). If I did make it - I wouldn't add 250mls of any liquid to those ingredients no wonder it was so wet! It's a shame cos the idea seems nice.
Disaster for me too, wish I'd read the reviews before wasting ingredients, very wet batter. Cocktail stick came out clean once cooled and iced I cut is very stodgy, tasted ok. Can't find another tray bake recipe. :(
Why would you ever add water to a cake??
Cake is too watery after adding all the water as suggested in recipe.
All the reviews are saying this recipe is a disaster o it suggests something is wrong somewhere.
It has potential to be a lovely cake but something is wrong.
It was a disaster. After I mixed all the ingredients i was very liquid , it didn't cook very well, it was very stodgy. Before taking out of the oven I used a toothpick to check and it came out clear.. I liked the colour though and the topping.
Was a complete disaster, really don't know what went wrong. Oven was hot, and it was definitely cooked for long enough as it shrank away from edges, very stodgy and brownie like, had to throw away
Ingredients
For the cake

300g

 Allinson's plain white flour

300g

 Silver Spoon Caster Sugar

2 tsp

 

Baking powder

175g

 

Unsalted butter (softened)

2 tbsp

 

Cocoa powder

3

 

Medium eggs

250g

 

Buttermilk

2 tsp

 Nielsen-Massey Vanilla Extract

1 tsp

 

Red food colouring gel

2 tsp

 

White wine vinegar

1 tsp

 

Bicarbonate of soda

For the cream cheese frosting

200g

 

Cream cheese (full fat)

100g

 

Softened unsalted butter

1 tsp

 Nielsen-Massey Vanilla Extract

100g

 Silver Spoon Icing Sugar

handful

 

Freeze-dried raspberries or strawberries
Utensils
Mixing bowl

Wooden spoon

Sieve
Nutritional Information
per 105g
358cal

 

Energy

19g

 

Fat

12g

 

of which Saturates

41g

 

Carbohydrates

26g

 

of which Sugars

4.8g

 

Protein

0.51g

 

Salt