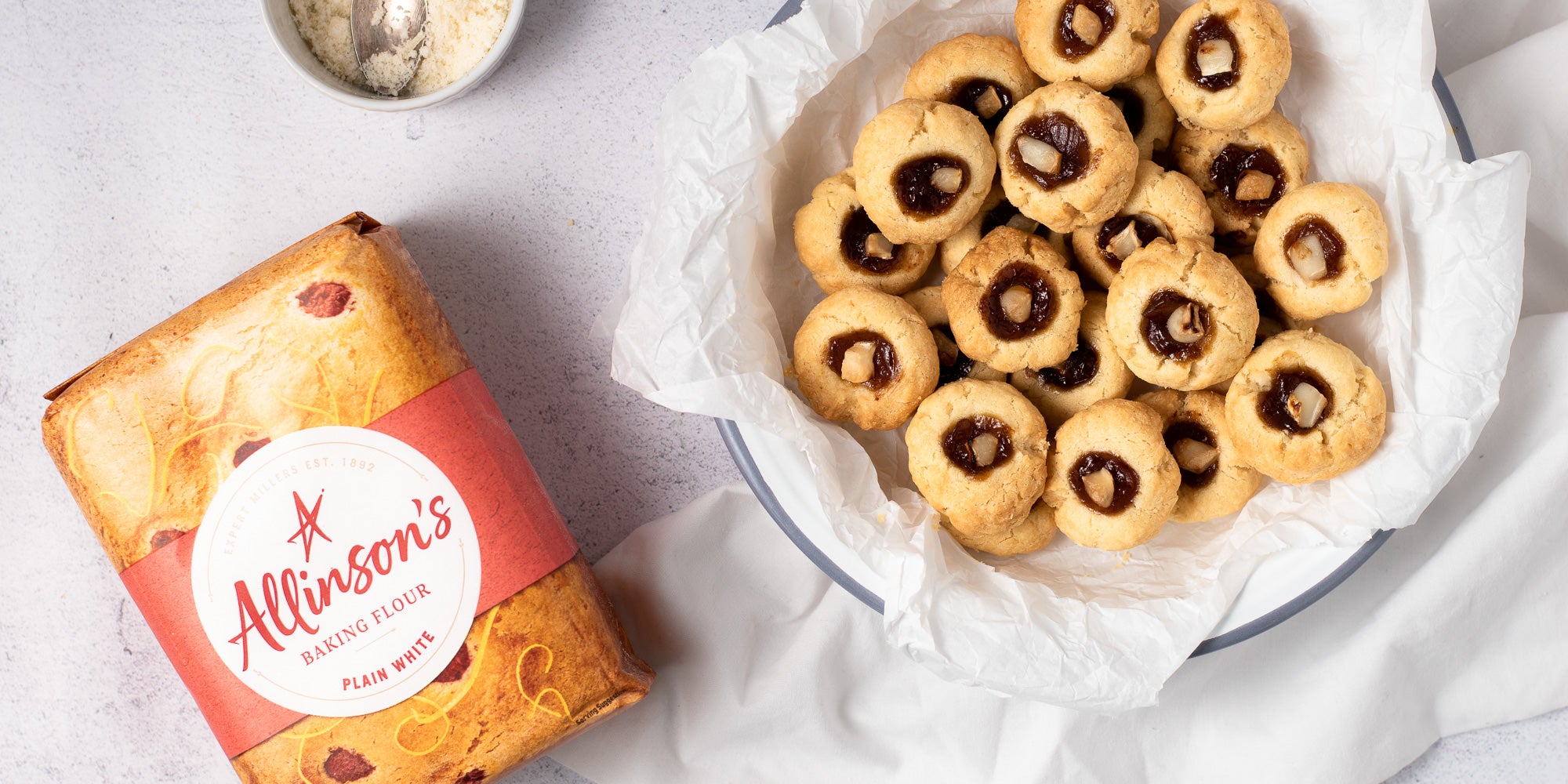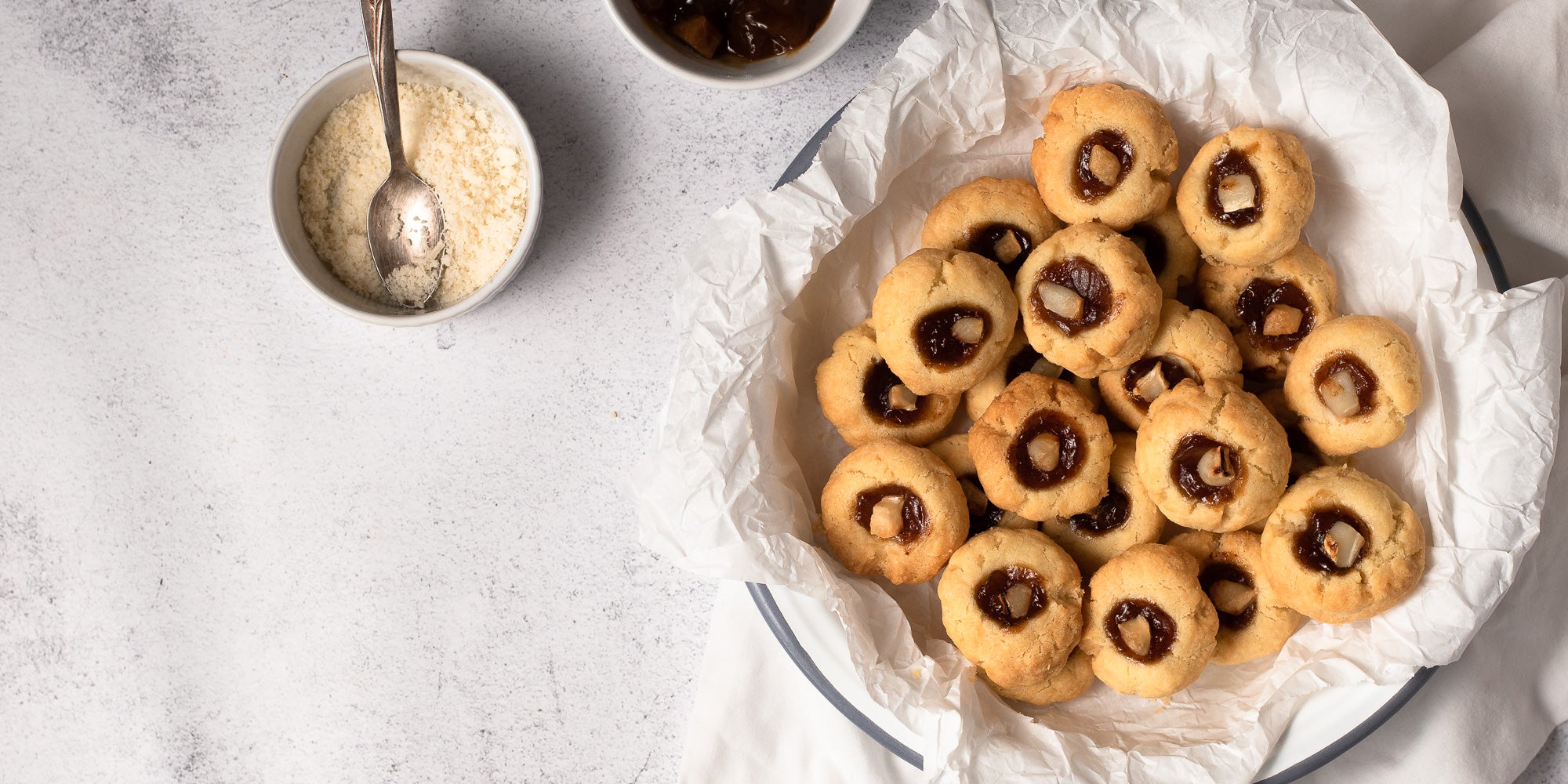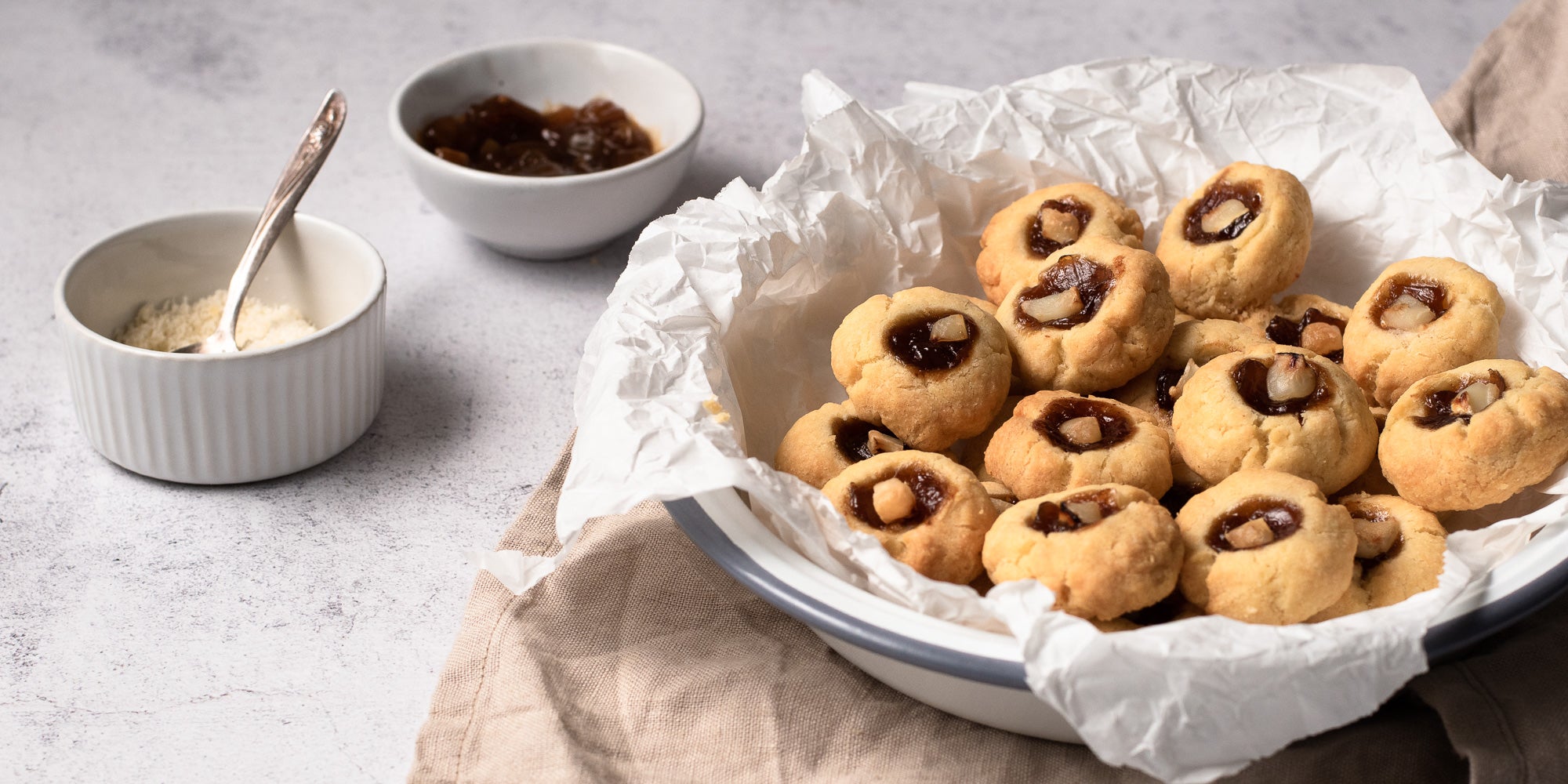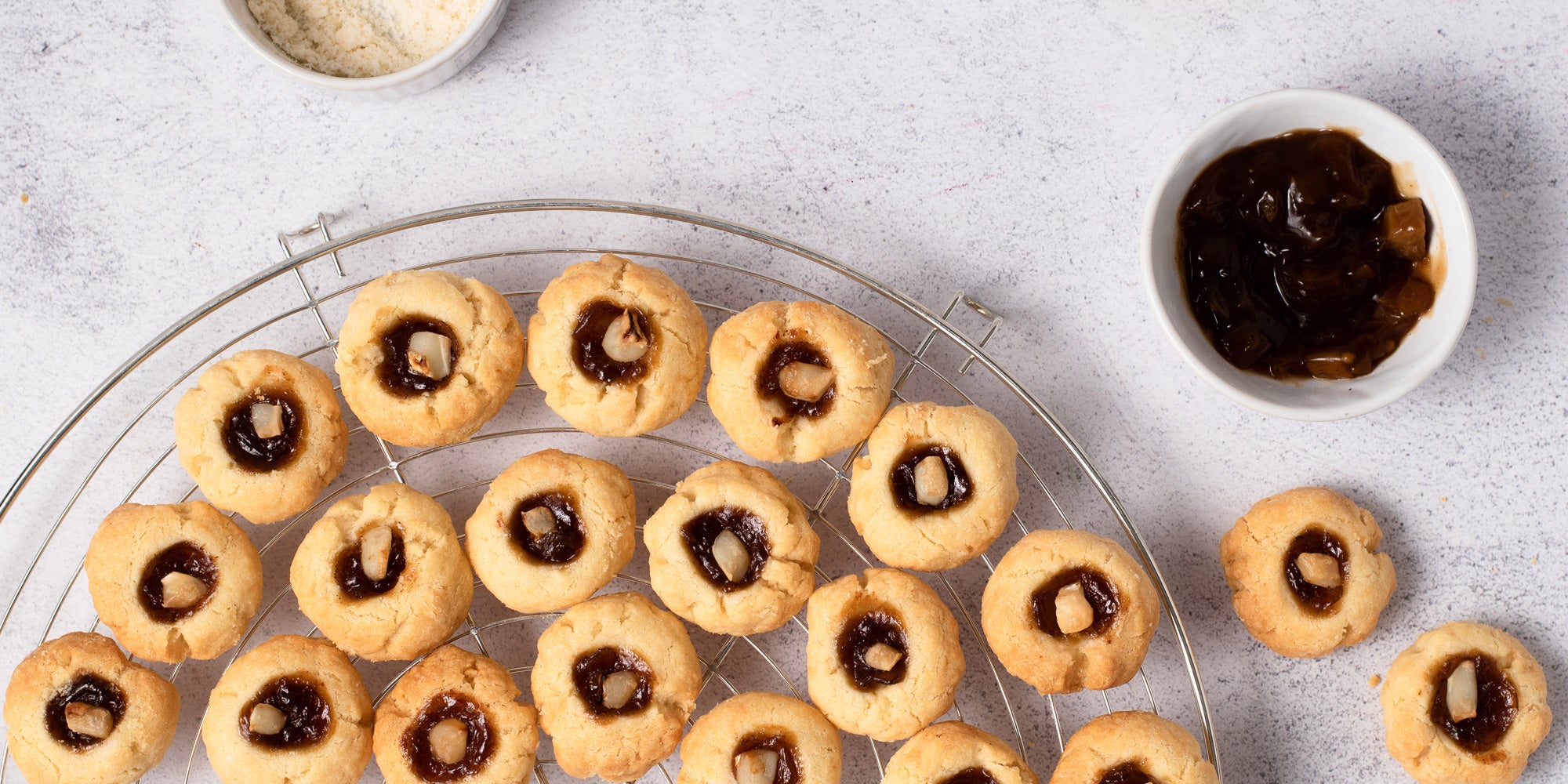 About the bake
These savoury parmesan thumbprint biscuits are quick and easy to make. The biscuits are filled with goat's cheese and red onion marmalade. These savoury treats would make fantastic canapés or just really tasty snacks.
Method
Step 1:

Pre-heat the oven to 180°C (fan 160°C, gas mark 4) and line 2 baking sheets with non-stick baking parchment.

Step 2:

Mix together all of the biscuit ingredients until just combined and a soft dough is formed. Wrap in cling film and leave to rest in the fridge for 15 minutes.



Step 3:

Remove from the fridge and roll the dough into small balls approximately 2.5cm in diameter. Place onto the prepared baking sheets, leaving a gap between each of approximately 3cm to allow for any spreading in the oven.

Step 4:

Gently press your thumb into the centre of each biscuit until a small hollow is created.

Step 5:

Place approximately ½ teaspoon of red onion marmalade into the centre of each biscuit, filling the hollow. Top the marmalade on each biscuit with a small piece of goat's cheese.

Step 6:

Place in the pre-heated oven and bake for 15-18 minutes or until the biscuits and goats cheese are just starting to colour slightly.

Step 7:

Remove from the oven and leave to cool slightly before serving.
Ingredients
For the Biscuits

150g

 Allinson's Plain White Flour

75g

 

Parmesan

100g

 

Unsalted butter (softened)

0.25 tsp

 

Salt

1

 

Free range egg yolk

For the Topping

50g

 

Red onion marmalade

50g

 

Goats cheese
Utensils
Mixing bowl

Two baking sheets

Baking parchment

Clingfilm

Cooling rack
Nutritional Information
per 15g
77cal

 

Energy

5.1g

 

Fat

3.1g

 

of which Saturates

5.5g

 

Carbohydrates

1.1g

 

of which Sugars

2.2g

 

Protein

0.16g

 

Salt
We'd love a slice of advice.
Was it yum? Did the recipe work well? Did you customise the recipe?
Ingredients
For the Biscuits

150g

 Allinson's Plain White Flour

75g

 

Parmesan

100g

 

Unsalted butter (softened)

0.25 tsp

 

Salt

1

 

Free range egg yolk

For the Topping

50g

 

Red onion marmalade

50g

 

Goats cheese
Utensils
Mixing bowl

Two baking sheets

Baking parchment

Clingfilm

Cooling rack
Nutritional Information
per 15g
77cal

 

Energy

5.1g

 

Fat

3.1g

 

of which Saturates

5.5g

 

Carbohydrates

1.1g

 

of which Sugars

2.2g

 

Protein

0.16g

 

Salt