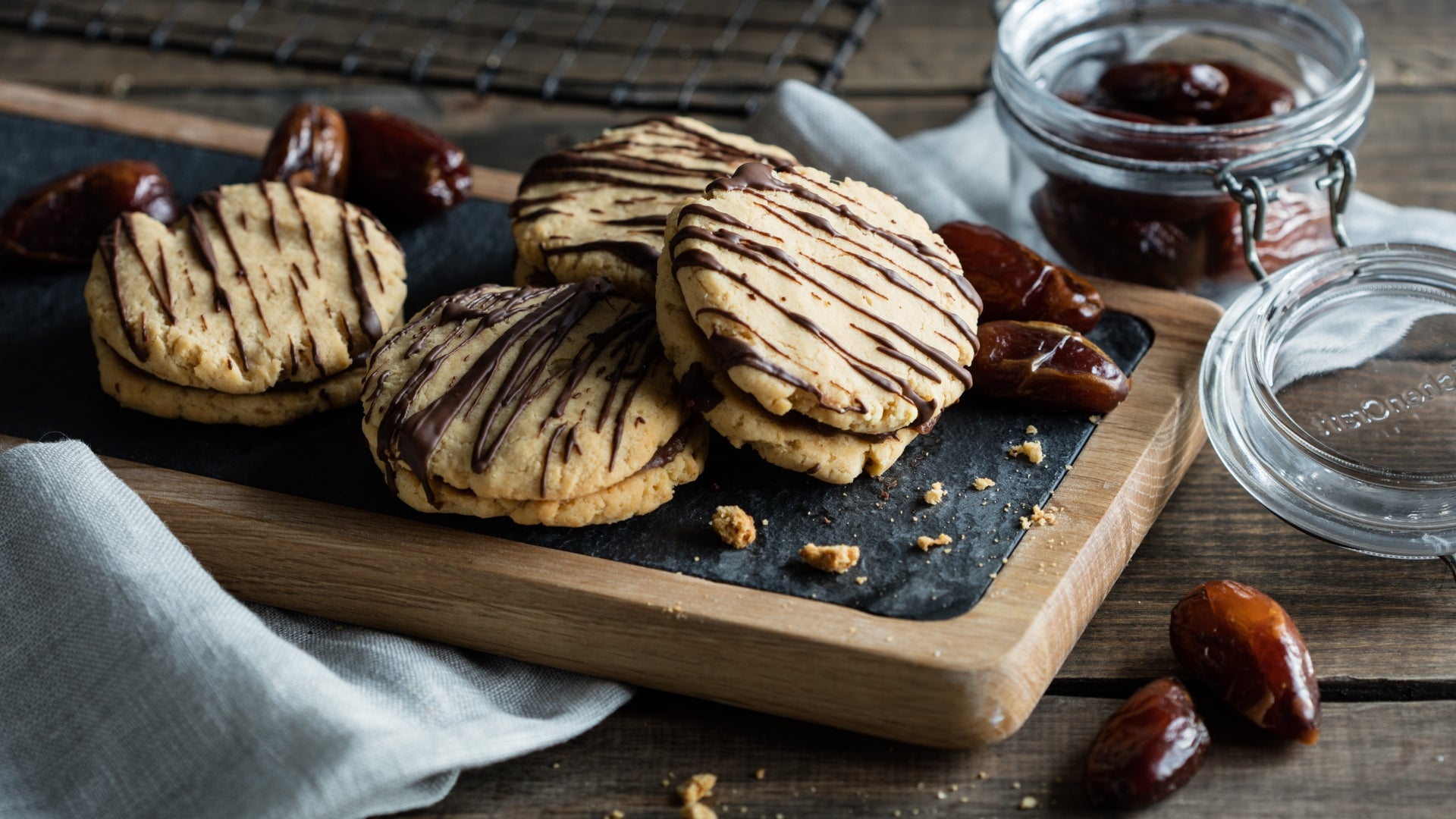 About the bake
If you are looking for a way to boost your protein with a tasty snack then these vanilla cookies are the bake for you. Created by Twice the Health these cookies are also gluten free and reduced sugar with a sweet and sticky date filling. Reflex Nutrtion products are available from here.
Method
Step 1:

Preheat the oven to 160°C (320°F/Gas Mark 3)


Step 2:

Remove the stones from the dates. Place in a bowl, add the boiling water and cover for 10 minutes to soften.


Step 3:

In another bowl mix together the flour, baking powder, salt, vanilla pea protein, egg, and coconut oil. Roll mix into 8 even balls.


Step 4:

Grease a tray lined with baking parchment and flatten out each ball. Bake for 5-10mins or until golden. Allow to cool on a wire rack.


Step 5:

Meanwhile blend up the dates, water, salt and cocoa pea protein into a paste.

Ingredients
For the Cookies

80g

 

Oat or rice flour

1/4 tsp

 

Gluten free baking powder

Pinch

 

Salt

30g

 

Vanilla reflex pea protein

1

 

Egg(s) (free range) (large)

30g

 

Coconut oil

For the Filling

80g

 

Dates

2 tbsp

 

Boiling water

Pinch

 

Salt

10g

 

Cocoa reflex pea protein
We'd love a slice of advice.
Was it yum? Did the recipe work well? Did you customise the recipe?
Ingredients
For the Cookies

80g

 

Oat or rice flour

1/4 tsp

 

Gluten free baking powder

Pinch

 

Salt

30g

 

Vanilla reflex pea protein

1

 

Egg(s) (free range) (large)

30g

 

Coconut oil

For the Filling

80g

 

Dates

2 tbsp

 

Boiling water

Pinch

 

Salt

10g

 

Cocoa reflex pea protein