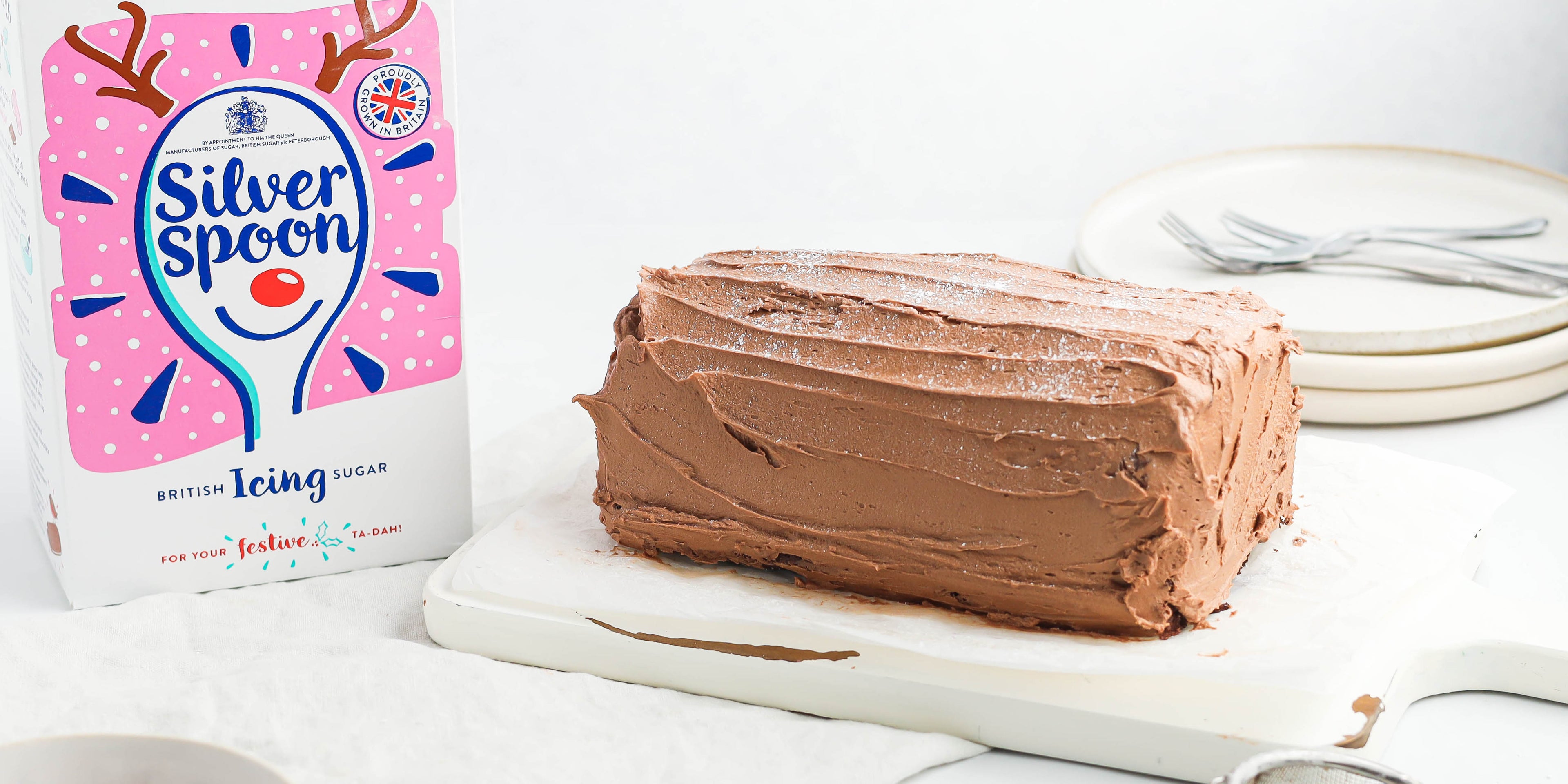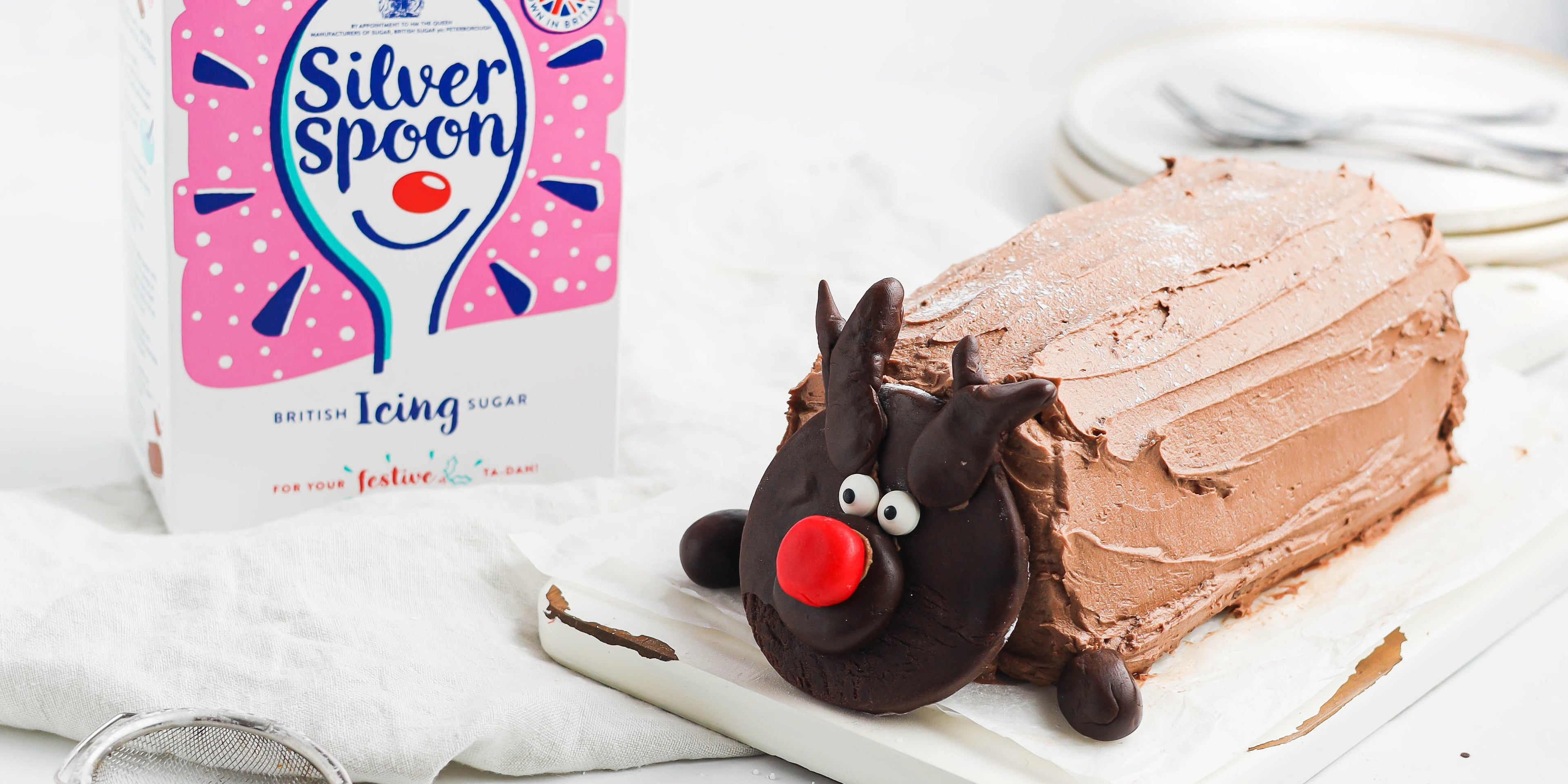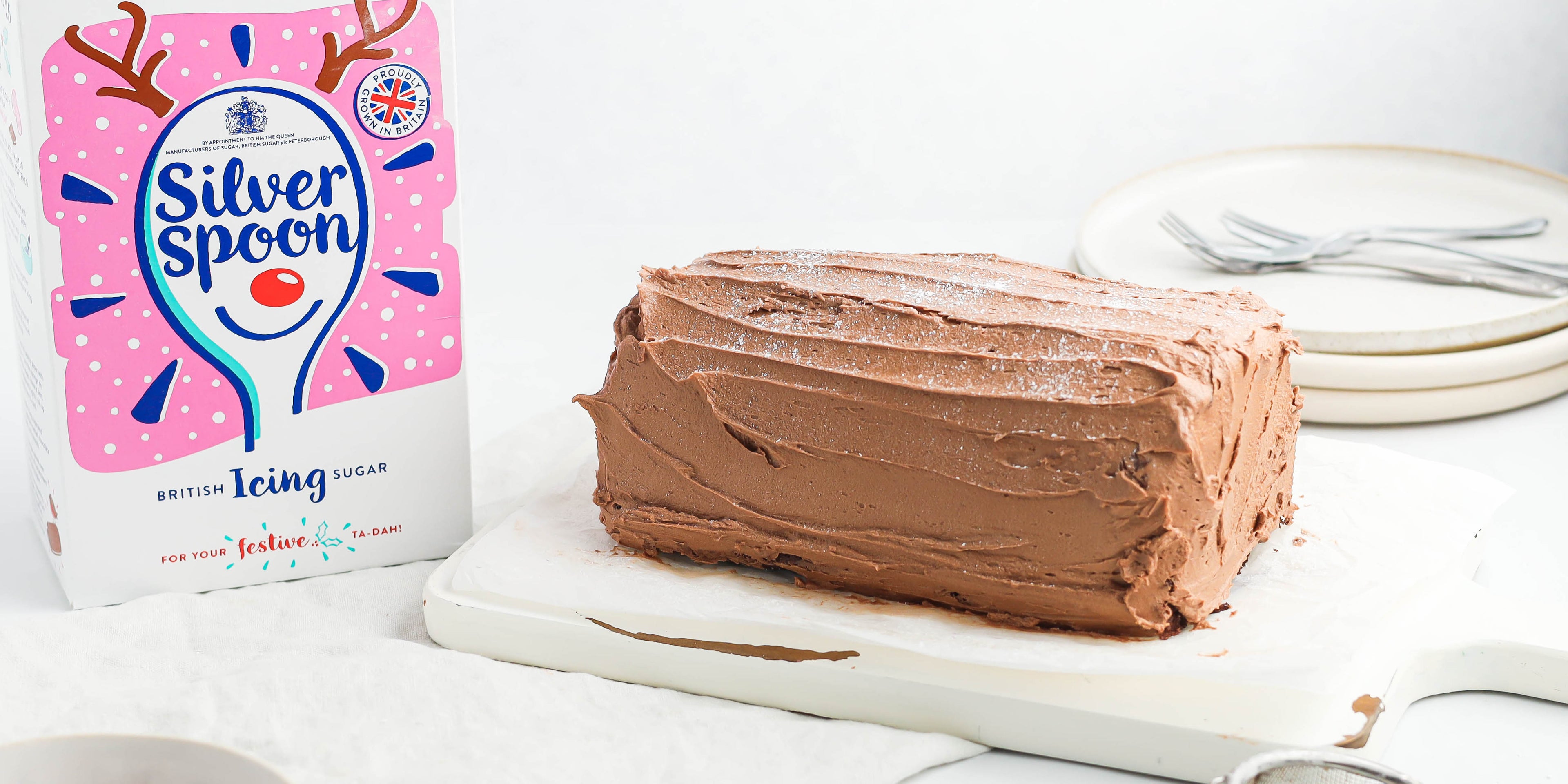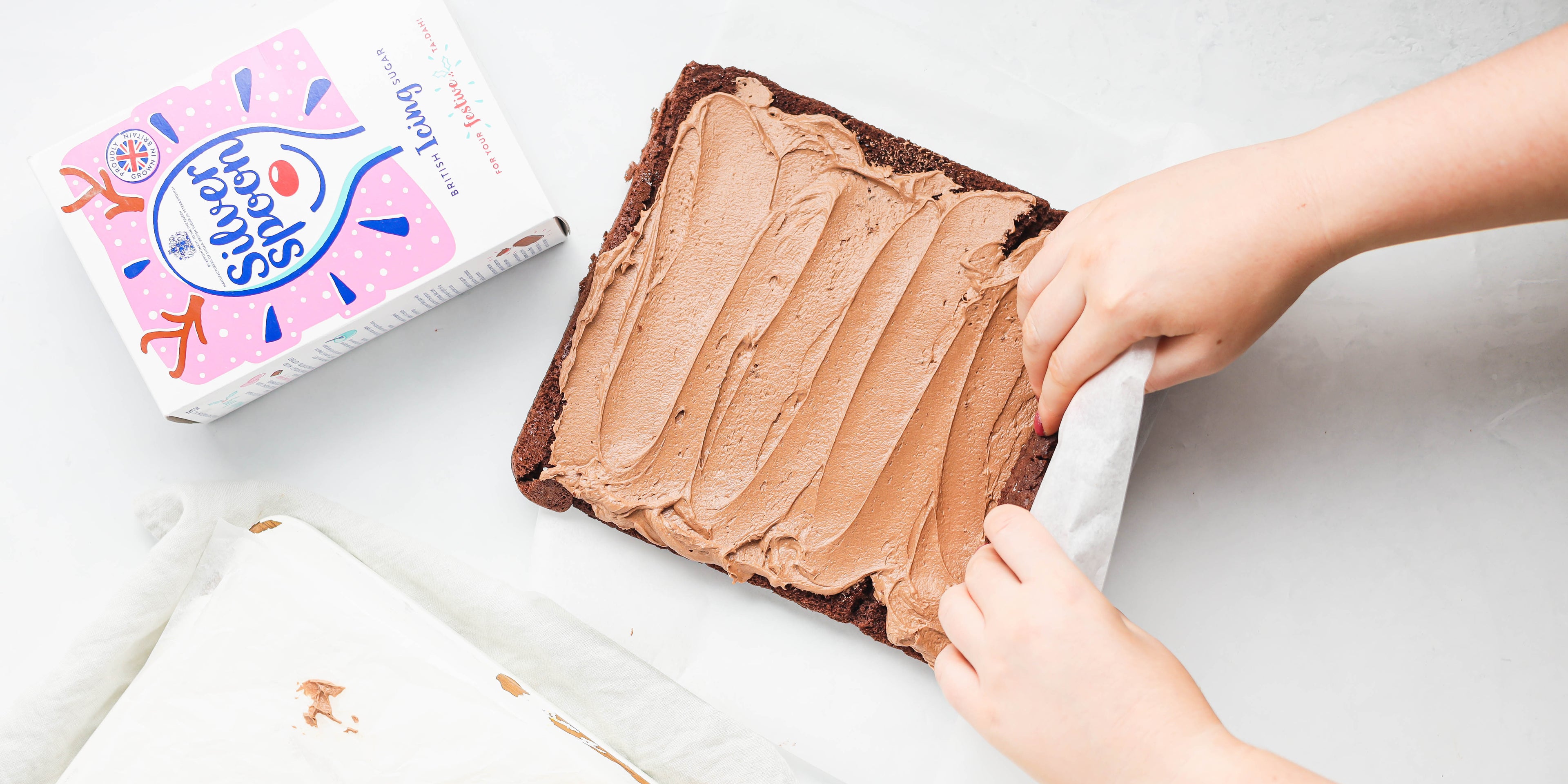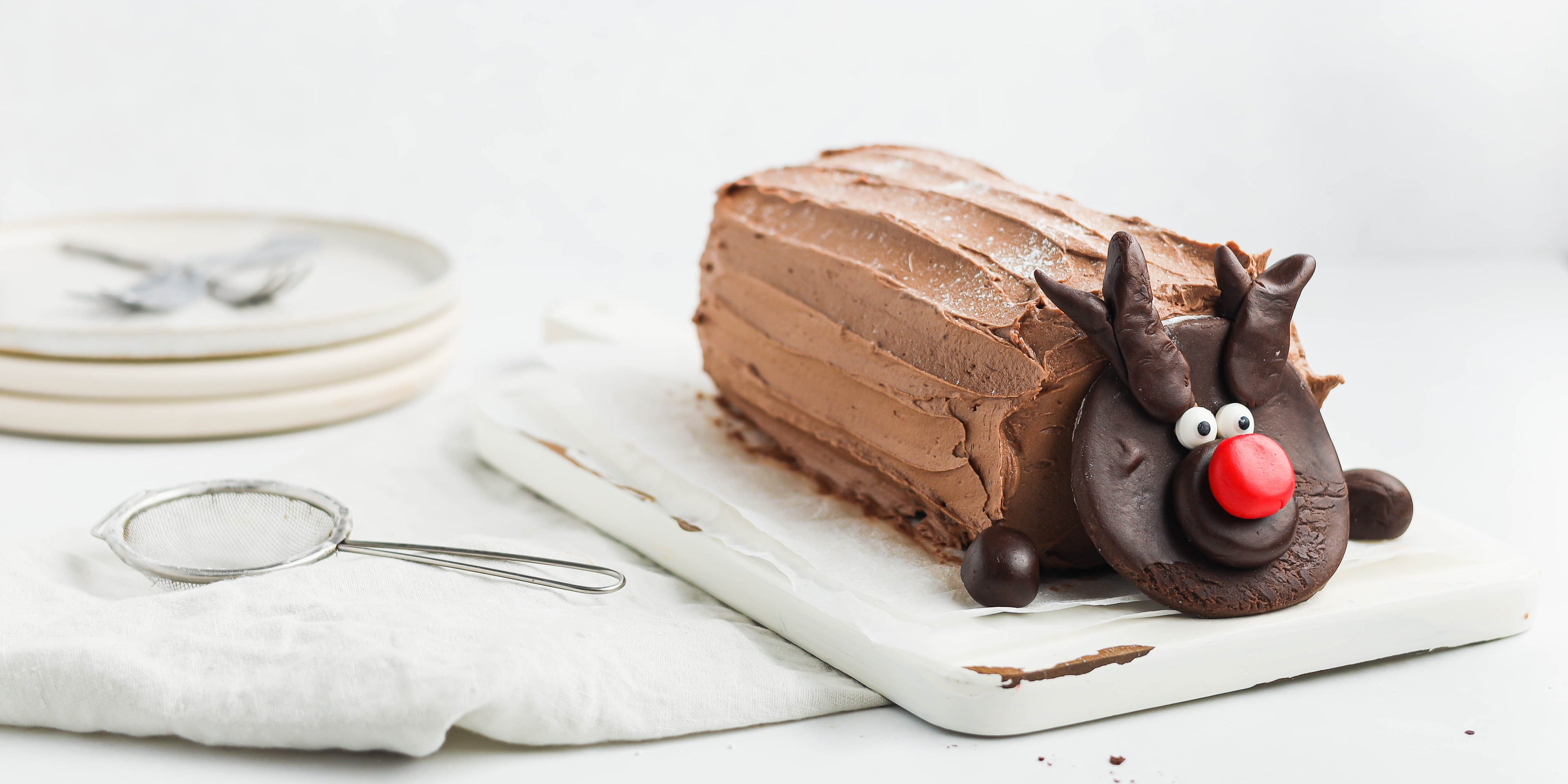 About this Chocolate Yule Log recipe
A timeless Christmas classic bake, loved by all and so worth the effort of baking. The trusty chocolately Christmas Yule Log, or known as a Bûche Noel. This easy and simple chocolate yule log recipe is super easy to recreate in your own kitchen and packs all the rich, indulgent flavour you and your guests will fall in love with at first bite. Yum!
This simple Bûche Noel recipe is made up of a fluffy swiss roll, smothered in chocolate buttercream which is fluffy and smooth thanks to Silver Spoon Icing Sugar. This classic yule log recipe can be adapted to suit your Christmas guests this year, by keeping it classic with a spring of holly or making your Yule Log into a caterpillar cake with melted and set dark chocolate for a Reindeer face - perfect for putting a smile on the kids' faces at the dinner table!
How to roll a yule log?
Once the cake comes out of the oven, run a knife around the edges to avoid the sponge getting stuck to the baking paper. Whilst still warm, start to roll the narrow end of the sponge - make sure you get this right else your Yule Log will be short and might not roll properly. Slowly but confidently roll the sponge into a swiss roll to help the sponge become more flexible and hold it's shape whilst it cools. Ensure the yule log is cooled before then gently unrolling to spread in your filling. Once cover, roll back and set.
Bake this Christmas the best ever with our delicious Christmas baking ideas. From Yule logs, mini Christmas Cakes and Stollen, to Chocolate Orange Croissants & Gingerbread Houses - we've got every recipe you need to bring the magic of homebaking to your family and friends this Christmas. If you're looking for a yule log like no other, our Biscoff Yule Log is crammed full of Biscoff spread - a showstopping twist on a Chrsitmas Classic and sure to have your guests fighting over the last slice!
Method
Step 1:

Preheat the oven to 180˚C (fan 160°C, gas mark 6). Grease and line a swiss roll tin with baking paper.

Step 2:

Whisk the caster sugar and eggs in a large bowl until pale and light.

Step 3:

Sift together the flour and cocoa powder and gently fold into the egg mixture using a metal spoon. Pour into the prepared tin, tilting it so that it covers the whole surface.

Step 4:

Bake for 8-10 minutes until firm yet springy to the touch. Dust a large sheet of paper with caster sugar and then turn the sponge onto it. Trim off the edges. Make a dent 1cm from the edge and tightly roll up the sponge and leave to cool.

Step 5:

For the buttercream icing:

Mix together the icing sugar and butter, then add the melted chocolate and milk. Beat until smooth.

Step 6:

Unroll the sponge, spread over a generous layer of buttercream and roll up tightly again.

This useful video shows you how to roll a swiss roll.


Step 7:

Cover with the remaining buttercream, using a fork to create a log effect. For a finishing touch, dust with icing sugar.

Step 8:

For an extra festive touch, simply melt down some dark chocolate, and leave to set as a large chocolate button.

Decorate using Smarties and icing to make a reindeer face - the perfect treat for the kids this Christmas.
Ingredients
For the Sponge

125g

 Silver Spoon Caster Sugar

3

 

Free range eggs

100g

 Allinson's Self Raising White Flour

25g

 

Cocoa powder

For the Buttercream

150g

 

Melted dark chocolate

300g

 Silver Spoon Icing Sugar

150g

 

Unsalted butter (softened)

1 tbsp

 

Milk

To dust

 Silver Spoon Icing Sugar
Utensils
Baking tray

Mixing bowl

Sieve

Baking parchment
Recipe Reviews
Going to try and make it for
Christmas Eve. How far in advance can it be made and still taste yummy on Christmas Eve?
Surely 180C should be gas mark 4?
Do you make or buy buttercream filling as I can't see that in method or ingredients?
The buttercream ingredients were included in the recipe, but we have since updated from using the terms icing to buttercream to avoid any confusion.
Sounds amazing ,but can I use a regular tray to cook this?
Hi, you really need a tin with similar dimentions to a swiss roll tin and it also needs to have a 'lip' to give support to the sides of the cake as it bakes. Good luck and happy baking :)
Hello,
You will need to use a standard swiss roll tin, which is approx. 30cm X 20cm or a few cm each side is fine.
Happy Baking!
Ingredients
For the Sponge

125g

 Silver Spoon Caster Sugar

3

 

Free range eggs

100g

 Allinson's Self Raising White Flour

25g

 

Cocoa powder

For the Buttercream

150g

 

Melted dark chocolate

300g

 Silver Spoon Icing Sugar

150g

 

Unsalted butter (softened)

1 tbsp

 

Milk

To dust

 Silver Spoon Icing Sugar
Utensils
Baking tray

Mixing bowl

Sieve

Baking parchment