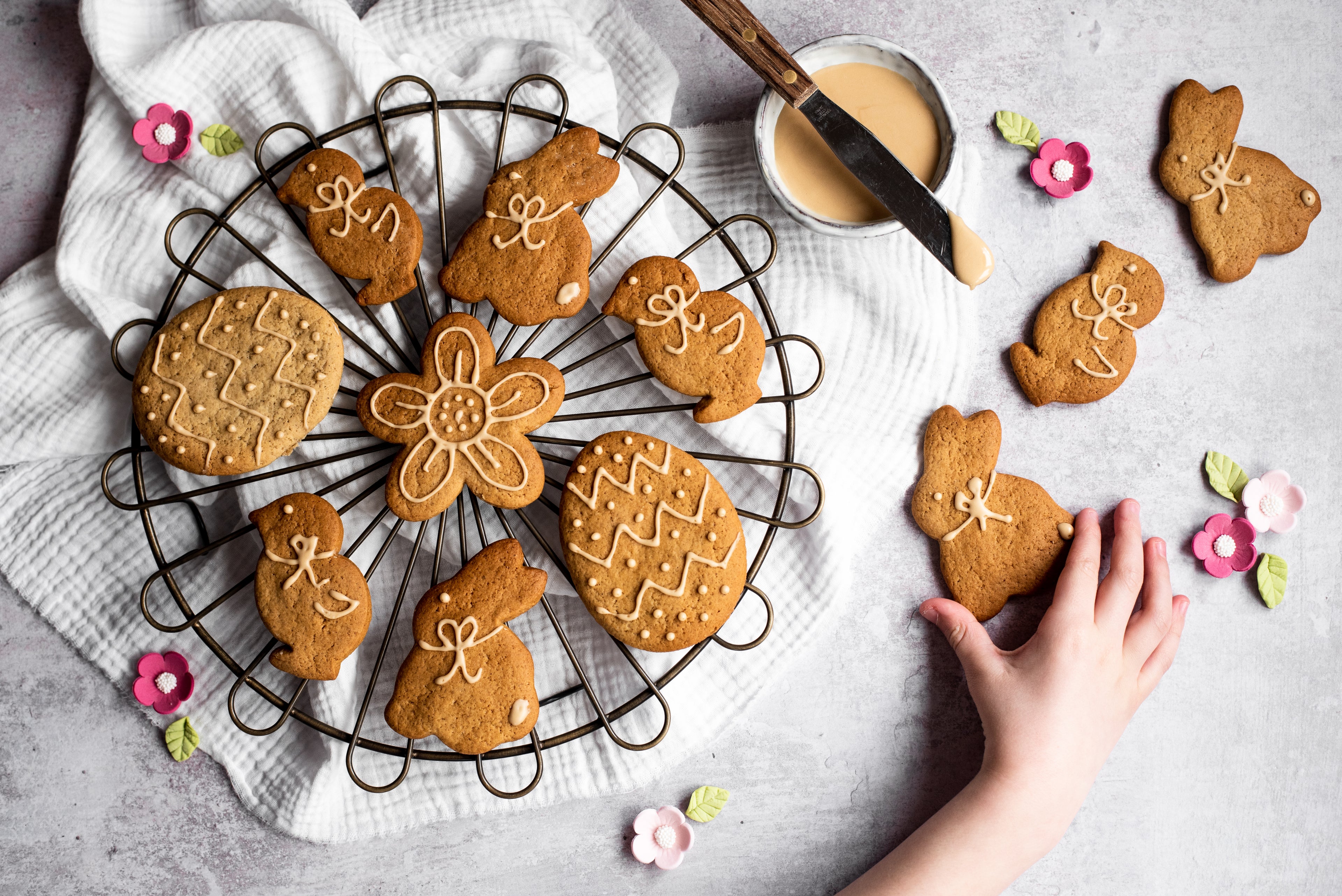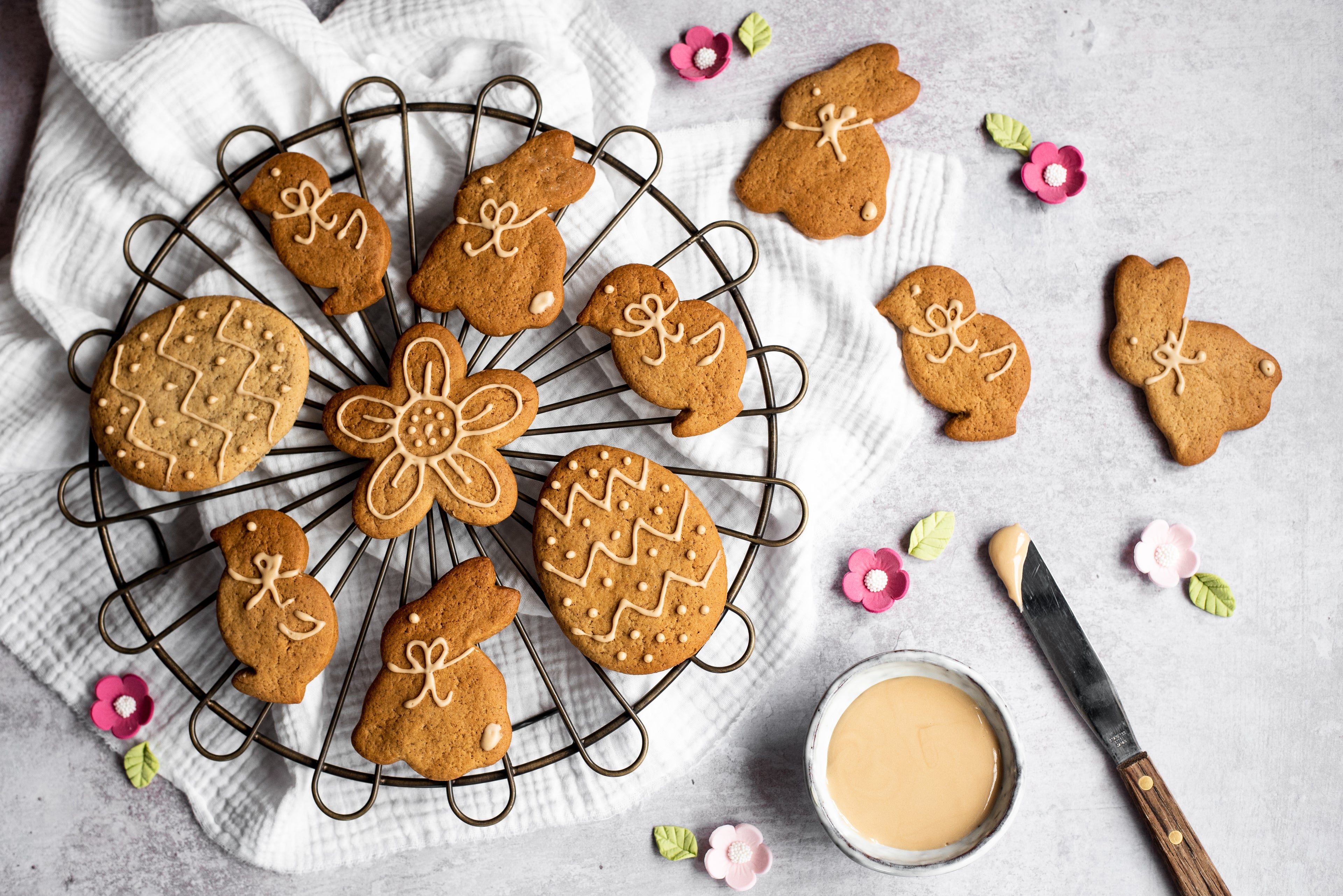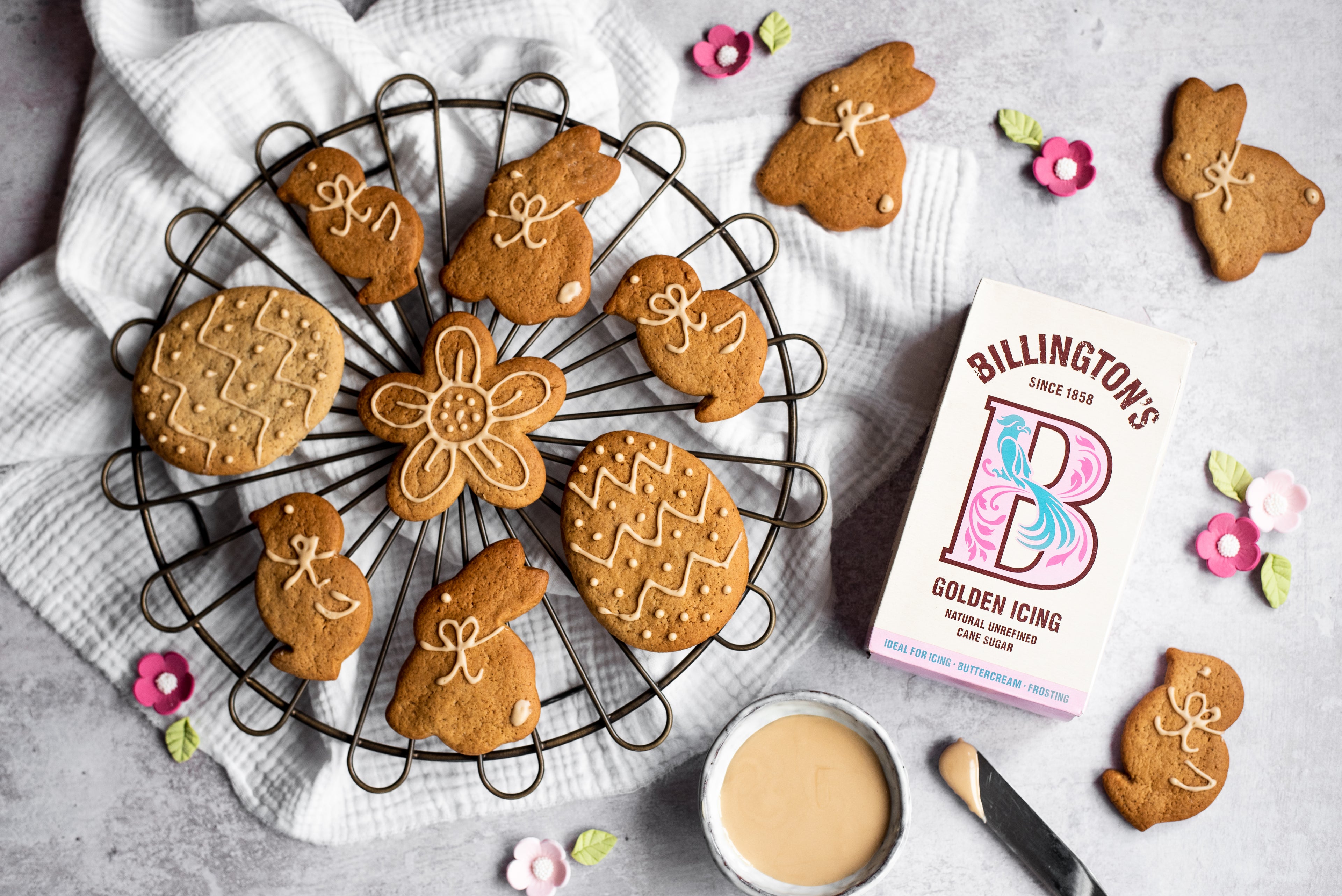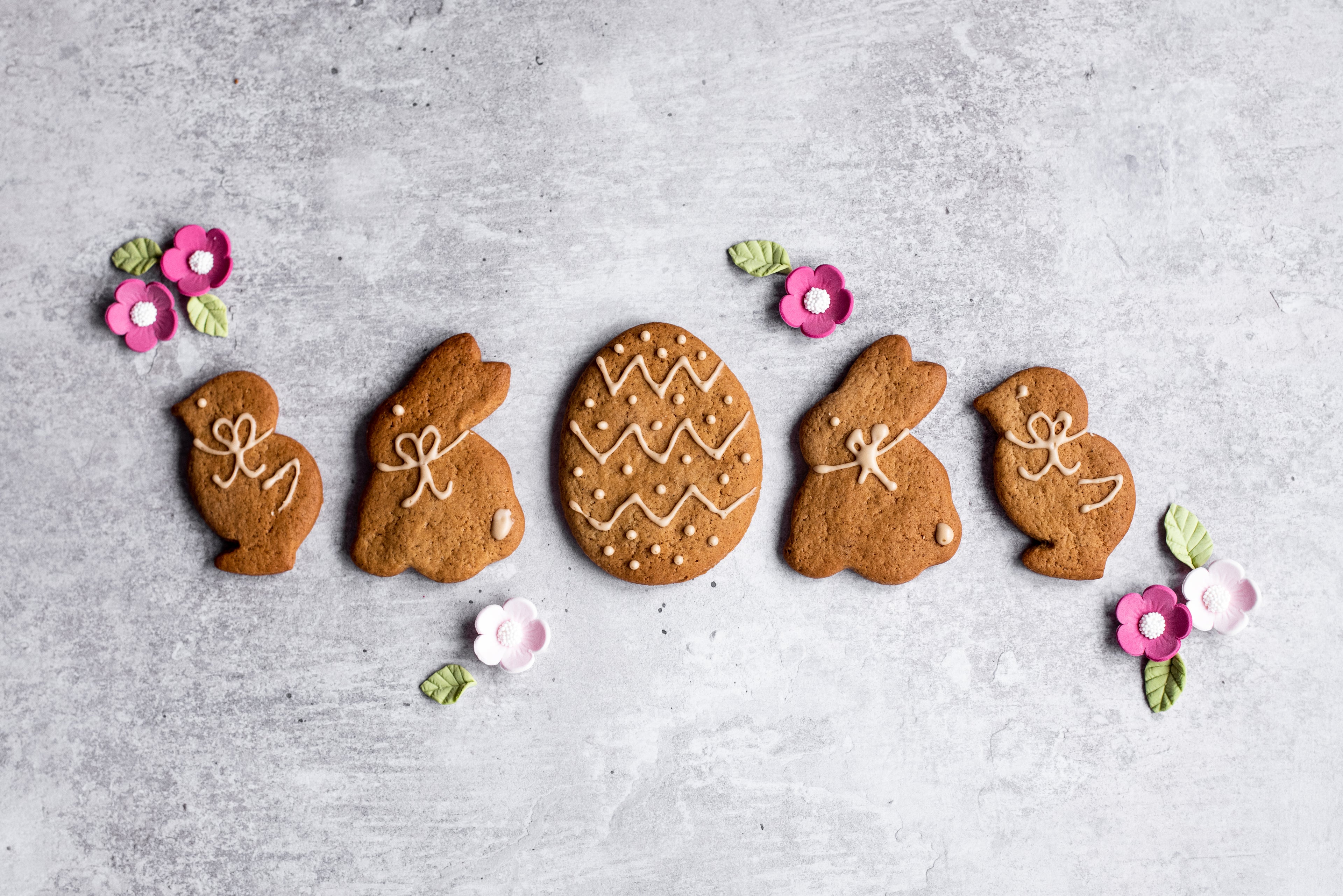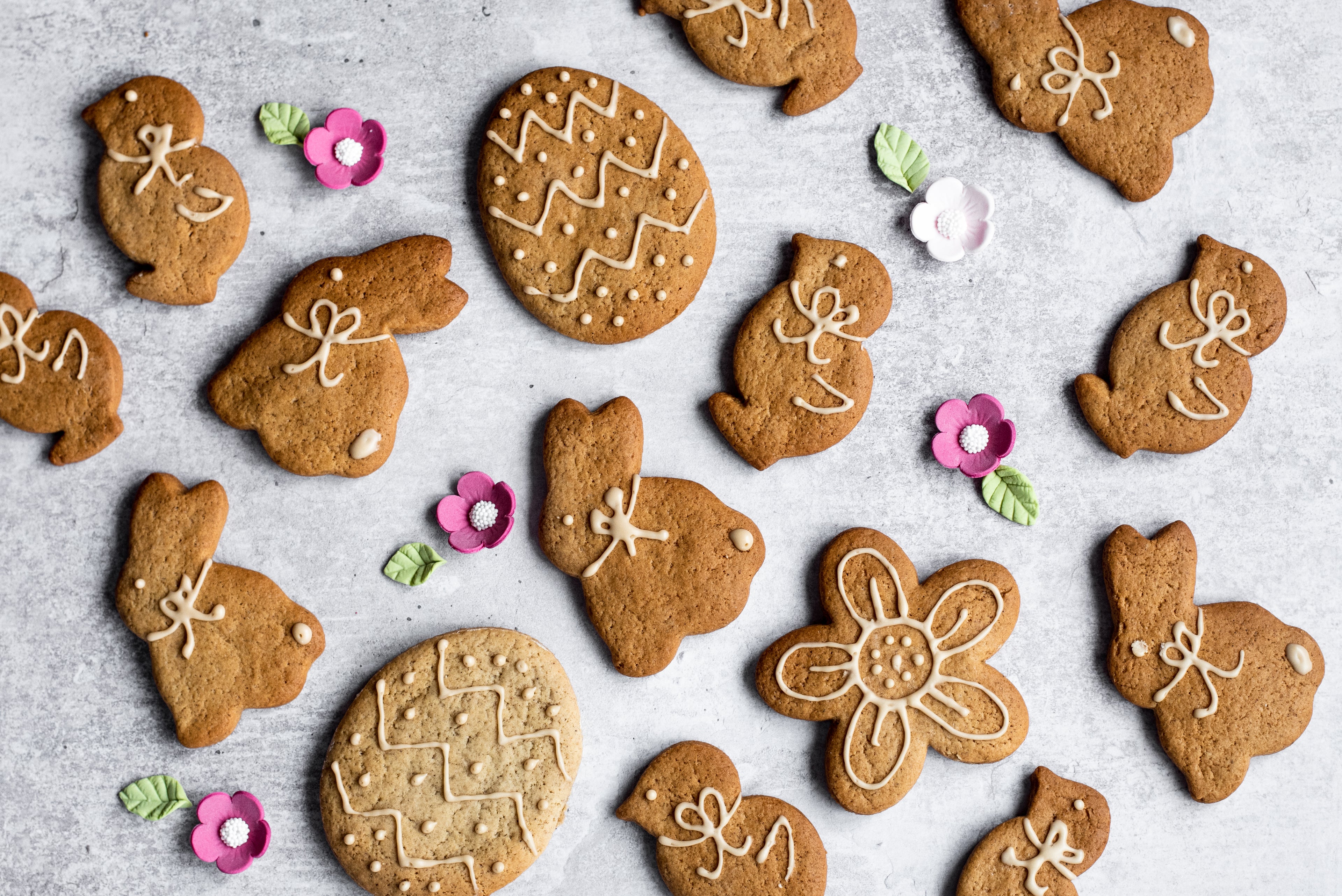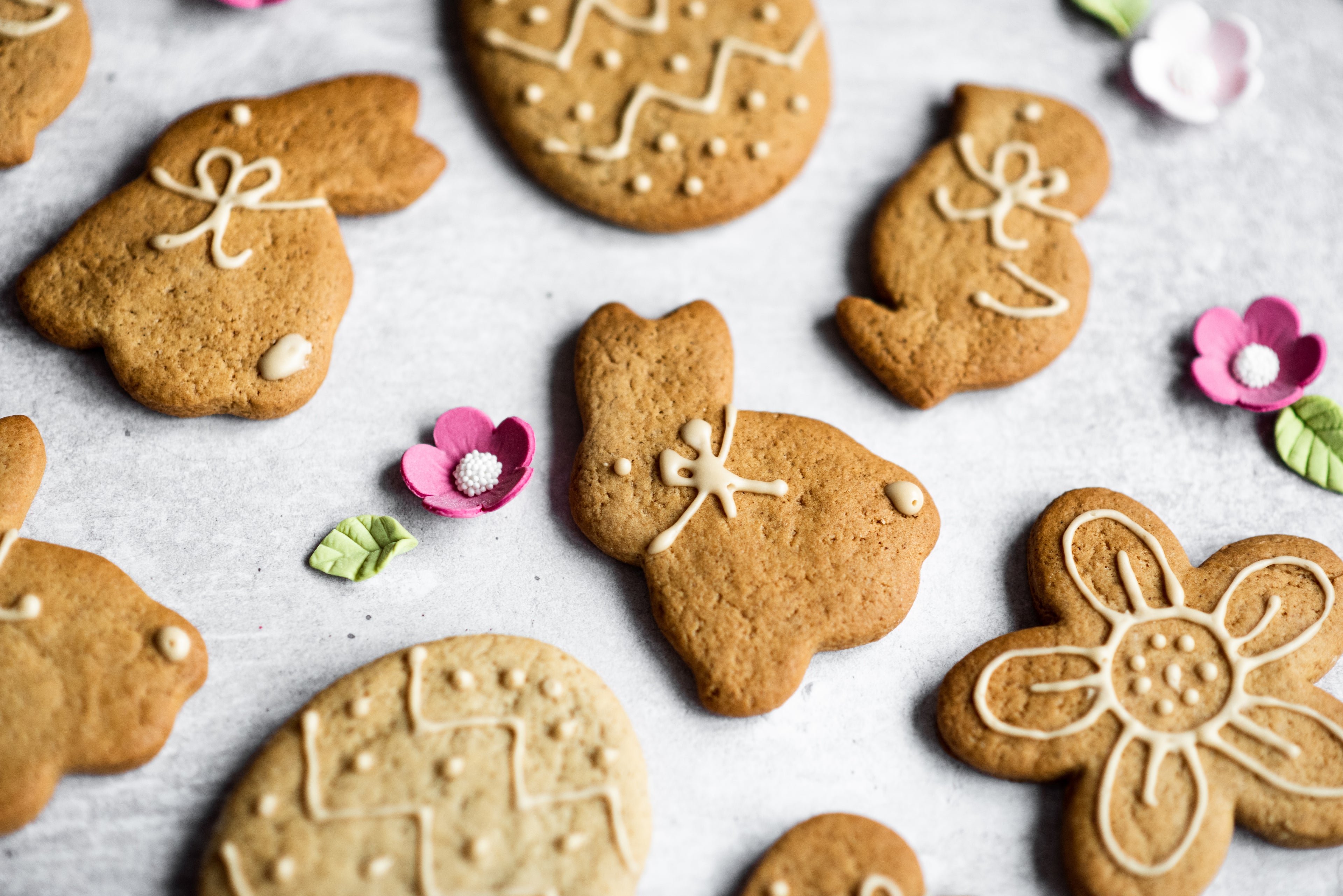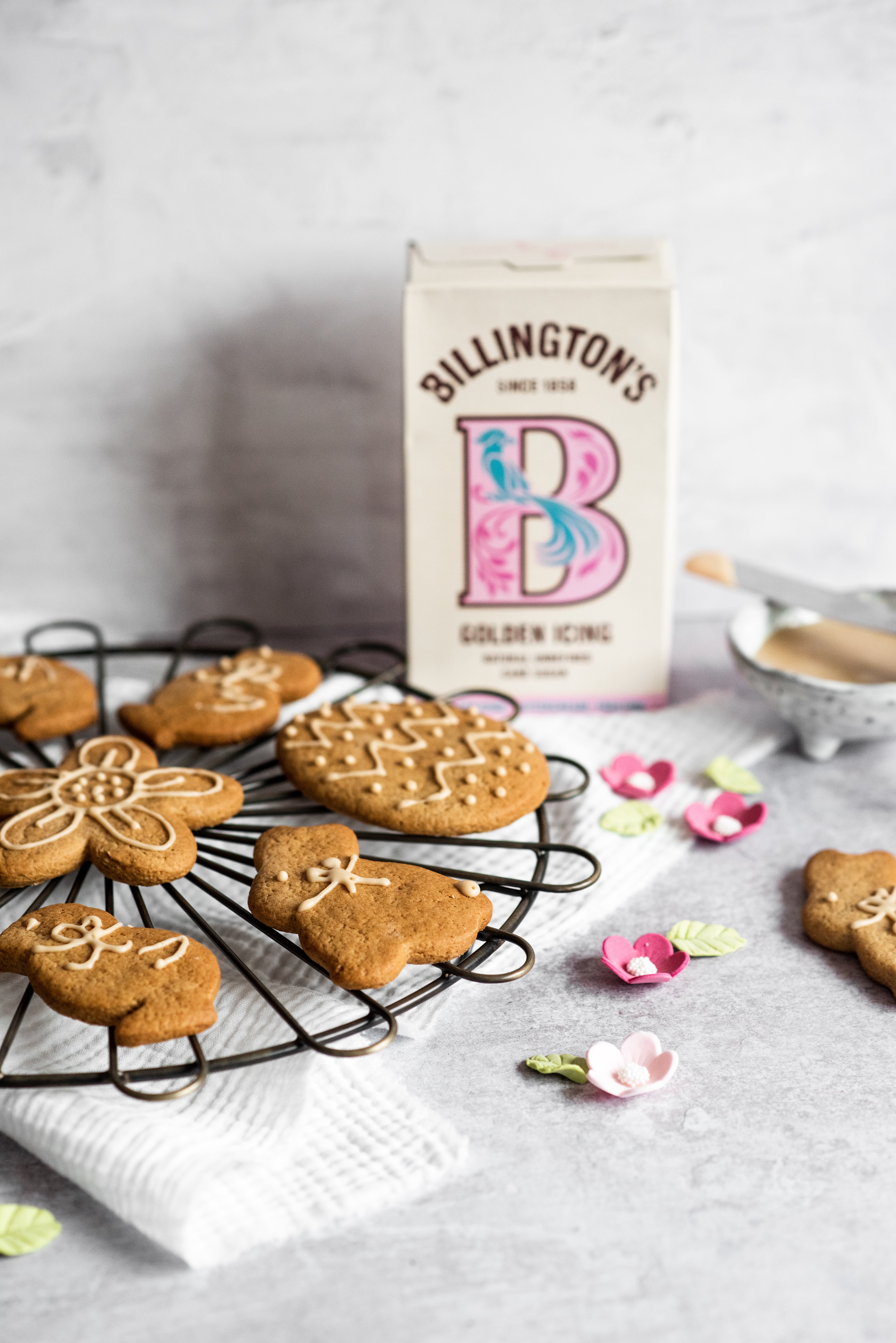 About the bake
These beautifully iced Easter biscuits would make a great gift for friends and family as an alternative to a chocolate egg. The combination of ginger and unrefined golden caster sugar give them a wonderful flavoursome crunch, perfect for any spring time celebration.
Method
Step 1:

Preheat the oven to 170ºC (150ºC fan/gas mark 3).

Step 2:

Place the butter, treacle, golden syrup and golden caster sugar in a pan and heat gently until the butter melts and sugar dissolves. Remove from the heat and allow to cool a little.

Step 3:

In a large bowl, mix together the flour and spices, then pour the sugar mixture into the dry ingredients and stir to combine.

Step 4:

Dissolve the bicarbonate of soda into the milk and add to the bowl. Combine to make dough, adding a little more milk if necessary. Wrap in cling film and place in the fridge to chill for at least 30 minutes.

Step 5:

Roll out the dough on a surface that is lightly dusted with flour and cut out desired shapes using the cutters. Transfer onto the baking sheets, slightly spaced apart and bake for 10-15 minutes.

Step 6:

Remove from the oven and leave to cool completely on a wire rack.

Step 7:

Mix the golden icing sugar with a drop of food colouring just enough water to form a stiff glacé icing. Fill the piping bag and carefully pipe your decoration onto the biscuits. Allow to dry.

If you love baking for Easter, try our Chocolate Easter Cake Recipe

Ingredients
For the Biscuits

225g

 Billington's Unrefined Golden Caster Sugar

125g

 

Butter (unsalted)

2 tbsp

 

Black treacle

2 tbsp

 

Golden syrup

450g

 Allinson's plain white flour

1 tbsp

 

Ginger (ground)

1 tsp

 

Mixed spice

1 tbsp

 

Cinnamon

1 tbsp

 

Bicarbonate of soda

1 tbsp

 

Milk (whole)

For the Decoration

200g

 Silver Spoon Icing Sugar

3

 

Food colouring (pastel shades)
Utensils
Pan

Bowl

Cling film

Rolling pin

Piping bag
Nutritional Information
per 24g
113cal

 

Energy

2.8g

 

Fat

1.7g

 

of which Saturates

21g

 

Carbohydrates

12g

 

of which Sugars

1.2g

 

Protein

0.32g

 

Salt
We'd love a slice of advice.
Was it yum? Did the recipe work well? Did you customise the recipe?
Ingredients
For the Biscuits

225g

 Billington's Unrefined Golden Caster Sugar

125g

 

Butter (unsalted)

2 tbsp

 

Black treacle

2 tbsp

 

Golden syrup

450g

 Allinson's plain white flour

1 tbsp

 

Ginger (ground)

1 tsp

 

Mixed spice

1 tbsp

 

Cinnamon

1 tbsp

 

Bicarbonate of soda

1 tbsp

 

Milk (whole)

For the Decoration

200g

 Silver Spoon Icing Sugar

3

 

Food colouring (pastel shades)
Utensils
Pan

Bowl

Cling film

Rolling pin

Piping bag
Nutritional Information
per 24g
113cal

 

Energy

2.8g

 

Fat

1.7g

 

of which Saturates

21g

 

Carbohydrates

12g

 

of which Sugars

1.2g

 

Protein

0.32g

 

Salt