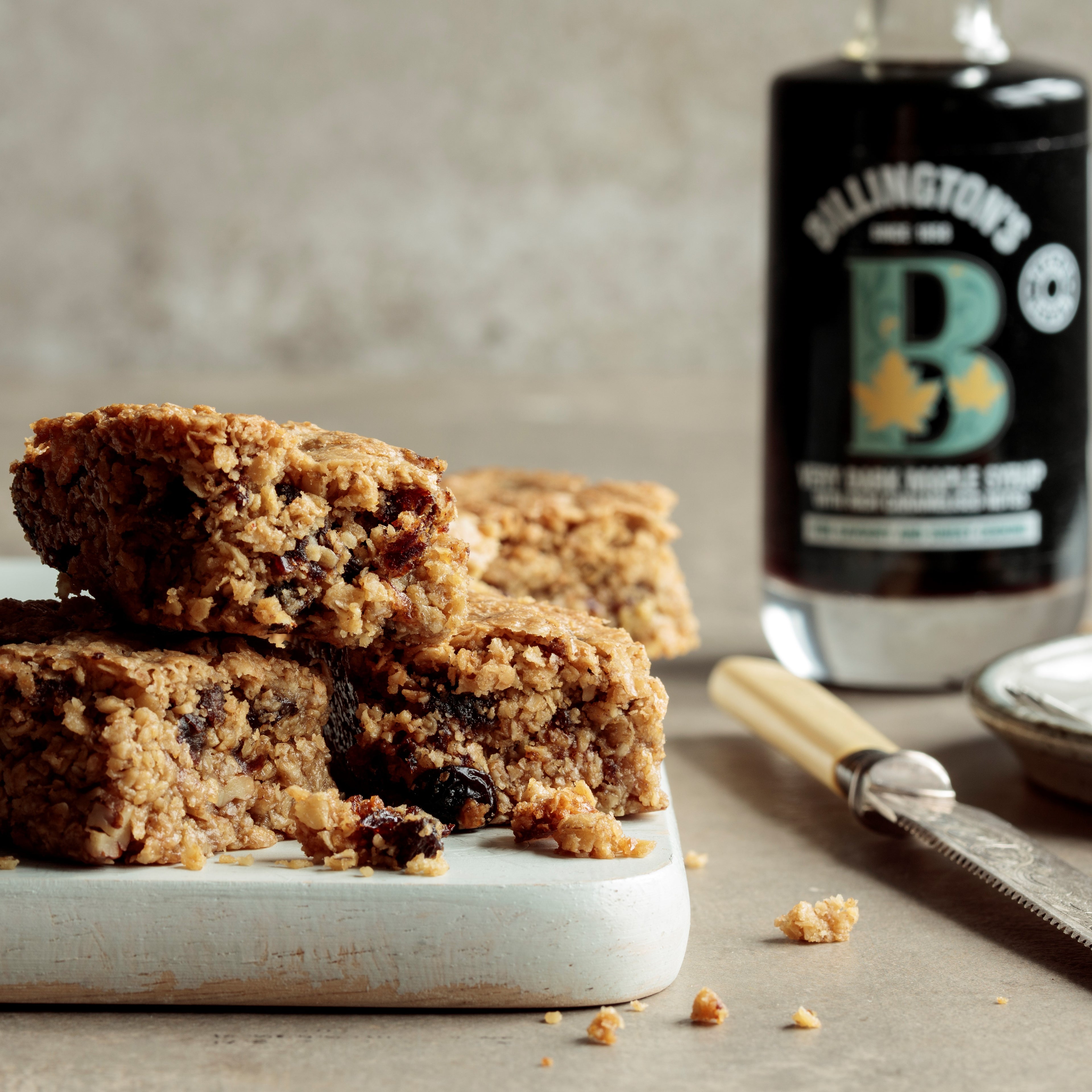 About the bake
Flapjacks are one of the simplest bakes and great as a starter bake for beginners or children. Did we also mention how delicious they are? This recipe has a little twist on the classic flapjack recipe with the inclusion of maple syrup.
Method
Step 1:

Pre-heat the oven to 180°C (160°C fan). Line a 20cm square baking tin with non-stick baking parchment.


Step 2:

Melt the butter in a saucepan over a low heat and once melted stir in the maple syrup and sugar. Continue to heat gently until the sugar has dissolved. Remove from the heat and stir in the porridge oats and any extra addition such as raisins.


Step 3:

Spoon into the lined tin and smooth out. Bake for 25 minutes before removing from the tin and scoring into 16 pieces whilst still warm. Leave to cool completely in the tin before serving.

Ingredients
For the Flapjack

200g

 

Salted butter

125ml

 

Maple syrup

150g

 Billington's light muscovado sugar

325g

 

Rolled porridge oats

40g

 

Raisins

40g

 

Chopped dates

40g

 

Pecan nuts (chopped)
Utensils
20cm square baking tin

Baking parchment

Saucepan
Recipe Reviews
A really tasty really simple bake. The addition of an extra teaspoon of salt does wonders. Also make sure to use a dark maple syrup to get the best flavour.
Ingredients
For the Flapjack

200g

 

Salted butter

125ml

 

Maple syrup

150g

 Billington's light muscovado sugar

325g

 

Rolled porridge oats

40g

 

Raisins

40g

 

Chopped dates

40g

 

Pecan nuts (chopped)
Utensils
20cm square baking tin

Baking parchment

Saucepan