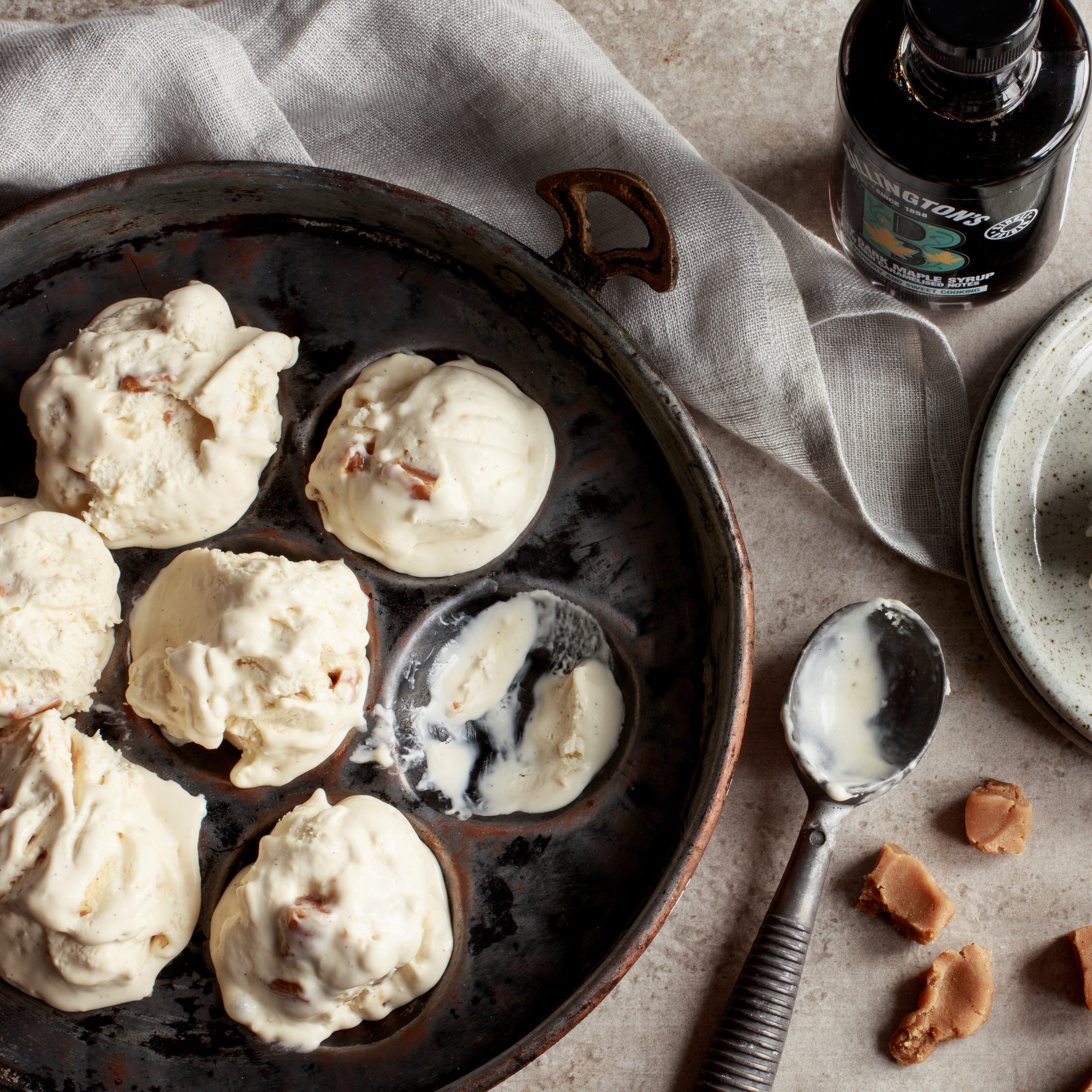 About the bake
There is nothing greater than a scoop or two of homemade ice cream on a sunny day or as a delicious accompaniment to a warming pudding, this simple Maple Fudge Ice Cream is definitely a must try recipe. No ice cream machine is needed to create this creamy smooth maple flavoured ice cream, mixed with small chunks of fudge - heaven on a spoon!
Method
Step 1:

Empty the condensed milk into a container and stir in the vanilla extract. Whip the cream until it holds in soft peaks before gently folding into the condensed milk.


Step 2:

Spoon the mixture into a freezer proof container and freeze until just solidifying. Remove from the freezer, pour over the maple syrup and fudge pieces and fold into the ice cream mixture.


Step 3:

Freeze for another 3 hours or overnight until the ice cream becomes solid.

Ingredients
For the Ice Cream

200g

 

Light condensed milk

600ml

 

Double cream

1 1/2 tsp

 Nielsen-Massey Vanilla Extract

7 tbsp

 

Maple syrup

100g

 

Fudge pieces (small cubes)
Utensils
Whisk

Freezer proof container
Recipe Reviews
Was perfect !
Will make again many times :)
Wonderfully smooth ice-cream with a delicious maple flavour and little pops of fudge - YUM!
Ingredients
For the Ice Cream

200g

 

Light condensed milk

600ml

 

Double cream

1 1/2 tsp

 Nielsen-Massey Vanilla Extract

7 tbsp

 

Maple syrup

100g

 

Fudge pieces (small cubes)
Utensils
Whisk

Freezer proof container