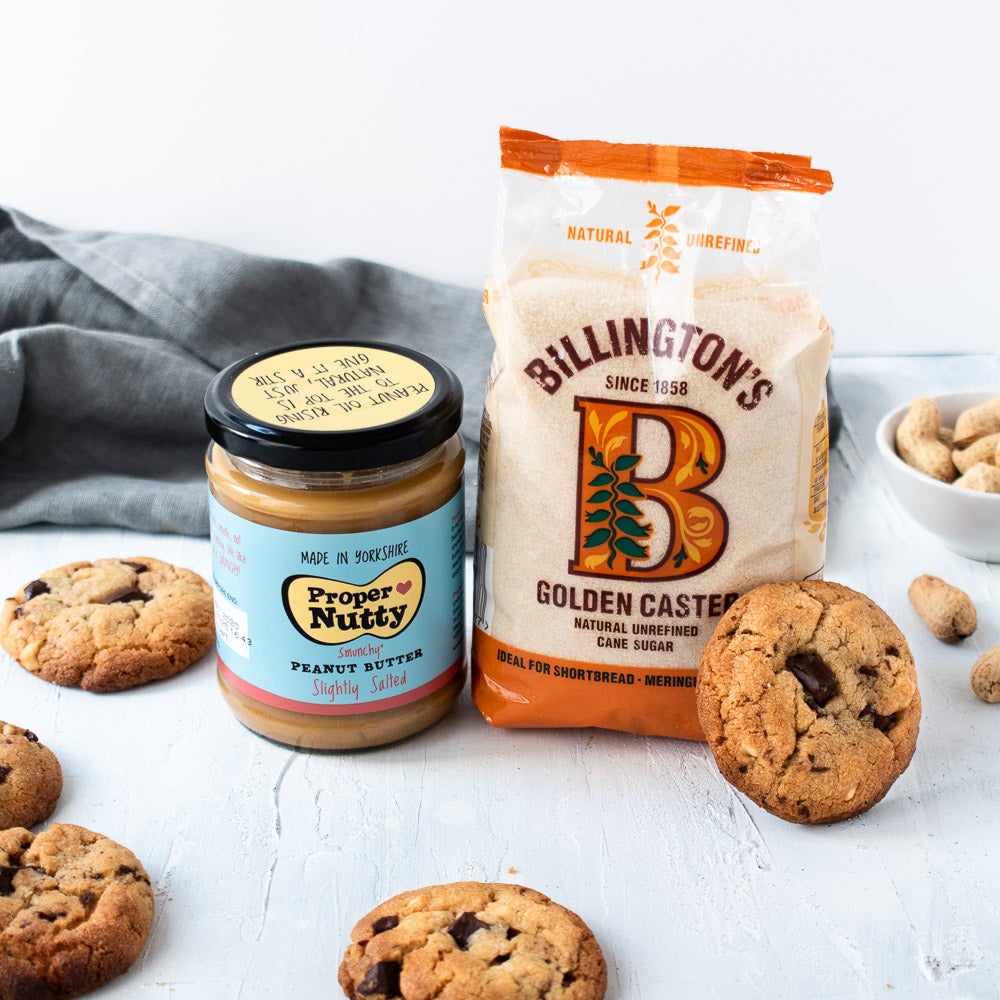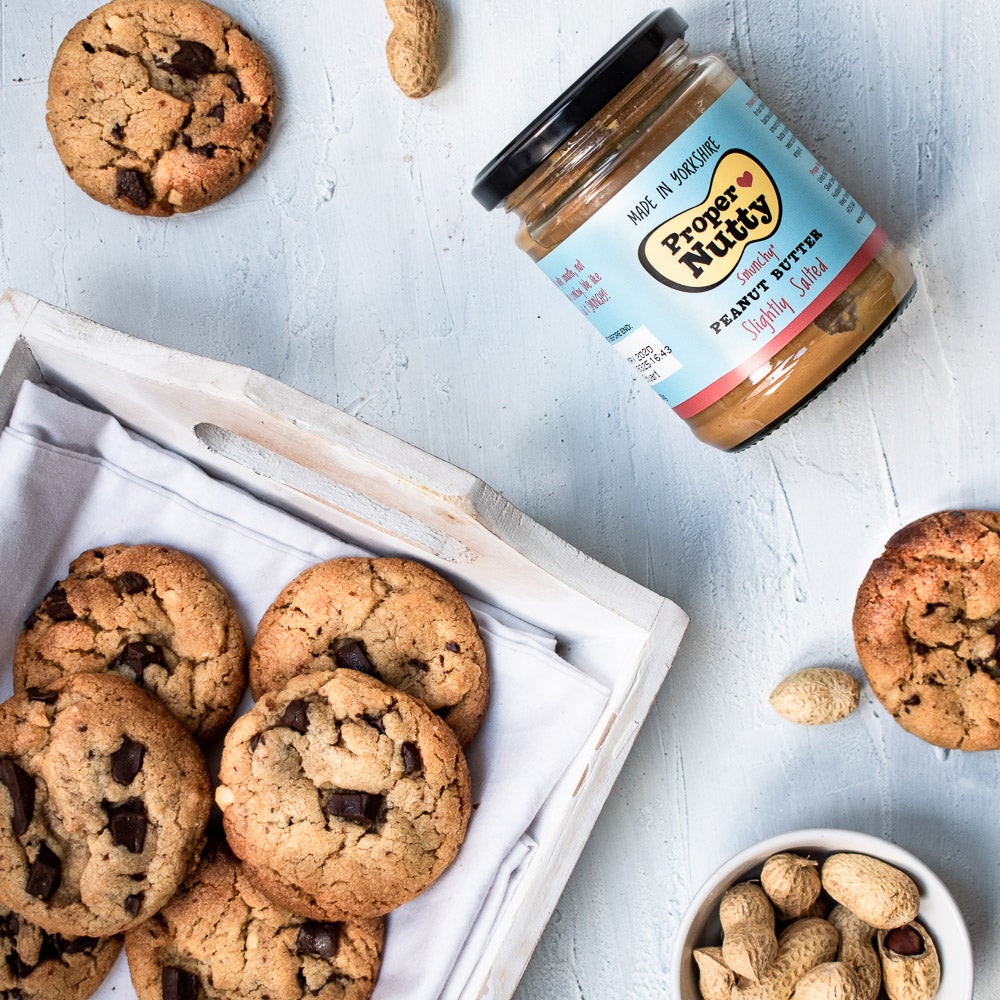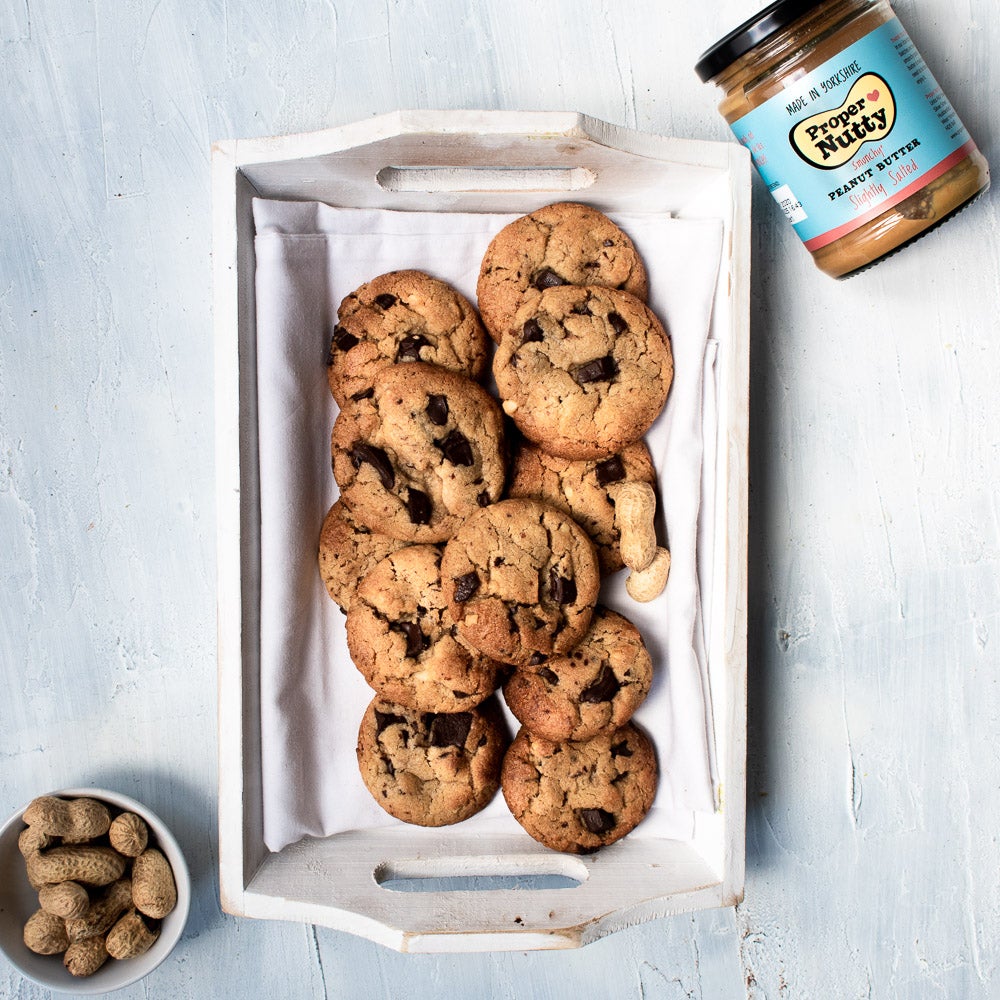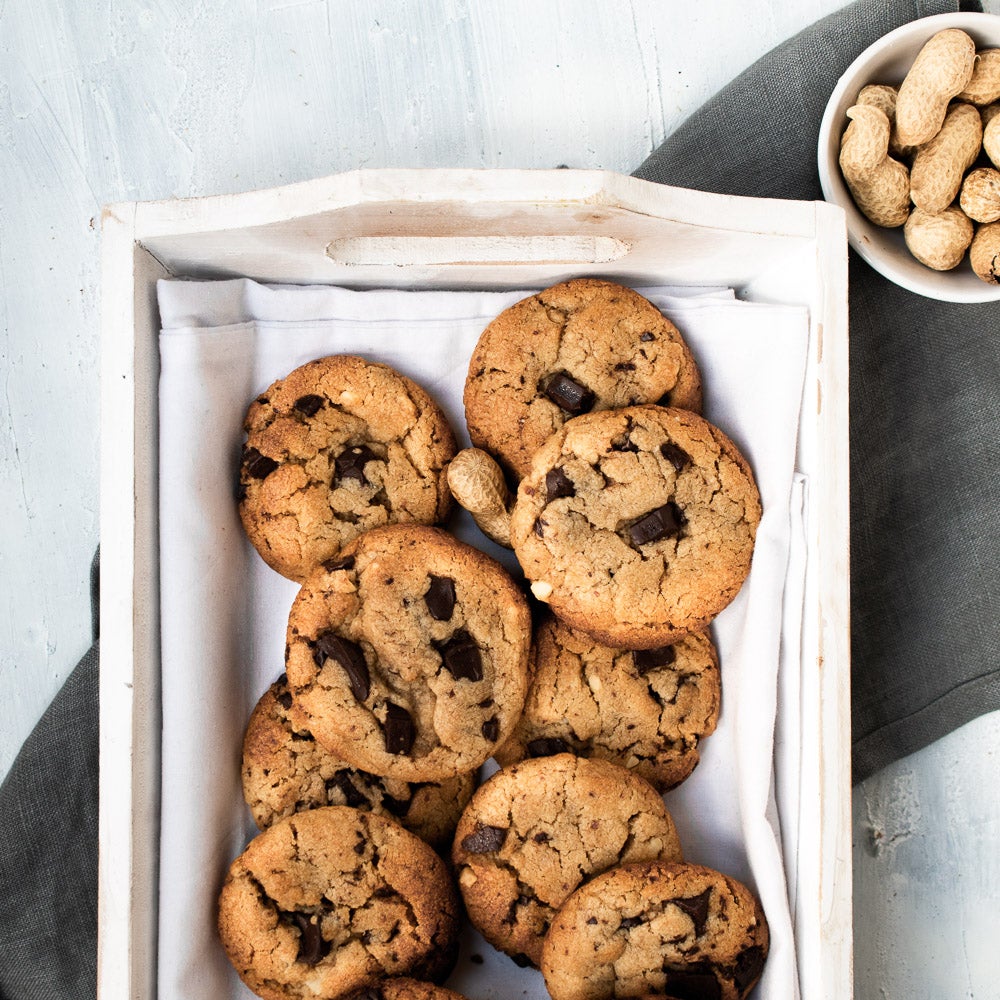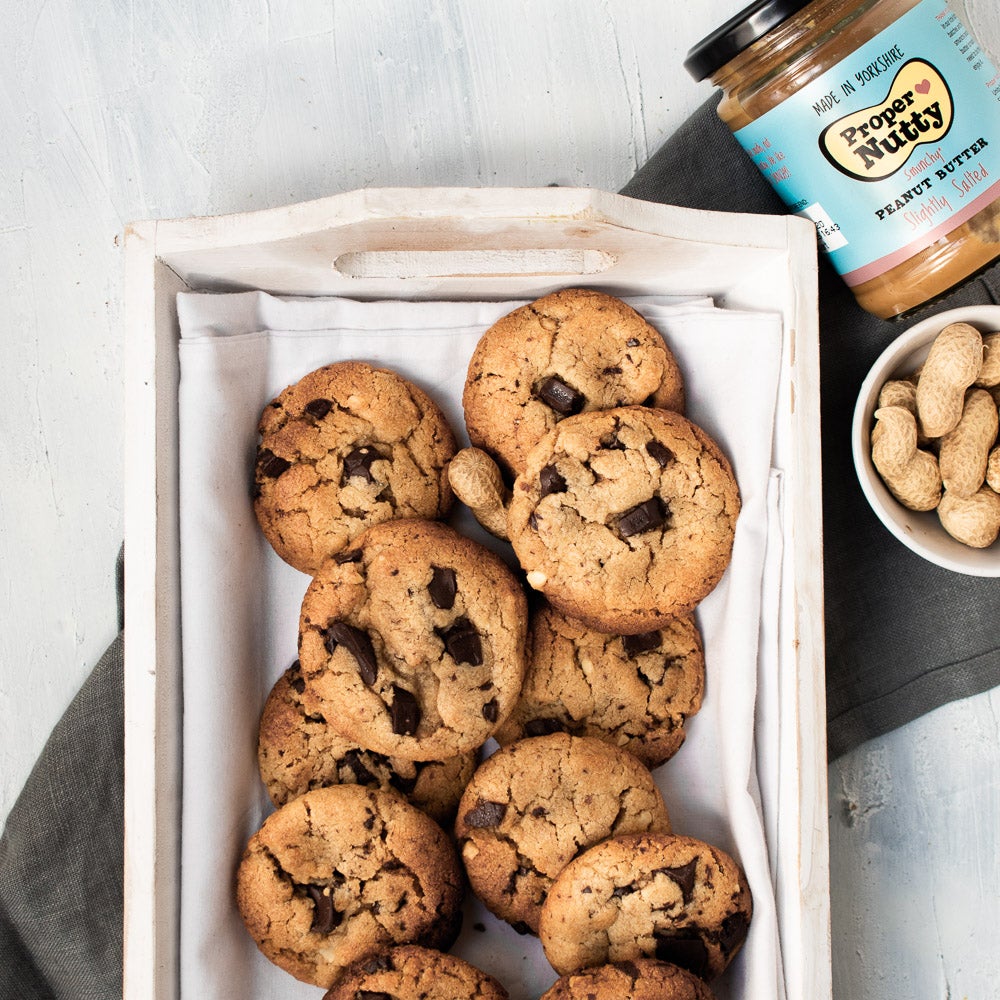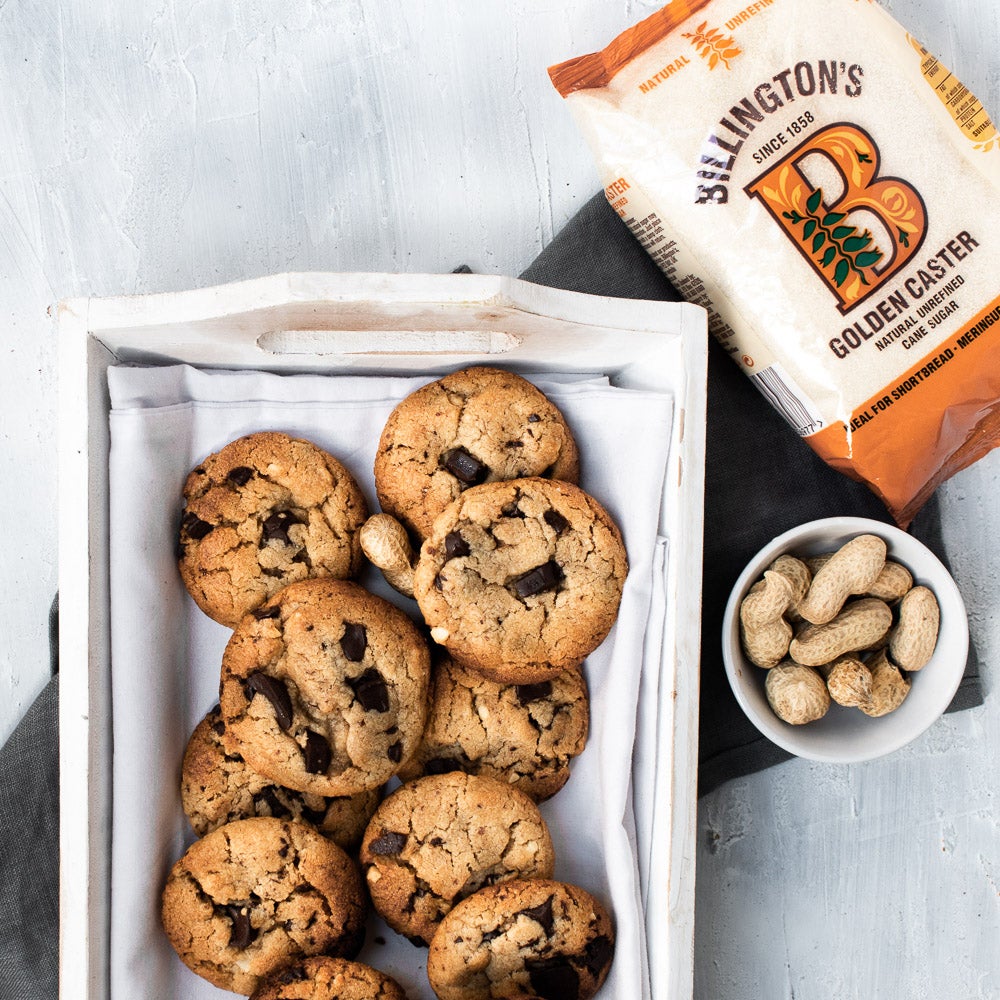 About the bake
These vegan peanut butter chococlate chip cookies are thick and delicious. These rich decedent vegan cookies are crispy on the edges and soft in the centres. They are loaded with Proper Nutty peanut butter and chocolate chunks.
Method
Step 1:

Preheat oven to 180ºc and prepare two large baking trays with baking parchment.


Step 2:

Add the vegan butter and white sugar to an electric mixer and cream them together. Then add in the peanut butter and vanilla and mix together until well combined.


Step 3:

Add the flour and salt, mix on very low until you reach a thick crumbly dough.


Step 4:

If at this stage you are able to mix it into a rollable cookie dough, so what you have is a proper cookie dough instead of a crumbly dough, then you may not need to add any soy milk, but if you have crumbly dough, then you need the soy milk. This usually depends on the moisture content of your brand of vegan butter and/or peanut butter so you can just judge this by eye. I used Flora Dairy Free and Proper Nutty and I did add all the milk.


Step 5:

Add in the soy milk, only as much as needed to get to a thick cookie dough (as pictured) that is able to roll into balls.


Step 6:

Add in your chocolate chips or chunks and mix in. Roll into big balls and place onto a parchment lined baking tray. Aim for around 16- 20 cookies from your batch


Step 7:

Bake for 15 minutes until the tops are golden brown. The middles will still be very soft and wobbly, this is what you want don't be tempted to over bake! , they will firm up as they cool.


Step 8:

Let the cookies cool and firm up on the baking sheet before moving them.



Watch this video for more vegan baking hacks.

Ingredients
For the Cookies

100g

 

Vegan butter or spread

200g

 Billington's Unrefined Golden Caster Sugar

250g

 Proper Nutty peanut butter

1 tbsp

 Nielsen-Massey Vanilla Extract

175g

 Allinson's Self Raising White Flour

1 tsp

 

Salt

3 tbsp

 

Soy milk

175g

 

Vegan chocolate chips or chunks
Recipe Reviews
Nice taste but very very sweet. Would recommend using 1/3 less sugar.
So easy! I switched the peanut butter for almond butter and it was amazing. Super quick and I would definitely recommend.
Really easy to make and delicious, so pleased! I used oat instead of soya milk, had no self-raising flour so just added some baking soda, and broke up a bar of 70% dark chocolate instead of choc chips. I will definitely make them again!
Some of the best vegan cookies ever !!
My 9 year old made these - one of the best cookies I've tasted!
Ingredients
For the Cookies

100g

 

Vegan butter or spread

200g

 Billington's Unrefined Golden Caster Sugar

250g

 Proper Nutty peanut butter

1 tbsp

 Nielsen-Massey Vanilla Extract

175g

 Allinson's Self Raising White Flour

1 tsp

 

Salt

3 tbsp

 

Soy milk

175g

 

Vegan chocolate chips or chunks