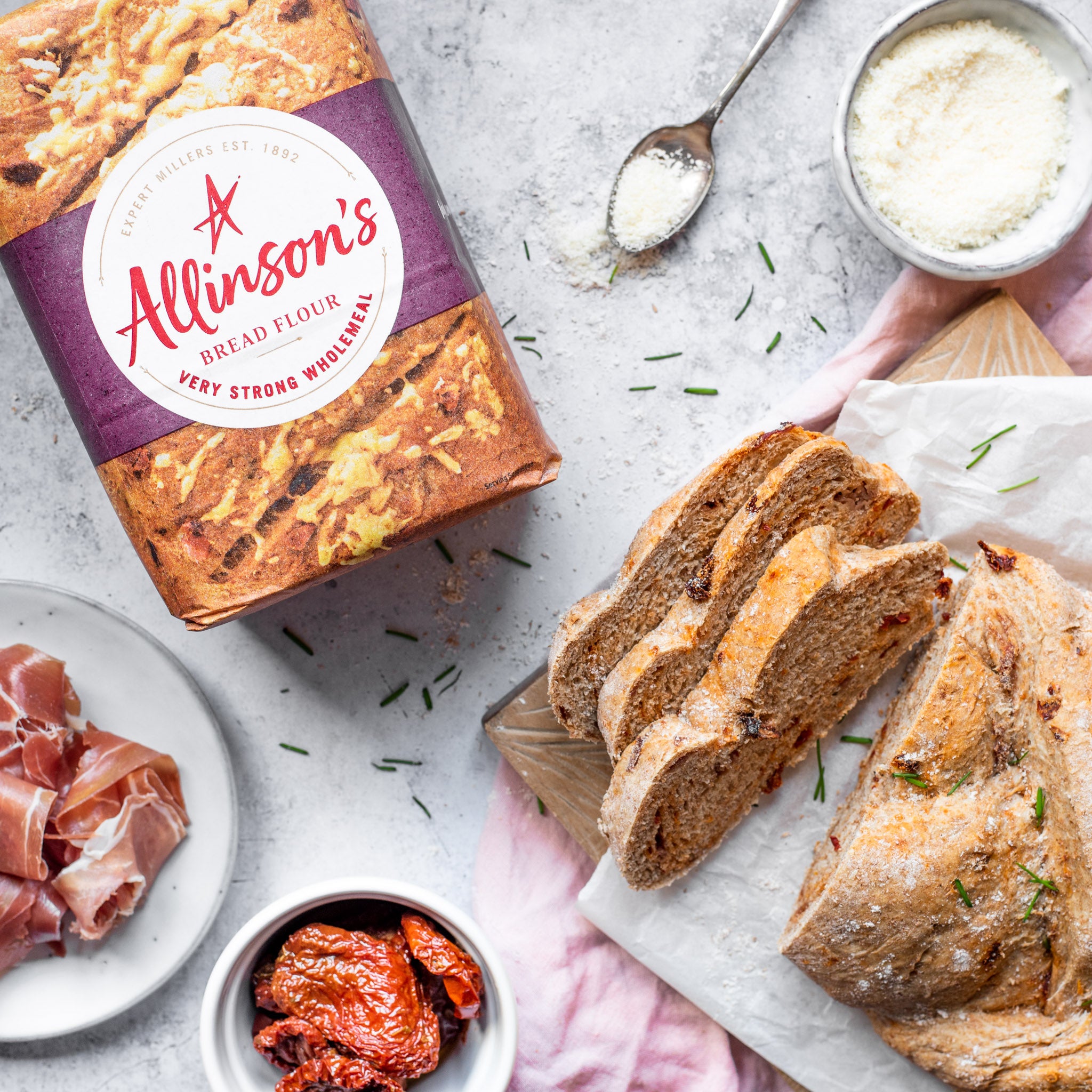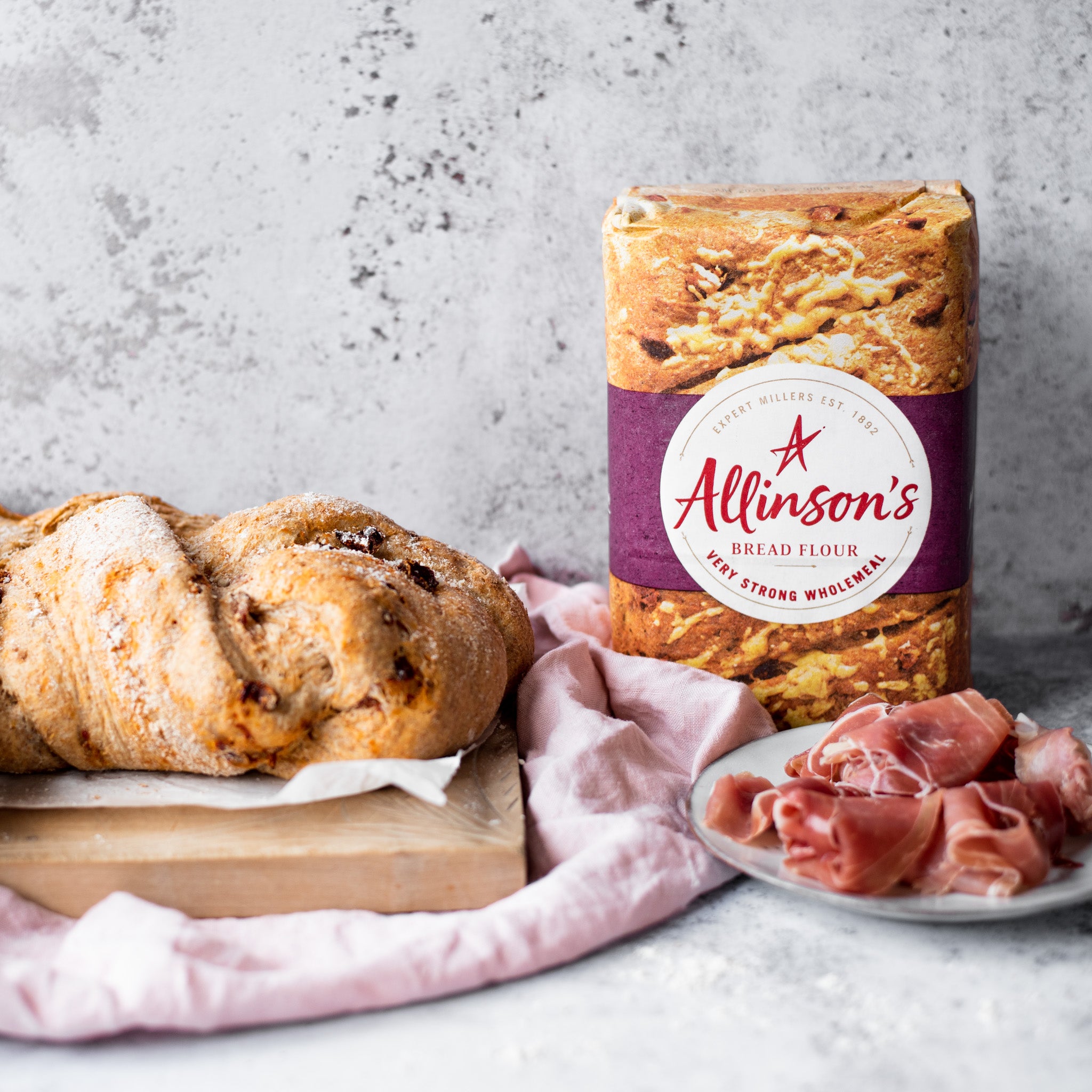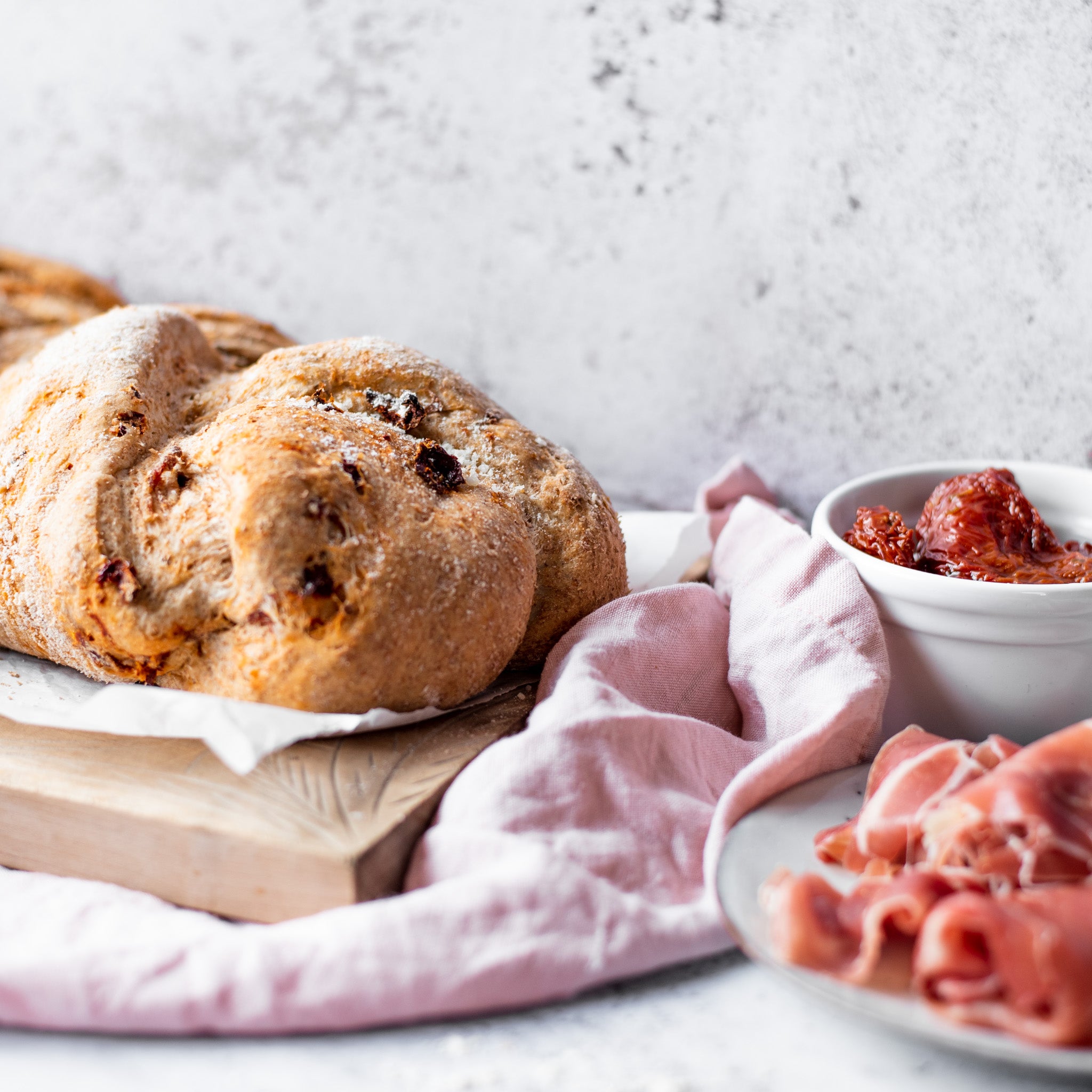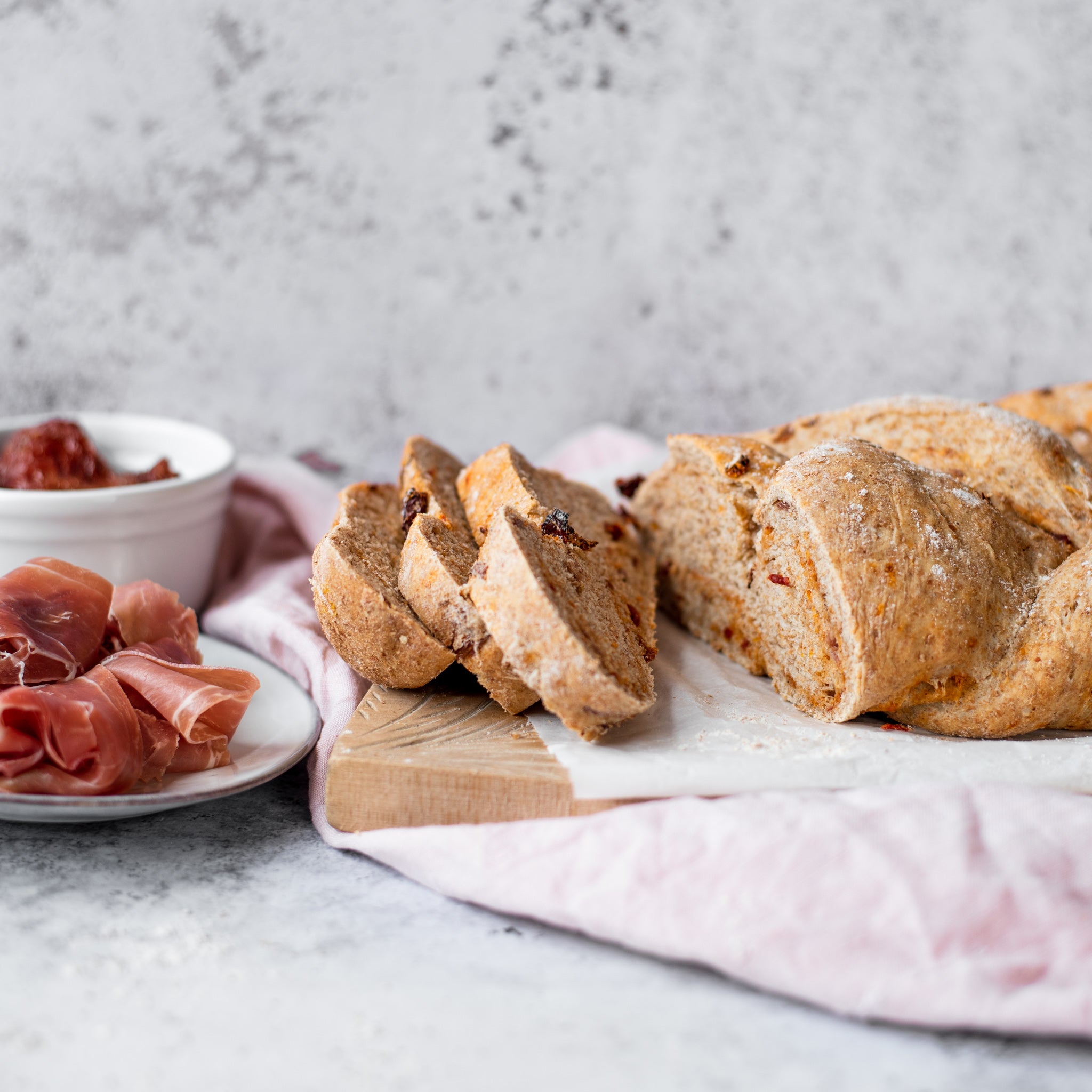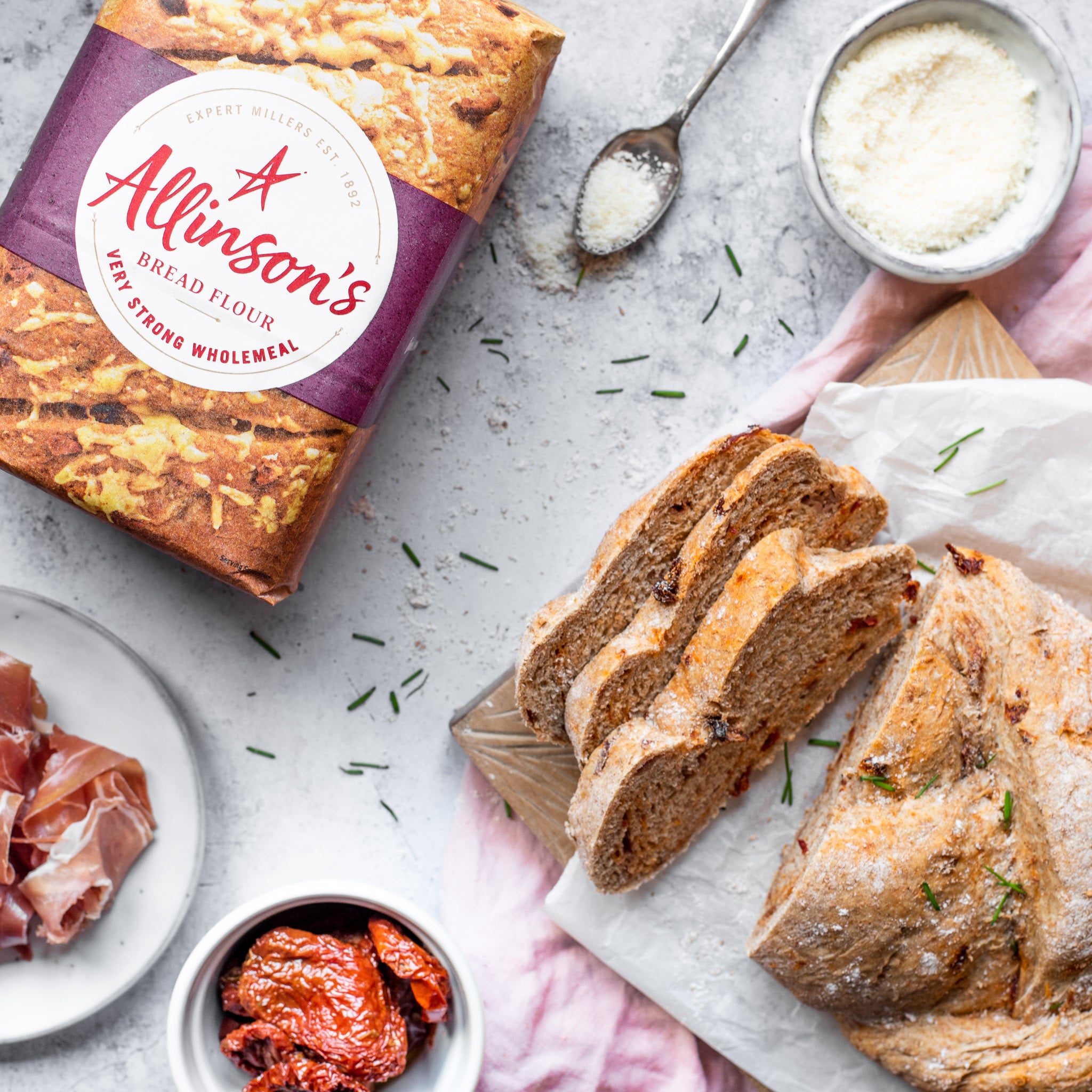 About the bake
Enjoy a little Italian inspiration with our savoury plait made with Allinson's wholemeal dough. Great for confident bakers, our Prosciutto and Sun-dried tomato plait is perfect to share with friends or to compliment a cheese selection. Bakers inspired by Italian flavours may also like our Herb Focaccia.
Method
Step 1:

MIX

Mix the flours, yeast and salt in a big bowl. Mix together the melted butter, sugar and water, then mix in with a cutlery knife.

Step 2:

KNEAD Tip onto a lightly flour dusted surface and knead for 10 minutes (or use the dough hook attachment on your mixer).


Step 3:

RISE

Lightly grease the mixing bowl with some oil. Put the dough back in, cover the bowl with a clean tea towel and leave to rise until doubled in size.

Step 4:

SHAPE Knead the tomatoes, ham and Parmesan into the dough for 1 minute. Roll to a 45cm long log. Slice into three strips lengthways but leave one end attached – from that end plait the dough strips back together, pinching the end together to stick. Lift onto a floured baking sheet.


Step 5:

PROVE

Cover the dough again with a clean tea towel and leave to prove until doubled in size again. Preheat your oven to 200°C (fan 180°C, gas mark 6).

Step 6:

BAKE

Lift the tray onto the middle oven shelf and bake for 25-35 minutes, until when you tap the base of the plait it sounds hollow. Cool on a wire rack.
Ingredients
For the Wholemeal Dough

400g

 Allinson's very strong wholemeal bread flour

100g

 Allinson's Strong White Bread Flour

7g

 Allinson's Easy Bake Yeast Sachet

1 1/2 tsp

 

Salt

50g

 

Unsalted butter (melted)

1 tbsp

 Billington's Unrefined Light Muscovado Sugar

300ml

 

Warm water

For the Filling

50g

 

Sundried tomato paste (finely chopped)

50g

 

Prosciutto (diced)

25g

 

Parmesan
Utensils
Mixing bowl

Tea towel

Baking tray

Cooling rack
Recipe Reviews
Great easy recipe and very tasty
Ingredients
For the Wholemeal Dough

400g

 Allinson's very strong wholemeal bread flour

100g

 Allinson's Strong White Bread Flour

7g

 Allinson's Easy Bake Yeast Sachet

1 1/2 tsp

 

Salt

50g

 

Unsalted butter (melted)

1 tbsp

 Billington's Unrefined Light Muscovado Sugar

300ml

 

Warm water

For the Filling

50g

 

Sundried tomato paste (finely chopped)

50g

 

Prosciutto (diced)

25g

 

Parmesan
Utensils
Mixing bowl

Tea towel

Baking tray

Cooling rack