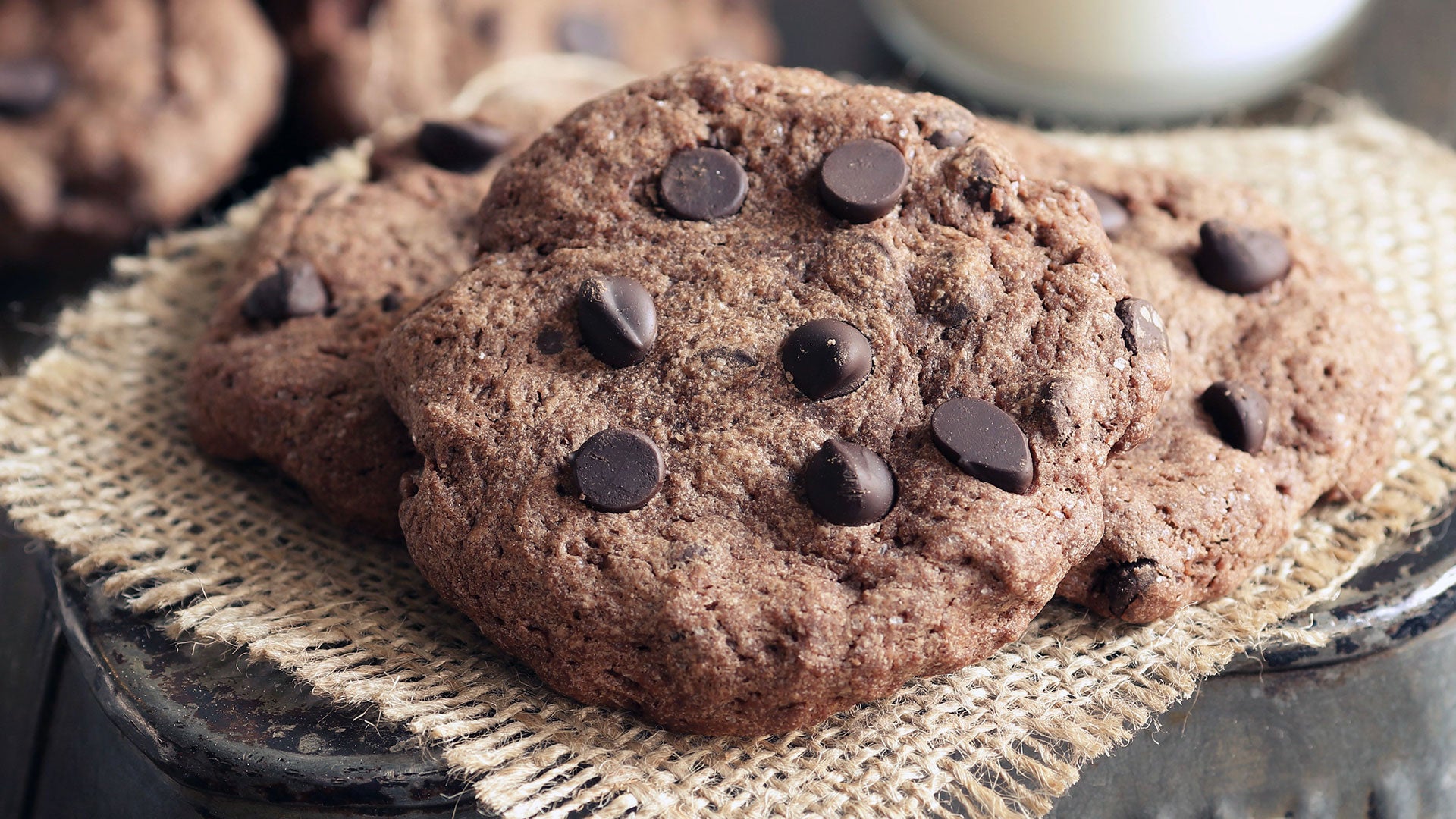 About the bake
Why not try these delicious chocolate cookies. Ideal to have with your afternoon cup of tea or as a treat at the end of a day.
Method
Step 1:

Preheated the oven to 180°C (fan 160°C, gas mark 4). Line two baking trays with baking parchment.



Step 2:

Cream together the butter and the sugar until its light and fluffy. Add the egg and continue to beat.


Step 3:

Sieve the flour and cocoa powder together and then mix in with the butter and sugar.

Step 4:

Divide the mixture into 16 balls and place them on the prepared baking trays with plenty of room between each cookie. Flatten them down slightly with the back of a spoon.

Step 5:

Press the chocolate chips into the tops of the cookies.



Step 6:

Bake them for 8-12 minutes. When they are cooked leave them for 15 minutes on the tray then transfer to a cooling rack.

Love cookies? So does everyone! Try this huge cookie made from lots of different flavours for your next recipe.

Ingredients
112g

 

Unsalted butter (softened)

55g

 Billington's Unrefined Golden Caster Sugar

112g

 Allinson's plain white flour

15g

 

Cocoa powder

100g

 

Milk chocolate chips

1

 

Large Egg
Nutritional Information
per 24g
132cal

 

Energy

8.3g

 

Fat

5g

 

of which Saturates

12g

 

Carbohydrates

6.8g

 

of which Sugars

1.9g

 

Protein

0.03g

 

Salt
Recipe Reviews
Turned out lovely. I added chopped Brazil nuts and crumbled chocolate in the mixture too. Tasted a bit buttery like shortbread but the cookies were soft and definitely went down a treat. I liked that it is a simple easy to follow recipe especially as my toddler son was in charge!
Not a real cookie texture was more of a sponge
Really enjoyed these
❤️❤️❤️🍪
It has a lot of good reviews may give it a try
I love this recipe and found it on the back of Allison's Plain White flour. It's weird because online it mentions an egg but on the back of the flour it lists everything else except the egg. I would personally leave out the egg because it's not really needed and tastes even better without.
Omg love theses made them fresh today and my little girl helped as always.
Heads up to others bakers the consistency of this mixture is like sponge mix but once baked you will love them too.
Ingredients
112g

 

Unsalted butter (softened)

55g

 Billington's Unrefined Golden Caster Sugar

112g

 Allinson's plain white flour

15g

 

Cocoa powder

100g

 

Milk chocolate chips

1

 

Large Egg
Nutritional Information
per 24g
132cal

 

Energy

8.3g

 

Fat

5g

 

of which Saturates

12g

 

Carbohydrates

6.8g

 

of which Sugars

1.9g

 

Protein

0.03g

 

Salt