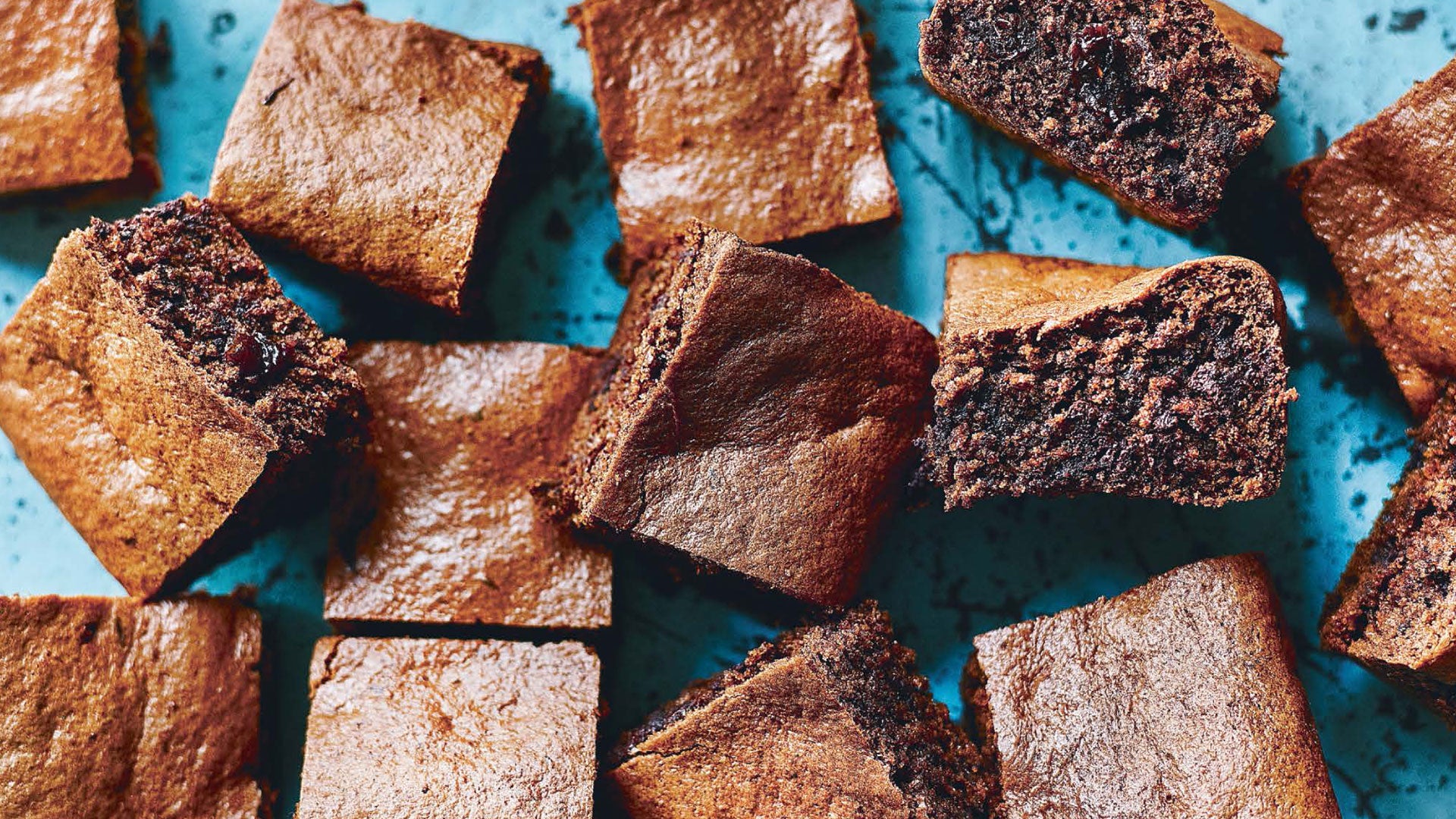 About the bake
"I love recipes with minimal steps and I know you will love this one. There are no difficult baking techniques, no whisking, no sifting - you just chuck the ingredients together and bake" Madeline Shaw - A Year of Beautiful Eating
Method
Step 1:

Preheat the oven to 170°C/325°F/Gas Mark 3.


Step 2:

Mix together the eggs, vanilla, cinnamon, nut butter, coconut sugar, bicarbonate of soda and salt in a large bowl until smooth. Break the chocolate into small pieces. Add these chocolate chips and the raisins to the mixture and stir so they're distributed throughout.


Step 3:

Line a 20cm square baking tin with baking paper and pour the mixture into the tin. Bake in the oven for 25 minutes, then leave to cool on a wire rack. Using the paper, remove the brownie slab from the tin. Cut into 16 pieces and enjoy.


Step 4:

The brownies will keep for 3 days in an airtight container.

Ingredients
2

 

Eggs

1 tsp

 Nielsen-Massey Vanilla Extract

1 tsp

 

Cinnamon (ground)

175g

 

Cashew nut butter (or almond butter)

120g

 

Coconut sugar

1 tsp

 

Gluten free bicarbonate of soda

A pinch of

 

Salt

50g

 

Dark chocolate (good quality)

30g

 

Raisins
Nutritional Information
per 28g
134cal

 

Energy

8.1g

 

Fat

1.4g

 

of which Saturates

10g

 

Carbohydrates

14g

 

of which Sugars

4.1g

 

Protein

0.45g

 

Salt
Recipe Reviews
They are delicious i made these today so moist not dry i made them with almond butter
Ingredients
2

 

Eggs

1 tsp

 Nielsen-Massey Vanilla Extract

1 tsp

 

Cinnamon (ground)

175g

 

Cashew nut butter (or almond butter)

120g

 

Coconut sugar

1 tsp

 

Gluten free bicarbonate of soda

A pinch of

 

Salt

50g

 

Dark chocolate (good quality)

30g

 

Raisins
Nutritional Information
per 28g
134cal

 

Energy

8.1g

 

Fat

1.4g

 

of which Saturates

10g

 

Carbohydrates

14g

 

of which Sugars

4.1g

 

Protein

0.45g

 

Salt