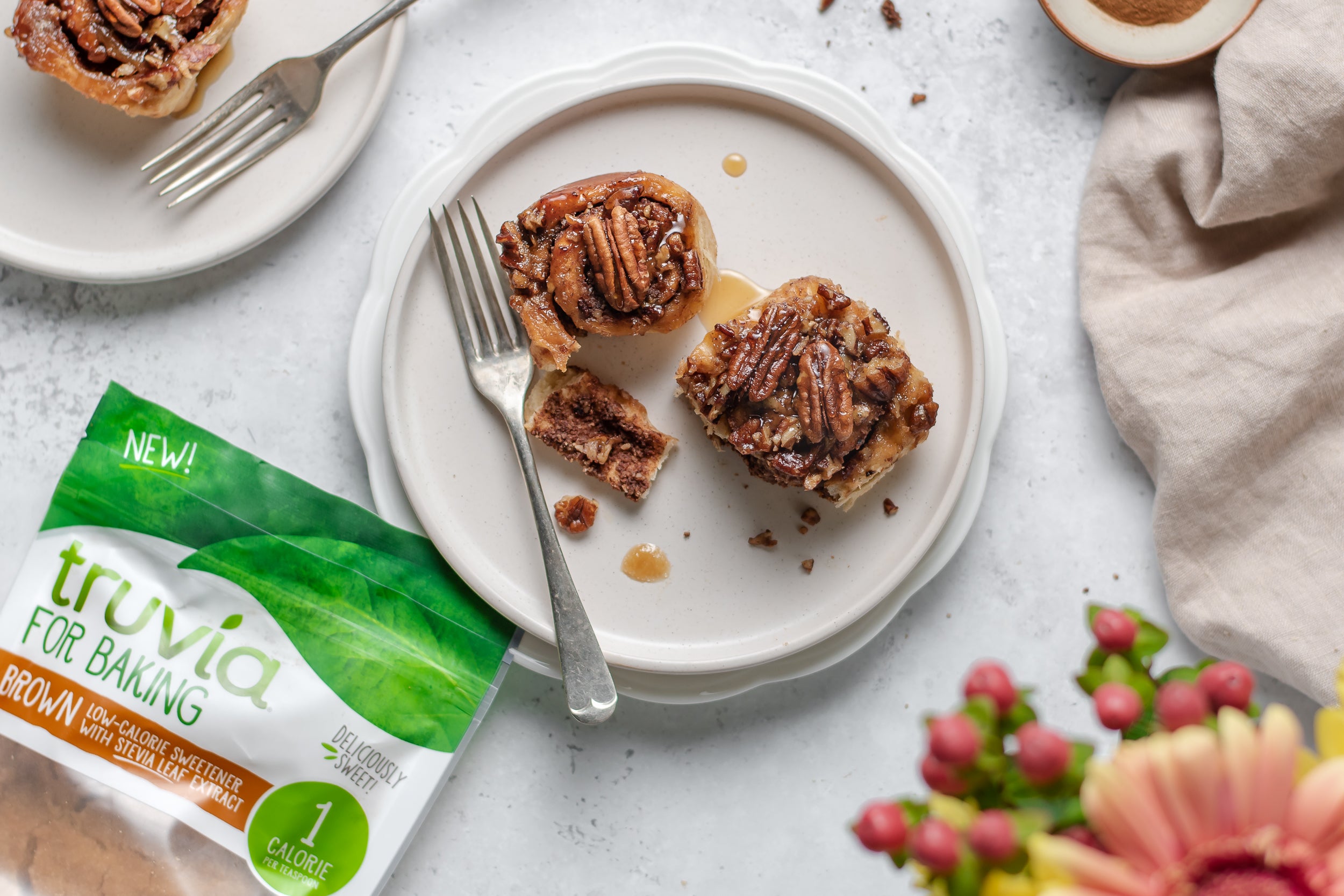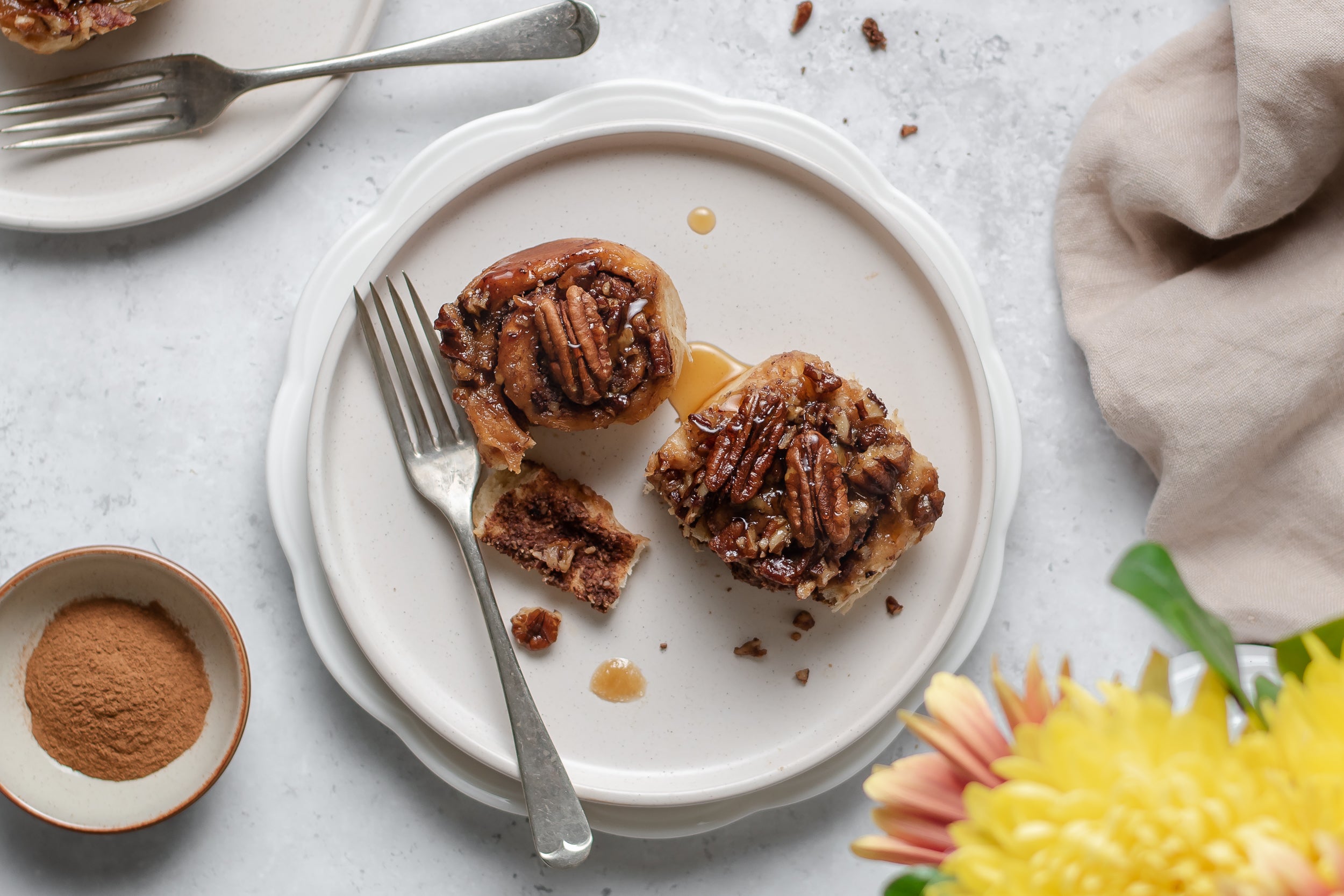 How to make Low Sugar Sticky Pecan Buns
Our low sugar sticky pecan buns use Truvia For Baking Brown Sweetener, our secret ingredient. With a soft and squidgy centre, these sticky and sweet buns are so moreish. If you're nuts for pecans, you will love these! We will warn you though, you can't just eat one...
Whilst these nifty little buns only take 10 minutes 'hands-on' time, make sure you leave a good hour to let these buns prove - we promise they're worth the wait.
The buns can also be made using walnuts or hazelnuts if preferred.
Method
Step 1:

Lightly grease with butter and line the base of a 25 x 30cm x 3cm high baking tin with baking parchment

Step 2:

Place the flour in a stand mixer bowl, add the butter and rub in with your fingertips. Next stir in the Truvia for baking Brown and salt then sprinkle over the yeast and fit the dough hook to the mixer.

Step 3:

Warm the milk in a small saucepan until lukewarm then pour into the flour mixture with the eggs and knead on a medium speed for 5 minutes until the dough comes together.

Step 4:

Place the dough in a lightly oiled mixing bowl and cover with an oiled piece of cling film or a clean damp tea towel then leave somewhere warm to rise for about an hour or until the dough has doubled in size.

Step 5:

Meanwhile make the filling by adding the pecan nuts, Truvia and cinnamon into a food processor and blitz until the mixture resembles a fine crumb.

Step 6:

When the dough has risen, divide into two pieces and roll each piece out on a lightly floured surface to form two 35cm x 25cm rectangles. Brush each piece of dough with about half of the melted butter then sprinkle over the pecan filling evenly, pressing down gently with your hands to ensure that the filling sticks to the butter.

Step 7:

Roll each piece of dough tightly from the long end then pinch the edge together to seal.

Step 8:

For the topping add the maple syrup and truvia to the remaining butter in the pan and mix well. Pour ¾'s of the mixture into the base of the prepared tin and top with the chopped pecan nuts.

Step 9:

With a sharp knife cut each roll into 8 even slices. Place the dough sliced side down into the tin, spaced about 1 cm apart. Cover the tray with oiled cling film and leave to prove for about 30 minutes.

Step 10:

Meanwhile preheat the oven to 180C/ Fan 160C/ Gas 4. When the buns have risen, bake for 25-30 minutes until golden. Allow to cool slightly in the tin then turn out onto a wire rack, peel back and discard the baking parchment. Pull the buns apart and brush with the remaining topping mixture.
Ingredients
For the dough

475g

 

Allinson's Strong Bread Flour, plus extra for rolling

75g

 

Unsalted butter, cut into cubes, plus extra for greasing

50g

 

Truvia for Baking - Brown

1/2 tsp

 

Salt

7g

 Allinson's Easy Bake Yeast

150ml

 

Whole milk

2

 

Medium free range eggs (lightly beaten)

For the filling

100g

 

Pecan nuts

75g

 

Truvia for Baking - Brown

2 tsp

 

Ground cinnamon

100g

 

Unsalted butter (melted)

For the topping

100ml

 

Maple syrup

50g

 

Truvia for Baking - Brown

100g

 

Pecan nuts
Utensils
25 x 30cm x 3cm high baking tin

Stand mixer with dough hook (optional)

Saucepan

Clingfilm

Food processor

Rolling pin
Nutritional Information
per 88g
335cal

 

Energy

19g

 

Fat

6.9g

 

of which Saturates

37g

 

Carbohydrates

5.5g

 

of which Sugars

6.4g

 

Protein

0.09g

 

Salt
We'd love a slice of advice.
Was it yum? Did the recipe work well? Did you customise the recipe?
Ingredients
For the dough

475g

 

Allinson's Strong Bread Flour, plus extra for rolling

75g

 

Unsalted butter, cut into cubes, plus extra for greasing

50g

 

Truvia for Baking - Brown

1/2 tsp

 

Salt

7g

 Allinson's Easy Bake Yeast

150ml

 

Whole milk

2

 

Medium free range eggs (lightly beaten)

For the filling

100g

 

Pecan nuts

75g

 

Truvia for Baking - Brown

2 tsp

 

Ground cinnamon

100g

 

Unsalted butter (melted)

For the topping

100ml

 

Maple syrup

50g

 

Truvia for Baking - Brown

100g

 

Pecan nuts
Utensils
25 x 30cm x 3cm high baking tin

Stand mixer with dough hook (optional)

Saucepan

Clingfilm

Food processor

Rolling pin
Nutritional Information
per 88g
335cal

 

Energy

19g

 

Fat

6.9g

 

of which Saturates

37g

 

Carbohydrates

5.5g

 

of which Sugars

6.4g

 

Protein

0.09g

 

Salt