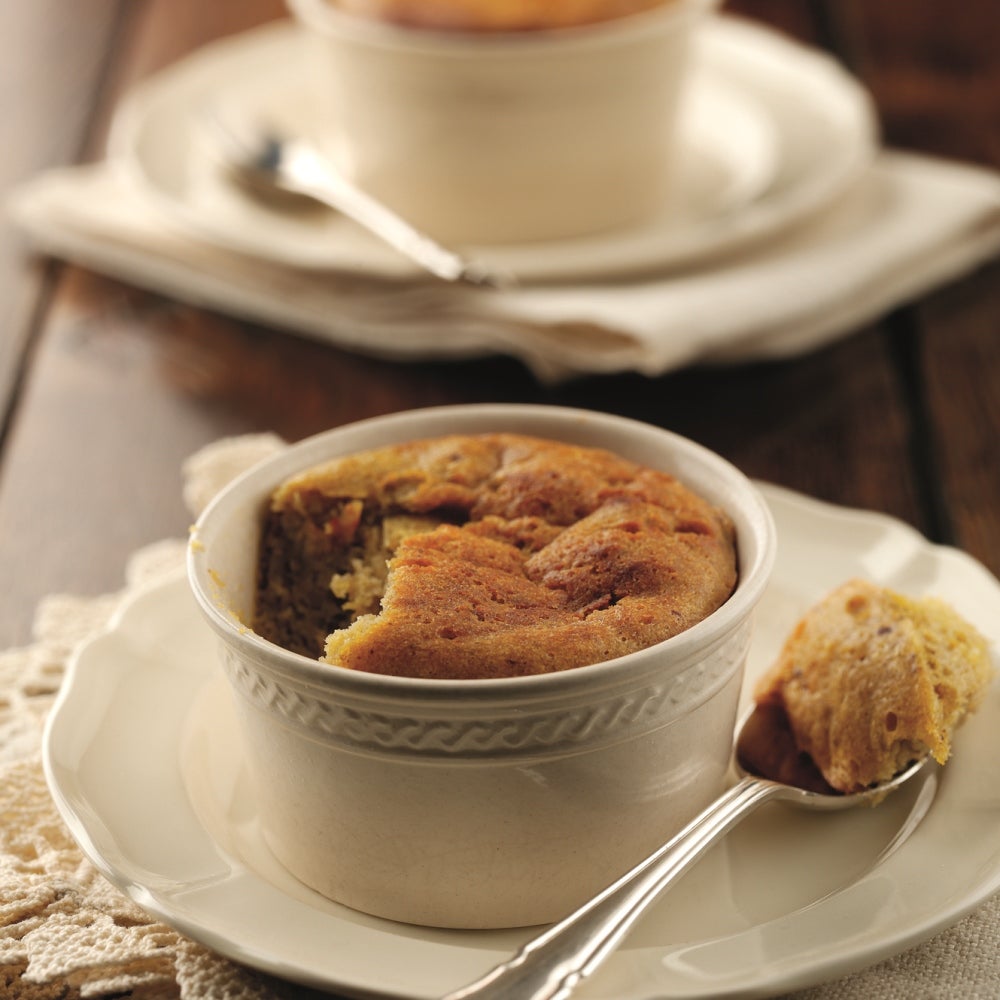 About the bake
Indulge in the winter flavours of butternut squash, ginger and dates, with the added bonus that these puddings contain natural sweetener so are a healthier option.
Method
Step 1:

Preheat the oven to 200ºC (fan 180ºC, gas mark 6). Place the butternut squash in a vegetable steamer and steam until soft, this should take about 20-25 mins. Mash the soft butternut squash into a puree.

Step 2:

Place the chopped dates in a bowl along with the hot water and leave to soak for about 10 mins, add this mixture to a blender and blend to form a puree. Mix the dates and butternut together along with the orange zest and juice, ginger and cinnamon.

Step 3:

Cream the butter and granulated sweetener with an electric whisk, add in the butternut squash mixture, followed by the eggs one at a time.

Step 4:

Mix the flour with the baking powder and whisk into the mixture.

Step 5:

Lightly spray 6 small ramekins with some cooking oil and place in a large deep sided roasting dish. Spoon equal amounts of the mixture into the ramekins and then cover each ramekin with a round of non-stick baking parchment, followed by a small square of foil. Fill the roasting tray with one inch of boiling water and then place in the oven for 25 mins or until risen and cooked through.


Ingredients
225g

 

Butternut squash

100g

 

Dates (stoned, chopped roughly)

100ml

 

Water (boiling)

2 tsp

 

Ginger (ground)

0.25 tsp

 

Cinnamon

60g

 

Butter (unsalted) (softened)

4 tsp

 

Silver spoon granulated sweeteners

3

 

Egg(s) (free range) (whole)

225g

 Self-raising white flour

1.25 tsp

 

Baking powder

 

Oil (for the ramekins)
We'd love a slice of advice.
Was it yum? Did the recipe work well? Did you customise the recipe?
Ingredients
225g

 

Butternut squash

100g

 

Dates (stoned, chopped roughly)

100ml

 

Water (boiling)

2 tsp

 

Ginger (ground)

0.25 tsp

 

Cinnamon

60g

 

Butter (unsalted) (softened)

4 tsp

 

Silver spoon granulated sweeteners

3

 

Egg(s) (free range) (whole)

225g

 Self-raising white flour

1.25 tsp

 

Baking powder

 

Oil (for the ramekins)