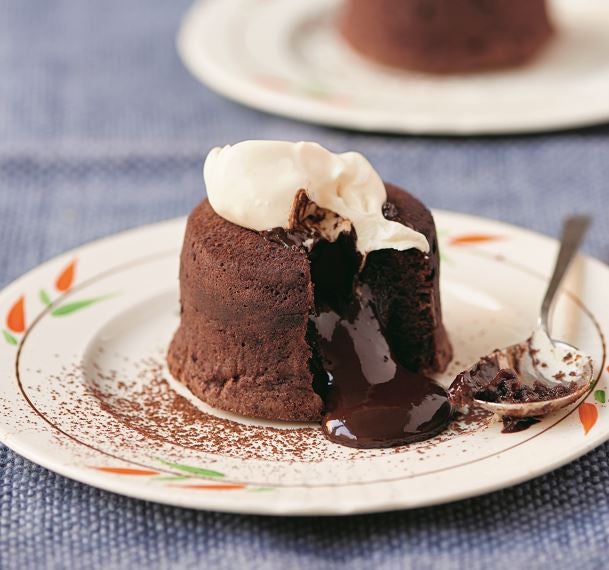 About the bake
"Chocolate fondants have a horrible reputation of being among the scariest desserts to bake. It took me until my late twenties to even attempt this beast. I want to tell you it went horribly wrong, that it was an inedible disaster. But I'm sorry to say it went really well, and it always has. This is a safe and easy recipe for a melt-in-the-middle sensation. Crusty on the outside, warm and gooey on the inside with the distinctive, lingering aroma of anise."
Method
Step 1:

Note: You can freeze the fondants before baking, ready for another occasion. (If you are cooking from frozen, cook at 200°C/fan 180°C for 17 minutes.)

To make the fondants from scratch: Preheat the oven to 200°C/fan 180°C.

To coat the ramekins: Brush 8 ramekins with melted butter, making upward strokes. Place the ramekins on a baking tray in the freezer for 10 minutes.

Step 2:

Take the ramekins out again and brush them once more with melted butter, and put them back in the freezer for 10 minutes. Take them out and dust the insides with cocoa powder, making sure to tap out any excess.

Step 3:

Melt the chocolate in a bowl over a pan of simmering water, being careful not to allow the bowl to touch the water. Roughly chop the butter and add to the chocolate, stirring until it melts in.

Step 4:

Whisk the sugar and eggs until they are light and fluffy and doubled in size. This will take about 5 minutes in a stand mixer, or 5–10 minutes with a handheld mixer. Add the butter and chocolate mixture, and mix everything together. Now add the flour and star anise, and fold in using a large metal spoon.

Step 5:

Put the ramekins on a baking tray. Divide the mixture between the ramekins, leaving a 1cm gap at the top of each. Cook for 10–12 minutes, no longer. The fondants will start to come away from the sides of the ramekins.

Step 6:

Take the fondants out of the oven, and leave in the ramekins for 1 minute only. They will still be hot, but they need to be turned out straight away and served, otherwise the residual heat will cook them right through.
Ingredients
For the coating

50g

 

Butter (unsalted) (melted)

For the fondants

200g

 

Dark chocolate ((70% cocoa solids), melted)

200g

 

Butter (unsalted) (melted)

200g

 Silver Spoon White caster sugar

4

 

Eggs (whole, medium size)

4

 

Egg yolk(s) (free range) ((in addition to the whole eggs))

200g

 

Plain white flour (sifted)

4 tsp

 

Star anise (ground with a pestle and mortar and passed through a small, fine sieve)
Ingredients
For the coating

50g

 

Butter (unsalted) (melted)

For the fondants

200g

 

Dark chocolate ((70% cocoa solids), melted)

200g

 

Butter (unsalted) (melted)

200g

 Silver Spoon White caster sugar

4

 

Eggs (whole, medium size)

4

 

Egg yolk(s) (free range) ((in addition to the whole eggs))

200g

 

Plain white flour (sifted)

4 tsp

 

Star anise (ground with a pestle and mortar and passed through a small, fine sieve)