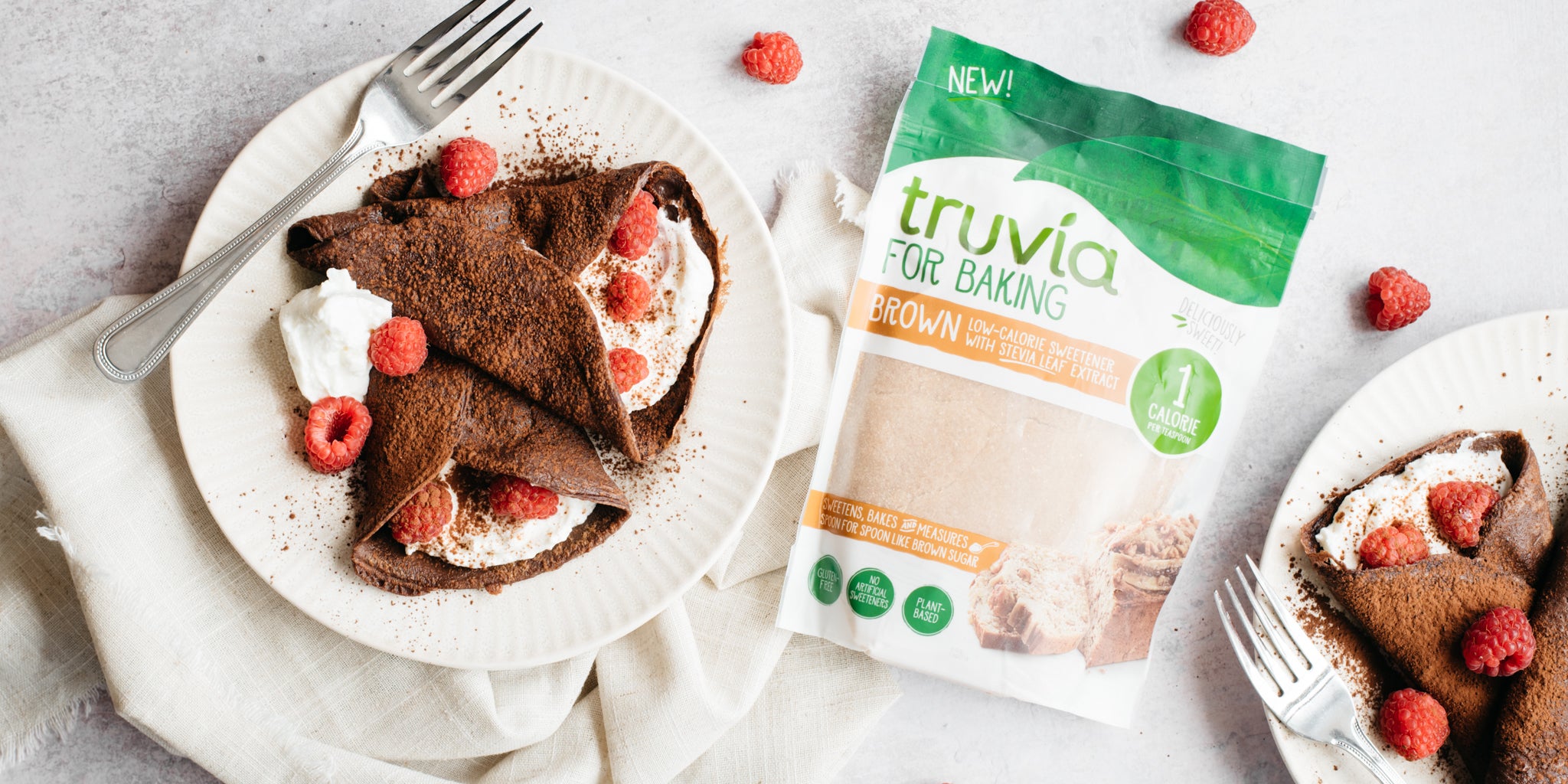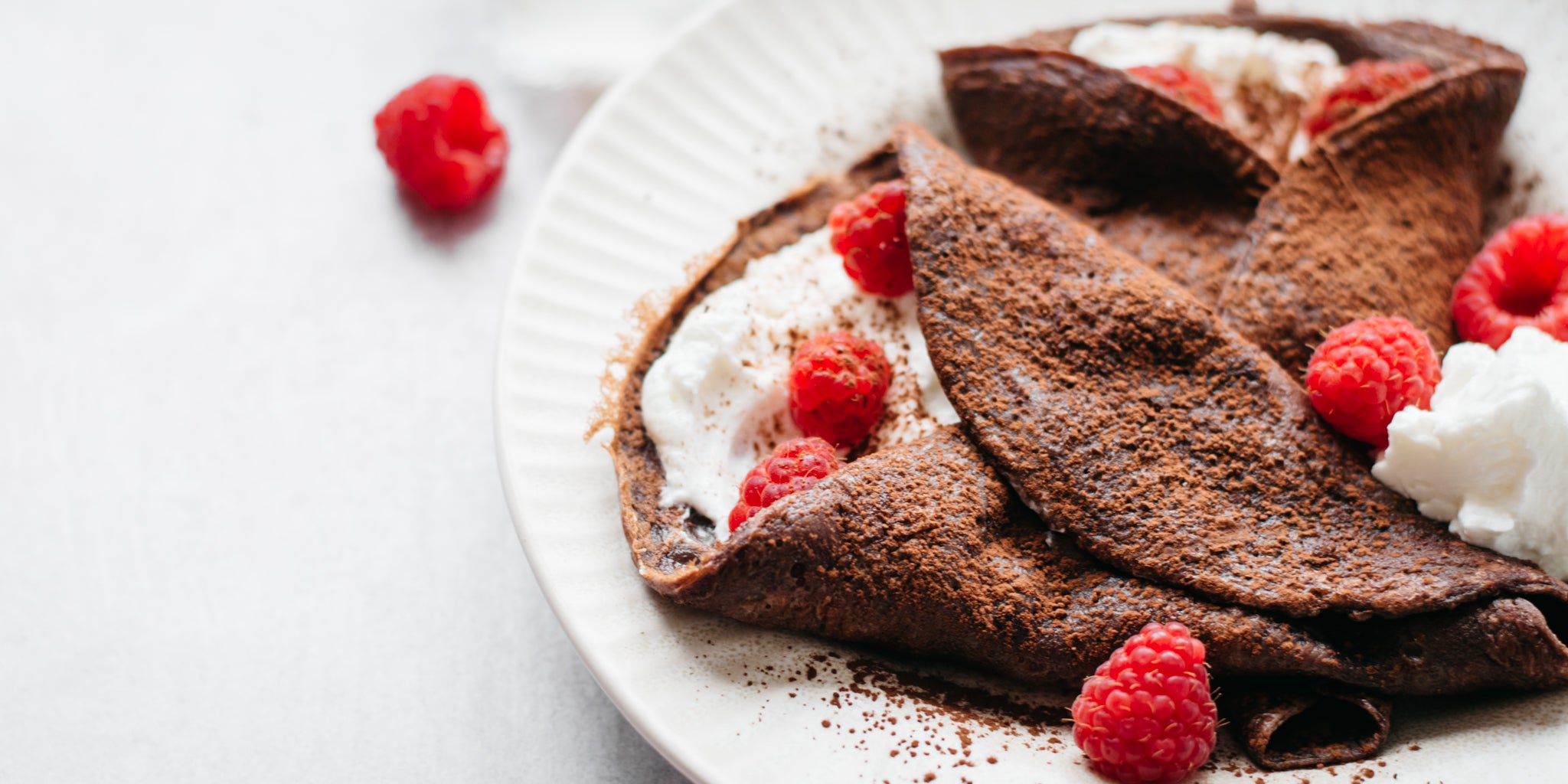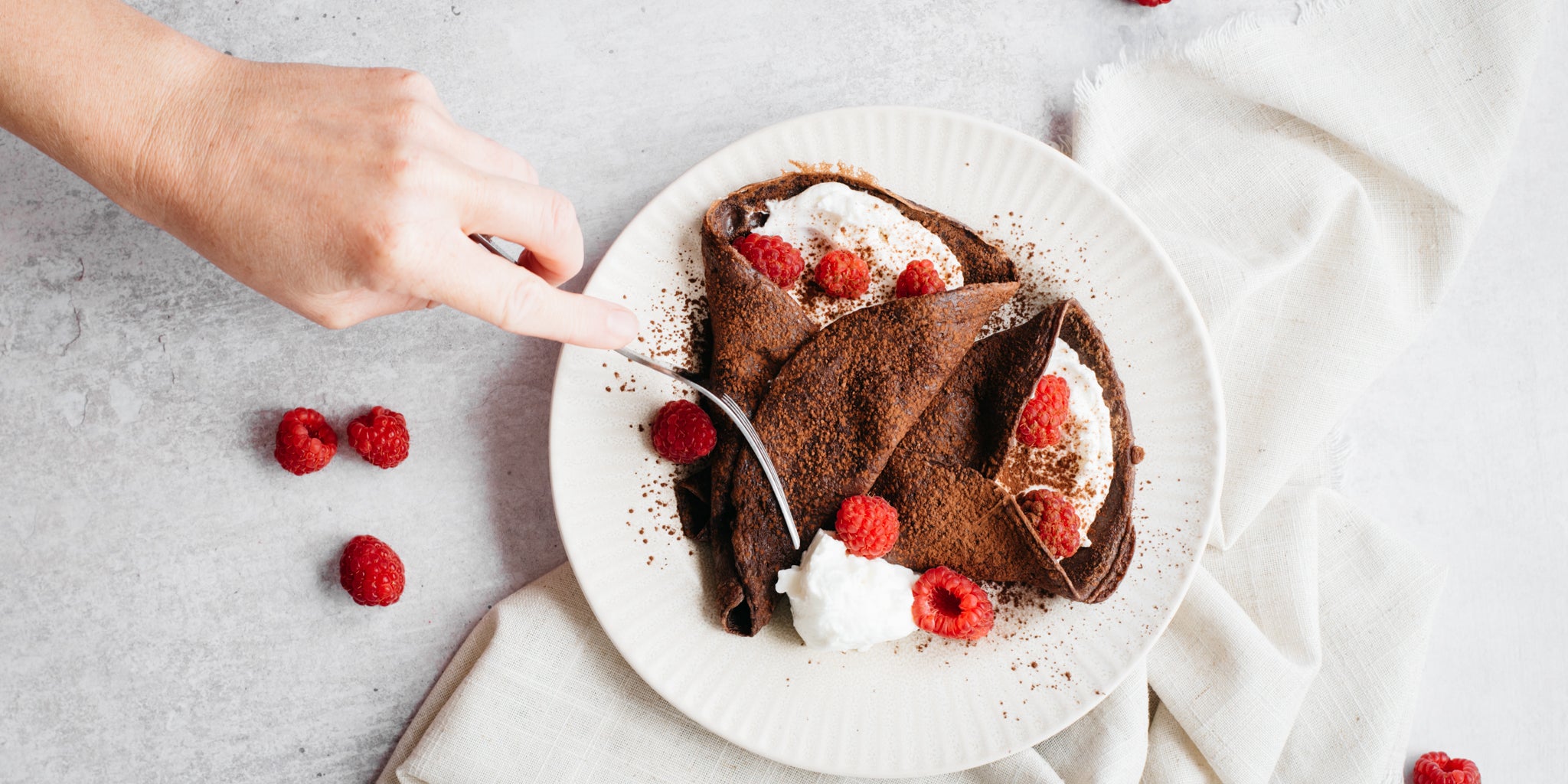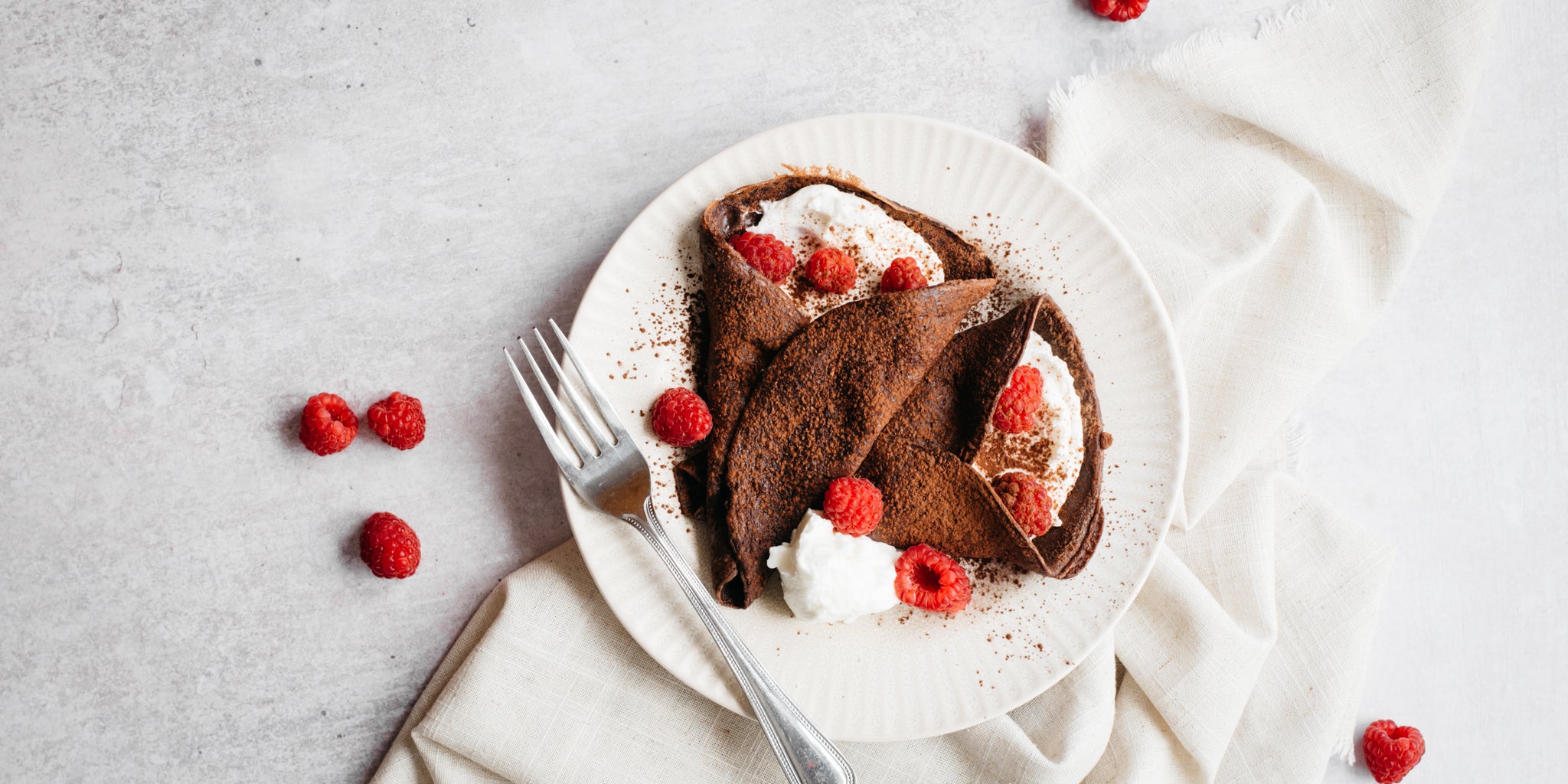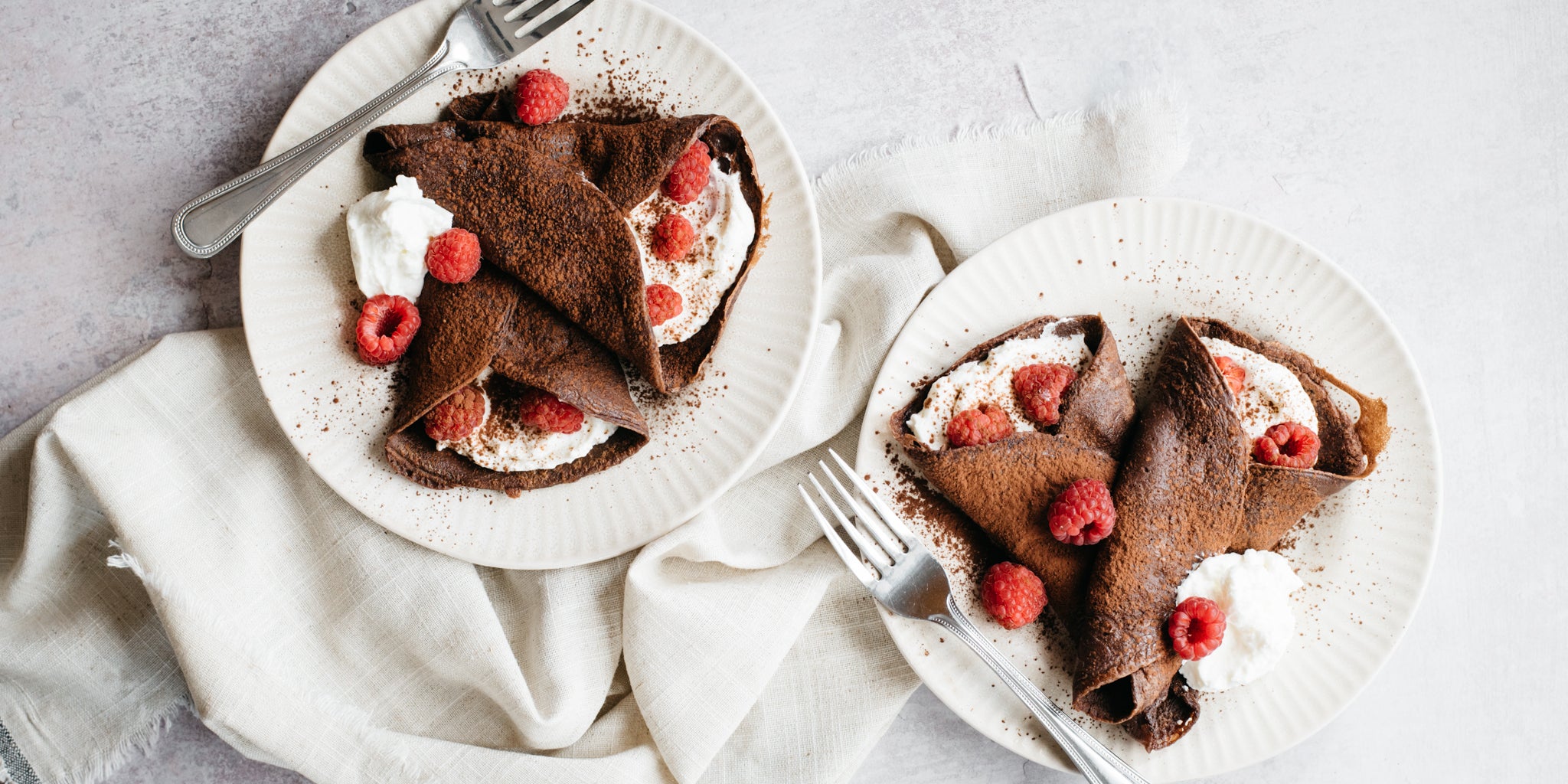 About the Crepes
These deliciously light low sugar chocolate crepes can be whipped up in next to no time. Simply dress them up or down with your favourite topping, personalising it to your taste. Ideal for breakfast or even an after dinner treat.
Method
Step 1:

Sieve the cocoa powder and flour into a mixing bowl then stir in the Truvia for Baking Brown.

Step 2:

Next make a hollow in the centre of the flour and drop in the egg, stir with a wooden spoon until combined then gradually add in the milk and beat well until a smooth batter is achieved. Pour the mixture into a jug and set aside in the fridge for 30 minutes.

Step 3:

When ready to cook the pancakes, heat a large non-stick frying pan or griddle pan on a high heat and add a knob of butter. When the butter is sizzling, pour in enough pancake batter to thinly coat the base of the pan.

Step 4:

After a minute, the top of the pancake will start to bubble, flip the pancake, and cook until browned on both sides. Transfer the pancake to a plate and cover with foil to keep warm. Repeat with the remaining batter until you have 8 pancakes.

Step 5:

To assemble divide the yogurt between the warm pancakes then top with fresh raspberries, fold the pancakes then dust lightly with cocoa powder.

Step 6:

Top Tip: This recipe also works well with blueberries or strawberries
Ingredients
For the crepes

15g

 

Unsweetened cocoa powder

100g

 Allinson's Plain White Flour

10g

 

Truvia for Baking - Brown

1

 

Medium egg

300ml

 

Semi skimmed milk

20g

 

Butter

To serve

200g

 

Thick set 0% fat Greek yogurt

150g

 

Fresh raspberries

 

Cocoa powder (for dusting)
We'd love a slice of advice.
Was it yum? Did the recipe work well? Did you customise the recipe?
Ingredients
For the crepes

15g

 

Unsweetened cocoa powder

100g

 Allinson's Plain White Flour

10g

 

Truvia for Baking - Brown

1

 

Medium egg

300ml

 

Semi skimmed milk

20g

 

Butter

To serve

200g

 

Thick set 0% fat Greek yogurt

150g

 

Fresh raspberries

 

Cocoa powder (for dusting)