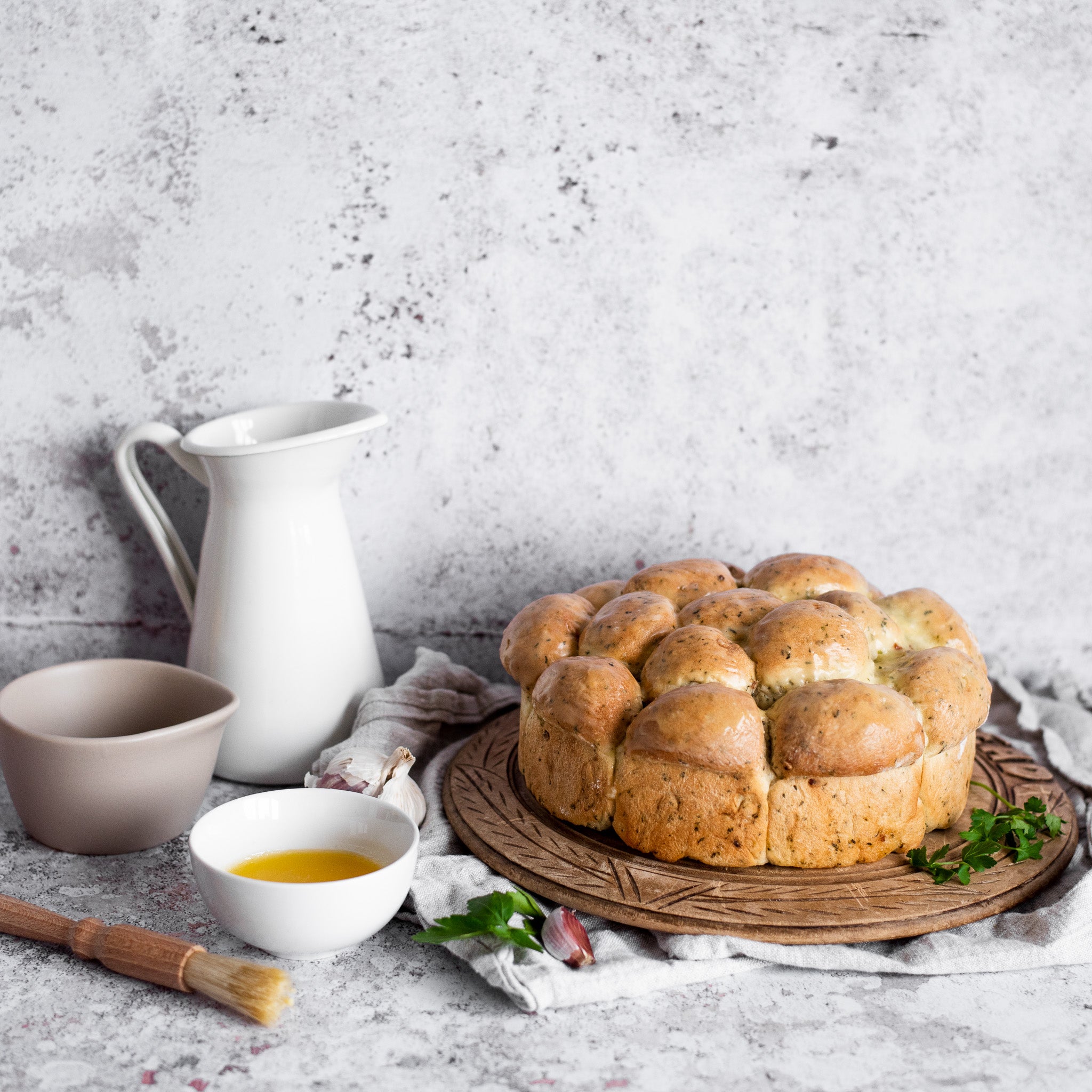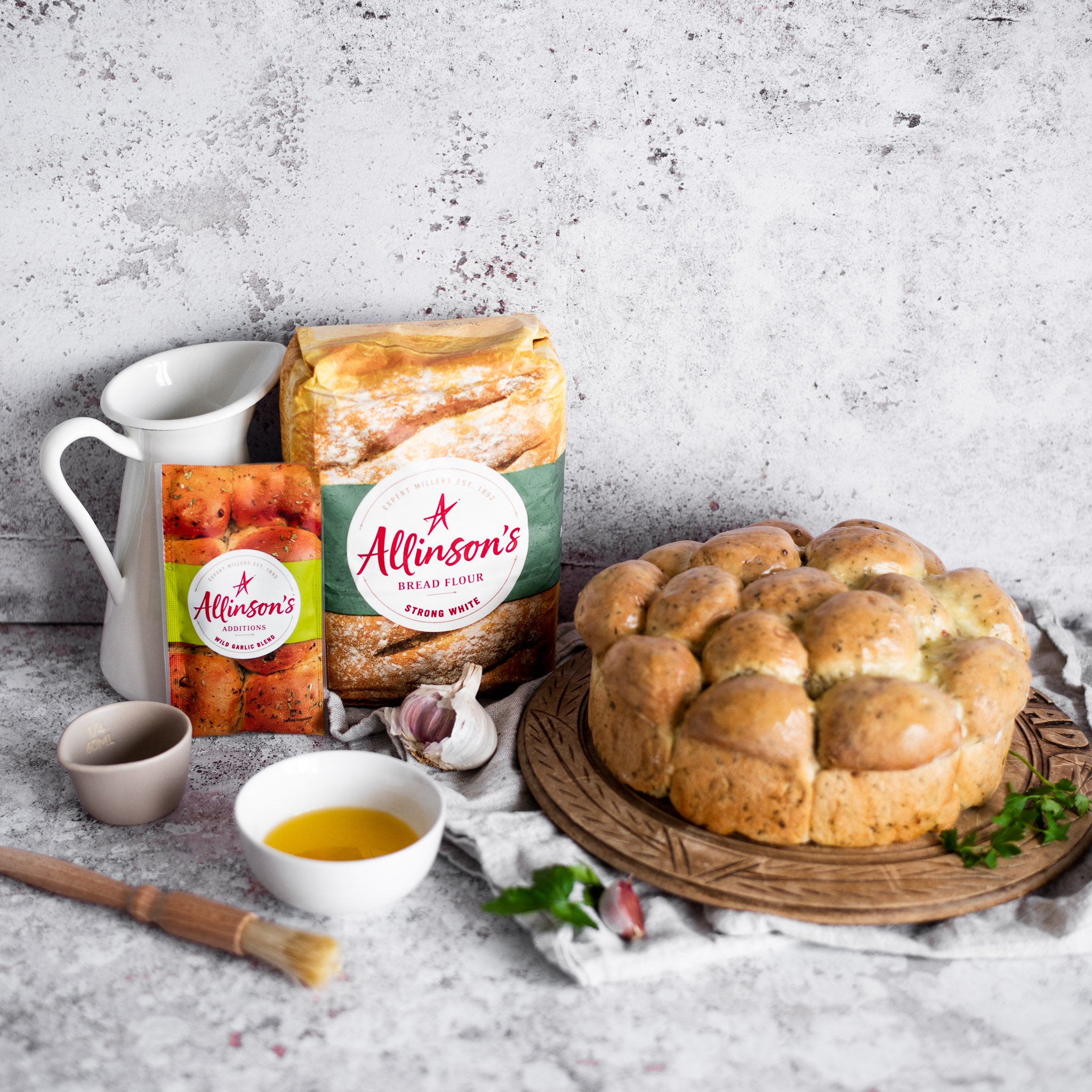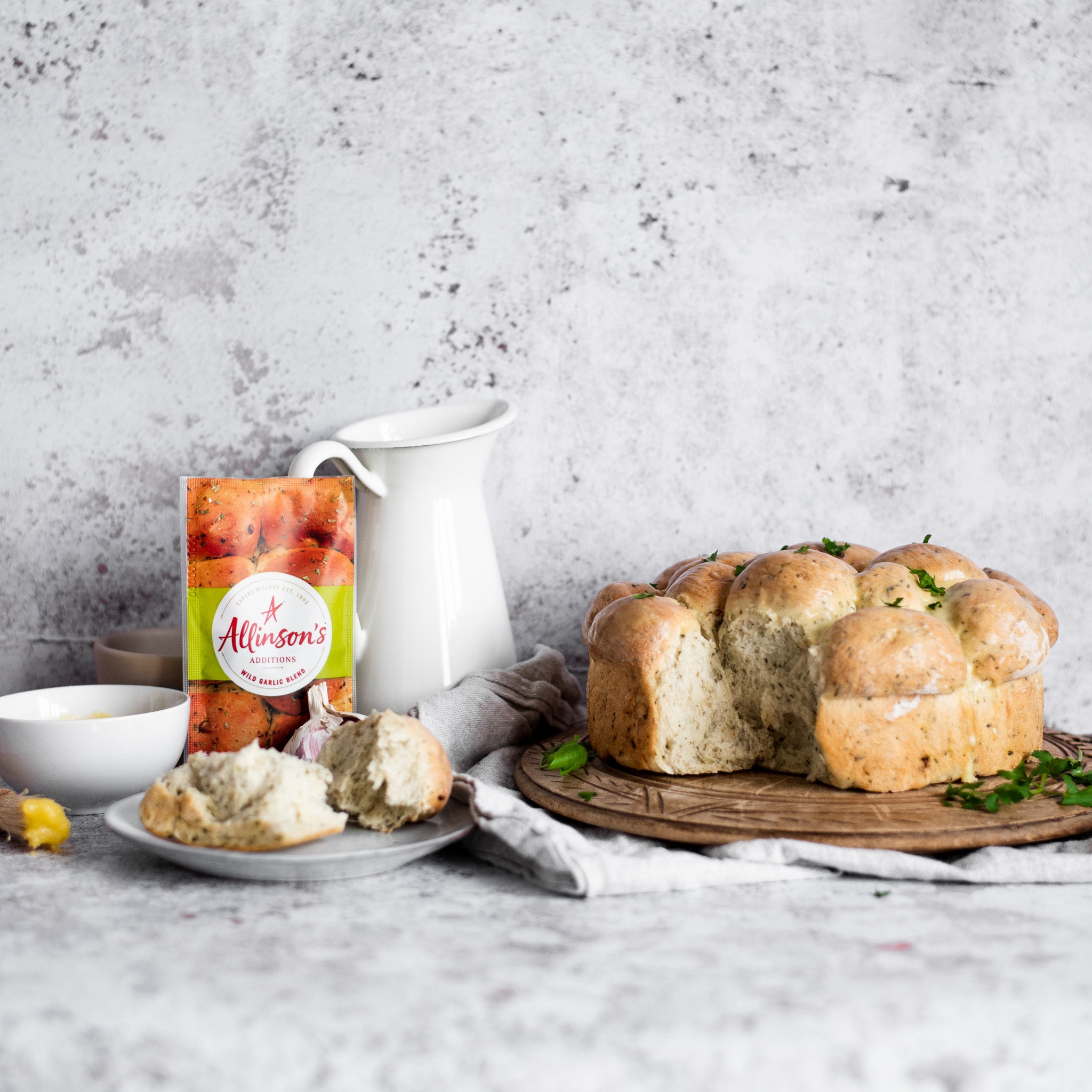 About our wild garlic tear & share bread recipe
This tear and share garlic bread is such a great idea for a meal with a group. This isn't your average garlic bread, it's been taken to a new level.
We've used Allinson's Additions which is a sachet of flavour. It's really easy to use and available in the shops near the yeast and flours.
If you're a garlic fan, we think you'll love our garlic pizza bread.
Method
Step 1:

Mix together the flour, salt, sugar, Wild Garlic additions and yeast. Rub in the butter until the mixture resembles fine breadcrumbs.


Step 2:

Add enough water to form a soft but not sticky dough.


Step 3:

Knead the dough for 10 minutes either by machine with a dough hook or on a lightly floured work surface.


Step 4:

When your dough feels smooth and silky, put it into a lightly oiled bowl. Cover the bowl with oiled cling film or a damp tea cloth and leave to rise in a warm place for about 45 minutes - 1 hour or until the dough has doubled in size.


Step 5:

Lightly grease and line a 23-inch round cake tin ready to place the bread in.


Step 6:

Tip the dough onto a lightly floured surface and knock back to remove the air. Divide the dough into 16 equal pieces and roll each one into a ball.


Step 7:

Place one dough ball at the centre of the baking tin and arrange the rest of the dough balls around it. Cover with a clean plastic bag. Leave the dough balls to prove until doubled in size. This should take about one hour.


Step 8:

Preheat the oven to 220°C, fan 200°C, gas 6.


Step 9:

Place the loaf on the middle shelf and bake for 20 to 25 minutes. Allow to cool for a few minutes before turning out onto a wire rack. Brush with melted butter and serve while still warm

Ingredients
For the Bread

500g

 Allinson's Strong White Bread Flour

1 tsp

 

Salt

1 tsp

 Silver Spoon Caster Sugar

20g

 

Allinson's wild garlic addition

7g

 Allinson's easy bake or time saver yeast

1 tbsp

 

Unsalted butter (softened)

300ml

 

Warm water
Recipe Reviews
Made 3 or 4 times now, turns out perfect every time and I'm not the greatest bread maker. Lovely flavour bread enjoyed by the whole family.
Recipe sounds delicious .
Could I make this without adding the Garlic addition ?
First time making this and loved
Its a simple and easy recipe will deffiantely be making it again
I put the same amount of salt and omg, it was so salty we had to throw it away, the smell is great tho but will just put a tiny amount of Salt next time.
Beautiful recipe. I've made this twice now and I'm not great at making bread generally. Both times the loaf has turned out insta worthy.
My best bake yet. although I used fresh Wild Garlic.
Ingredients
For the Bread

500g

 Allinson's Strong White Bread Flour

1 tsp

 

Salt

1 tsp

 Silver Spoon Caster Sugar

20g

 

Allinson's wild garlic addition

7g

 Allinson's easy bake or time saver yeast

1 tbsp

 

Unsalted butter (softened)

300ml

 

Warm water