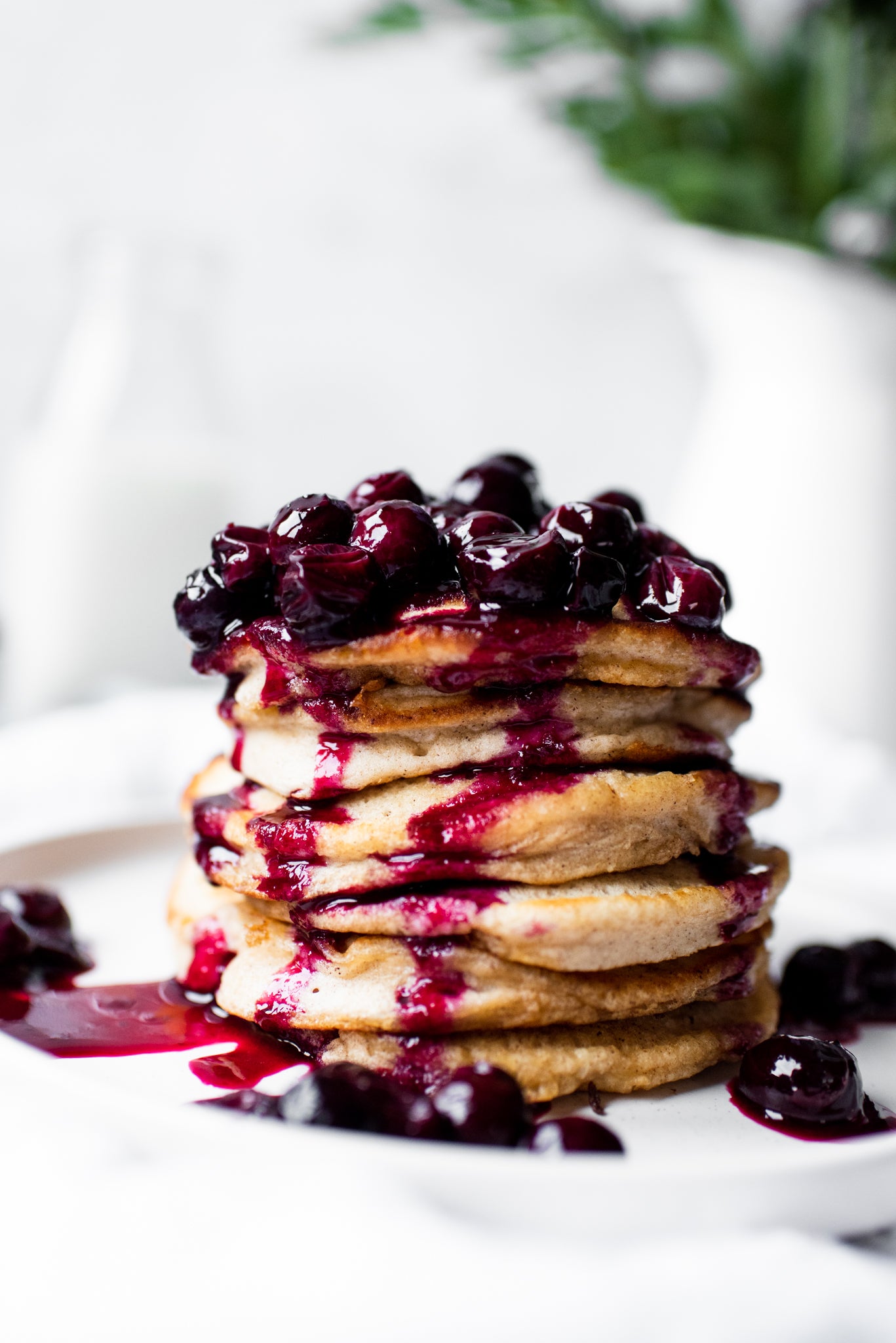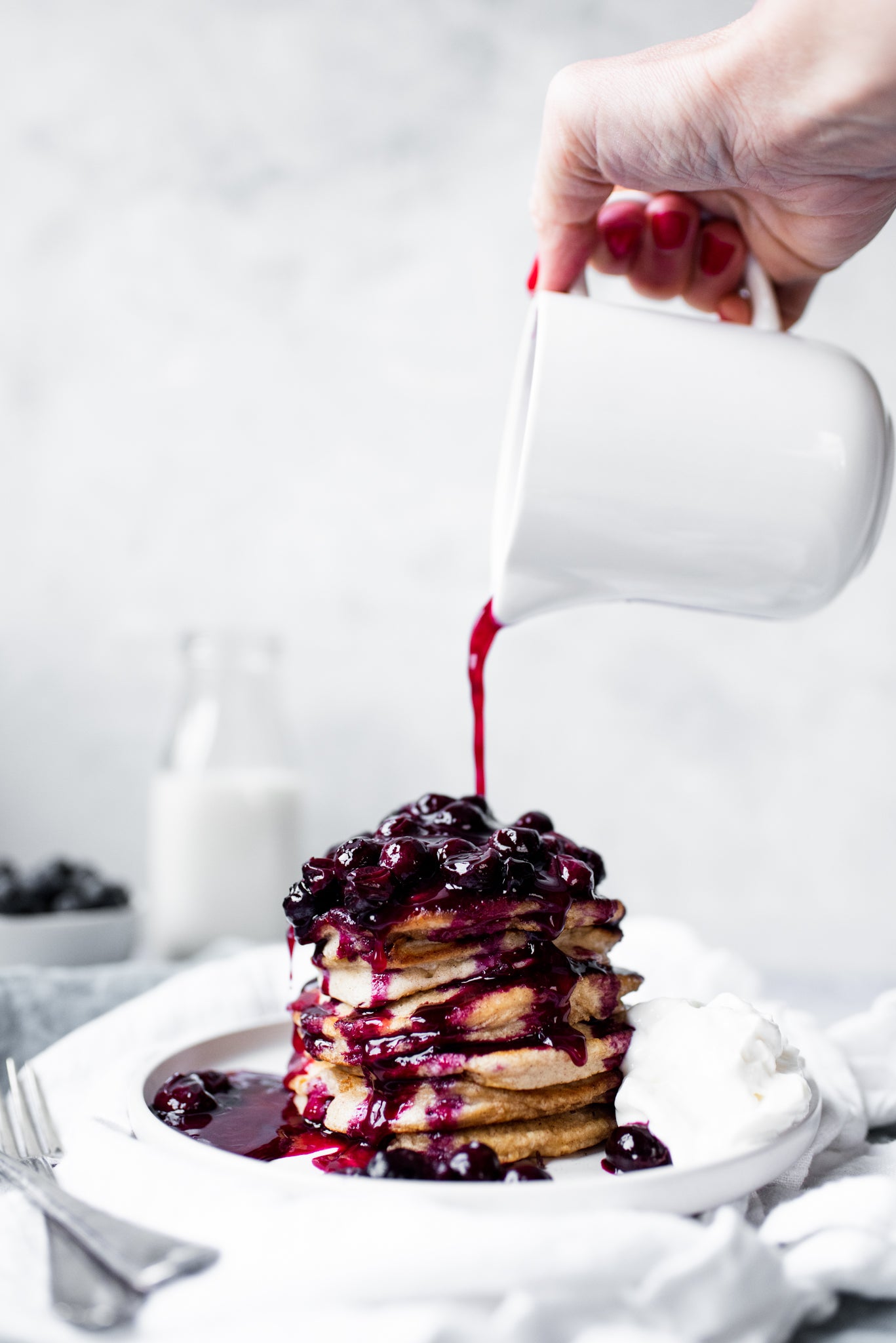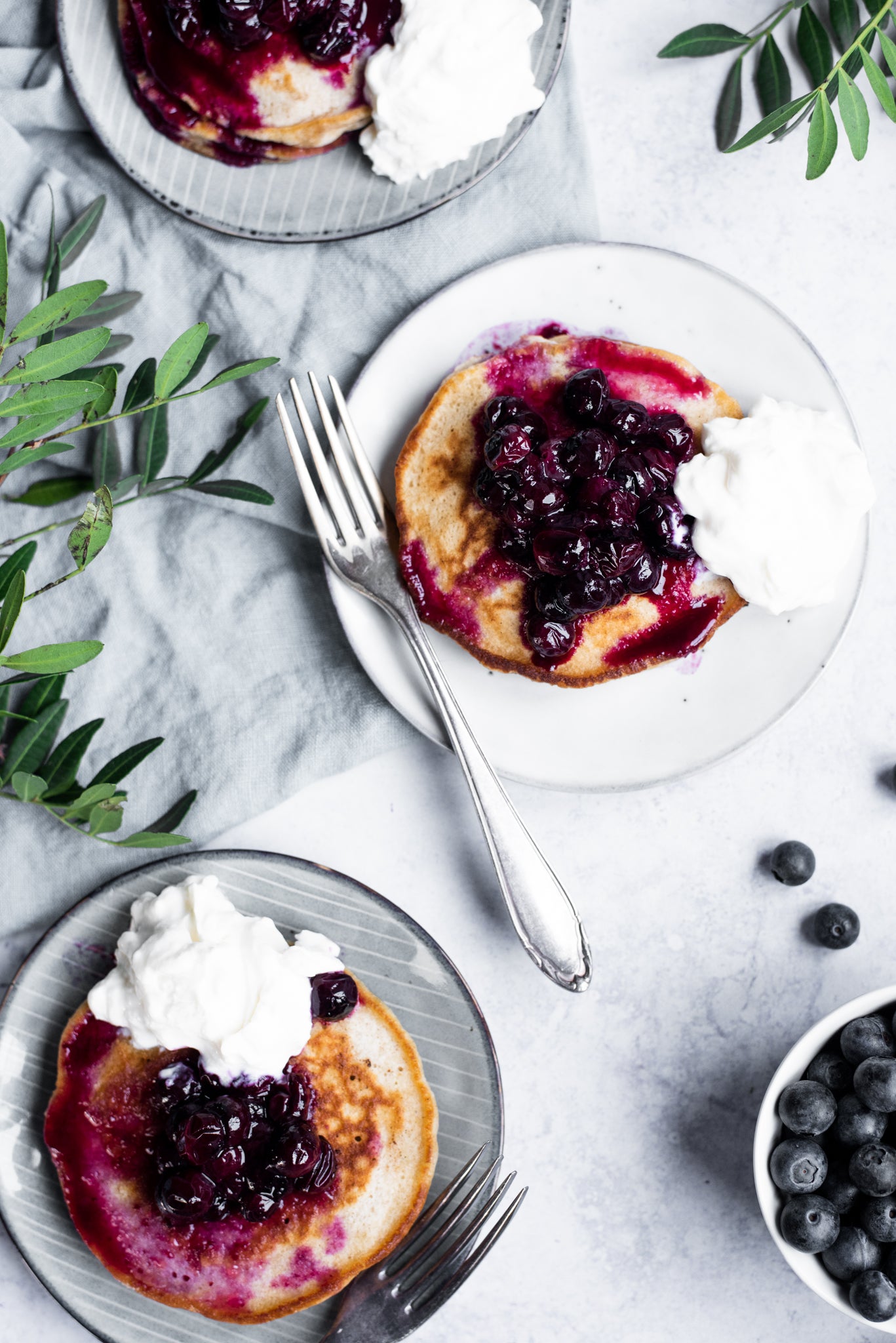 About the bake
These pancakes are perfect for that weekend treat. They contain Truvía® Calorie-Free Sweetener which makes them free from refined sugar. If you're looking for other ways to improve the benefits, you can also cook using spray oil instead of the butter and replace the blueberries with plumbs, raspberries or rhubarb.
Method
Step 1:

Sieve the flour, baking powder and cinnamon into a bowl. Stir in the Truvia and salt.


Step 2:

Make a well in the centre and add the eggs and milk. Whisk to a smooth batter. If time allows leave to sit for 30 minutes.


Step 3:

For the blueberry sauce: Add 150g blueberries to a small saucepan with the Truvia and 2 tbsp lemon juice.


Step 4:

Cook over a medium heat for 10 minutes, stirring occasionally until the blueberries start to collapse and release their juices. Add the remaining blueberries (keeping a few back for garnish) and allow the heat just to soften slightly. Taste the compote at the end and add more Truvia or a squeeze more lemon juice if desired.


Step 5:

To cook the pancakes: Lightly grease a pan with butter and spoon the mixture on to the hot pan. Cook on each side for a couple of minutes.


Step 6:

Transfer to a plate and keep warm with you cook the remaining batter. Use the remaining butter in between to re-grease the pan.


Step 7:

Serve the pancakes stacked topped with the blueberry sauce and a dollop of Greek yogurt and a few fresh blueberries.

Ingredients
For the Pancakes

225g

 Allinson's plain white flour

4 tsp

 

Baking powder

1 tsp

 

Cinnamon

2 tsp

 Truvia calorie free sweetener

1 tsp

 

Salt

2

 

Eggs

300ml

 

Milk

50g

 

Unsalted butter

For the Blueberry Sauce

250g

 

Blueberries

1 lemon

 

Juice of one whole lemon

1 tsp

 Truvia calorie free sweetener
Recipe Reviews
Amazing. Tasted FAB. amazing recipe
Ingredients
For the Pancakes

225g

 Allinson's plain white flour

4 tsp

 

Baking powder

1 tsp

 

Cinnamon

2 tsp

 Truvia calorie free sweetener

1 tsp

 

Salt

2

 

Eggs

300ml

 

Milk

50g

 

Unsalted butter

For the Blueberry Sauce

250g

 

Blueberries

1 lemon

 

Juice of one whole lemon

1 tsp

 Truvia calorie free sweetener