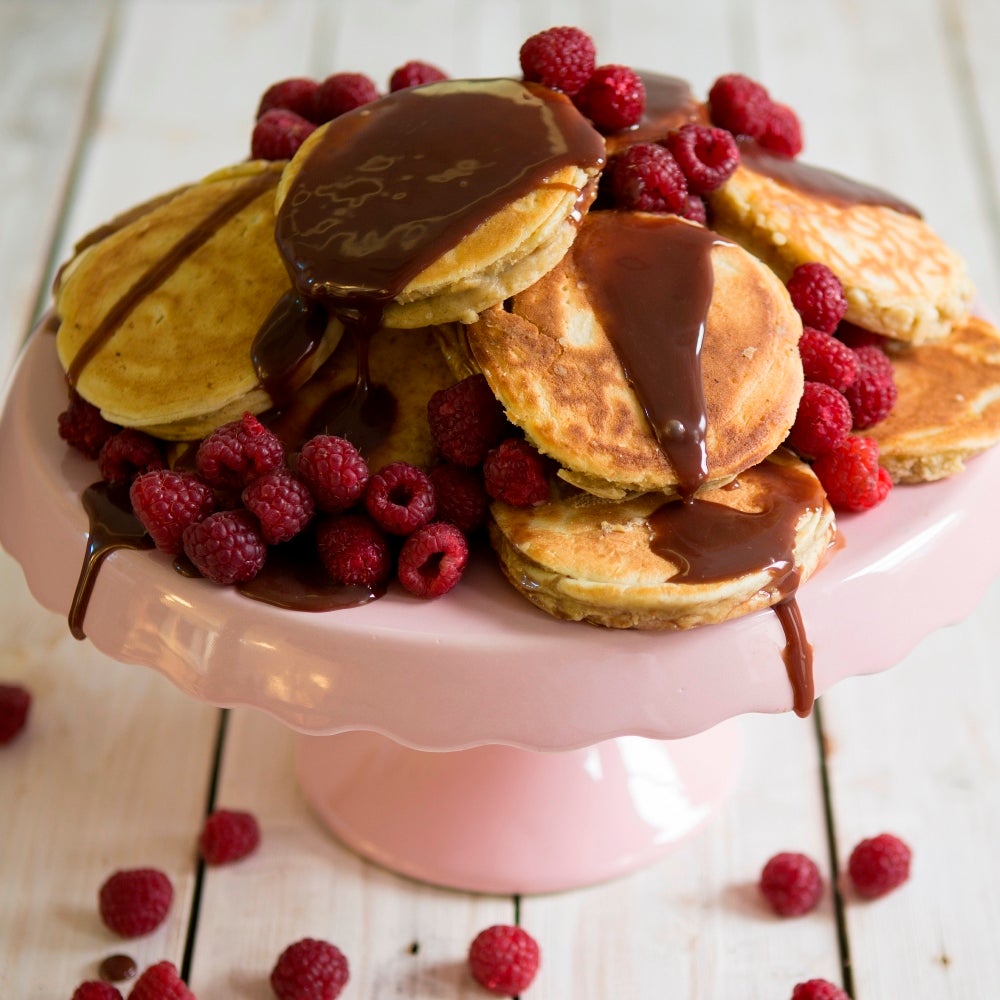 About the bake
These scotch pancakes are a real treat and so quick to rustle up for a weekend or after school feast. Mix and match with your favourite fruits and flavoured sauce to suit your taste.
Method
Step 1:

Place the flour, baking powder, pinch of salt and the sugar in a mixing bowl and add the egg. Beat well gradually adding the milk and yogurt or sour cream until the mixture is smooth, thick and creamy.

Step 2:

Heat a small frying pan, non stick if possible, until really hot, then turn down the heat to medium. Drizzle the pan with a tiny amount of oil and pour a tablespoonful of batter onto the pan to make a small round pancake, you will be able to cook 2-3 in the pan at once.

Step 3:

Allow to cook for 1-2 minutes until bubbles form on the surface and the underneath is brown then flip the pancake over. Cook the other side until browned lightly. Stack on a plate, covered with cling film and a clean tea towel to keep warm.

Step 4:

To make the filling, warm the raspberries and jam a little in a small pan.

Step 5:

Layer the pancakes with the raspberries and drizzle with the chocolate sauce.



Why not try topping your pancakes with Askey's Treat Sauce? We've got 3 ways you can do this.

Ingredients
250g

 Allinson's plain white flour

2 tsp

 

Baking powder

1 tbsp

 Billington's Unrefined Golden Caster Sugar

1

 

Free range egg

250ml

 

Whole milk

3 tbsp

 

Yoghurt (or sour cream)

200g

 

Fresh raspberries

2 tbsp

 

Raspberry jam

To serve

 

Treat chocolate sauce
We'd love a slice of advice.
Was it yum? Did the recipe work well? Did you customise the recipe?
Ingredients
250g

 Allinson's plain white flour

2 tsp

 

Baking powder

1 tbsp

 Billington's Unrefined Golden Caster Sugar

1

 

Free range egg

250ml

 

Whole milk

3 tbsp

 

Yoghurt (or sour cream)

200g

 

Fresh raspberries

2 tbsp

 

Raspberry jam

To serve

 

Treat chocolate sauce