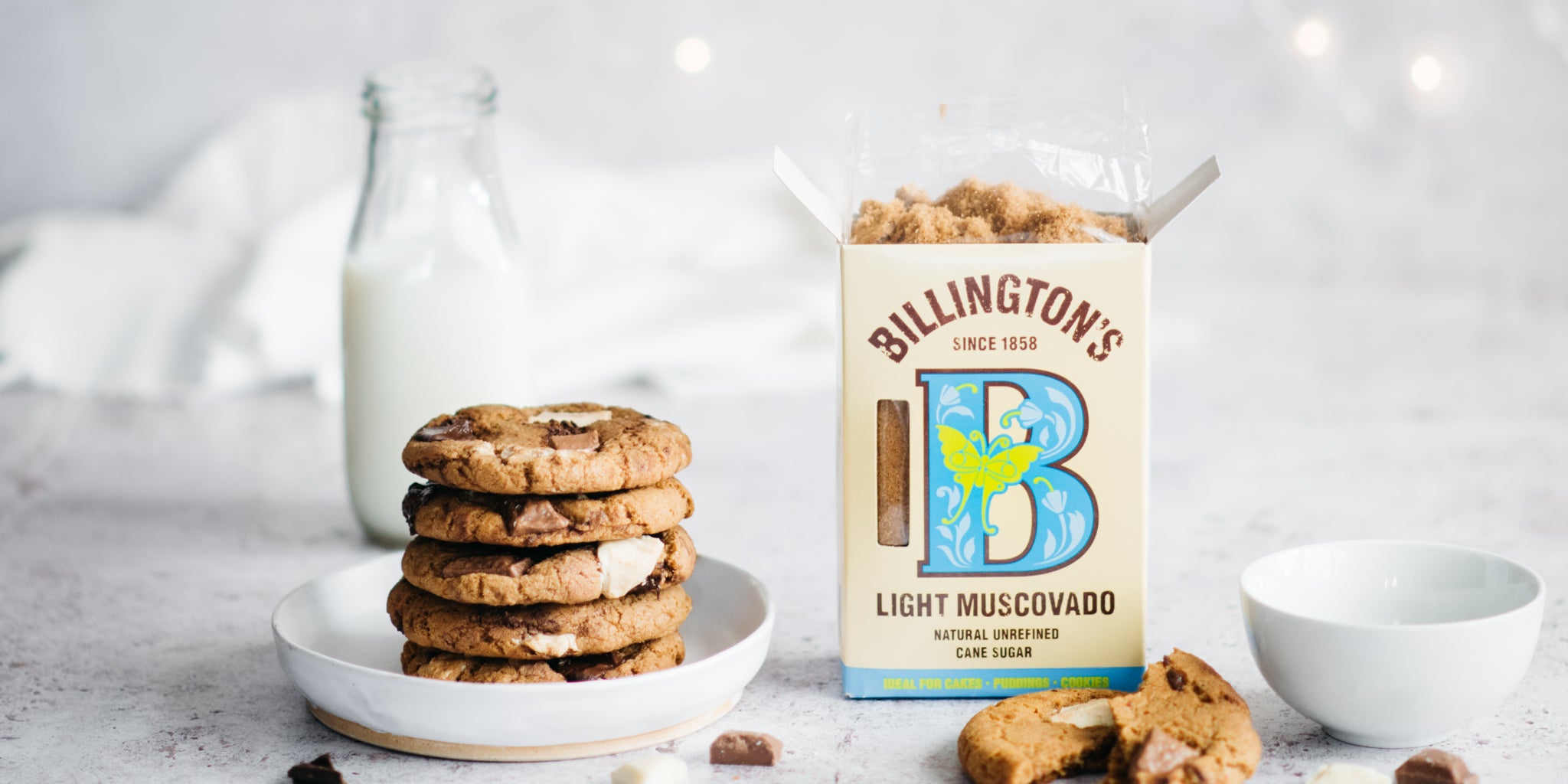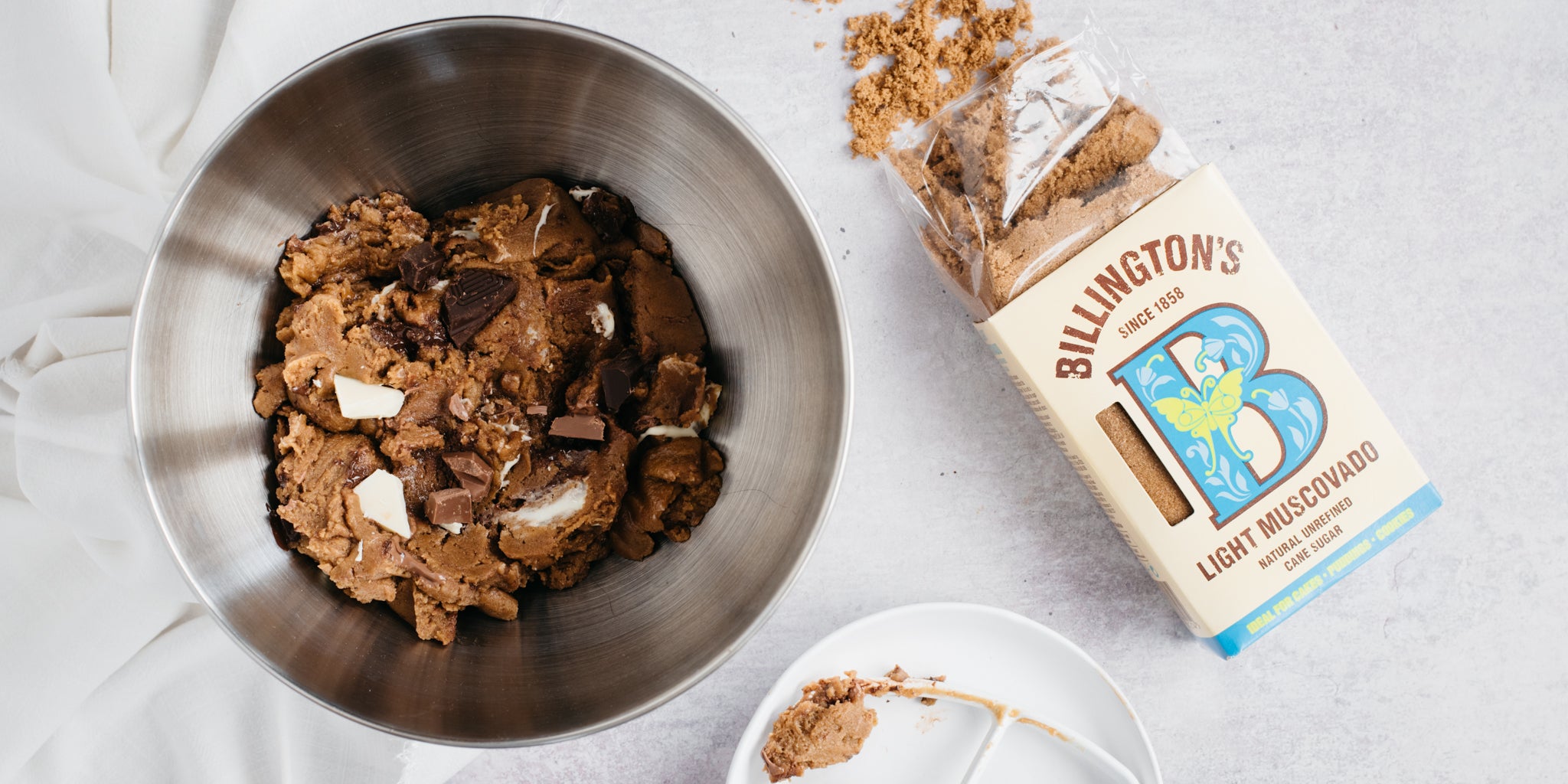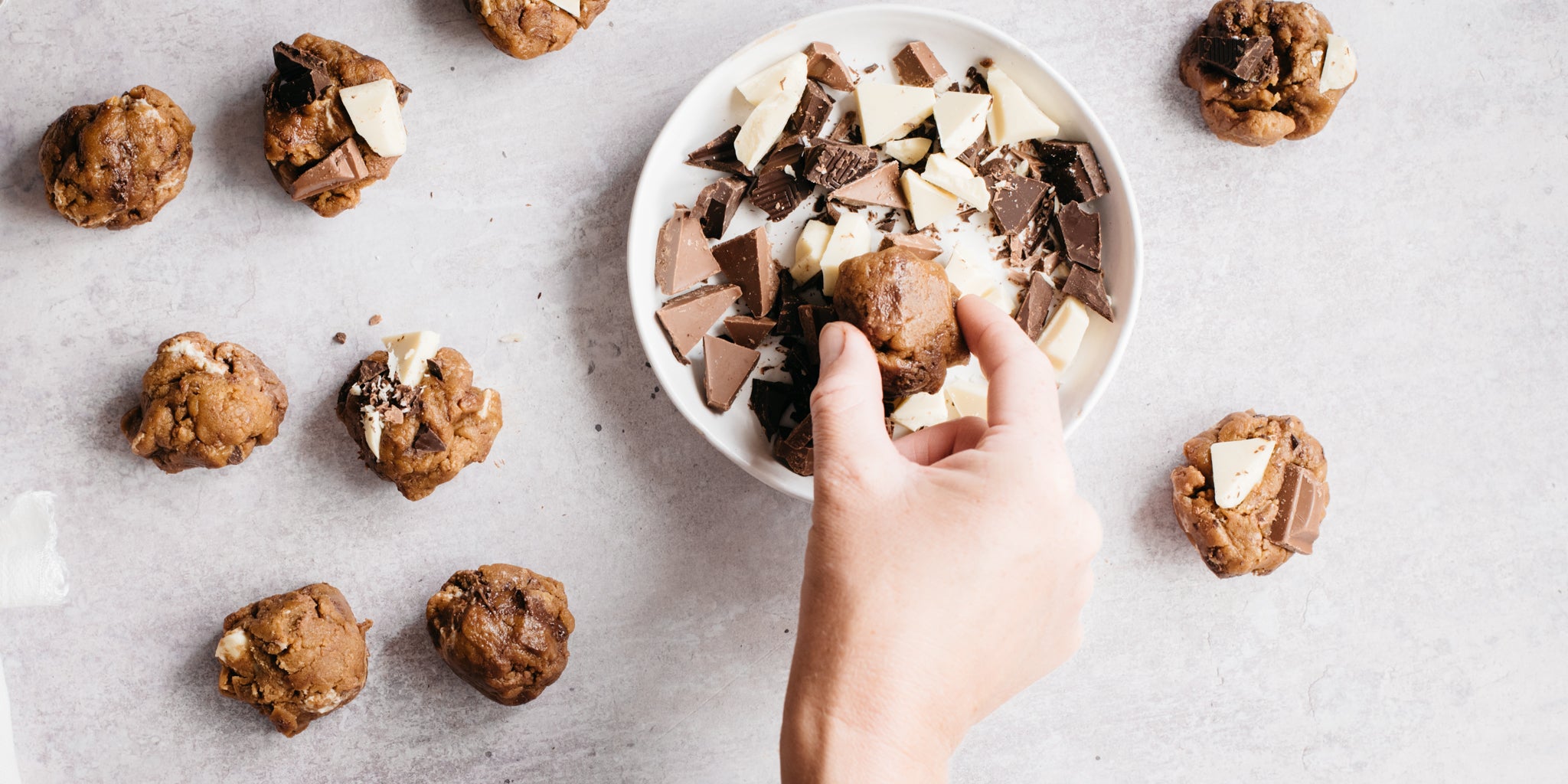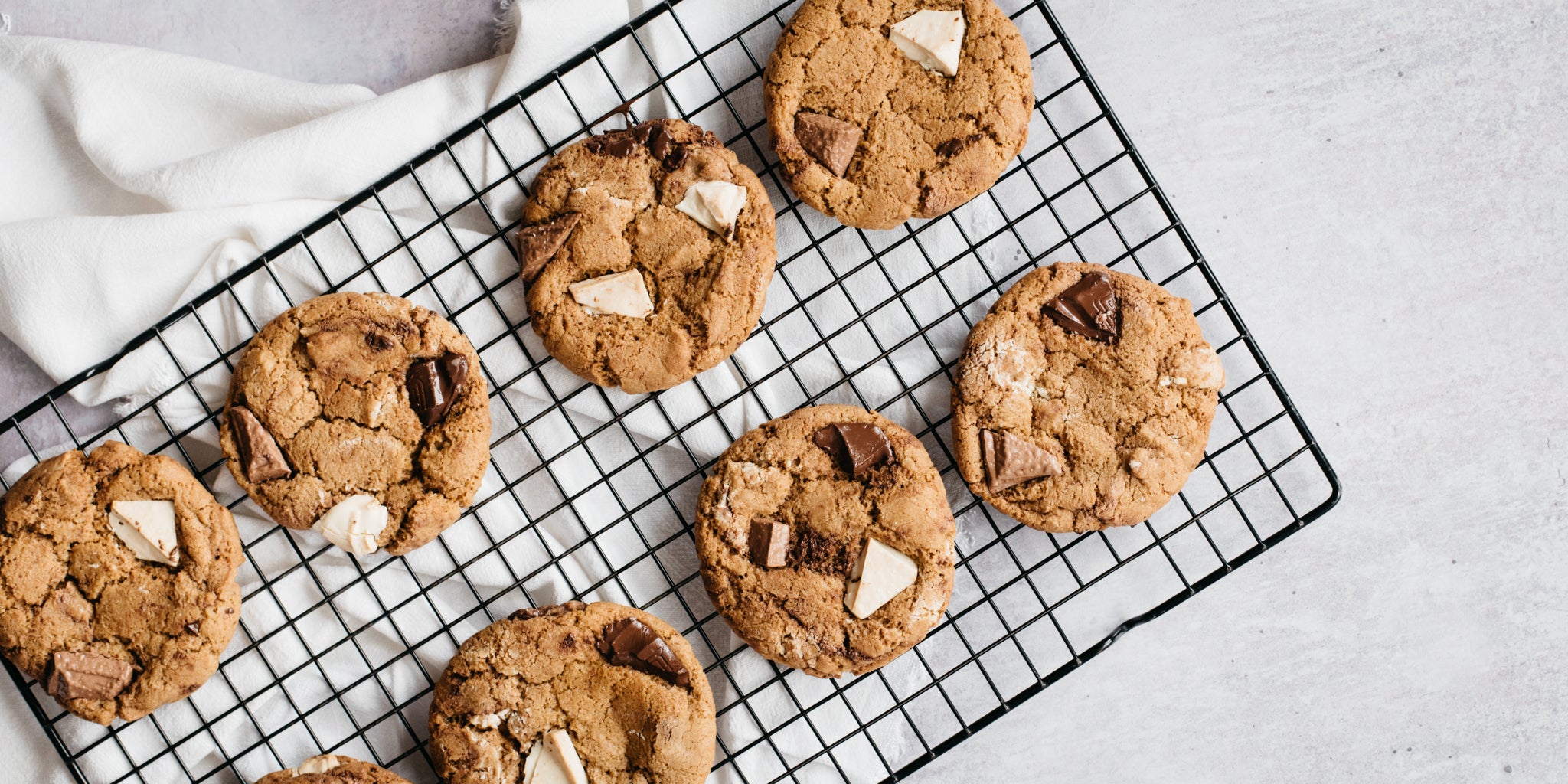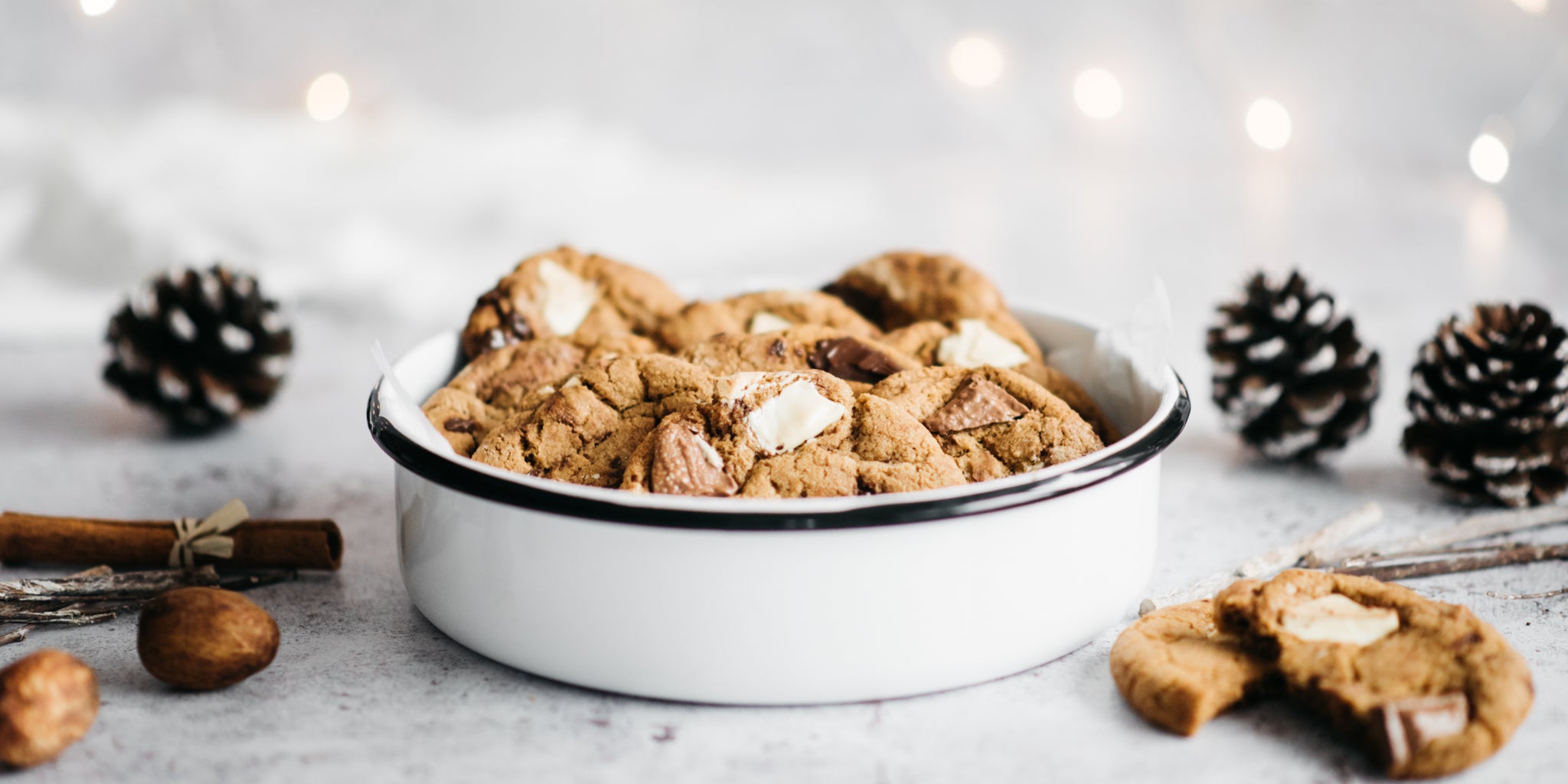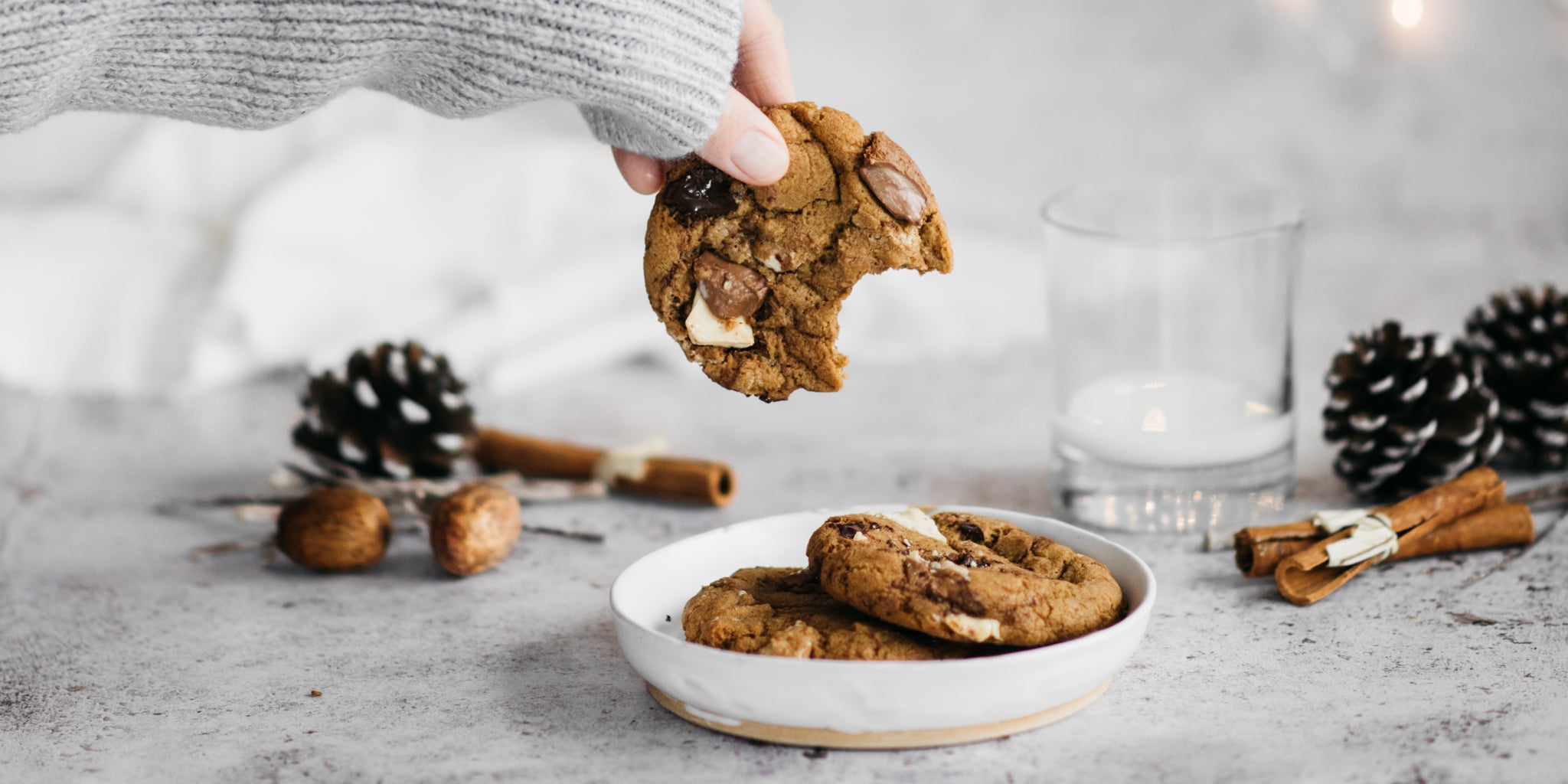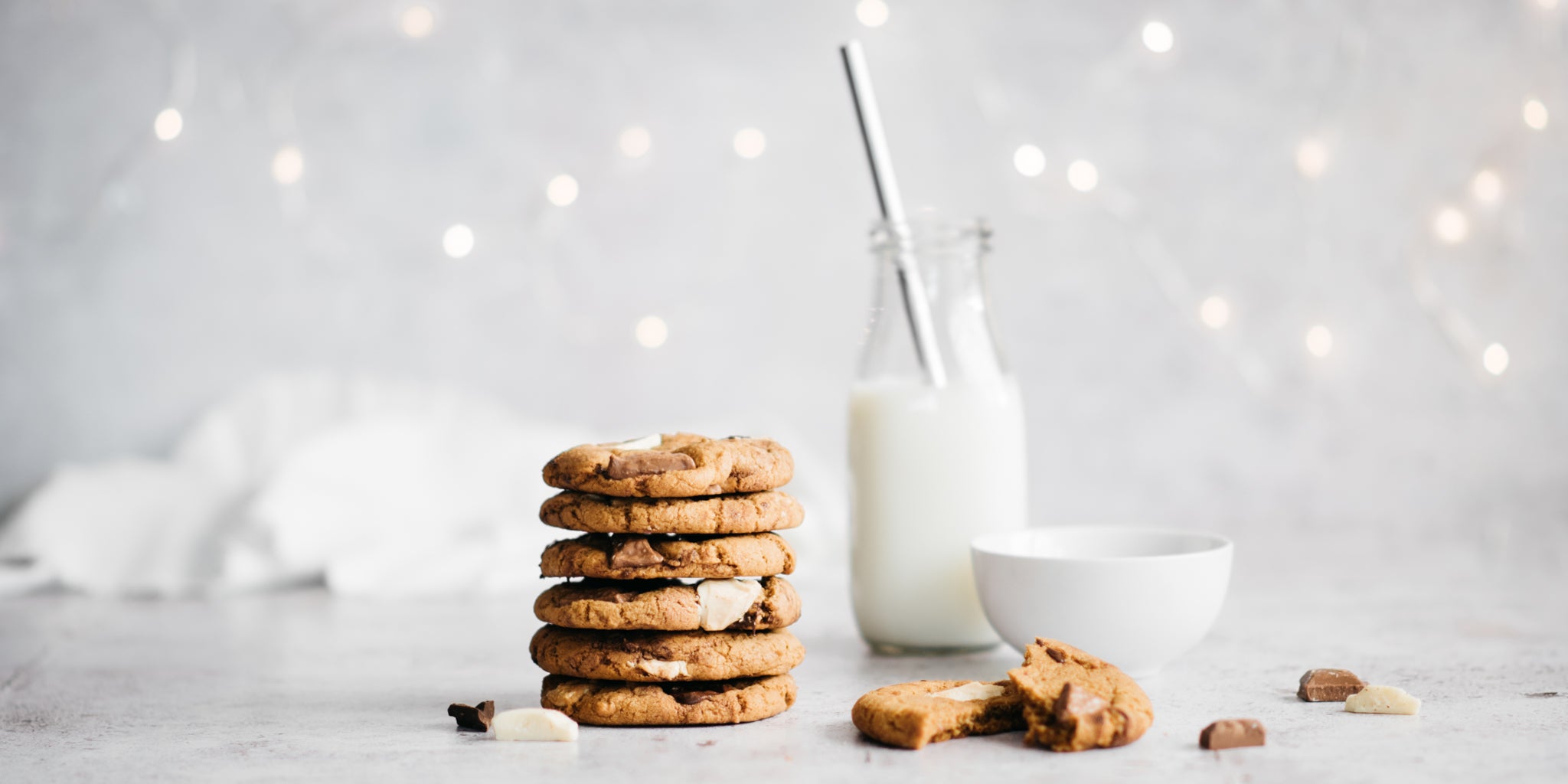 About the bake
Think you know chocolate chip cookies? Think again. This brown butter and salted chocolate cookie takes a chocolate chip cookies recipe to a whole new level. The perfect christmas cookie to leave out for santa, a last minute whip up recipe when guests pop by or simply just a cracking cookie recipe for a weekend nibble.
Method
Step 1:

Put the butter into a small saucepan and set over a medium-high heat. Allow the butter to melt and bubble, swirling the pan every so often. As the bubbling starts to subside and a fine, cappuccino-like foam appears on the surface of the butter, remove it from the heat. You should smell a strong hazelnut aroma.

Step 2:

Put the butter into the bowl of a mixer fitted with paddle attachment and add the sugars and vanilla. Beat on medium speed until the sugar is well mixed into the butter – scrape down the sides of the bowl every so often.

Step 3:

Add the egg and beat to fully incorporate.

Step 4:

Sift together the flour, salt, bicarb, baking powder and nutmeg, then add to the mixer along with all but a handful of the chopped chocolate. Beat to a uniform dough. Chill for 30 minutes.

Step 5:

Preheat the oven to 190C/170C fan and line the base of 2-3 baking sheets with baking paper. Weigh the dough, then divide its weight by 16 to give you the precise weight of each portion of dough. Weigh the dough accordingly into 16 portions. Roll each into a ball, then dip the top into the remaining chopped chocolate.

Step 6:

Put portions of dough onto the prepared baking sheets, ensuring you leave plenty of space between each ball of dough for spreading – you will need to bake these in batches. Bake for 11-15 minutes, until puffed up and golden brown. Remove from the oven and allow to cool on the trays.
Ingredients
For the cookies

140g

 

Unsalted Butter

115g

 Billington's Unrefined Light Muscovado Sugar

100g

 Billington's Unrefined Golden Caster Sugar

1/2 tbsp

 Nielsen-Massey Vanilla Bean Paste

1

 

Large eggs

175g

 

Plain Flour

1 tsp

 

Fine sea salt

1/2 tsp

 

Bicarbonate of soda

1/4 tsp

 

Baking Powder

1 tsp

 

Grated fresh nutmeg

70g

 

Dark chocolate

70g

 

Milk chocolate

70g

 

White chocolate
Utensils
Small saucepan

Electric stand mixer

Sieve

Baking paper
Nutritional Information
per 44g
237cal

 

Energy

12g

 

Fat

7.2g

 

of which Saturates

29g

 

Carbohydrates

21g

 

of which Sugars

2.6g

 

Protein

0.47g

 

Salt
We'd love a slice of advice.
Was it yum? Did the recipe work well? Did you customise the recipe?
Ingredients
For the cookies

140g

 

Unsalted Butter

115g

 Billington's Unrefined Light Muscovado Sugar

100g

 Billington's Unrefined Golden Caster Sugar

1/2 tbsp

 Nielsen-Massey Vanilla Bean Paste

1

 

Large eggs

175g

 

Plain Flour

1 tsp

 

Fine sea salt

1/2 tsp

 

Bicarbonate of soda

1/4 tsp

 

Baking Powder

1 tsp

 

Grated fresh nutmeg

70g

 

Dark chocolate

70g

 

Milk chocolate

70g

 

White chocolate
Utensils
Small saucepan

Electric stand mixer

Sieve

Baking paper
Nutritional Information
per 44g
237cal

 

Energy

12g

 

Fat

7.2g

 

of which Saturates

29g

 

Carbohydrates

21g

 

of which Sugars

2.6g

 

Protein

0.47g

 

Salt