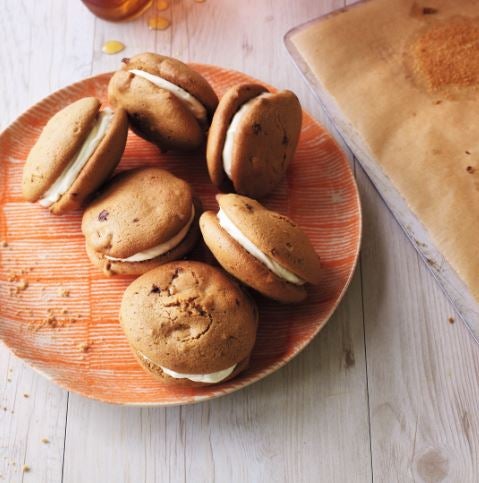 About the bake
This is another recipe that can be dairy free. Any nuts will work. I sometimes use pine nuts for a different texture. Recipe is taken from 'Essential Gluten Free by Phil Vickery', published by Kyle Books. Photography by Kate Whitaker
Method
Step 1:

Preheat the oven to 190°C/180°C Fan/Gas Mark 5. Line two baking sheets with baking paper.


Step 2:

In a bowl, sift all the flours together very thoroughly and evenly, or put into a food-processor and pulse until well mixed.


Step 3:

Once that has been done, sift in the baking powder and xanthan gum into a bowl, then stir in the chopped pecans.

Step 4:

In a separate bowl, use an electric whisk to beat the margarine, sugar, vanilla, egg and the maple syrup. Don't worry if the mixture curdles a little.

Step 5:

Mix a little of the flour mixture into the creamed mixture, then a little of the milk. Keep alternating until all the flour mixture and milk are added, beating continuously until smooth.

Step 6:

Pipe or spoon 16 rounds of the mixture onto the prepared baking sheets, spaced a few cm apart, and flattened each round slightly with wet fingers. They should be about 5cm wide. Bake for about 15 minutes until firm. Remove and cool.

Step 7:

Whip the cream for the filling until soft, lightly thickened and just holding its shape. Fold in the icing sugar and maple syrup. Spread the filling over the flat sides of half the cookies and sandwich with the other half. Serve the same day, or freeze the cooled biscuits without the filling.
Ingredients
For the Cookies

53g

 

Gluten free sorghum flour

53g

 

Gluten free potato starch

44g

 

Gluten free tapioca flour/starch

1/4 tsp

 

Gluten free baking powder

1/4 tsp

 

Xanthan gum

25g

 

Pecan nuts (chopped)

50g

 

Margarine (or butter)

85g

 Billington's Unrefined Dark Muscovado Sugar

1 tsp

 Nielsen-Massey Vanilla Extract

1

 

Medium free range egg(s)

2 tbsp

 Billington's very dark maple syrup

25ml

 

Milk (or gluten, dairy free alternative)

For the Filling

150ml

 

Double cream (or a gluten, dairy free alternative)

1 tbsp

 Silver spoon icing sugar (sieved)

2 tbsp

 

Billington's amber maple syrup
Utensils
2x Baking sheet

Parchment paper

Electric whisk

Piping bag

Palette knife
Nutritional Information
per 67g
290cal

 

Energy

16g

 

Fat

6.9g

 

of which Saturates

33g

 

Carbohydrates

18g

 

of which Sugars

2.9g

 

Protein

0.19g

 

Salt
We'd love a slice of advice.
Was it yum? Did the recipe work well? Did you customise the recipe?
Ingredients
For the Cookies

53g

 

Gluten free sorghum flour

53g

 

Gluten free potato starch

44g

 

Gluten free tapioca flour/starch

1/4 tsp

 

Gluten free baking powder

1/4 tsp

 

Xanthan gum

25g

 

Pecan nuts (chopped)

50g

 

Margarine (or butter)

85g

 Billington's Unrefined Dark Muscovado Sugar

1 tsp

 Nielsen-Massey Vanilla Extract

1

 

Medium free range egg(s)

2 tbsp

 Billington's very dark maple syrup

25ml

 

Milk (or gluten, dairy free alternative)

For the Filling

150ml

 

Double cream (or a gluten, dairy free alternative)

1 tbsp

 Silver spoon icing sugar (sieved)

2 tbsp

 

Billington's amber maple syrup
Utensils
2x Baking sheet

Parchment paper

Electric whisk

Piping bag

Palette knife
Nutritional Information
per 67g
290cal

 

Energy

16g

 

Fat

6.9g

 

of which Saturates

33g

 

Carbohydrates

18g

 

of which Sugars

2.9g

 

Protein

0.19g

 

Salt