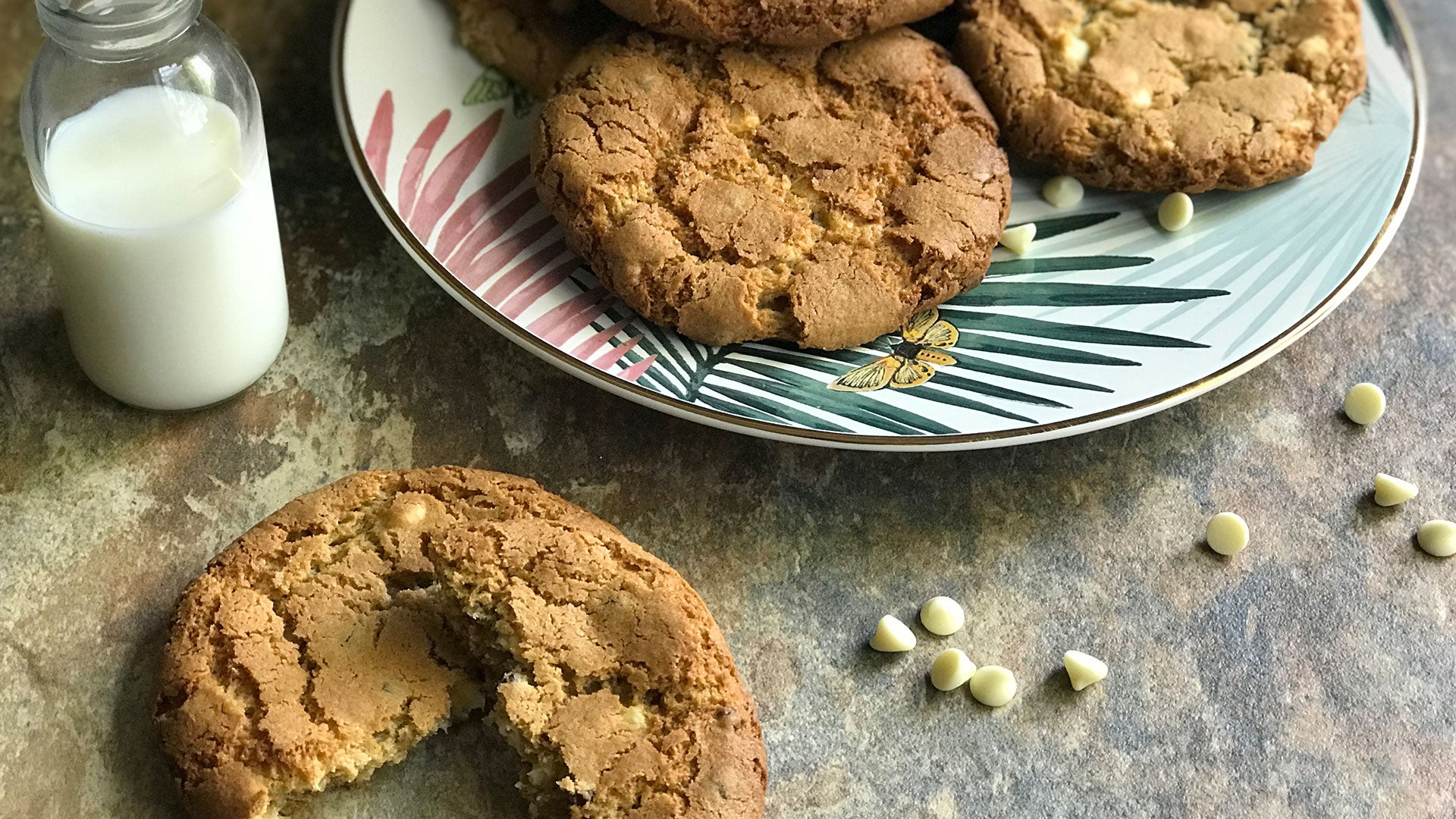 About our white chocolate & raspberry cheesecake cookies
If you are a fan of Millie's Cookies or Subway cookies, then you will love these white chocolate and raspberry cheesecake cookies. These cookies include a secret ingredient of Bread Flour make them extra soft and chewy, just like the ones you love.
With the classic flavour combination of white chocolate and raspberry, along with the extra gooey centre from the cream cheese filling these cookies are incredibly moreish.
If you haven't tried our Millie's copycat chocolate chip cookies yet, give them a go.
Method
Step 1:

Place the flours, baking powder, bicarbonate of soda and salt in a bowl and gently mix together with a spoon or hands to blend.


Step 2:

In a seperate bowl, beat together the softened butter and cream cheese cheese, before adding in the sugars and vanilla extract. Beat on a medium speed until light and fluffy in consistency. This might take a few minutes.


Step 3:

Beat together the eggs and vanilla extract then pour in to the butter mixture, add the dry ingredients and continue to mix together.


Step 4:

Sprinkle in the white chocolate chips and raspberry chunks and fold these into the mixture with a spoon. Place the bowl in the fridge for at least 30 minutes to firm up.


Step 5:

Preheat the oven to 160°c (Gas Mark 3) and line two baking trays with greaseproof paper. You will need to bake these cookies in batches.


Step 6:

Remove the cookie dough from the fridge and if firm enough, scoop out a spoonful of mixture and roll into a ball the size of a golf ball. Place onto the tray and flat a little, not completely flat. Allow plenty of space between each ball as the cookies will spread out in the oven.


Step 7:

Bake the cookies for 12-14 minutes or until golden in colour. Allow to cool for a few minutes on the baking tray before transferring to a cooling rack. Repeat with the remaining dough until it has all been baked.


Step 8:

If you don't want to make a large batch of cookies, you can freeze any remaining cookie dough. Scoop the dough onto a sheet of cling film then pat down to a flat circle (this will save you space in your freezer) Double wrap and store in your freezer until you are ready to bake more cookies. Allow to thaw a little before baking with the dough next time.

Ingredients
250g

 Allinson's Plain White Flour

250g

 Allinson's Strong White Bread Flour

1 1/2 tsp

 

Bicarbonate of soda

1 1/2 tsp

 

Baking powder

A pinch

 

Sea salt

180g

 

Unsalted butter (softened)

120g

 

Cream cheese (softened)

300g

 Billington's Unrefined Light Muscovado Sugar

200g

 Billington's Unrefined Golden Caster Sugar

2

 

Eggs (free range, large)

1 1/2 tsp

 Nielsen-Massey Vanilla Extract

300g

 

White chocolate chips

80g

 

Raspberry jelly sweets (chopped into small cubes) (we used bear raspberry pure fruit yoyos)
Nutritional Information
per 77g
371cal

 

Energy

15g

 

Fat

8.8g

 

of which Saturates

54g

 

Carbohydrates

35g

 

of which Sugars

5.4g

 

Protein

0.53g

 

Salt
Recipe Reviews
A lovely cookie and very easy to make ❤️😊 thank you
Great recipe but instructions confused, (adding vanilla twice and not adding flour mixture at all) shame because once you have worked out what to do they are really delicious.
Please be advised that we have now added the flour step into the method. Apologies for any confusion.
Happy Baking :-)
Ingredients
250g

 Allinson's Plain White Flour

250g

 Allinson's Strong White Bread Flour

1 1/2 tsp

 

Bicarbonate of soda

1 1/2 tsp

 

Baking powder

A pinch

 

Sea salt

180g

 

Unsalted butter (softened)

120g

 

Cream cheese (softened)

300g

 Billington's Unrefined Light Muscovado Sugar

200g

 Billington's Unrefined Golden Caster Sugar

2

 

Eggs (free range, large)

1 1/2 tsp

 Nielsen-Massey Vanilla Extract

300g

 

White chocolate chips

80g

 

Raspberry jelly sweets (chopped into small cubes) (we used bear raspberry pure fruit yoyos)
Nutritional Information
per 77g
371cal

 

Energy

15g

 

Fat

8.8g

 

of which Saturates

54g

 

Carbohydrates

35g

 

of which Sugars

5.4g

 

Protein

0.53g

 

Salt