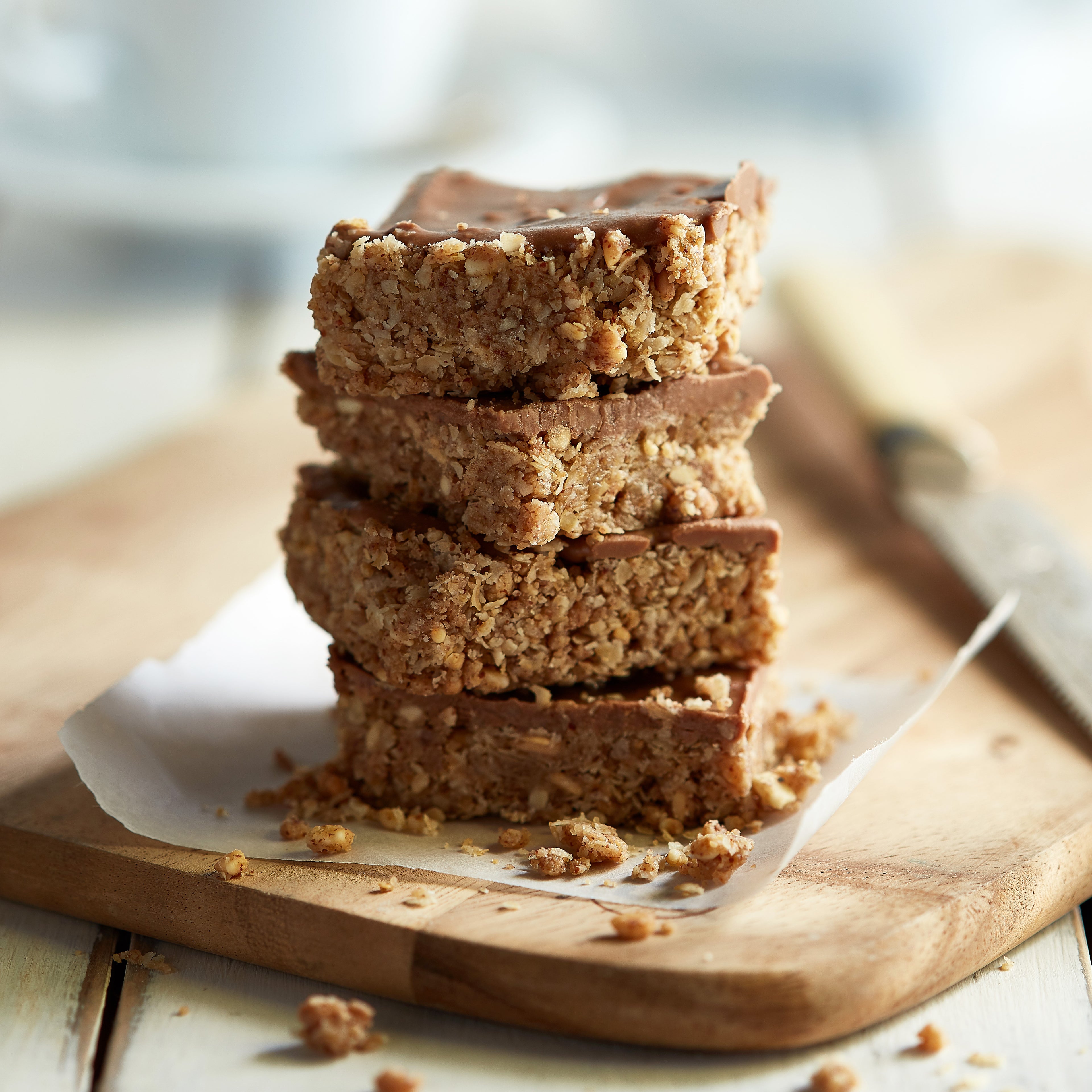 About the bake
No baking required. This Chocolate Peanut Butter Square recipe brings all the childhood nostalgia and a whole load of 'mmmmmm'
What could be simpler and more delicious than chocolate, Peanut Butter Proper Nutty, Truvia, honey and oats? Quick to make and even quicker to gobble up. The perfect lunchbox treat.
Method
Step 1:

Line an 8" square tin with baking paper.


Step 2:

Microwave peanut butter and honey until melted, whisk at regular intervals, heating in 20 second increments.


Step 3:

Add in Oats, stir and fold through until combined. Pour this mixture into the prepared tin. Using a spoon smooth to an even, tightly packed layer. Set aside.


Step 4:

To make the chocolate layer, melt the chocolate chips and the peanut butter. Heat in 20 second increments. Until softened and melted. Stir until smooth.


Step 5:

Poor the chocolate mixture over the bars, smooth into an even layer. Freeze for 30-40 minutes, or until firm. Remove from freezer and slice into 16 squares.


Storage

Store in an airtight container and consume within 3 days.
Ingredients
For the Squares

200g

 Proper Nutty peanut butter

75g

 

Honey

2 tbsp

 Truvia calorie free sweetener

150g

 

Rolled oats

For the Topping

90g

 

Chocolate chips

70g

 Proper Nutty peanut butter
Recipe Reviews
Super quick and easy make. I didn't use sweetener in mine and I added some dark chocolate chips instead, they turned out great. I am looking forward to adding more things using this as my base.
DELICIOUS & EASY!!!! super quick to make and went down a treat with the family. loved the easy steps although I cant see where you use the sweetener or sugar?! It must be staring right at me, other than that awesome recipe!
Ingredients
For the Squares

200g

 Proper Nutty peanut butter

75g

 

Honey

2 tbsp

 Truvia calorie free sweetener

150g

 

Rolled oats

For the Topping

90g

 

Chocolate chips

70g

 Proper Nutty peanut butter