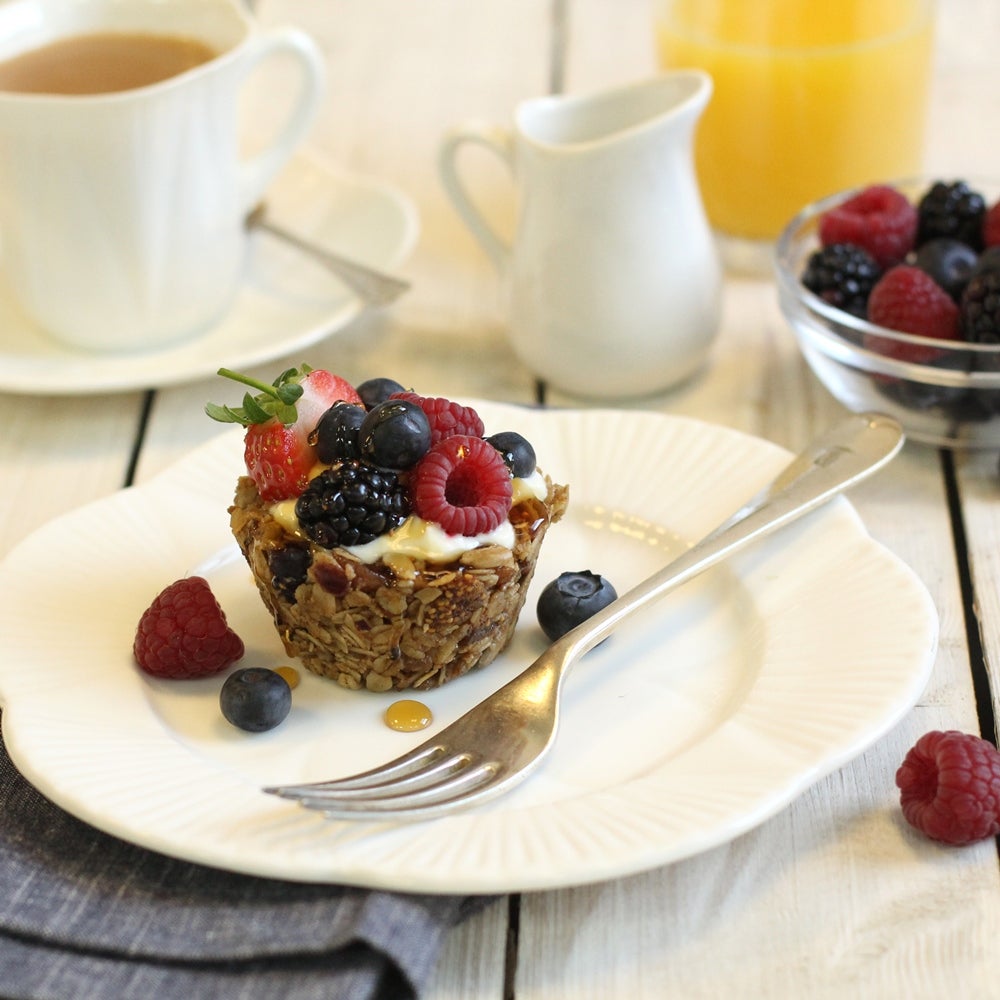 About the bake
A luxurious granola mix cleverly shaped into small cups that can be filled with yoghurt, fresh berries and finished with a drizzle of maple syrup flavour treat sauce for that special breakfast.
Method
Step 1:

Pre-heat the oven to 170°C (fan 150°C, gas mark 3) and grease a 12 hole non-stick muffin tin (silicone moulds are ideal for this recipe if you have them).

Step 2:

Mix the oats, sunflower seeds and pecan nuts together before putting into a roasting tin and toasting gently for 5 minutes. Remove from the oven before leaving to cool.

Step 3:

Gently heat together the butter, sugar and maple flavour syrup in a saucepan, stirring until all the butter is melted and combined. Remove from the heat and add the toasted oat mix to the saucepan along with the remaining ingredients. Mix together until all of the oats are well coated.

Step 4:

Spoon the mixture into each muffin hole until nearly full. Using your fingers gently press into the centre of the mixture and work around the edges to start shaping into a bowl. If the mix starts to stick to your fingers wet them with cold water and shake off the excess before carrying on. You may need to add a little more mix to each muffin hole to ensure the edges and bottom are all well covered.

Step 5:

Bake in the oven for approximately 18 minutes or until just starting to look golden. Remove from the oven and place on a cooling rack. Allow to completely cool before trying to remove from the tin. Once cool, remove from the tin and store in an airtight container or serve immediately.

Step 6:

To serve, fill each cup with Greek yoghurt and fresh berries of your choice. Drizzle with extra maple flavour syrup and enjoy!
Ingredients
For the Cups

100g

 

Unsalted butter (softened)

200g

 

Porridge oats

100g

 Billington's Unrefined Light Muscovado Sugar

3 tbsp

 

Maple sauce

100g

 

Sunflower seeds

50g

 

Pecan nuts (finely chopped)

75g

 

Dried figs (finely chopped)

50g

 

Dried cranberries

1 tsp

 

Cinnamon

1 tsp

 Nielsen-Massey Vanilla Extract

To Serve

Dollop

 

Greek yoghurt

Drizzle

 

Maple syrup

Handful

 

Mixed berries
Utensils
12 hole muffin tin

Bowl

Roasting tin

Saucepan
Ingredients
For the Cups

100g

 

Unsalted butter (softened)

200g

 

Porridge oats

100g

 Billington's Unrefined Light Muscovado Sugar

3 tbsp

 

Maple sauce

100g

 

Sunflower seeds

50g

 

Pecan nuts (finely chopped)

75g

 

Dried figs (finely chopped)

50g

 

Dried cranberries

1 tsp

 

Cinnamon

1 tsp

 Nielsen-Massey Vanilla Extract

To Serve

Dollop

 

Greek yoghurt

Drizzle

 

Maple syrup

Handful

 

Mixed berries
Utensils
12 hole muffin tin

Bowl

Roasting tin

Saucepan