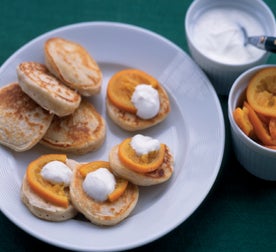 About the bake
If you a looking for a sweet treat without the added guilt then these low fat scotch pancakes could be just the thing. Served with zesty glazed oranges these are perfect for pancake day or even just a mid week dessert. The serving size and calories is based on two pancakes. Check out our classic video below for some more pancake tips.
Method
Step 1:

In a mixing bowl sift the flour with the salt and sweetener.

Step 2:

Gradually mix in the milk to form a thick batter.

Step 3:

Lightly spray a non stick pan with oil spray. Pre heat until hot.

Step 4:

Drop small amounts of mixture into the pan. Cook over a moderate heat until bubbles show on the surface.

Step 5:

Carefully turn over and cook on the other side for a further 2 minutes.

Step 6:

Repeat until all the mixture is used. Keep pancakes warm in a folded tea towel.

Step 7:

Place the sugar and water in a medium sized pan and heat until the sugar has dissolved, then add the orange slices.

Step 8:

Simmer gently until the oranges are soft and the liquid has reduced to a light syrup. Serve immediately.
Ingredients
For the Pancakes

110g

 Allinson's Self Raising White Flour

Pinch

 

Salt

1 tsp

 Silver spoon half spoon sugar

150ml

 

Skimmed milk

 

Oil (low fat cooking spray)

For the Topping

1 tbsp

 Silver spoon half spoon sugar

3 tbsp

 

Water

1

 

Orange (sliced & halved)
Utensils
Sieve

Frying pan

Tea towel

Saucepan
We'd love a slice of advice.
Was it yum? Did the recipe work well? Did you customise the recipe?
Ingredients
For the Pancakes

110g

 Allinson's Self Raising White Flour

Pinch

 

Salt

1 tsp

 Silver spoon half spoon sugar

150ml

 

Skimmed milk

 

Oil (low fat cooking spray)

For the Topping

1 tbsp

 Silver spoon half spoon sugar

3 tbsp

 

Water

1

 

Orange (sliced & halved)
Utensils
Sieve

Frying pan

Tea towel

Saucepan